L.A. Affairs: I was sleeping alone in a stranger's bed, and falling for him too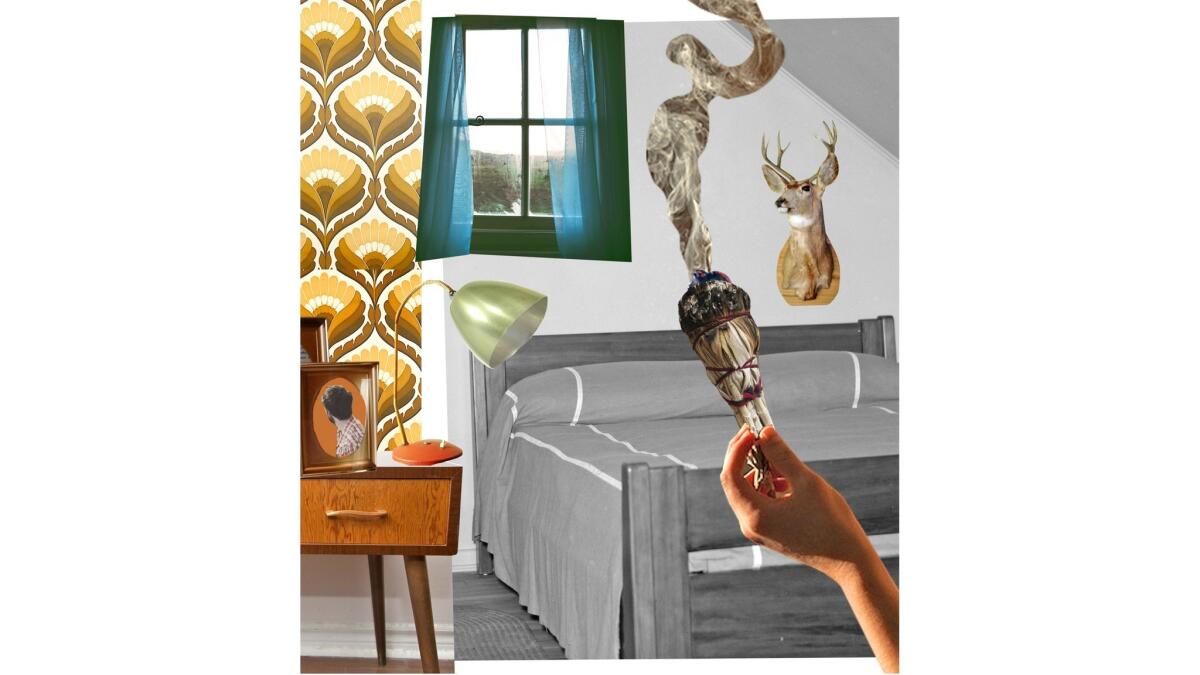 There's a strange intimacy that develops when you live in a stranger's home. What's even weirder is when a brief attraction becomes a little crush upon move-in, and lust after sleeping alone in their bed.
Los Angeles is a transient city. People leave to film, travel and God knows what else. It seems relatively easy to be a gypsy. After an epic road trip covering 33 states and 13,000 miles with my faithful dog, I returned to Los Angeles without a place to live or a certainty of where I belonged.
I figured I'd continue the experiment on a smaller scale by experiencing different parts of the city. I didn't realize my dog would be a deal killer in many cases.
I had a month-long sublet near Runyon Canyon that fell apart two weeks in. The manager informed me it was a non-dog-friendly building and we needed to go. I found myself checking hotel rates while I responded, posted, and pleaded on Craigslist, Airbnb and Facebook's L.A. rentals and sublets group. It was this last group where I got my best lead: a one-bedroom sublet in Silver Lake.
Are you a veteran of L.A.'s current dating scene? We want to publish your story
A guy was going to Burning Man and looking to make a little money while he was away. He would be gone for about two weeks. I messaged him and and we set a time to meet the following day. He sent me a Facebook friend request.
I quickly glanced at his profile. He looked handsome, had a podcast and seemed 90% Silver Lake with a dash of Venice. I was more Pacific Palisades by way of the Hollywood Hills. The Eastside was unchartered territory for me.
We met outside his building, which I initially thought was gentlemanly but later realized was a smart strategy to avoid bringing a potential psycho into his soon-to-be vacant space. As we shook hands and met each other's eyes, I felt an electric charge.
I studied his handsome face under his hipster hat. He seemed younger than me, but with his apparent avoidance of a moisturizer with a SPF, it was hard to pinpoint his age. And then I placed his accent: Irish. My knees buckled. I had a weakness for the brogue. Suddenly this space became more interesting.
He'd read my Facebook posting on the sublet that fell through because of my dog, and wanted to help me. He took on the role of gallant knight and offered me the place three days earlier than he'd planned. For me, it meant only two nights of hotels, instead of five. I wasn't sure if he was genuinely kind, or looking to make more money while he was out of town. No matter. He'd won my distressed damsel's heart.
His place was like an Urban Outfitters showroom with a strong masculine edge. It had everything I needed and I could explore the best of Silver Lake on foot. We quickly agreed to the arrangement. "If you don't screw me, I won't screw you," he said.
It hadn't even crossed my mind.
Later, I thanked him again via text for taking such a huge burden off my shoulders, and to confirm that I'd pay him the next day. His response made me blush, "Please do me one favour. Stop stressing and relax. The space will be good to you. See you tomorrow."
Earlier that same day, I'd felt adrift and now, I had an anchor. I've always been a sucker for a man who solves my problems. I fantasized about a passionate afternoon with a personal introduction to his bed. But I quickly put the brakes on the fantasy.
I had no idea what his relationship status was, and no illusion that anything real that could materialize from this situation. This was business.
When I "moved in," I met the scent of Old Spice in the air. As I put my sheets on the bed and arranged my luggage, his energy was just as potent. His pheromones, hair and DNA were everywhere. A bed is an intimate space — it's where we're most vulnerable. You can't help but feel close to someone when you sleep in their bed, even if you're alone.
After living in his space for one day, I could feel my attraction developing into an odd attachment to him.
Dating is like peeling an onion. Living among someone's personal belongings, design decisions and energy told a more complete story. But the intimacy was one-sided. While he was running around the playa, I was having a love affair with his stuff, and it scared me.
Two days into the sublet, I bought sage at a local metaphysical store and smudged every inch of the place. Like magic, his energy dissipated and my sanity returned. I could objectively live in his space, distance myself from his life, wish him well and move on with my own dating pursuits.
Near the end of the sublet, he called me to make sure I was happy in his space. It touched my heart. He then asked me to leave the key for him in a hiding place. I simultaneously felt disappointed and relieved.
Sometimes the fantasy is better than reality. I was reminded that this was all temporary and intimacy is too precious to lease.
The author is a writer based in Los Angeles. You can find her on Instagram @kerrydiaries
L.A. Affairs chronicles the current dating scene in and around Los Angeles. If you have comments or a true story to tell, email us at LAAffairs@latimes.com.
MORE L.A. LOVE STORIES …
Why I always fall for the 'bad boy'
How we hid our steamy love affair from co-workers
Get our L.A. Goes Out newsletter, with the week's best events, to help you explore and experience our city.
You may occasionally receive promotional content from the Los Angeles Times.