L.A. Affairs: This is my Bumble dating horror story. Enjoy.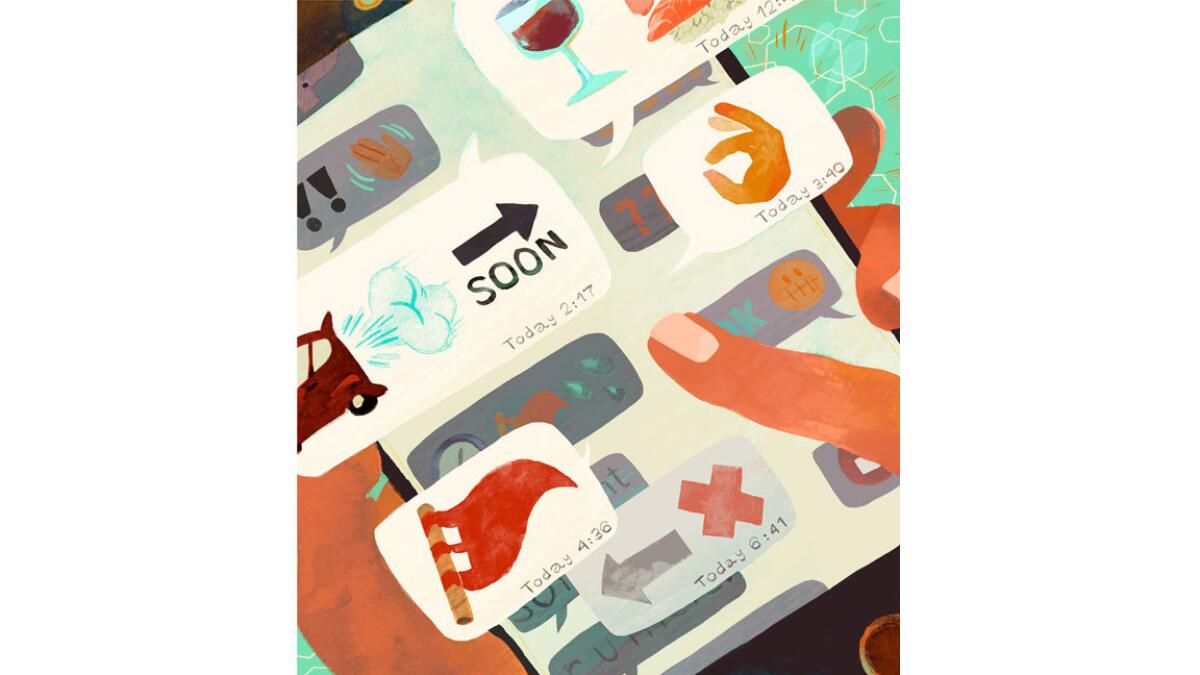 We met on Bumble, another swipe-right app that creates a "hive" of connections. The woman makes the first move within 24 hours, otherwise the match disappears forever.
I'd developed what I believed to be a highly discerning online dating strategy. I seldom swipe right and rarely match, but when I do I'm certain I've stung him.
I was visiting the Bay Area when we matched. (Men in Northern California are much more interesting.) I was already back in L.A. when I heard from him, though he wasn't in Northern California at the time but rather in St. Louis, where he'd unexpectedly flown to support a hometown friend whose dear mother had died.
Sweet. He lives in Marin, was raised in the Midwest, and works in finance. Solid.
After texting a bit, he noted that he prefers communicating by phone. Texting is for teenage girls. And he should know, because he has two daughters in college. Which is why he understands women so well, he said. The phone is more personal. He asked for my number. Chivalry is still alive, he said.
Or wait, did he text that?
Are you a veteran of L.A.'s current dating scene? We want to publish your story
We chatted a bit for a few weeks. L.A. must be a hard place for single women, he said. It's so superficial. Men seem to care only about how women look and women about men with money.
Finding me "a fascinating, beautiful woman," he offered to fly to L.A. under the pretense of an important business trip. But really, he said, the trip would be all about finally meeting me.
We spoke the night before our date. The plan was to meet at 4 p.m. in Venice at Gjelina. He was landing at LAX early in the morning for a meeting in El Segundo. Afterward, we'd have the whole evening together before his 9:50 flight back to San Francisco.
At 2 p.m. I received a text: He'd been "called" to an unexpected meeting downtown. Our date would now be "around 5:30." "I'll call you in 20 minutes." Ruh-roh. Red flag.
At that point, I was in Mid-Wilshire, halfway between Venice and downtown in 93-degree heat. I was sweating through my date-wear: off-white silk lace camisole, black pants, low heels. Not too sexy, not too professional. My freshly blow-dried hair was damp and losing volume, quickly.
I was super annoyed. All I wanted to do was go home, tear my clothes off, turn on the AC and climb into cotton jammies. I'd rather be alone watching election coverage than be out on a date anyway. This could be a deal-breaker.
But he'd flown all the way to L.A. to see me, so I thought I'd be open and extend myself by offering to meet downtown. I'd be on the 10 in late afternoon traffic either way. What's the difference?
About 15 degrees.
He texted back at about 3:30 to say, "I'll get to Venice." Right. I took a minute and replied, "I imagine you'll be closer to 6." His next two texts: "No stress." "I'll call you soon."
I decided to drive toward Venice. I'd be early, but at least it's cooler there. I'd already canceled our dinner reservation — there was no way I'd be able to push it back. It was Gjelina after all. No substitutions.
Next text, 5:50 p.m. He had another unexpected stop in Century City. Sure. By the time he gets to Venice, we'd have time for only a drink and quick bite before bolting for LAX.
I wanted to be home. But traffic to the Valley would be a nightmare. It had cooled off, so I wandered down the street to Wabi-Sabi. I sat down at the bar, the restaurant's folding doors flung wide open. I felt the beach breeze and could almost smell the ocean air.
I ordered a glass of sparkling rosé. I decided I'd wait till 7:15 p.m. If I didn't hear from him by then, I'd head home.
7:07: "We've an unexpected dinner — I'll call as soon as I'm out. So sorry for all this."
Sorry at 7 o'clock for not showing up to a 4 p.m. date?
He — who "hates" texting — texted to say he's sorry.
Really?
Outrageous. Rude. Deal-breaker, definitely.
I hadn't eaten in hours. I was starving. Instead of feeling sorry for myself, I committed to staying in Venice. Alone. At a bar. Which in nearly my entire adult life in L.A., I'd never done before. I ordered some snacks and $85 later I walked to my car, but not before stopping at Salt & Straw for a $7.50 double scoop ice cream cone.
9:15: On the 405, my phone rang. It was him, probably just about to board the plane at LAX. I let it go to voice mail. "Hi, Julie. It's ___. Give me a call back when you get a chance."
Really, that's it? Not even a "Please"? So much for chivalry. I deleted the message.
9:50: I was home in my cotton, watching MSNBC, wondering: Does the dude feel guilty? Is he embarrassed, ashamed? Does he even realize how badly he blew it? I decided to send a scathing text while he festered in-flight.
The following night he left another voicemail. "It's __. There was something going on personally yesterday. I want to explain."
I didn't call back. His Bumble profile's since disappeared. Forever.
Julie Buckner is a communications consultant and owns a yoga studio. She lives in the San Fernando Valley with her two teenage sons.
L.A. Affairs chronicles the current dating scene in and around Los Angeles. We pay $300 a column. If you have comments or a true story to tell, email us at LAAffairs@latimes.com.
Get our L.A. Goes Out newsletter, with the week's best events, to help you explore and experience our city.
You may occasionally receive promotional content from the Los Angeles Times.