L.A. Affairs: How we hid our steamy love affair from co-workers at the Getty museum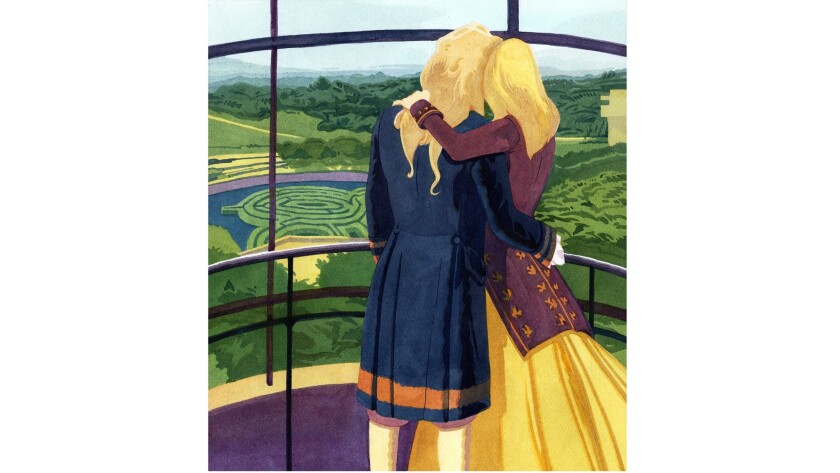 My head was on a swivel looking out for co-workers as I hustled toward the Getty Center's South Pavilion.
Dating another employee wasn't against museum policy, but at previous jobs I had seen office romances go pear-shaped. After recently finishing five years in the Navy, I had also been conditioned to keep secrets close.
Passing through a gallery of Rembrandt portraits, the suspicious eyes in the paintings followed me to an outdoor pathway that overlooked Brentwood. Far above the stew of car exhaust along the 405, I felt a tap on my shoulder. "Ready?" Nicolette said.
I smiled and we hurried to a vacant elevator. It began its descent and she pressed against me. I ran my hand through her dark brown hair. We sank into a kiss. We knew we only had about five seconds. When the elevator pinged at the first floor, we pried ourselves away and straightened our uniform white shirts and khaki pants.
Are you a veteran of L.A.'s current dating scene? We want to publish your story
Visitors flooded past and we parted — me to finish my lunch break and she to restock the brochures. A few months earlier I had gotten out of the Navy and, with no family and few friends on the West Coast, risked a move to Los Angeles. I was fortunate to land the position as a visitor services associate at the Getty. The curious visitors and pristine galleries were a relief from the dusty streets and roadside bombs in Iraq. I was scratching out a life for myself.
A messy, dramatic breakup could jeopardize all that.
The museum was my lifeline and to lose this job would mean crawling home to New York. Nicolette had left Southern California after college and lived for a time in Rome. We found our mutual sense of adventure attractive. So as things got serious, the secret became half the fun. My favorite assignment to work together was the information desk.
One afternoon, an elderly woman with baseball-sized Rodeo Drive sunglasses requested directions to the photographs. I pulled out a map and circled the gallery.
"What's your favorite?" the woman asked. I told her I liked a gallery with an ornate 18th century French bed that had been reupholstered by the same shop that made the linen over 200 years earlier.
She asked why I liked it so much.
"Well," I said to the woman, glancing at Nicolette, "I always wonder what Louis XIV was like. I imagine Versailles was wild back then. Also, what's the point of new sheets if no one is going to use them?" Nicolette blushed. The woman thanked me.
One afternoon I decided to push it. We were working in the museum call center and exchanging flirty emails. She wrote: "Last night was hot. We must repeat!" I agree, I replied: "I'm working the event tonight. Come and see me?" "Of course!"
She was assigned to the garden for the after-hours event. Her job was to clear the visitors out after it ended. Once they were gone, she would have a few minutes alone before the associates reconvened in the call center and clocked out for the day.
The sun had just set and the pink sky was melting over Brentwood. An early-evening breeze blew in from the Pacific. After the last visitor left, I slid down the stairs and caught her attention. We moved to a more secluded spot and started kissing...
I heard a sound. Clop, clop, clop. The footsteps bounced off the travertine marble stairs and echoed through the empty garden. I pulled away and cursed. She adjusted her radio and rushed back to the spot where she was supposed to be standing. I ducked behind some bushes just in time to see our manager reach the bottom of the stairs.
"Are you OK, Nicolette? I looked down and didn't see you here," the manager said.
"Oh, I'm sorry. I thought I saw something and went to check it out," Nicolette responded. "It was nothing."
I was ready to do a low crawl out of there, just like they taught us in the Navy. Instead, I tip-toed to the opposite end of the garden and up another set of stairs. It felt like court intrigue at Versailles. Here we were, ducking the authorities for a moonlit rendezvous in the bushes. Later that night in bed, we laughed about it.
A few months later, Nicolette got another job. Not long after that we got married and, with our relationship out in the open, invited friends from the the Getty to our wedding after-party in Culver City.
We recently brought our infant daughter to the museum to show her where it all started.
For all the joys of marriage, the thrill of our secret is something we can never get back.
On our recent visit we found ourselves descending toward the garden in an empty elevator. So with our daughter in a stroller beside us, I wrapped my arms around Nicolette, pulled her close and gave her the five-second kiss.
Richard Hayden is a Los Angeles-based writer and executive assistant. You can find him on Twitter at @RichardFHayden
L.A. Affairs chronicles the current dating scene in and around Los Angeles. If you have comments or a true story to tell, email us at LAAffairs@latimes.com.
To read the article in Spanish, click here
MORE L.A. LOVE STORIES …
The best advice I ever got for dating a guy with kids
We had a one-night stand. I wish it had stayed that way
---
The essential weekly guide to enjoying the outdoors in Southern California. Insider tips on the best of our beaches, trails, parks, deserts, forests and mountains.
You may occasionally receive promotional content from the Los Angeles Times.