A Crater Lake story: The Welches, 85 years young, relive their 1953 honeymoon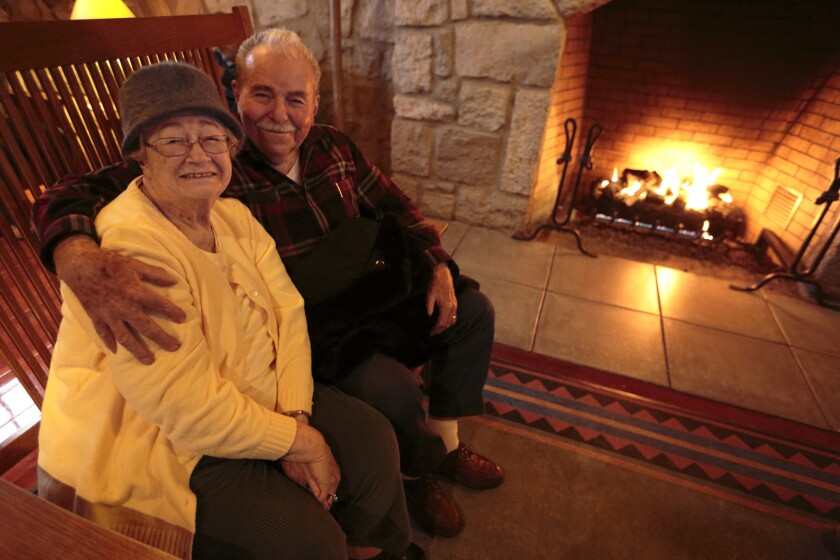 It was September 1953 and Bob and Shirley Welch were ready to make memories.
The couple, both 24, had just been married in San Jose. They packed up their '51 Chevy sedan, drove 430 miles north and stood at the edge of Crater Lake.
It was a sunny day. There had been a stop for pie at Beckie's Cafe on the way up the hill. They walked the rim, took in the bright blue sky and deep blue water, and nosed around the grand old Crater Lake Lodge. Bob shot Kodachrome slides.
Then they headed down the hill to sleep someplace cheaper than the lodge.
"Financial decision," Bob explained later.
"We had just over $100 for the whole trip," Shirley added.
As they spoke, the two, now 85, sat snug on a love seat in the lobby of the Crater Lake Lodge, flames dancing behind them in a big, stone fireplace.
She wore a white sweater and a wool hat. He wore a trim white mustache and sipped a Dead Guy Ale.
On this trip, the lake had been shrouded in fog and clouds for much of the day, but the Welches weren't complaining. This time they were staying in the lodge. How many couples get to retrace and refine their honeymoon nearly 62 years later?
As we waited for our names to be called for dinner, the Welches filled me in on the details of that first trip.
He had grown up in Oakland, then served in Korea. Soon after the honeymoon, he would start college on the GI Bill, hoping to become an art teacher.
She was from Crockett, about 20 miles north of Oakland. They had met at Alum Rock Park in San Jose when they were still in high school.
After the Welches' honeymoon came three daughters, five grandchildren and two great-grandchildren. Bob Welch taught art to middle-schoolers for decades, retiring in 1989. The Welches, who now live in Pleasanton, Calif., dreamed up this trip after a granddaughter invited them to her graduation from the University of Puget Sound in Tacoma, Wash.
Launching a road trip in your 80s "takes a lot of preparation," Bob said.
"And medication," Shirley said.
Their vehicle this time was a 2000 Volvo wagon. Despite the scattered rain, Bob said, the driving had gone smoothly.
Still, they agreed, this might well be their last road trip.
After a night at the lodge, they'd head to Dunsmuir, Calif. (railroad history), then to points farther south.
But first, on the way down the hill, pie at Beckie's.
christopher.reynolds@latimes.com
MORE:Ashland, Ore., is a Shakespeare-steeped literary retreat
At Crater Lake, Ore., sky and water become one, bathed in blue
Weekend Escape: Changing downtown Boise boasts a sophisticated food scene
READ MORE FROM THIS SERIES: Postcards from the West
---
Get inspired to get away.
Explore California, the West and beyond with the weekly Escapes newsletter.
You may occasionally receive promotional content from the Los Angeles Times.