Traveling solo on a cruise? How to keep from paying the dreaded single supplement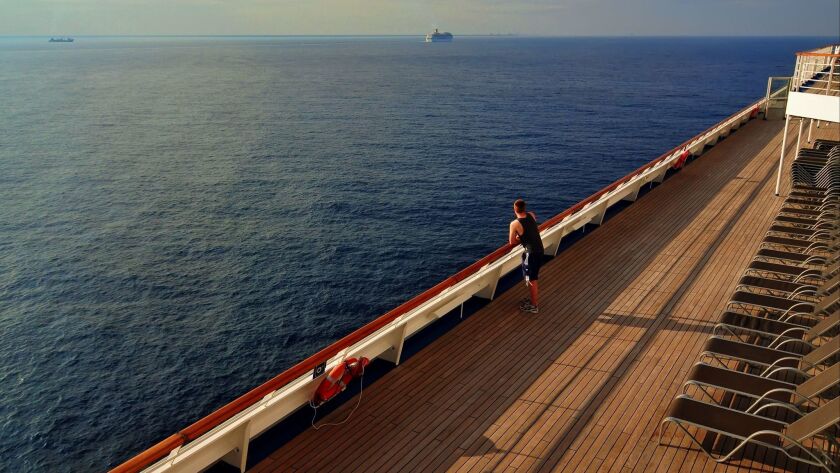 The email's subject line caught my attention: "No single supplement on your cruise fare."
Single supplements are the bane of the solo traveler. But some cruise lines favor them because they make up for revenue (think drinks, shore excursions, spa treatments) they're not getting from that second person.
If a rate shows as "$500 per person, double occupancy," it means you will most likely pay $1,000 if you're traveling alone.
I tend to think of this second (nonexistent) person I'm paying for as my shadow friend. The good news is that I never hear Fabricated Fred or Silent Susan complain; the bad news is that they double the cost of my cruise.
Fortunately, there are ways around having to pay for make-believe companions. Here are some:
Look way, way ahead
One of the best ways to dodge the single supplement involves planning.
The email I had spotted, from AmaWaterways, announced I could avoid single supplements by booking as much as a year in advance or by choosing specific cruises that offer special promotions for singles.
The company, which has offices in Calabasas and offers river cruise vacations in Europe, Africa and Asia, is known for encouraging singles to set sail.
"River cruising is perfect for solo travelers because of the intimate atmosphere smaller ships offer, " said Kristin Karst, co-owner and executive vice president.
"Each day, there are plenty of small group opportunities."
Among the cruises available without single supplement markups are the "Taste of Bordeaux," July 5, starting at $2,849; "Danube Serenade," Nov. 16, starting at $2,049; and ''Medieval Treasures," Nov. 15, starting at $2,049.
Be aware that besides the cruise fare, you'll have to pay international airfare.
Look for a line that accommodates singles
Robin Smith, a retired Texan who often travels by himself, prefers big-ship cruises, which can be less expensive.
Some of his favorite trips have involved Norwegian Cruise Line, which courts single travelers. Its 100-square-foot studio cabins are made for solos; no single supplement is charged.
"Norwegian really seems to embrace single travelers," Smith said. "Some of the others make it clear they don't want solo passengers."
Besides its studio cabins, Norwegian's newer ships have a hangout area for singles called the Studio Lounge, which has a bartender who serves cocktails during nightly mixers.
"There's also a coordinator who helps organize people who want to go to the shows or have dinner together," Smith said.
An insider tip for single cruisers: "If you watch for special promotions, you can sometimes afford to upgrade yourself to a balcony cabin for not much money more than you'd pay for a studio," he said.
There are plenty of Norwegian cruises to choose from if you want a studio room. Sailings for Norwegian Bliss, launching this spring, found a single traveler could sail from Los Angeles to the Mexican Riviera on a weeklong trip beginning Oct. 13, starting at $1,299.
Or head for Alaska from Seattle on June 30 and pay a rate starting at $2,499, for a weeklong trip. Those are single rates. No double occupancy charges.
Holland America also gets kudos from single travelers. It offers studio rooms on two of its ships, the Prinsendam and the Koningsdam, the line's newest ship, which has ocean-view solo cabins that range from 127 to 172 square feet.
The line also goes out of its way to make solos feel comfortable, scheduling more than 40 daily activities, mixers and get-togethers.
How do prices compare on the solo cabins? A seven-day Holland America Southern Caribbean cruise on Dec. 21 would cost $2,736 for the single stateroom; a comparable double room would be $1,149 per person. You would save $250 by booking the single room.
Go high end
High-end cruise ships also offer deals for single travelers who find they can save thousands of dollars if they shop around.
For instance, Silversea charges a single supplement of 25% for some categories of rooms.
Crystal Cruises' supplements can be as little as 30% (although they can be as much as the usual double).
But sometimes you may not care that you have to pay the full rate if that's the price of privacy.
Peggy Morrison, a Seal Beach resident who took her first cruise in January, didn't regret paying the single supplement.
"I had so much fun. I'd do it again," she said. "And I loved having the cabin to myself."
---
Get inspired to get away.
Explore California, the West and beyond with the weekly Escapes newsletter.
You may occasionally receive promotional content from the Los Angeles Times.