We were on Nieuw Statendam's maiden voyage. Here's what we discovered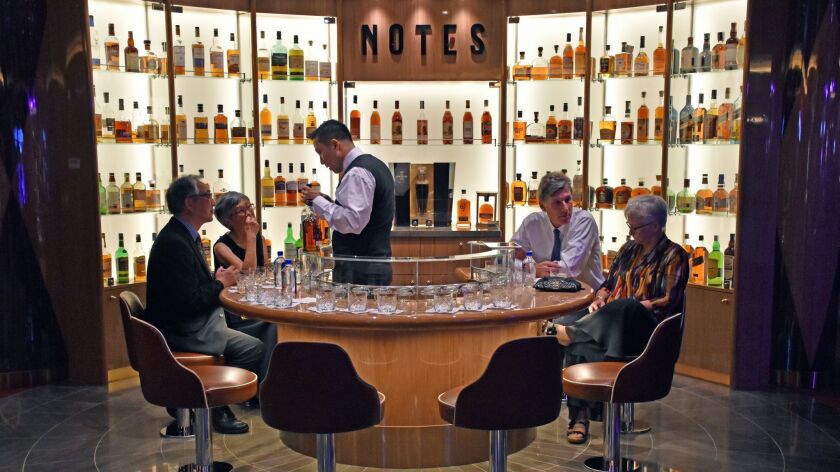 Reporting from Aboard the Nieuw Statendam —
Maiden voyages are catnip for ship enthusiasts and cruise-line loyalists. Of the 2,093 passengers aboard the Nieuw Statendam on its December maiden voyage, only 178 had never sailed with Holland America.
The rest of us were repeat passengers whom the cruise line calls Mariners. The Nieuw Statendam can carry 2,666, but this voyage was underbooked in case of vessel-related teething problems, which turned out to be few.
Holland America's demographic trends older and more traditional. Because my wife, Laurel, and I know the line well, especially the Konigsdam, Nieuw Statendam's sister ship, we expected the familiar, but we discovered new features as well.
Besides the thrill of a maiden voyage, a bonus was the presence for three days of Orlando Ashford, Holland America's 48-year-old president. When he joined the now 145-year-old line in 2014, he had never been on a ship.
His presentation to passengers left no doubt that this was not our grandparents' Holland America Line.
"I avoid focusing on demographics," Ashford said, preferring "psychographics, matching the brand personality with the personality of our guests."
He also identified what he called the line's "swim lanes": catering to music and food lovers as well as "modern explorers." For the better part of two weeks on the voyage from Civitavecchia, Rome's port, to Fort Lauderdale, Fla., we would see how well the Nieuw Statendam and its crew performed.
Music for all
"Our goal is to have the best live music at sea," Ashford said. The anchor is Music Walk, with live performance venues: B.B. King's Blues Club, the Lincoln Center Stage (sharing the same space) and Billboard Onboard.
All were introduced on the Konigsdam and are being added to most of the 15-ship HAL fleet. The Rolling Stone Rock Room, a classic rock club, is new to the Nieuw Statendam.
We caught most of the Lincoln Center performances, its programs set and musicians selected by New York City's Lincoln Center. We heard a quintet, made up of a string quartet called Atlys and a pianist, that played programs such as "Masterworks by Brahms," "Movie Classics" and "A Night at the Ballet."
We also liked Billboard Onboard, which featured a young married couple playing dueling pianos. Any song that "charted" was eligible, and themes included "One Hit Wonders" and "British Invasion."
Our crossing also featured the Netherlands-based Tiny Little Bigband: vocalist Franklin Brown backed by an excellent jazz trio. Also marvelous was vocalist and stride pianist Judy Carmichael, whose two shows in the World Stage we wouldn't have missed. And the Rock Room and Blues Club certainly had their enthusiastic followers.
Dining report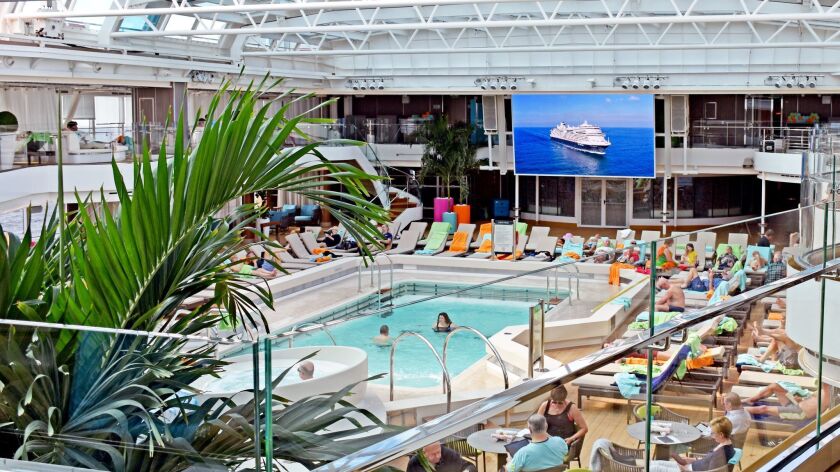 Our group of nine chose the second sitting in the dining room (open seating was also available), and we tried four of the five specialty restaurants.
Maiden-voyage glitches were minimal, because 85% of the crew had come from HAL ships, half from the Konigsdam alone.
The food was good to great, and the presentation was sophisticated: Soups were always poured from pitcher to bowl at table, and the logo china was gone in favor of unadorned pieces suitable for the meals selected.
The dining room has introduced upselling, with a $20 charge for a broiled whole Maine lobster and $75 for a 36-ounce, bone-in rib eye.
The specialty restaurants carry a surcharge of $15 to $35, with some discounts available for members of the Mariners loyalty club and others.
Our favorite was the Asian-fusion Tamarind, which shares space with a la carte Nami Sushi (the one specialty restaurant we did not try). Canaletto, with an Italian accent, is an evening venue carved out of the Lido Market, as the buffet is now called.
Pinnacle Grill, featuring Pacific Northwest cuisine, seafood and steaks, is the longest-running Holland America specialty restaurant and better than ever. Rudi's Sel de Mer, an intimate brasserie conceived by master chef Rudi Sodamin, is heavy on dramatic flourishes and, because it is fully a la carte, pricey.
Neptune and Pinnacle Suite passengers (or others paying a daily $50 per person fee) can choose the intimate Club Orange, new with this ship, featuring the regular dining room menu with a few additions such as surf and turf and Delmonico steak, and enjoy some other perks such as priority check-in and dedicated lines at guest services and shore excursions desk.
At Blend, passengers can create their own wine styles, and at Notes, sample fine whiskeys.
For breakfast and lunch, we patronized the Lido Market, well organized and a cut above average. For our morning cappuccino, we usually chose the Grand Dutch Café, a pretty Delft jewel box that nods to the line's heritage with its menu, décor and Dutch staff.
Shore excursions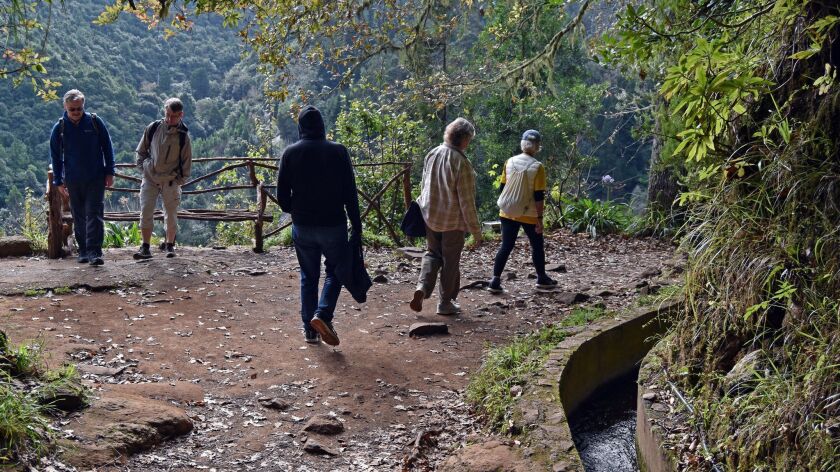 The Crow's Nest was our other coffee spot. Repurposed on New Statendam, it's now a place for drinking, viewing or borrowing a book from the skimpy library.
It's also home to Explorations Central, dubbed Exc, the shore excursions department that is focusing on smaller-group on-shore experiences geared to special interests such as food, wine, art or history.
This is a good direction, because it distributes passengers through a port and mitigates their effect to a certain extent.
We also prefer to explore on our own, and by docking downtown at all three ports, the Nieuw Statendam made this easy.
In Cartegena, Spain, we visited the Spanish Civil War Museum in an excavated shelter and Casa Romana de la Fortuna, depicting family life in the Roman period. In Malagá, Spain, we went to Picasso's birthplace.
Best of all was a van we hired at the port of Funchal to take us into the mountains for a walk along one of the island's many levadas, small, open canals.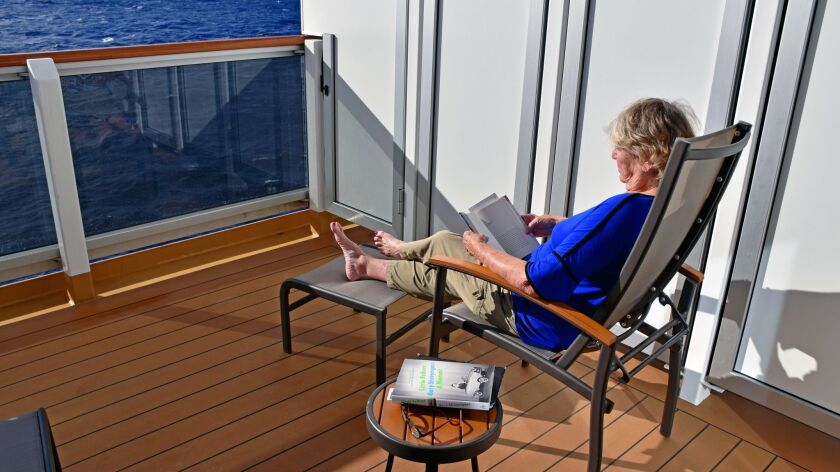 Among the other highlights of our journey: Calm seas and perfect weather for basking on our portside cabin's spacious veranda; two performances by the Step One Dance Company, making spectacular use of background videos that washed across the 270-degree video screen; and the circular Promenade Deck, which made exercise inviting.
All were ingredients in a crossing that was always satisfying and mostly splendid.
If you go
Holland America, (855) 932-1711. HAL's 15 ships call at 450 ports worldwide. The Nieuw Statendam will sail from Fort Lauderdale, Fla., to the Caribbean through April 21, when it repositions to Amsterdam for Baltic and Norway cruises. In September, it cruises the Mediterranean from Civitavecchia and on Oct. 27 leaves that port for Fort Lauderdale on a crossing similar to the one we took.
---
Get inspired to get away.
Explore California, the West and beyond with the weekly Escapes newsletter.
You may occasionally receive promotional content from the Los Angeles Times.