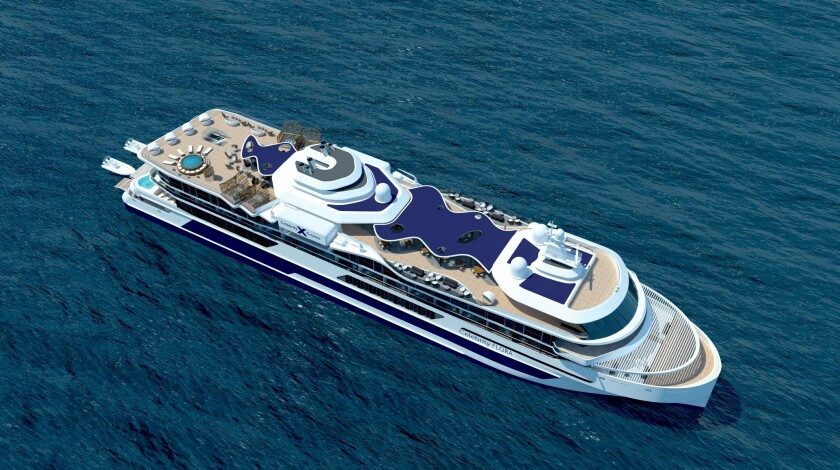 The Galápagos Islands in Ecuador give visitors a once-in-a-lifetime chance to witness animals found nowhere else on the planet. Now Celebrity Cruises has announced it is designing a ship expressly for touring those dazzling shores.
The Celebrity Flora, a 100-passenger ship, will begin sailing out of Baltra Island in the Galápagos in May 2019, on alternating seven-night inner and outer loop itineraries.
Fares start at $4,399 per person, double occupancy.
The 333-foot, all-suite ship is being designed to be energy-efficient, and includes technology that will allow it to maintain a position without anchors, thus protecting the ocean floor.
The Galápagos Islands, known for their giant tortoises, lava lizards and swooping frigate birds, are about 1,000 miles from Ecuador's mainland. Animals that thrive there have few predators, leading to a vast number of endemic species.
In addition to design advances, the Flora will offer educational, research-based programming that will give travelers an opportunity to learn about the wildlife-rich islands.
Other new features of the ship include:
— a boarding area that can accommodate up to three Zodiac boats at once, reducing transport time to and from land
— an open-air viewing area that that has 360-degree views
— an observatory with floor-to-ceiling windows and stargazing platform
The ship will have an advanced propulsion system and specially designed diesel engines that will make it more energy-efficient, according to Celebrity.
Info: Celebrity Cruises, (888) 751-7804, or contact a travel agent
ALSO
Take a small-ship cruise to Washington state's tulip festival next spring
Viking is best cruise line in Mediterranean, Royal Caribbean offers best value, in new rankings
The mistakes you make on a cruise that can ruin your trip — and how to avoid them
The mistakes you make on a cruise that can ruin your trip — and how to avoid them
Twitter: @latimestravel
---