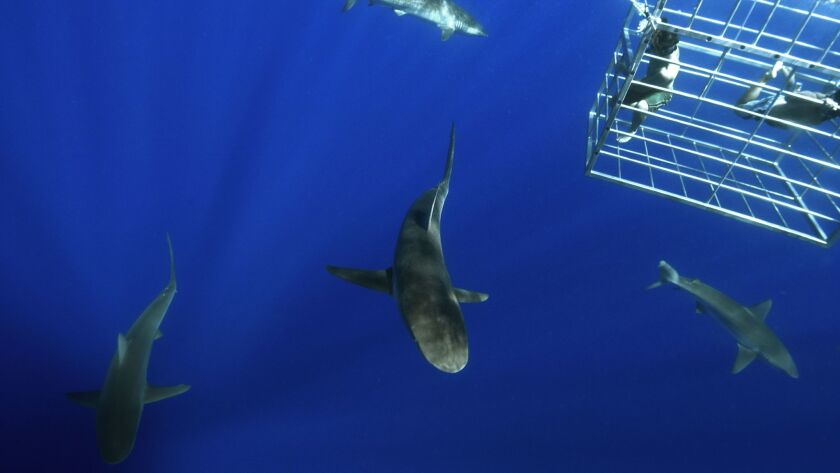 If the recent spate of shark sightings off the Southern California coast has piqued your interest about the toothy predator, jump into Shark Week fun with Princess Cruises. The line will be celebrating the July 23-29 Discovery Channel event on several of its ships.
As part of its Discovery at Sea Program, Princess is helping passengers learn more about sharks through educational programming, shipboard events, and food and beverage offerings.
Passengers on select ships, including the Emerald Princess, Grand Princess and Ruby Princess, will be able to view Shark Week programming in their staterooms before it premieres on the Discovery Channel.
Among the shows is "African Shark Safari," which follows the 1,500-mile journey of a great white up the African coast to Madagascar, a place where the sharks are not usually found.
In addition, children and teens will have shark-themed fun at Camp Discovery, the newly redesigned teen and youth centers.
Kids from 3 to 17 will be able to feed their shark frenzy with glitter tattoos and shark-themed face-painting, or they can create arts and crafts to take home, including shark teeth jewelry and shark clay models.
For adults, specialty cocktails have been created, including a Shark Attack Margarita and a tropical Great Blue Shark.
Adventurous passengers who want to create their own high-adrenalin shark experiences can book a shark diving encounter on excursions in Honolulu, or a whale shark encounter in La Paz, Mexico.
Info: Princess Cruises
Twitter: @latimestravel
ALSO
Like its near namesake, the African Dream provides a river cruise (but with better digs)
You know Ritz-Carlton for its hotels, and now it's adding cruises to its repertoire
Special cruise to celebrate Judy Garland, including an auction of some of her famous dresses
---