Queen Mary will mark 50 years with free admission, boat parade and lectures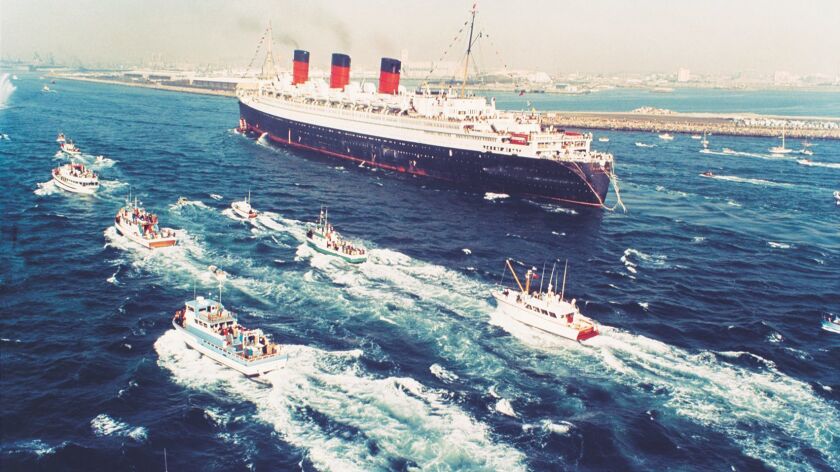 Fifty years ago, the Queen Mary sailed into Long Beach Harbor, her oceangoing days behind her. On Friday and Saturday, a weekend 50th anniversary party will celebrate her arrival.
Events include a dinner, speaker series, boat parade and free admittance to the ship.
The historic ocean liner arrived in Long Beach on Dec. 9, 1967, following a 39-day journey known as the Last Great Cruise. The journey took passengers from Southampton, England, to Long Beach.
The liner has now been in Long Beach longer than she was at sea, hosting 50 million guests and being the site of more than 12,000 weddings.
Events include a reception at the Verandah Grill from 7 to 11 p.m. Friday, with live jazz, a menu inspired by the last meal served on the ship before arriving in Long Beach and a screening of the short film "Last Great Cruise." Tickets cost $50.
On Saturday, the ship will be open free to the public from 10 a.m. to 3 p.m., a boat parade will be held at 11 a.m., and from noon to 3 p.m., there will be a lecture and book signings by authors who have written about the liner.
The anniversary celebration comes at a time when the ship is undergoing restoration, including 26 projects such as painting, hull repair, new teak decking and remodeling of the Promenade Cafe and Sir Winston's Restaurant.
The upgrades will take place over a period of five to seven years at a cost of an estimated $50 million to $60 million, according to Dan Zaharoni, chief development officer at Urban Commons, the ship's leaseholder.
"We're just excited to present the ship to the world again," he said. "A lot of people have looked at it with a negative eye, and we want to bring it back again and present it in a new light."
Urban Commons, a real estate investment and development firm, hopes to turn the ship into an entertainment destination. Plans include a new hotel, amphitheater, 44-slip marina and other development.
Zaharoni said the company hopes hold a grand opening in 2023.
In addition to this weekend's anniversary party, the annual Chill Ice Adventure Park will open Dec. 13 and remain until Jan. 7. The event includes ice skating, a zip line, fireworks and ice tubing slides.
Info: Queen Mary
ALSO
Princess will mark 50 years of Alaska cruises in 2019 with largest deployment in its history
It's back! Carnival revives traditional Baked Alaska parade on all 25 cruise ships
Adventure travel is booming, with many expedition ships in the works, including a new Lindblad polar vessel
Twitter: @latimestravel
---
Get inspired to get away.
Explore California, the West and beyond with the weekly Escapes newsletter.
You may occasionally receive promotional content from the Los Angeles Times.