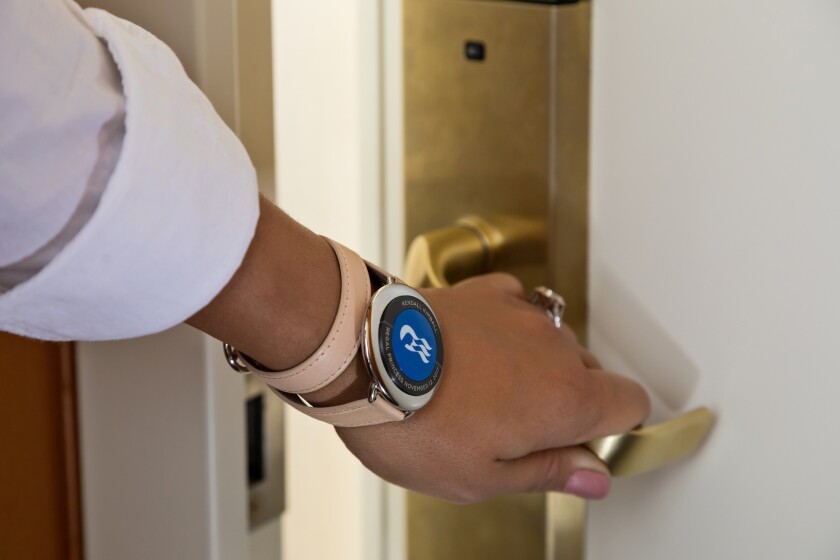 Princess Cruises will be first to debut a new high-tech wearable that's out to provide cruise passengers with a "seamless guest experience," parent company Carnival Corp. announced Thursday.
The device, called the Ocean Medallion, is about the size of a quarter, and requires no batteries or charging. Passengers carry it in a pocket or attach it to a keychain to perform all kinds of services. Open your stateroom door? Check. Locate friends and family on board? Check. Group message everyone for dinner and order food? Check and check.
The medallion, which carries your name, ship and date of sailing, helps you get in and out of ports quicker too.
The new device was announced by Carnival Corp.'s CEO Arnold Donald during a keynote speech at the Consumer Electronic Show in Las Vegas.
It's a lot like the MagicBand at Walt Disney World in Orlando, Fla., which combines room entry, purchases and expedited access to rides in one wristband.
If you want to be first to sample the new on-board technology, it will be rolled out across all Princess ships, starting with the Regal Princess in fall.
Ocean Medallion Class, as it's called, will be available on a cruise from Fort Lauderdale, Fla., to Princess Cays, Bahamas, on Nov. 13 (two days, starting at $299 per person) and to Turks & Caicos on Nov. 15 (four days, starting at $499 per person).
(Though it's identified as a "class," there's no extra charge.)
It is scheduled to expand to the Royal Princess and Caribbean Princess in 2018, and then rolled out over the entire fleet.
ALSO
Can't get into Consumer Electronics Show? Check out a virtual-reality lounge, Echo-equipped rooms in Las Vegas
Get a balcony room for the price of an inside cabin with this Cunard cruise deal
LAX construction was on hold for the holidays. Now it resumes, with new road closures, shuttle route changes
---