Oh, to spend a night at the Eiffel Tower! HomeAway thinks that would be a great idea and is holding a contest to select the lucky souls who will experience the ultimate Paris stay.
The vacation rental company is building a pop-up apartment on the Eiffel Tower's first floor and will award a night's stay in the temporary space to those who provide a compelling answer to this question:
"What would you do if the HomeAway Eiffel Tower Apartment was all yours for a night?"
Not too hard, right? Well, you're limited to 140 characters, so choose your words carefully.
Winners and up to five guests will spend one night in the tower that debuted in 1889. The "apartment" will be open June 23 and 28, and July 4 and 8 only.
Contest winners also receive a gourmet dinner, three additional nights at a vacation rental in Paris and round-trip airfare.
Submit your response by May 31.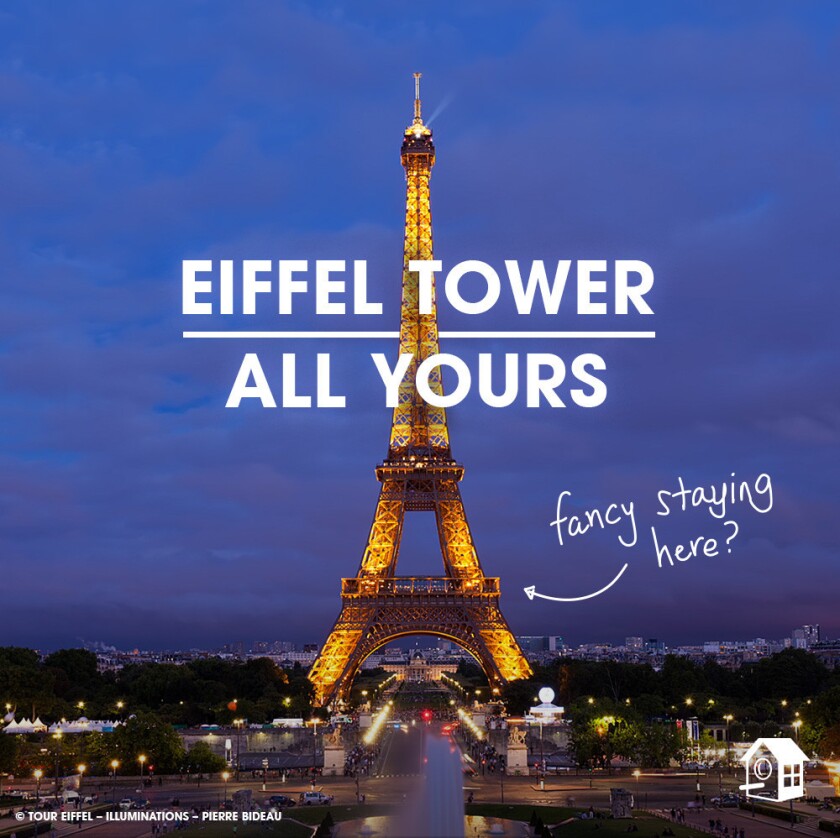 You also could have a say in what the pop-up digs look like. French Interior designer Benoit Leleu is creating the 2,000-square-foot apartment. Fans can have input about design elements on social media using the hashtag #EiffelTowerAllYours.
By the way, if you win -- a very big "if" -- you won't be the first person to inhabit an apartment in the Eiffel Tower. Gustave Eiffel built one for himself on the top floor that he used as an office. No one sleeps there, but you can visit when you go to the top.
Info: Eiffel Tower All Yours contest
ALSO
Just in time for summer travel: 4 budget hotels and motels out to redesign 'cheap'
Get ready to zip-line down the mountain at Lake Tahoe ski resort
How many of these 25 top landmarks have you visited? Machu Picchu is No. 1
---