Indulge in Portland's salty side on a weekend escape to Oregon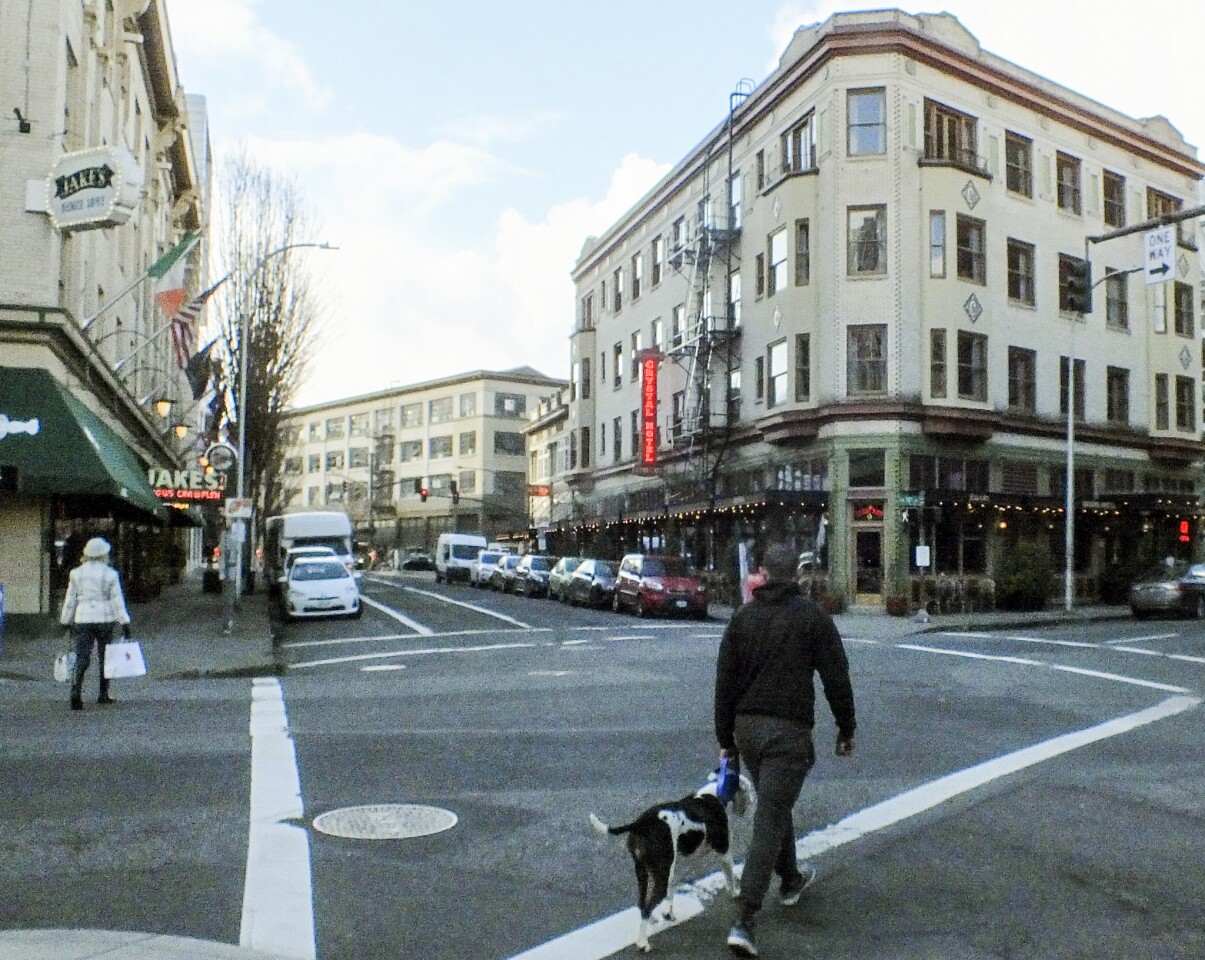 Although the 107-year-old Crystal Hotel may not look splashy on the outside by today's standards, within its walls, guests can luxuriate in a subterranean saltwater soaking pool.
(Jay Jones / Jay Jones)
A large saltwater soaking pool is one of the reasons guests choose to stay at the Crystal Hotel.
(Jay Jones / Jay Jones)
A guest room at the Crystal Hotel.
(Jay Jones / Jay Jones)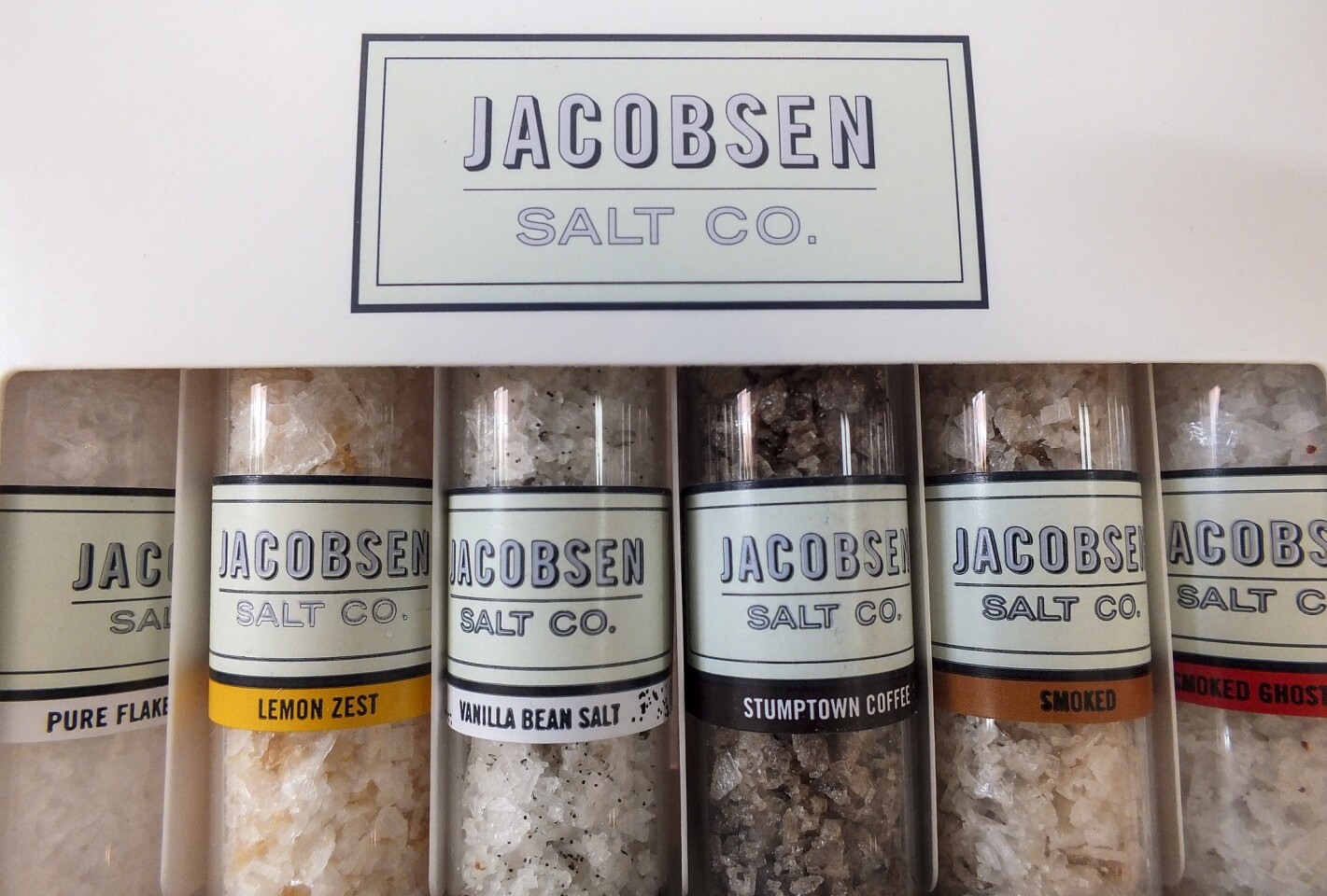 At its store in Portland, Ore., Jacobsen Salt Co. sells sea salt infused with everything from habanero pepper to pinot noir wine.
(Jay Jones / Jay Jones)
Megan Davis, an employee at Jacobsen Salt Co.'s store and warehouse in Portland, Ore., encourages shoppers to sample products before buying.
(Jay Jones / Jay Jones)
Jacobsen Salt Co. uses a two-stage process to purify its sea salt, which is harvested from Netarts Bay along the Pacific Coast.
(Jay Jones / Jay Jones)
Homemade spaghetti is a staple at Ava Gene's, a popular Italian restaurant in southeast Portland, Ore. This seasonal plate includes asparagus, parmesan and lemon.
(AJ Meeker)
With so many tempting pasta dishes on the menu at Ava Gene's, many guests prefer to order plates for the entire table to share.
(AJ Meeker / AJ Meeker)
The cooks at Ava Gene's use Jacobsen Salt Co. sea salt in their pasta. Flakes of the salt are often sprinkled on top of prepared dishes.
(Cheryl Juetten / Cheryl Juetten)
Portland, Ore., may be known as the City of Roses, but it was savory salt, not fragrant flowers, that attracted me to one of the Pacific Northwest's most delightful destinations. Although the bordellos, gaming halls and opium dens that catered to lumberjacks are long gone, it is still possible to indulge in the city's salty side — with savory seasonings and a soaking pool. The tab for two excluding airfare and car rental: $215 for a king room with private bath at the endearingly funky Crystal Hotel and $130 for a hearty dinner of shared plates at Ava Gene's.
THE BED
The Crystal Hotel, built in 1911 to lodge lumbermen, blends period charm — most guests still share bathrooms — with themed rooms named for entertainers who have performed at the nearby Crystal Ballroom. The hotel's best feature was its most unusual: a saltwater soaking pool in which guests can unwind. In case you forgot to pack one, swimsuits are sold in the lobby.
THE MEAL
The plates of homemade pasta at Ava Gene's are sized for sharing. I found that to be the best way to savor the variety of locally sourced food. An "aggressively seasonal" menu in the fall incorporated artichokes, lamb sausage, nectarines, sheep cheese, squid and zucchini, many seasoned with Jacobsen salt. Plates cost $11-$36 each. Or consider a family-style meal for the entire table at $78 per person.
THE FIND
You don't need to drive 80 miles to the coast for a taste of the finest sea salt. Jacobsen Salt Co. hand harvests salt in Netarts Bay and sells its full line of products at its Portland store/warehouse. Knowledgeable employees foster a "try-before-you-buy" attitude, offering samples of items such as pure sea salt and crystals infused with black garlic, habanero pepper or Pinot Noir. I quickly got hooked on the salty caramels.
THE LESSON LEARNED
Although the A and B streetcar lines link downtown with Jacobsen Salt, you'll want a Lyft, Uber or taxi ride to get to southeast Portland's Division Street, where an eclectic mix of bars, restaurants and boutiques await.
Crystal Hotel, 303 S.W. 12th Ave., Portland, Ore.; (503) 972-2670. Wheelchair accessible.
Ava Gene's, 3377 S.E. Division St., Portland, Ore.; (971) 229-0571. Wheelchair accessible.
Jacobsen Salt Co., 602 S.E. Salmon St., Portland, Ore.; (503) 719-4973.There's also a Netarts Bay gift shop at 9820 Whiskey Creek Road, Tillamook, Ore.
---
Get inspired to get away.
Explore California, the West and beyond with the weekly Escapes newsletter.
You may occasionally receive promotional content from the Los Angeles Times.