Japanese-style spring bloom is on at Bellagio's gardens, and you don't even have to step outside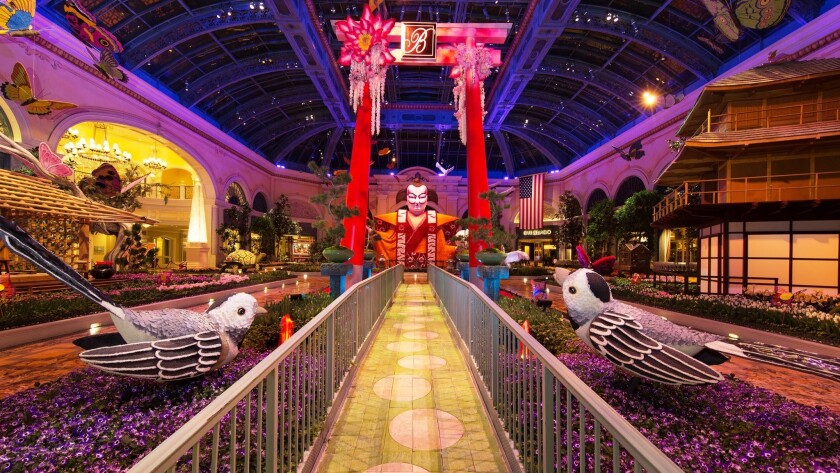 As spring blooms at Vegas' Bellagio Conservatory & Botanical Garden, the 80,000 flowers on display will transport you to a Japanese idyll. You'll see foxglove, Easter lilies, cineraria, snapdragon, cyclamen and calla lilies as well as more than 600 types of shrubs.
The exhibit inside the hotel-casino starts with a path to a torii, a gate typically found at Shinto shrines. The 25-foot structure is decorated with pink and white lotus blossoms.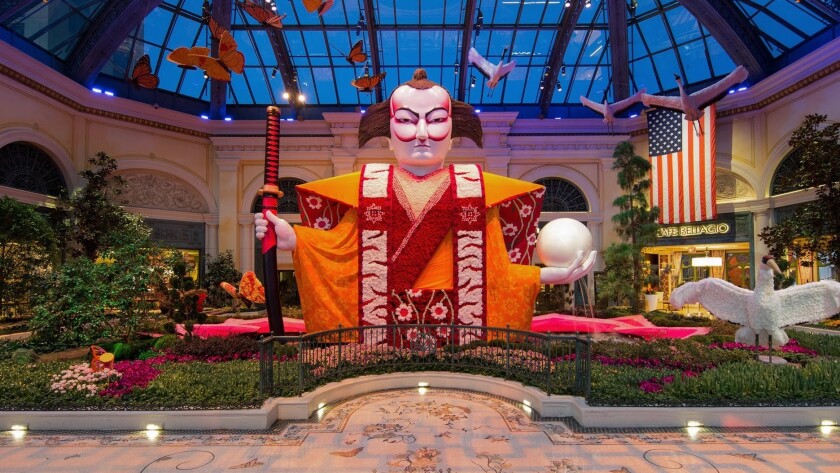 Next, you come to a 35-foot kabuki character that holds a sword in one hand and a giant pearl in the other, symbols of power and prosperity. The Japanese theater character rises from a massive lotus flower that's 60 feet wide and covered with 5,000 flowers, including deep purple and red preserved roses.
In the North Garden, a large Japanese temple stands as a tribute to Kinkaku-ji, a well-known Zen Buddhist temple in Kyoto. Just like the real temple, it's a good place to stop and reflect. The gold-colored structure sits beside a tranquil pond between two oversize birdcages.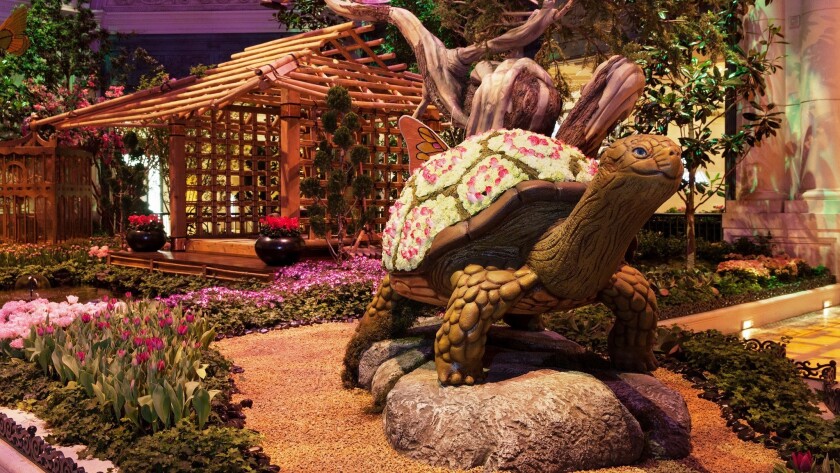 The South Garden continues the theme with a turtle decked out with 900 flowers. Nearby is a teahouse made of bamboo that sits amid cherry blossoms.
The design is the brainchild of New Yorker Ed Libby, who has made floral creations for actors and recording artists. Libby is best known for his elaborate flower creations for weddings,
Now he's delighted to have built a display that will last more than just a few hours.
The exhibit continues through May 14. The conservatory and gardens are open 24/7, and admission is free.
Info: Bellagio Conservatory & Botanical Garden
ALSO
Here's where to see the magnificent waterfalls that have returned to SoCal after the big rains
Your guide to the best Final Four viewing parties in Las Vegas
Thanks to abundant snow, the West can expect a long, rollicking river rafting season
Everything's coming up primroses and poppies and ranunculuses, but these blooms won't last much longer
---
Get inspired to get away.
Explore California, the West and beyond with the weekly Escapes newsletter.
You may occasionally receive promotional content from the Los Angeles Times.