Everything's coming up primroses and poppies and ranunculuses, but these blooms won't last much longer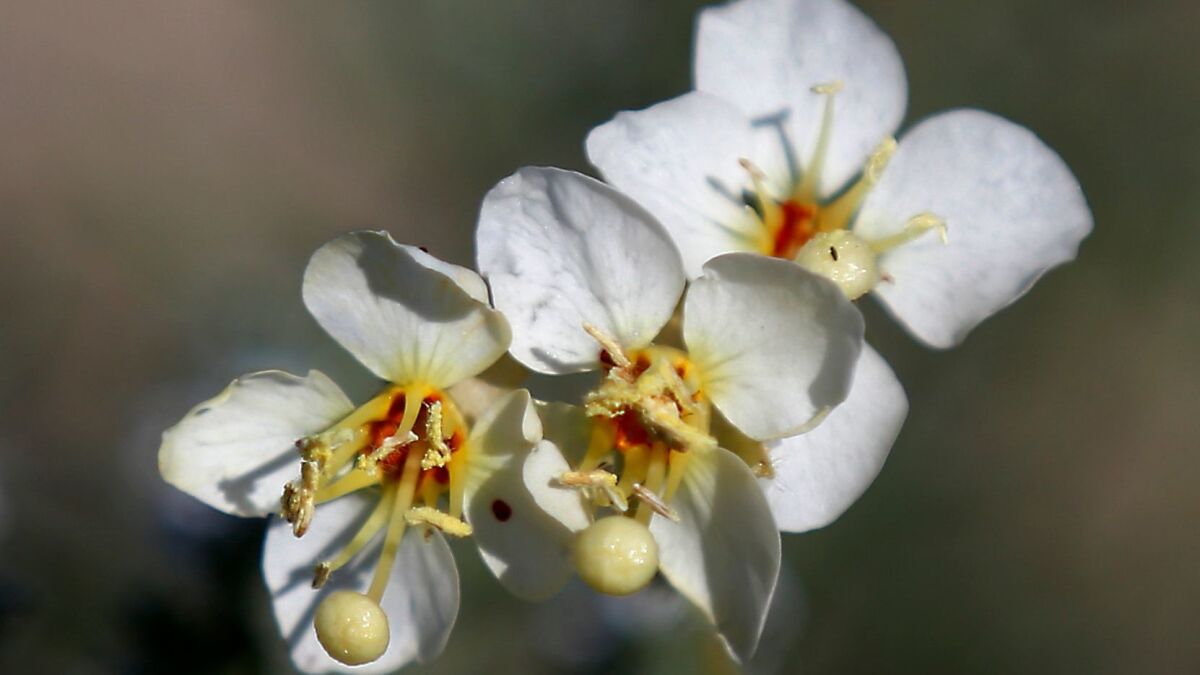 Spring flowers have had a tough go of it in the past few years. California's climate isn't the most hospitable, and the gods have been extra stingy with rain in recent years.
But this is the year that everything changed.
Thanks to extra precipitation and some luck, the show should be worth seeing.
In some places, it has already. The recent sight of hillsides turned orange and purple in Lake Elsinore's Walker Canyon caused a traffic jam on the 15 Freeway as drivers stopped to gawk at the spring flowers, some exiting to get a closer look.
Given everything wildflowers go through simply to thrive — some bloom from seeds dormant for 50 or 100 years — they deserve our attention, if only to applaud the struggle for the beauty of it all.
Your chance to see Southern California's epic wildflower bloom is running out. Here's where to go »
And cultivated flowers? Well, they're the debutantes of the group but also deserving of our gratitude for the floral eye candy.
Here are some of the best places to see the blooms.
Anza-Borrego Desert State Park
This state park is the place to be right now to see wildflowers that have been popping since early March.
When to go: Thanks to above-average rainfall this season, this out-of-the-way desert spot southeast of Temecula is having the best showing in 20 years.
Go now if you want to see the superbloom that's filling the desert with low-lying carpets of yellow and greened-up fields streaked with purple and white flowers. It will last only a few more weeks.
Where: Start your journey along County Highway S22 on the west side of California's largest state park.
"That's always a spectacular entry," said Ernie Cowan, president of the Anza-Borrego Foundation. "You come over a crest and there's this long view of the desert … with the Salton Sea in the distance."
What you'll see: As the road drops from an elevation of 4,000 feet to the desert floor, travelers can expect to see roadside cholla cactus and yellow brittlebush in bloom as well as tall green ocotillo tipped with fiery red blossoms.
Continue into the town of Borrego Springs and head northeast to Henderson Canyon Road for the big show. You'll see fields of yellow desert dandelions, purple sand verbena and white desert primrose. Desert sunflowers are starting to bloom here too.
See more Times photos of the superbloom at Anza Borrego Desert State Park »
When you're ready to explore on foot, head to Desert Gardens north of town at the end of Di Giorgio Road. It's a super-slow, winding drive on what becomes a dirt road.
The main trail provides easy hiking in the flats, where you can see other types of wildflowers, such as Parish's poppy. (It's easy to mistake them for California poppies, except they're buttery yellow rather than orange.)
More adventurous hikers who want to dodge the crowds should head to Mine Wash, a marked stop off California Highway 78 south of Borrego Springs.
Four-wheelers can drive the nine or so miles on the main trail, and hikers can walk in a few miles to see wildflowers plus Native American grinding stones and other ancient cultural sites.
Road conditions/accessibility: Be calm, particularly if you're visiting on a weekend. Traffic has been heavy and has caused delays on the two-lane, winding roads around the park and Borrego Springs. Go early and stay late to avoid getting caught in the worst of it.
Also take lots of water, sunscreen, a hat and sturdy shoes, even if you're just planning to wander even slightly off the road.
Directions: The drive from downtown Los Angeles to the park takes about three hours. There are several ways to go; best to map a route in advance and check traffic conditions. One of the most scenic routes is Highway 79 to S22, which will take you to the park and the town of Borrego Springs.
Info: Call the park's hotline for the latest wildflower updates at (760) 767-4684. You can download a flower map in advance.
The Visitor Center is open 9 a.m. to 5 p.m. daily and has lots of info but may be crowded and hard to access depending on when you go. Information kiosks stocked with maps and water are set up along Palm Canyon Road in Borrego Springs to guide visitors to the blooms.
Antelope Valley Poppy Reserve
Chino Hills State Park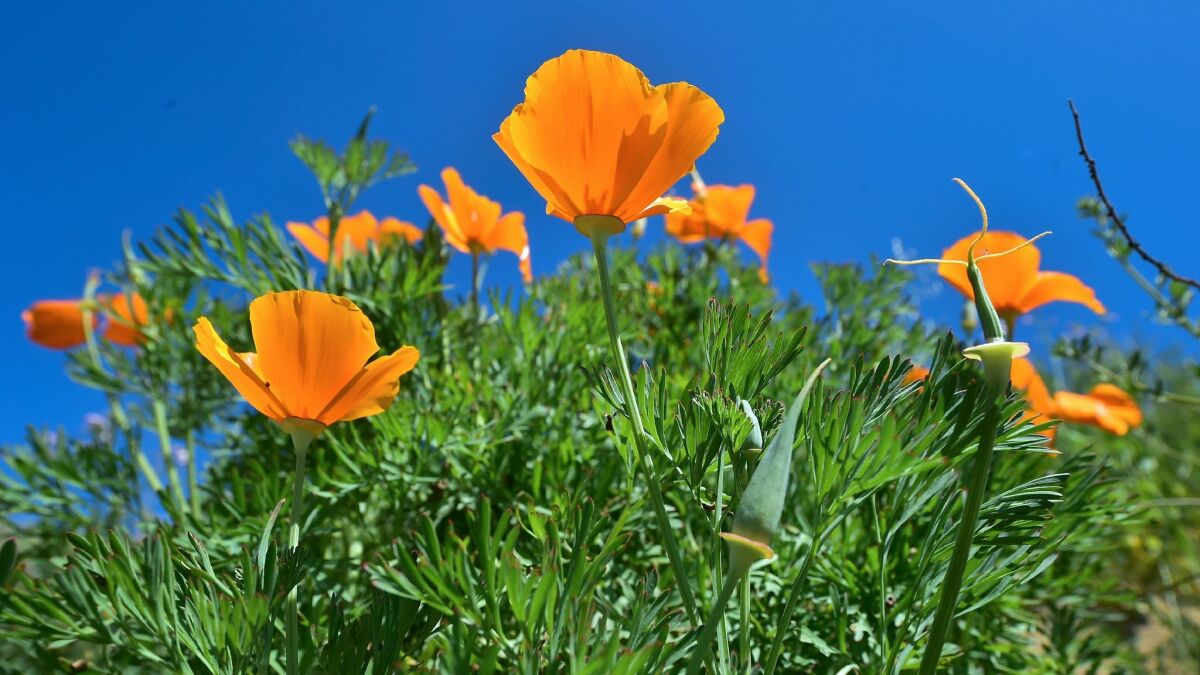 They don't call California the Golden State for nothing. The state earned the moniker in part because of the "golden" poppy fields that cover hillsides each spring.
The California poppy, the state flower since 1903, remains one of the most beloved wildflowers around.
You'll find them along roadsides north and south of L.A., but hot temperatures may end the show.
When to go: The Antelope Valley California Poppy Reserve, which started the season with a lackluster forecast, now has a more optimistic outlook.
"We won't have a solid carpet of poppies across the park, but a couple [of] areas look like they're about to explode into a beautiful sea of orange," the park's website says. And it may last through mid-April.
Right now they're popping at Chino Hills State Park, though the golden glow may last only a week or two more.
By the way, this wildflower has its own state holidays. Poppy Day is April 6, and Poppy Week is May 13-18.
Trail conditions/accessibility: The California Poppy Reserve has a network of easy to steep trails that visitors must follow to see the flowers.
The poppies at Chino Hills State Park can be seen not far from the entrance, along the paved entrance road and on the easy Upper Aliso Canyon Trail.
One downside: Visitors are straying off trail and picking the flowers. The park reports a huge uptick in visitors, 600 to 700 people on weekends. The trampling could damage root beds and diminish future blooms.
Directions: The California Poppy Reserve is at 15101 Lancaster Road and is about a two-hour drive from downtown Los Angeles. From Highway 14, take the Avenue I Exit and head west 15 miles. Avenue I becomes Lancaster Road.
From the 5 Freeway, take Highway 138 east and turn right on 170th Street West. Make a left at the end onto Lancaster Road and follow the road for two more miles. Parking costs $10.
Chino Hills State Park is about 90 minutes from downtown Los Angeles to the park entrance at 4721 Sapphire Road. You can take the 10 or 60 freeways eastbound to Highway 71 southbound. Take Exit 7 for Soquel Canyon Parkway and continue until you make a left into the park.
Admission costs $5 per car. The park is open 8 a.m. to 5 p.m. daily. Evening hours on April 1 extend to 7 p.m.
Info: Antelope Valley California Poppy Reserve, (661) 724-1180; Chino Hills State Park, (951) 780-6222
The Wild Flower Hotline hosted by the Theodore Payne Foundation is a good resource for bloom updates every Friday for areas throughout Southern California. Go to the website or call (818) 768-1802, Ext. 7.
Flower Fields at Carlsbad Ranch
Go ahead, drown yourself in waist-high flowers topped with big yellow, pink, white or red blooms — and don't forget your camera.
These aren't wildflowers but fields of cultivated ranunculus (specifically Tecolote Giant Ranunculus), a type of buttercup native to Turkey and nearby areas.
When to go: The flowers spread over 50 acres and are planted in thick ribbons of color best seen now through mid-April. The hills offer views of the Pacific Ocean too.
What to see: Besides walking amid the ranunculuses, you can wander in a sweet pea maze, snap a selfie at the 300-by-170-foot U.S. flag made of red, white and blue petunias, and, for the younger set, visit Santa's Playground.
There also are greenhouse displays of cymbidium orchids and, new this year, poinsettias. After-hours events include a sunrise Easter service April 16 and a Mother's Day celebration on May 14.
What happens after the bloom? The bulbs are harvested and sold to nurseries across the country.
Conditions/accessibility: It's easy walking up the hillside or you can take a wagon ride for $5 that will take you along the perimeter of the fields.
Directions: It's about a two-hour drive (depending on traffic) from L.A. to the fields at 5704 Paseo del Norte in Carlsbad.
Take the 5 Freeway south and exit at Palomar Airport Road. Continue east on the road and turn left onto Paseo del Norte. The parking lot to Carlsbad Ranch will be on the right.
Info: The ranch is open 9 a.m. to 6 p.m. daily through May 14. Admission is $14 for adults, $13 for seniors 60 and older, $7 for children 3 to 10 years old, free for 2 years and younger.
Tickets are sold in advance online at the Flower Fields website or on site. Info: (760) 431 0352.
---
Get our L.A. Goes Out newsletter, with the week's best events, to help you explore and experience our city.
You may occasionally receive promotional content from the Los Angeles Times.