5 feet in Big Bear? 'The drought is going to get crushed,' forecaster says of new winter storms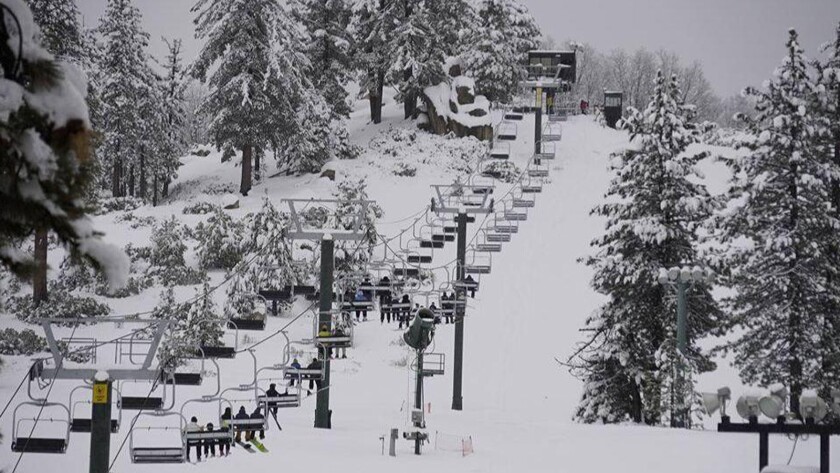 SoCal skiers may see heavy snow pound their favorite resorts the next several days, as another winter storm system — again arriving in three overlapping chapters — rolls through the region.
"Although we are not in an El Niño pattern, these weather systems affecting California are behaving much like El Niño, where you get these taps into the atmospheric rivers that enhance rainfall," explained meteorologist Jim Cantore. "It looks a lot like what we should have seen last winter, but we didn't.
"The drought is going to get crushed," he predicted of the next series of storms.
In a Wednesday email, the Weather Channel expert said there are three systems arriving now through early next week that have a chance to produce more than 4 inches of rain in Southern California.
"Now we are getting to the point where it's almost too much of a good thing," he said, citing hillside saturation and the potential for mudslides.
That's not the thinking for SoCal resorts that enjoyed significant snow from last week's storms and are looking forward to much more.
Getting there may be tricky, however. For road conditions, check the Caltrans hotline: (800) 427-7623, or click here.
Heading into another wintry weekend, here's a round-up of some of SoCal's favorite ski spots:
Mammoth Mountain, the king of the hills
The latest new storm rolled into Mammoth early Wednesday afternoon. It was expected to drop up to six feet of fresh snow, taking recent totals past 25 feet. The National Weather Service says snowfall is expected to be lightest on Thursday and Saturday, and Saturday appears to be the best travel day. Take chains.
Mountain High to be fully open by Saturday
Mountain High's West Resort is 100% operational, and its 34 trails have a 17- to 22-inch base. East Resort will reopen on Friday, and North will open Saturday. Mountain High is one of the easiest resorts to reach from Los Angeles, with less mountain driving. But given the forecast, chains are recommended.
Big Bear braces for up to 5 feet
The heaviest snow is expected to hit Thursday and Friday. The twin resorts of Snow Summit and Bear Mountain are preparing for 3 to 5 feet of snow through early next week. Chains are recommended for reaching the mountain retreat two hours from Los Angeles. Driver tip: Hwy. 38 is less curvy and typically has less traffic. For road conditions, check here.
Snow Valley coated, and may get even more
Snow Valley received a couple feet of snow from the last storms, and may add several more from this next system. Lower in the San Bernardino Mountains, Snow Valley requires less mountain driving than Big Bear. The family-friendly resort emphasizes its first-timer and lesson programs and boasts the only So Cal sledding area serviced by a chair lift.
Mt. Baldy is open, and it offers rides for nonskiers
The last storm dumped much-needed snow, and the tiny four-lift resort of Mt. Baldy is expecting a significant addition from this next storm. For spur-of-the moment trips, consider this retro resort. Sugar Pine Chair Lift (Chair 1) ferries riders from the parking lot to three other chairs and a wide variety of terrain. For nonskiers looking for great views and a trip to the snow, Chair 1 is the ticket; $25 for adults; $20 children (for nonskiers). Tubing is also offered.
Twitter: @LATimestravel
ALSO
What's new at ski resorts across the West
---
Get inspired to get away.
Explore California, the West and beyond with the weekly Escapes newsletter.
You may occasionally receive promotional content from the Los Angeles Times.