34 Images
Bizarre and unusual destinations around the world
The Honghe Hani Rice Terraces, developed over 1,300 years by the Hani people, is a part of a farming system that incorporates livestock such as buffalo and fish in the cultivation of red rice, the region's primary crop.
The rice terraces are among 19 sites inscribed in in the UNESCO World Heritage list in 2013, including Mt. Fuji in Japan, the Medici Villas and Gardens in Italy and the town of Levuka in Fiji, the nation's first listed site.
(STR / AFP / Getty Images)
Panda lovers of the world now have another place to call home (for a few nights, at least). In 2013, the Panda Inn, a panda-themed hotel in China's Sichuan province, opened its doors to guests. The 32-room hotel is decorated with panda art, panda furniture and panda-shaped stuffed animals. Even staff members dress in panda suits. (STR / AFP / Getty Images)
Papakolea Beach on Hawaii's Big Island get its green color from olivine minerals. Coral tints Pink Sands Beach in the Bahamas. At Red Beach in Panjin, a city about 300 miles northeast of Beijing, it's seaweed. The wetland is home to a unique variety of alkali-tolerant seaweed that changes from green to red in the fall. (AFP / Getty Images)
Up until a few years ago, quirky Mont St. Michel, a tidal island (tides vary as much as 50 feet) located off the coast of Normandy, France, was in danger of losing its maritime identity. In the 8th century, a bishop established a small chapel there. A Gothic abbey, used during the French Revolution as a prison, followed a few centuries later. Then in the 19th century a causeway connecting the island to the mainland was built, preventing the sea from washing away silt that collected around the island. A dam that rose in 1969 had a similar effect. Land slowly crept up on the island. Now Mont St. Michel, which receives almost two and a half million visitors a year, is undergoing a face-lift aimed at turning back the accumulated sands of time. (Kenzo Tribouillard / AFP/Getty Images)
During the winter, you may be inclined to seek warmer weather on your travels. Not visitors to the Icehotel in Jukkasjarvi, Sweden. Not only is the hotel located about 124 miles above the Arctic Circle, it's made of ice, even its beds. It features a church, main hall and an ice bar that serves drinks in glasses carved from ice. (Francois Campredon / AFP / Getty Images)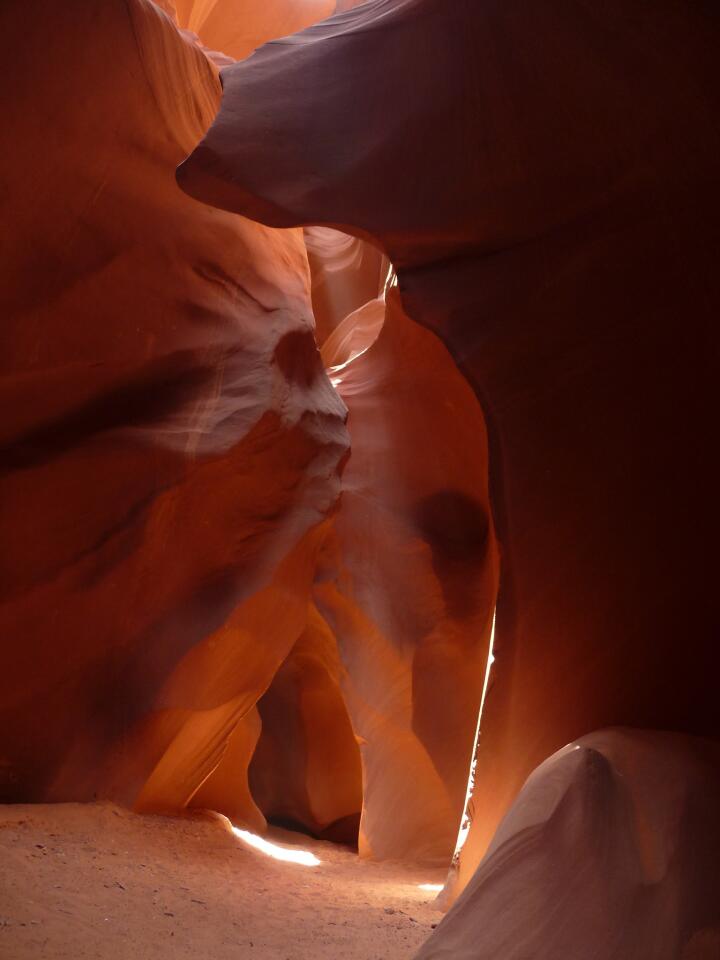 Just south of the Arizona side of Lake Powell is Lower Antelope Canyon, a maze of abstract shapes carved from sandstone by wind and water.
From above, the slot canyon looks like any other stretch of Arizona desert. But descending into this canyon, you feel as if you've stepped into some elaborate art installation.
Some parts of Lower Antelope Canyon are so narrow that only one person can pass in either direction. More photos
(Jason La / Los Angeles Times)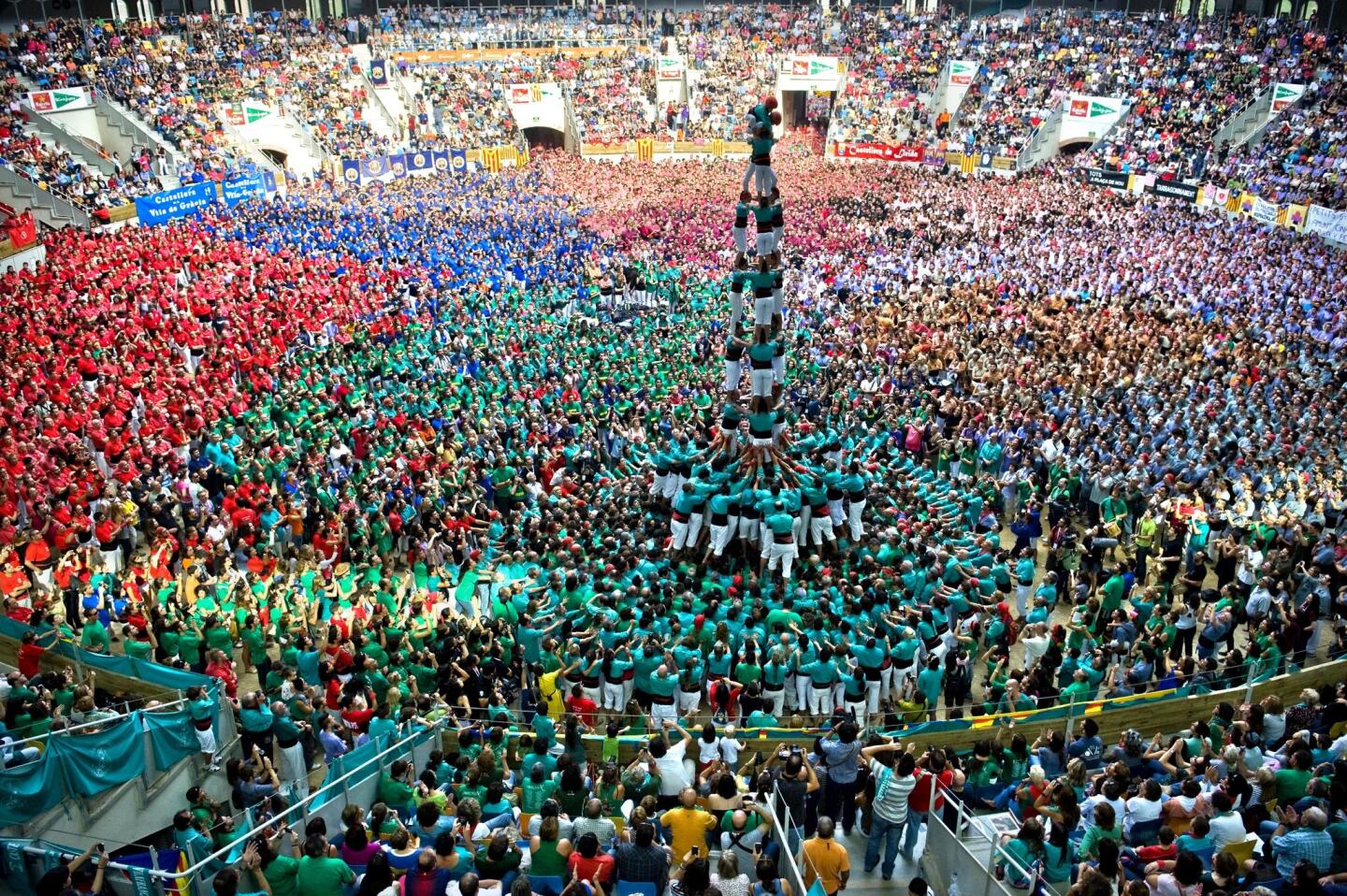 Each year, thousands gather in Tarragona, a city in Spain's Catalonia region about 50 miles southwest of Barcelona, for its annual castells competition, where teams made of up to hundreds of people collaborate to build human towers.
Building human towers, or castells, is an old Catalan tradition dating back over two hundred years. Each castell (a Catalan word for castle) is built by a team, called a colla, consisting of between 75 to 500 men and women. Young and light members form the top of a tower while heavier members form the base. Music plays as a team erects its tower, usually between six and ten levels high.
(David Ramos / Getty Images)
Popular since ancient times, the Pamukkale hot springs are one of Turkey's top attractions. The name itself means "Cotton Castle," which describes the fluffy-looking mineral deposits. (Mustafa Ozer / AFP / Getty Images)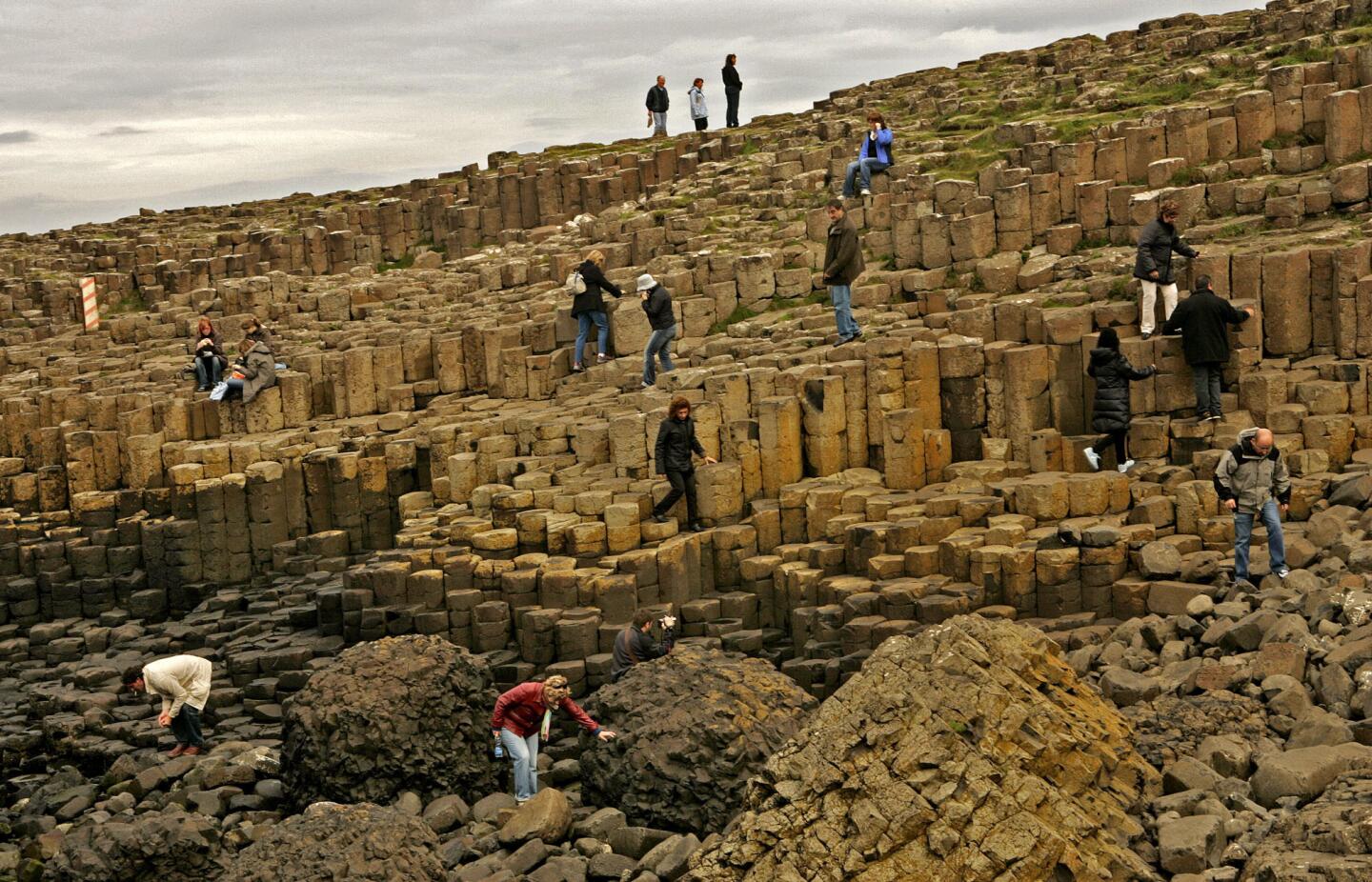 The Giant's Causeway, at the foot of basalt cliffs in Northern Ireland, is made up of 40,000 black basalt columns jutting out of the ocean. Volcanic activity 50 million to 60 million years ago created these step-like columns on the edge of the Antrim plateau.
The tops of the causeway columns form "stepping stones" that lead from the foot of the cliff and disappear under the sea. Legend has it that the mythical hunter-warrior Fionn mac Cumhaill (Finn McCool) built the causeway to aid in the fight against Benandonner, his Scottish counterpart. More photos...
-- Kelsey Ramos
(Anne Cusack / Los Angeles Times)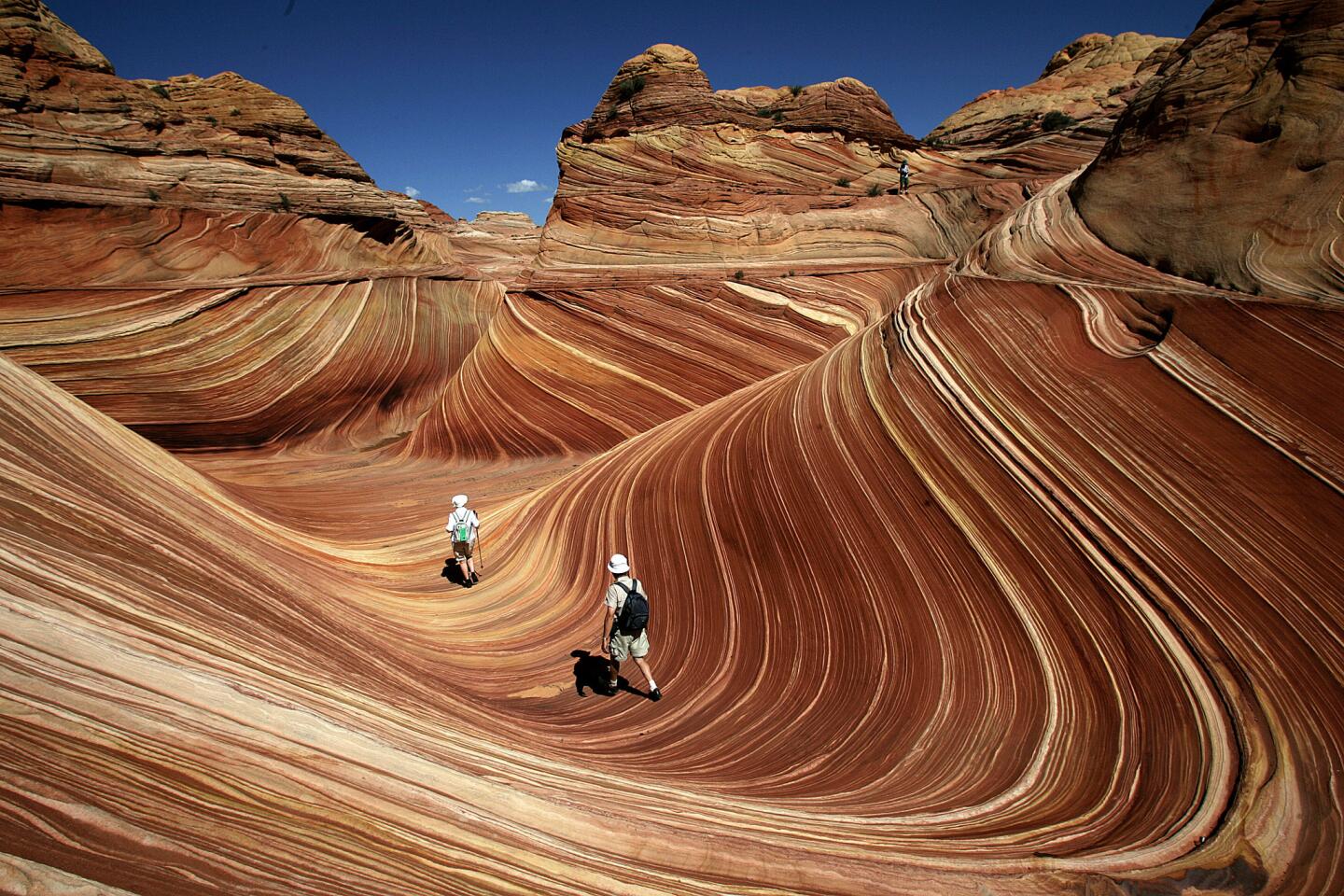 Close your eyes and imagine yourself walking into a humongous vat of cinnamon taffy. That's what went through my mind as we entered this weird, dreamlike world of swirling colors and psychedelic patterns. Maybe it was the desert heat, but it all looked like gooey taffy, stretched over huge mounds and 50-foot canyon walls. The surrounding buttes were heaps of melting rocky road ice cream.
The Wave is like an enormous Olympic-size swimming pool, with swooning, undulating walls lined with burnt sienna, pink, gray, turquoise and pale green. The bands mostly run horizontally, but at spots they zigzag and shimmy before falling back into their previous pattern. More photos...
Read more: Arizona's Wave rock formation a stone-cold stunner
-- Hugo Martin
(Spencer Weiner / Los Angeles Times)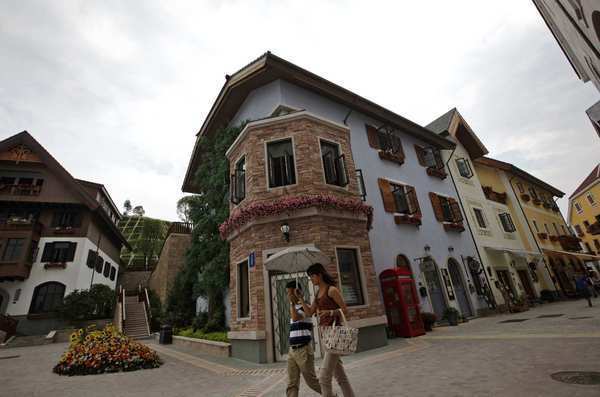 Until recently, if you wanted to see a picturesque Austrian town, you had to travel to Europe. Not anymore, thanks to China's Minmetals Land Limited. The real estate development company officially unveiled its Hallstatt project, a replica of an Austrian town of the same name, in early June. The look-alike, which offers high-end residential living, is found in Huizhou, a city in southeast China about 60 miles northeast of Hong Kong. (Vincent Yu / Associated Press)
(Ross Land / Getty Images)
Unlike most destinations, the Chocolate Hills are best viewed when they're dried and brown. This is when the hills, located in Bohol Province, Philippines, start to earn their name. During the dry season, the normally green grass covering the cone-shaped mounds turns brown, creating fields of chocolate-colored hills. (Lionel Bonaventure / AFP/Getty Images)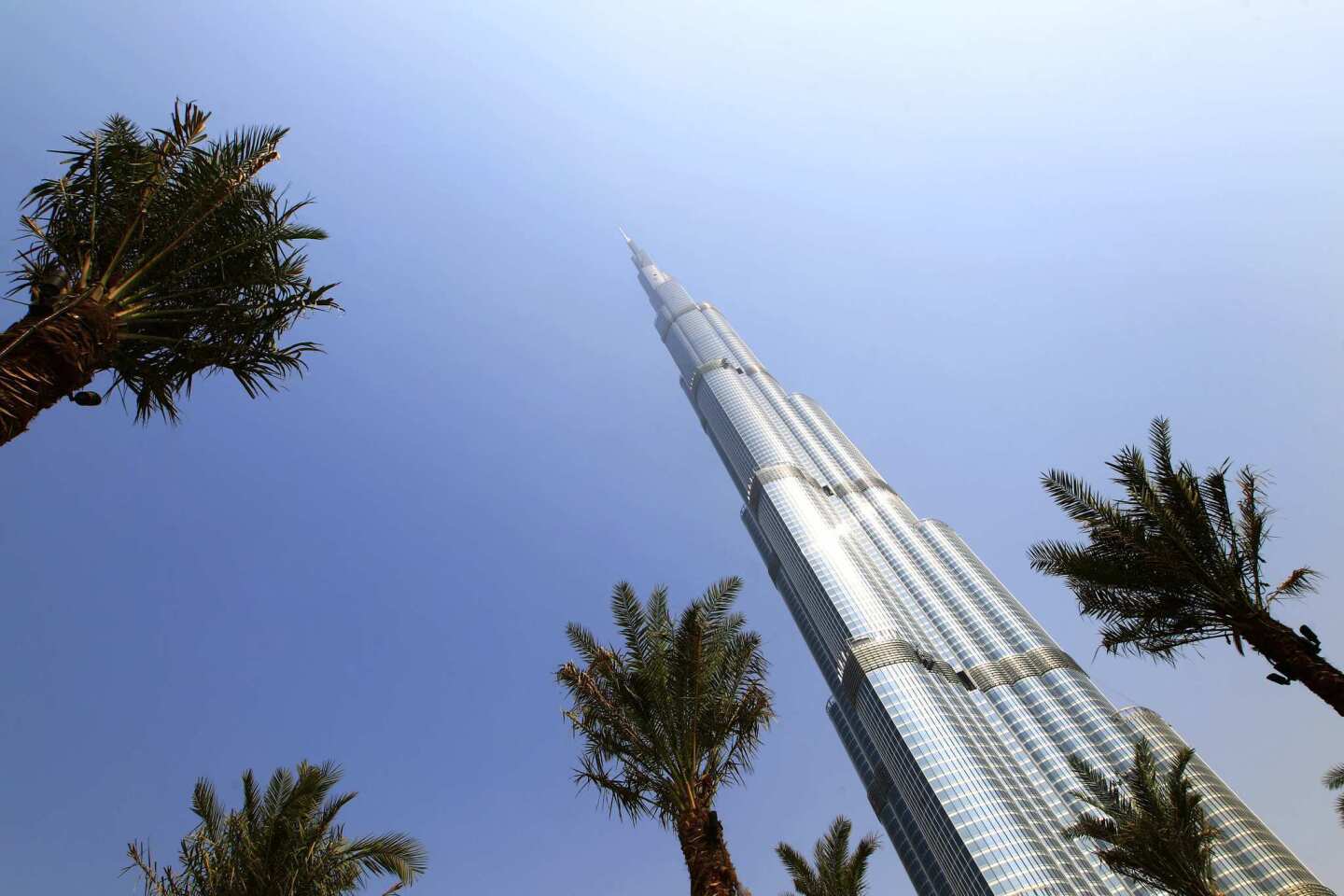 The Burj Khalifa, which debuted in 2010, is the world's tallest structure. It stands 2,717 feet high and has 163 floors. (Joel Saget / AFP/Getty Images)
Despite centuries of wear and even a fire, Europe's oldest wooden bridge continues to charm tourists in Lucerne, Switzerland. The Chapel Bridge, which cuts diagonally across the Reuss River, was built in the early 14th century. About 300 years later, the bridge was adorned with a series of triangular paintings depicting events in the city's history. In 1993, fire nearly destroyed the bridge. It was largely restored in 1994. (Jason La / Los Angeles Times)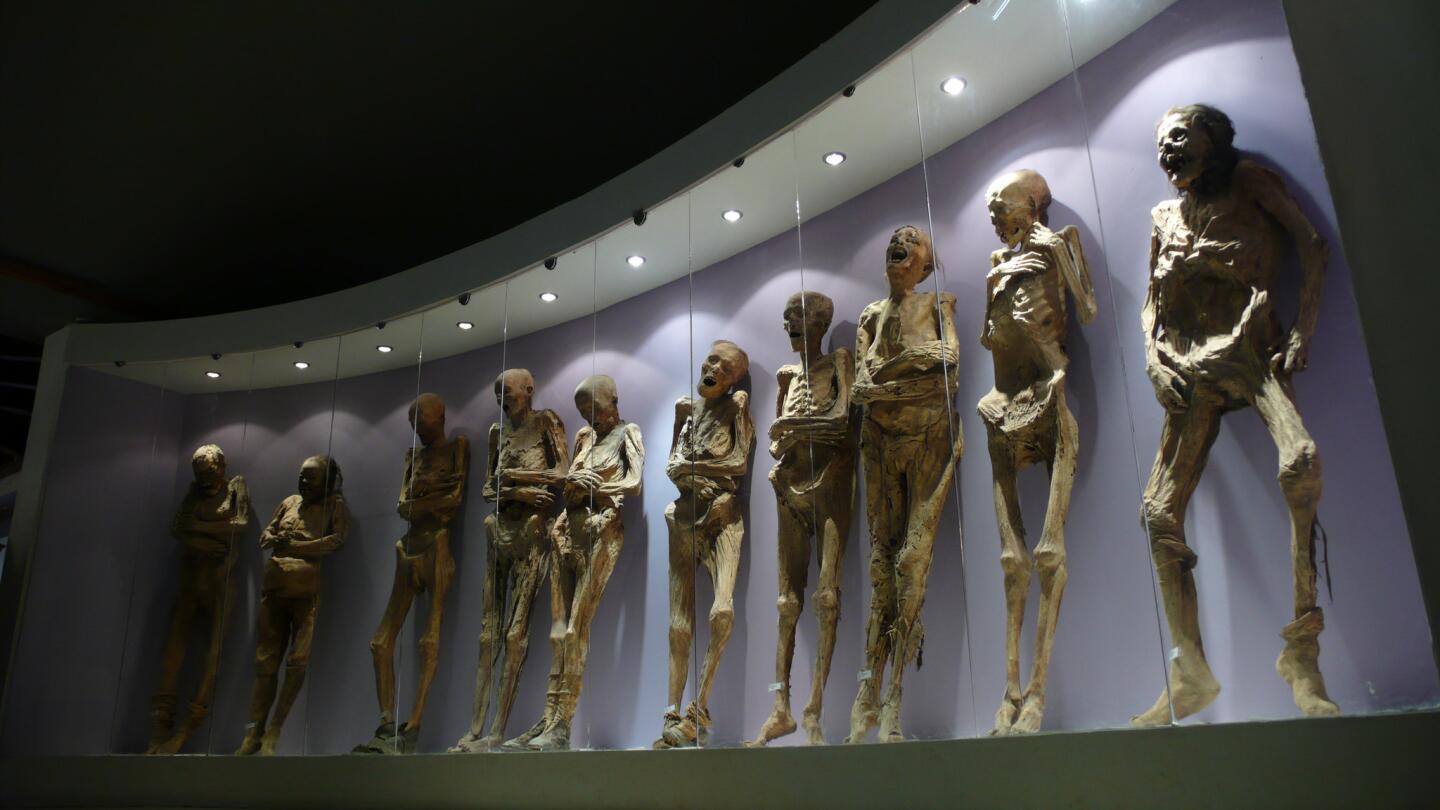 At this museum in central Mexico, you'll find over 100 mummies exhumed from a Guanajuato cemetery between 1870 and 1958. In 1870, a local law required families to pay a tax to ensure that their deceased loved ones stayed buried. The penalty for not paying was disinterment. (Daniel Jayo / Associated Press)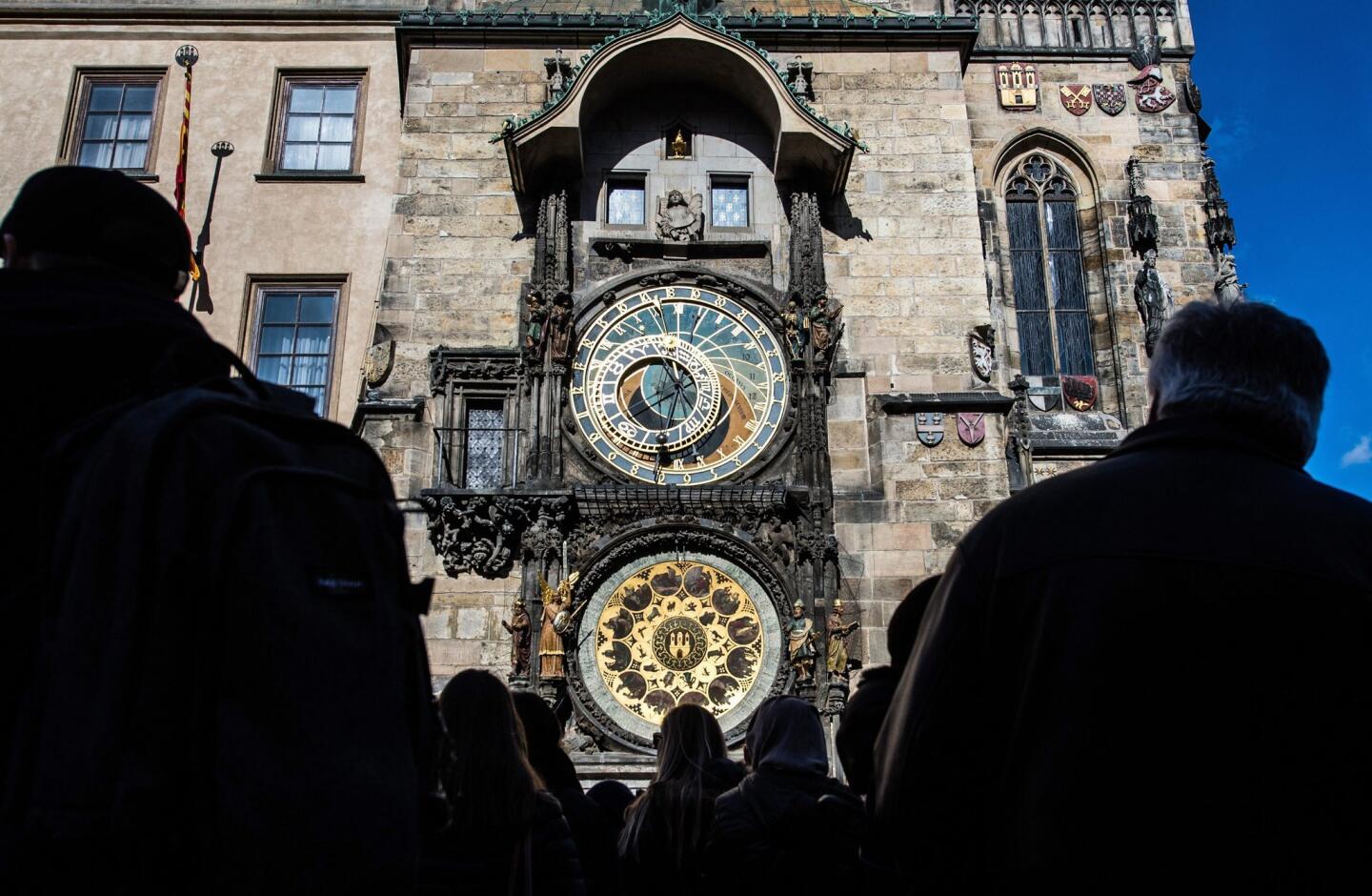 Built in 1410, the apparatus is the world's oldest functioning astronomical clock. It adorns the facade of the Old Town Hall of Prague's Old Town Square. The clock's astronomical dial tracks the motion of the sun, moon and stars. Above the dial, statues of the 12 apostles appear at the hour every hour from 9 a.m. to 9 p.m. (Filip Singer / EPA)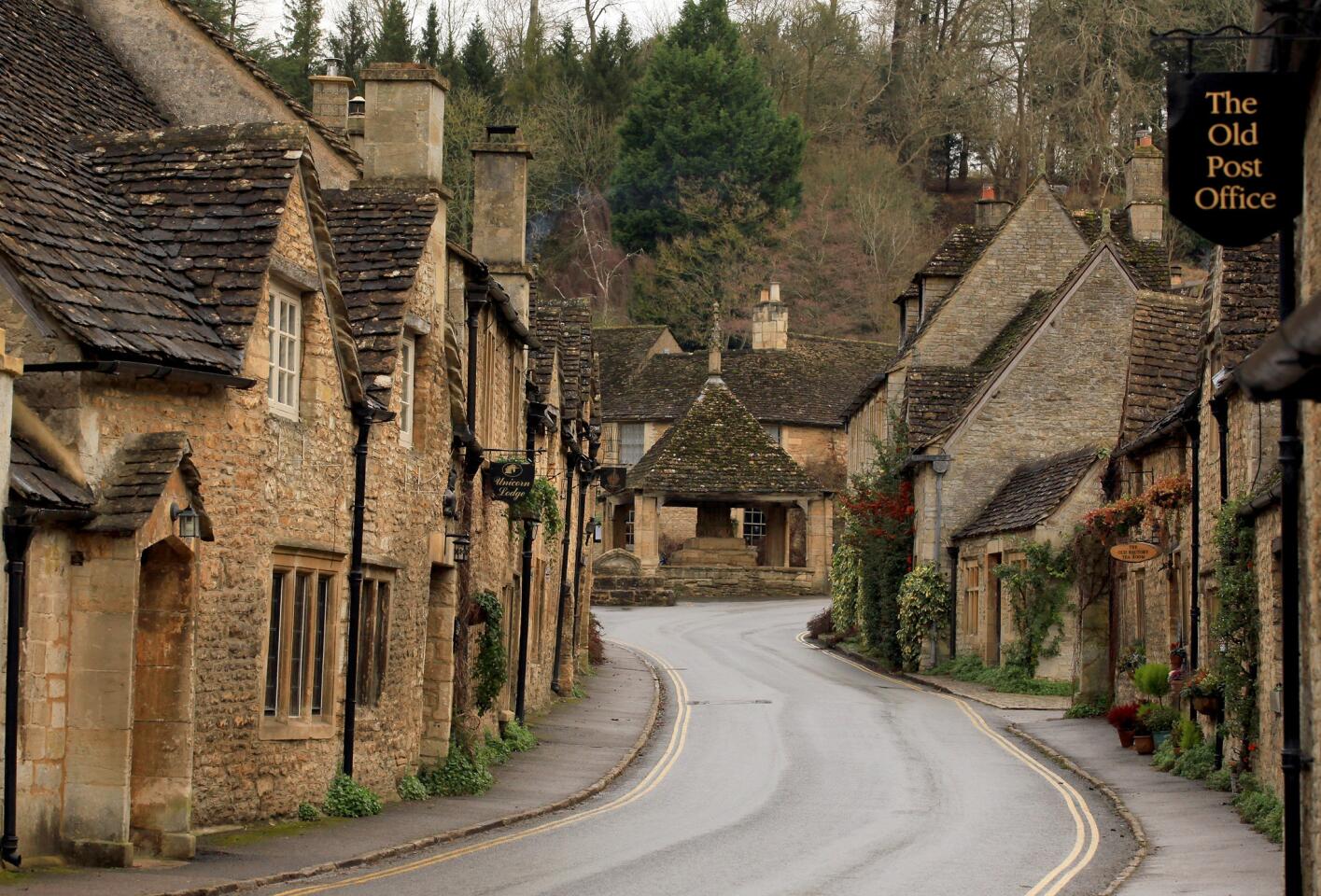 Known for its picturesque scenery, Castle Combe in Britain's Wiltshire County about 20 miles east of Bristol was named the country's prettiest village in 1962 in a national poll conducted by British Travel Assn., precursor to the British Tourist Authority. (Matt Cardy / Getty Images)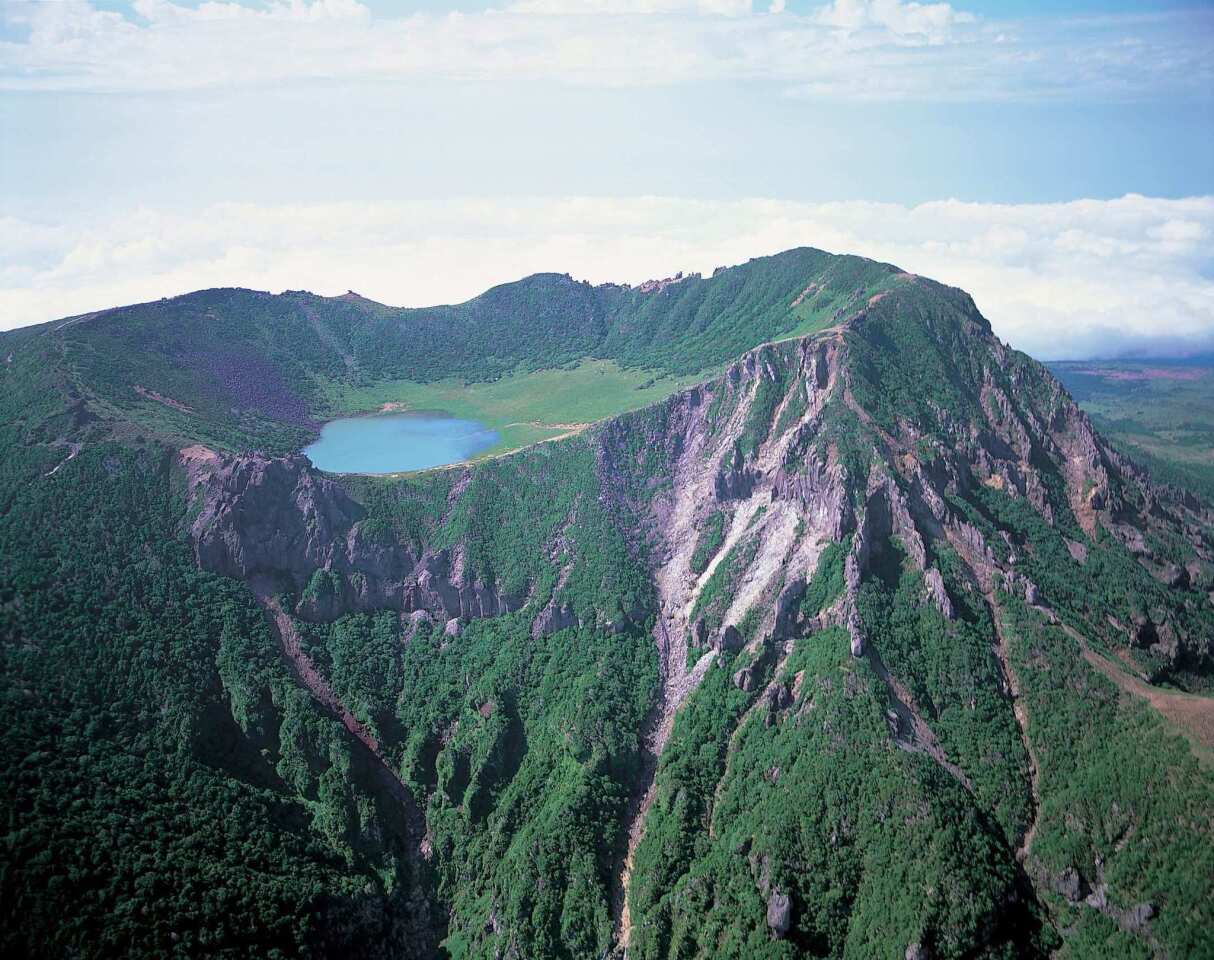 Jeju Island lies about 50 miles south of the Korean peninsula. A UNESCO World Heritage Site, the island comprises three noteworthy sites: Geomunoreum lava tubes, Seongsan Ilchulbong tuff cone and Mount Halla (pictured). UNESCO considers Geomunoreum the finest lava tube system in the world due to its multicolored and elaborate rock formations. The Seongsan Ilchulbong lava cone rises starkly from the ocean, making for an impressive sight. Mount Halla features waterfalls, rock formations and a lake-filled crater at its peak. (Jeju Provincial Government / EPA)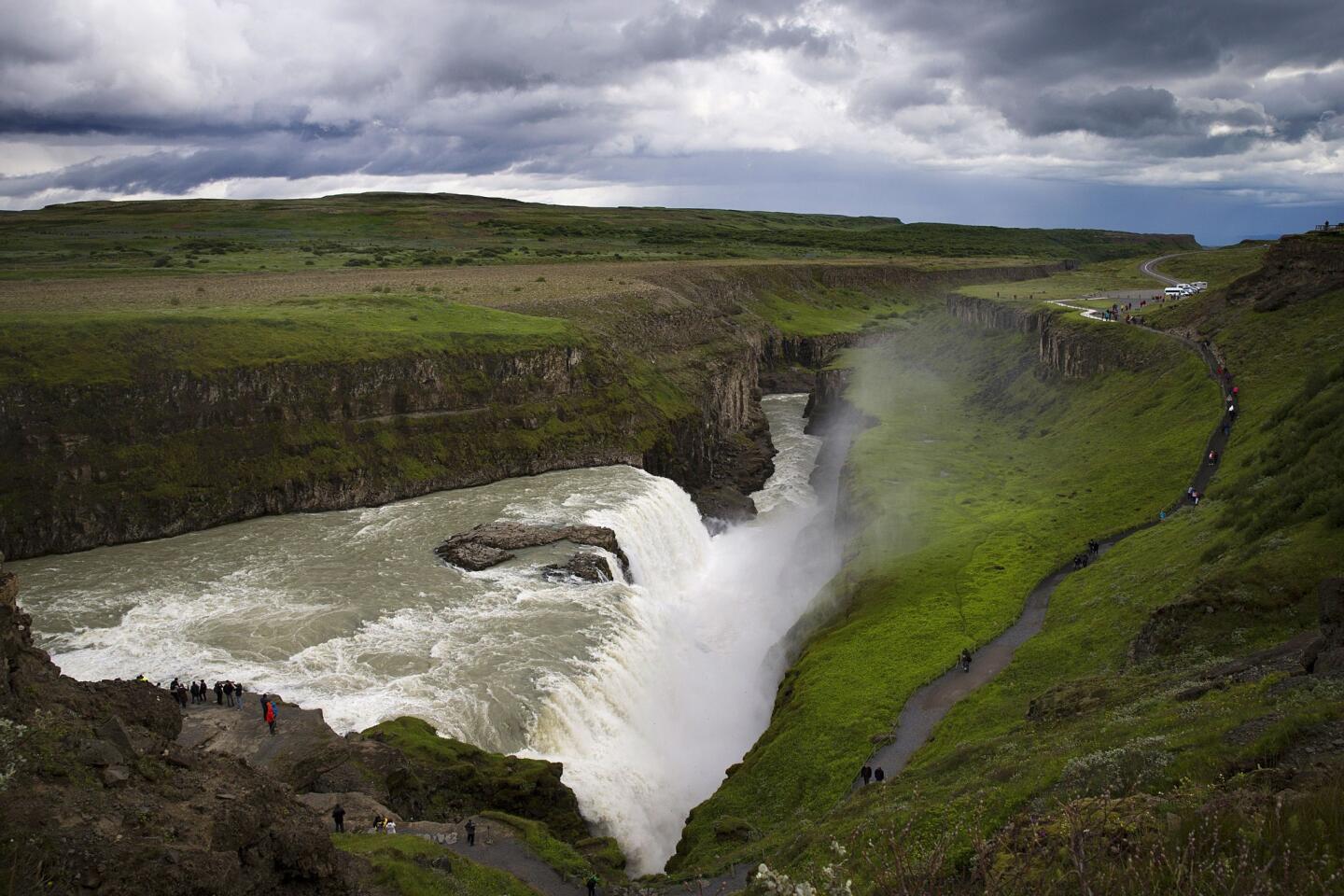 Visitors approaching Gullfoss, whose name translates as "Golden Falls" in English, might think it empties into an abyss given its unusual drop. The glacier-fed falls, about 70 miles east of Reykjavik, plunge abruptly into a wide and narrow canyon at a perpendicular angle, creating a striking scene. (Joel Saget / AFP / Getty Images )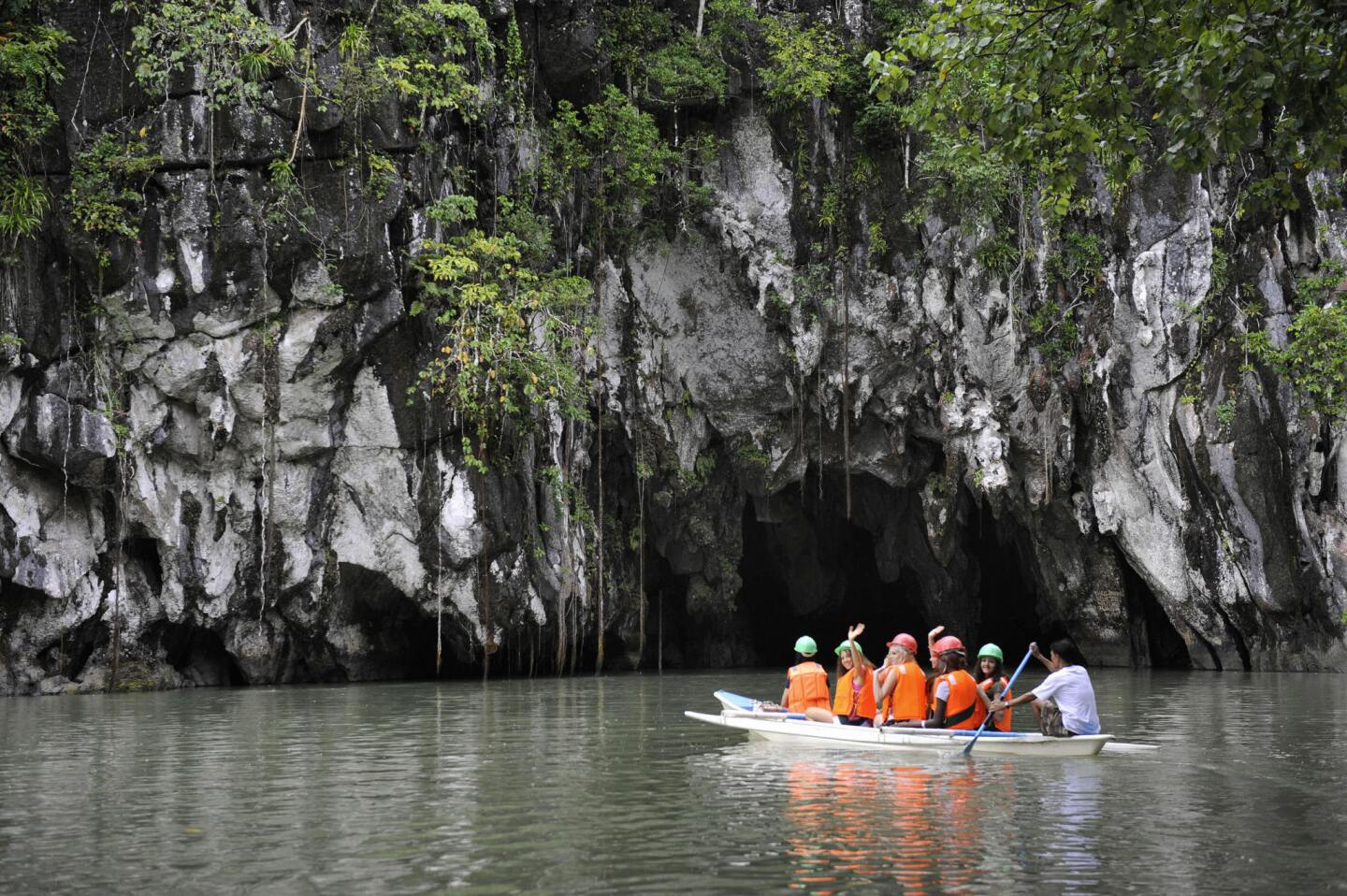 The next time you are in the Philippines, take a pump boat trip from Sabang Beach down the clear waters of an underground river that flows through caves filled with interesting formations of stalactites and stalagmites. (Romeo Gacado / AFP / Getty Images)
In the Ancient Bristlecone Pine Forest near Bishop, Calif., stand some of the world's oldest trees. When the most senior of these were sprouting up, the great Pyramids of Giza were being built. Among the gnarled bunch is the Methuselah Tree, said to be the world's oldest. Named after the aged biblical figure, it is believed to be nearly 5,000 years old. (Gabriel Bouys / AFP / Getty Images)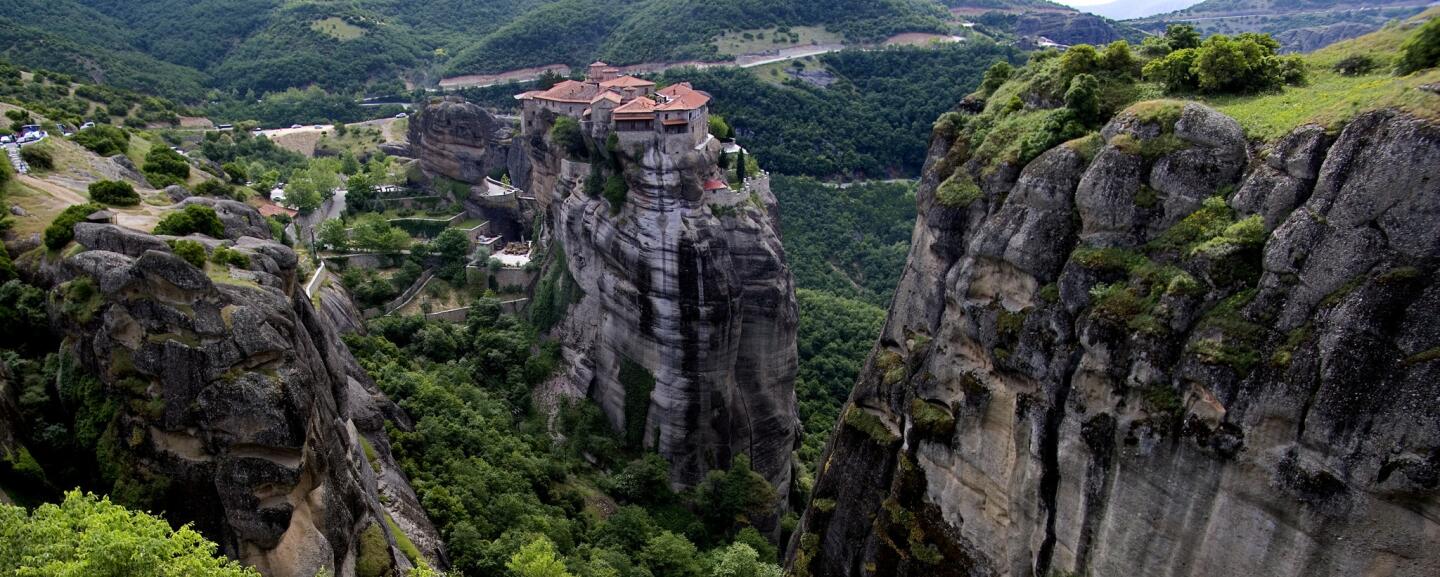 The six monasteries of Metéora are perched on rock pinnacles (in Greek, "Metéora" means "suspended in the air"), some built as high as 1,800 feet. The monasteries date as far back as the 14th century, when monastic living was embraced by the surrounding region. Though six remain, 24 were originally built. (Milos Bicanski / Getty Images)
Komodo National Park is the only place in the world where you'll find Komodo dragons, the world's largest extant lizard species. They're about as close as you'll get to living dinosaurs. (Romeo Gacad / AFP / Getty Images)
When I lived in Chicago, a hot shower always made me feel better about winter, even if I wasn't sure why I lived in a place where I couldn't feel my toes after a short trek through the snow.

So I understand the joy Japanese macaques must feel when they get a chance to step out of the cold and hop into the hot springs at Jigokudani Monkey Park in Nagano, about 150 miles northwest of Tokyo.
-- Michael Robinson
(Kazuhiro Nogi / AFP/Getty Images)
What do you do with your gum when it has lost its flavor? Do you stick it under the table (does anybody older than 7 really do that?) or spit it on the ground for an unsuspecting pedestrian to get stuck in the creases of his or her Nikes? For those who have no interest in throwing their Bubble Yum in the trash when it's run its course, here's another option: Add it to the ever-growing Gum Wall, a tourist attraction in Seattle. (Alex Trautwig / Getty Images)
The Angola Prison Rodeo is a chance to see serious felons testing their mettle against serious livestock. It's a glimpse into an infamous lockup, bordered on three sides by the Mississippi River, where blues musician Leadbelly once did time. It's an introduction, amid plenty of homegrown food and music, to the peculiarly tangled history of public incarceration and private enterprise in the Tunica Hills of rural Louisiana.
The Louisiana State Penitentiary at Angola, once labeled the bloodiest prison in America, holds about 5,200 inmates and sprawls across 18,000 acres in West Feliciana Parish, 137 miles northwest of New Orleans and about 20 miles northwest of St. Francisville, La.
(Sean Gardner / For The Times)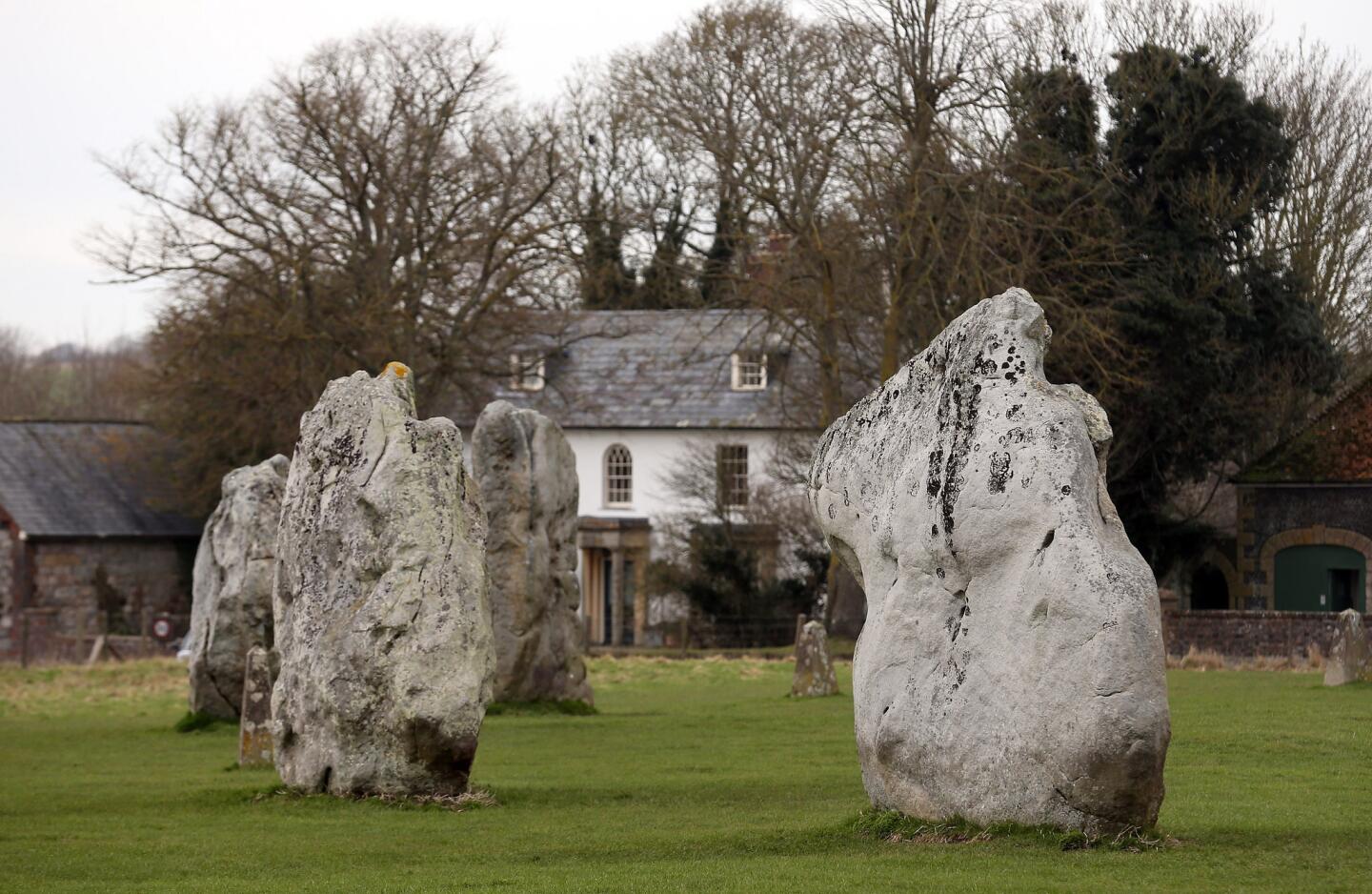 Never mind Stonehenge. Avebury, about 20 miles north, is one of the best — and eeriest — Neolithic monuments in Europe, made of multiple concentric stone circles set in and around a medieval village that grew up later. The surrounding Wiltshire downs are fine too, especially from up top on the old Ridgeway Path.
Info: 011-44-1672-539250, http://www.nationaltrust.org.uk/avebury/.
(Matt Cardy / Getty Images)
One of Can Tho's most popular attractions is its floating markets, where vendors sell fruit and vegetables on boats. The produce is mostly for wholesale, but a few sellers have retail selections. Cai Rang market, pictured, is the Mekong Delta's largest market. It's on the Can Tho River about an hour southwest of Can Tho by boat. Business begins at dawn and trails off around 9 a.m., so come early if you want to see the market in full swing. This boat is piled high with dragon fruit. More photos... (Jason La / Los Angeles Times)
Angel Falls, the world's highest waterfall plunges 3,212 feet from the top of Auyan-Tepui (Devil's Mountain) to the Churun River in eastern Venezuela. The waterfall, located in Canaima National Park, is named after James Angel, an American aviator who flew over the falls in 1933. More photos... (Thomas Coex / AFP / Getty Images)
Lombard Street is known for its one-block stretch that features Candyland-like twists and turns. Between Hyde and Leavenworth streets in San Francisco's Russian Hill neighborhood, Lombard winds down a steep hill in eight tight switchbacks. Motorists are free to drive down Lombard's one-way curves. Pedestrians can navigate the street using two sets of stairs that run along both sides of the road. (Mark Boster / Los Angeles Times)
This is one of California's largest caves and drops visitors 272 feet below the earth's surface. No matter the temperature outside, the cave's interior remains 61 degrees. Plus, the cave walls drip with moisture. In fact, the dripping creates the moaning sound that gives the cave its name.
Read more: Exploring Moaning Cavern
-- Hugo Martin
(Stephen Osman / Los Angeles Times)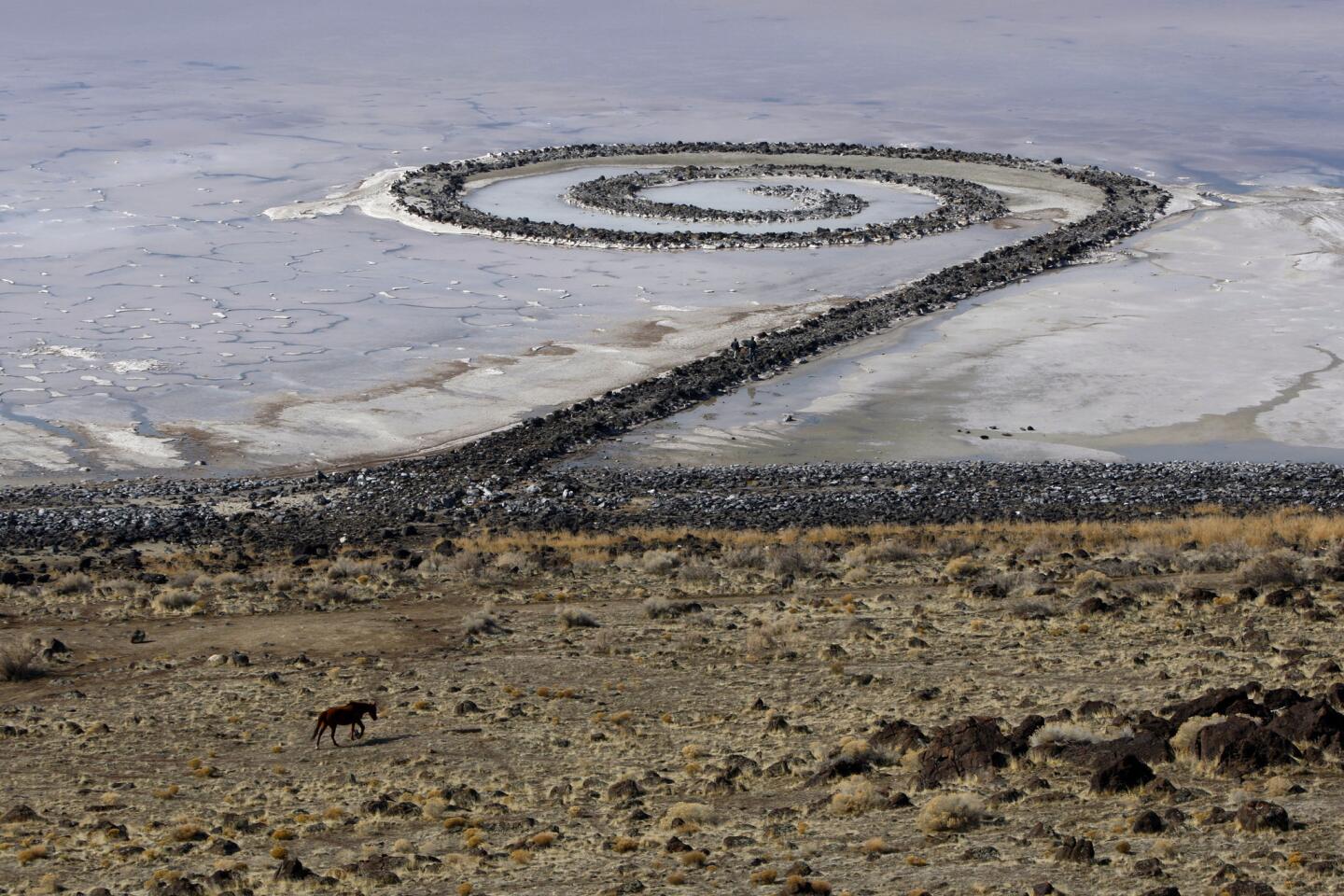 "Spiral Jetty" earthwork: Thirty miles west of Brigham City, on the Great Salt Lake's northern arm, is the "Spiral Jetty" sculpture, created from basalt and earth by artist Robert Smithson in 1970. It forms a 1,500-foot-long coil stretching into the lake. Constructed during a long drought, "Spiral Jetty" became submerged a few years later when lake levels rose again. In 1999, it resurfaced. For directions, see climb-utah.com/wm/spiraljetty.htm.
(Tom Smart / For The Times)
Glass beach is in Fort Bragg, the scruffier northern neighbor of Mendocino, at the west end of Elm Street, of Old Haul Road. At first glance it looks like a standard-issue beach.
But look at that twinkly stuff underfoot: silvery, green, blue, orange and occasionally red bits of ground glass, twinkling in the sun and tumbling in the tide along with tons of standard sand, bits of metal, a little kelp.
(Christopher Reynolds / Los Angeles Times)