TSA's PreCheck revamped to restrict program to paying customers only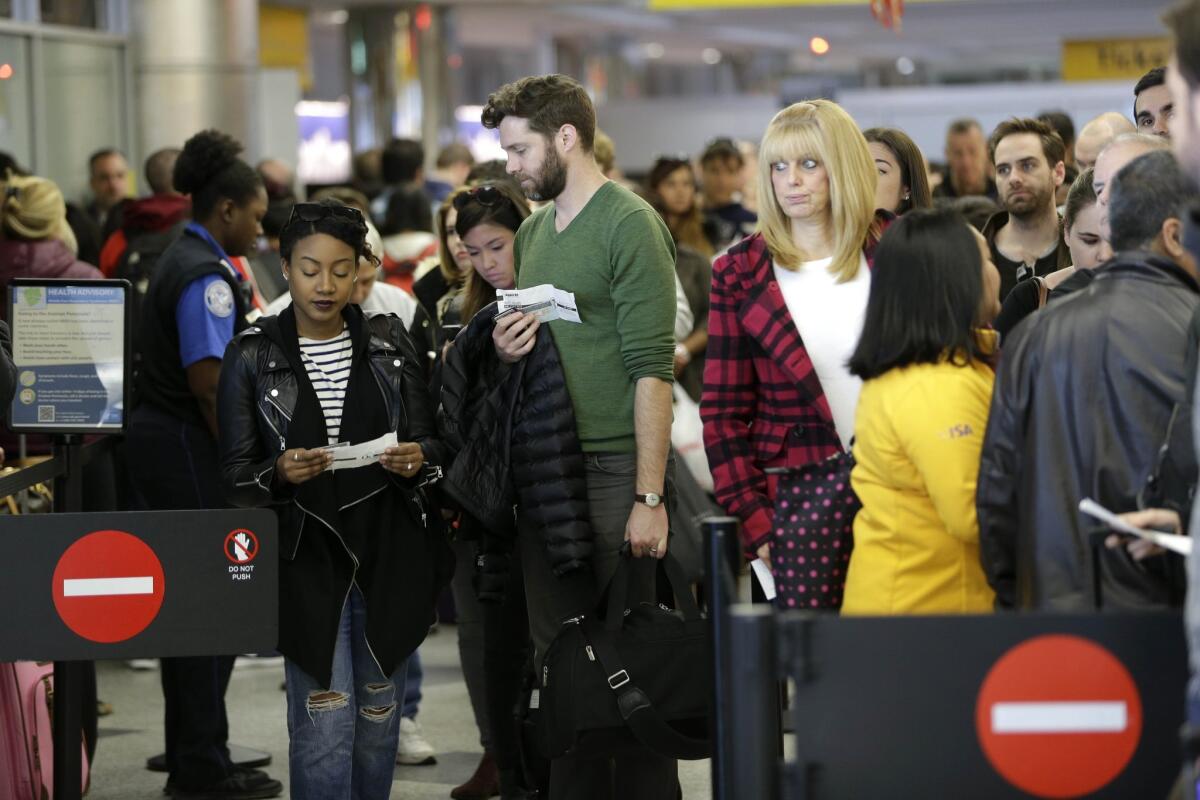 Question: As a 100,000-mile flier each year for more than 15 years, I've had the Transportation Security Administration's PreCheck — expedited screening — for several years through the Global Entry Program. These programs are wonderful. However, I've noticed for two years or so that the TSA PreCheck lines are getting longer. That would not be a surprise as more people join. But I often talk with people in the line who did not sign up for the program and do not travel often and who are surprised they are in that line. They don't know what they need to do (or not do — they start taking off their shoes, pulling out computer, etc.). I understand the TSA wants to get more people through, but it is frustrating.
Greg Parsons
Pasadena
Answer: We have good news and bad news, depending on who you are. TSA's "managed inclusion" came to an end in mid-September.
That's the program that allowed people who hadn't paid for the privilege to get the same benefits as paying customers.
Those benefits: For $85 for five years through TSA or $100 as part of the Global Entry program (which also expedites re-entry into the U.S.), PreCheck members get to use faster lines and don't have to remove shoes, jacket, laptop or liquids from carry-on bags.
PreCheck, we should note, does not exempt you from screening; it just makes it less a hassle. You still have to go through a detection device before you board a plane.
Before the program began to catch on, PreCheck lines often were empty, which seemed an inefficient use of TSA personnel. Enter managed inclusion, in which fliers who hadn't paid their money got to enjoy life in the fast lane.
People who suddenly had the benefit were puzzled about why, but worse, they often didn't know what they were supposed to do. Many went through the drill — shoes and jacket off, for instance — even though they didn't have to.
For those of us who do know what to do, the newbies were like people on the top step of a full, downward-bound escalator who fall forward and start a toppling domino effect (but without bodily harm).
Our unhappiness about line crashers may have contributed slightly to the decision to end managed inclusion, but it was probably other issues with TSA, including an internal Homeland Security report, which ABC News got its hands on, that showed lapses in airport security.
There were other miscues as well. Sara Jane Olson got to use PreCheck at the Minneapolis-St. Paul airport. Olson, you may recall, was convicted of trying to kill two Los Angeles police officers and has since been paroled. She was a member of the leftist group called Symbionese Liberation Army, which kidnapped Patricia Hearst in 1974.
Not a ringing endorsement for managed inclusion. Here are some other changes as well, according to a TSA statement: "TSA has recently eliminated the practice of utilizing behavior detection officers and explosive trace detection sampling to direct certain passengers into TSA PreCheck expedited screening lanes."
You can expect more scrutiny during the holiday season, given recent world events. That could include more checkpoints as you drive into the airport (meaning you should allow extra time). You may notice more TSA officers and may be able to spot the occasional plainclothes officer.
You won't be able to miss the canine detection. There are about 800 dogs (mostly Belgian Malinois) working at U.S. airports as part of explosives detection, which is TSA's biggest worry, said Nico Melendez, a TSA representative.
TSA faces an enormous task given the diversity of our nation's airports. There's a saying among airport administrators: If you've seen one airport, you've seen one airport. There are about 400 airports you and I use to get to Grandma's house, and each represents unique security challenges.
In 2014 TSA said it screened more than 653 million passengers — about 1.8 million a day. Agents confiscated more than 2,200 firearms, the vast majority of them loaded.
With that workload, should we give TSA a break? No. We can't afford to. And for whatever its flaws, TSA certainly doesn't want its legacy to be a security failure.
Making PreCheck do what it's supposed to do is a first step — but it is one of many more on this road.
Have a travel dilemma? Write to travel@latimes.com. We regret we cannot answer every inquiry.
MORE TRAVEL NEWS
Is travel insurance worth it? Seven things to consider
Don't want to pack that winter coat? Get a rental sent to your hotel
When it rains, it pours, which is why you might need a poncho for your purse
Get our L.A. Goes Out newsletter, with the week's best events, to help you explore and experience our city.
You may occasionally receive promotional content from the Los Angeles Times.