Winning moves in the air miles awards game (Coach Tip No. 1: Don't buy upgrades).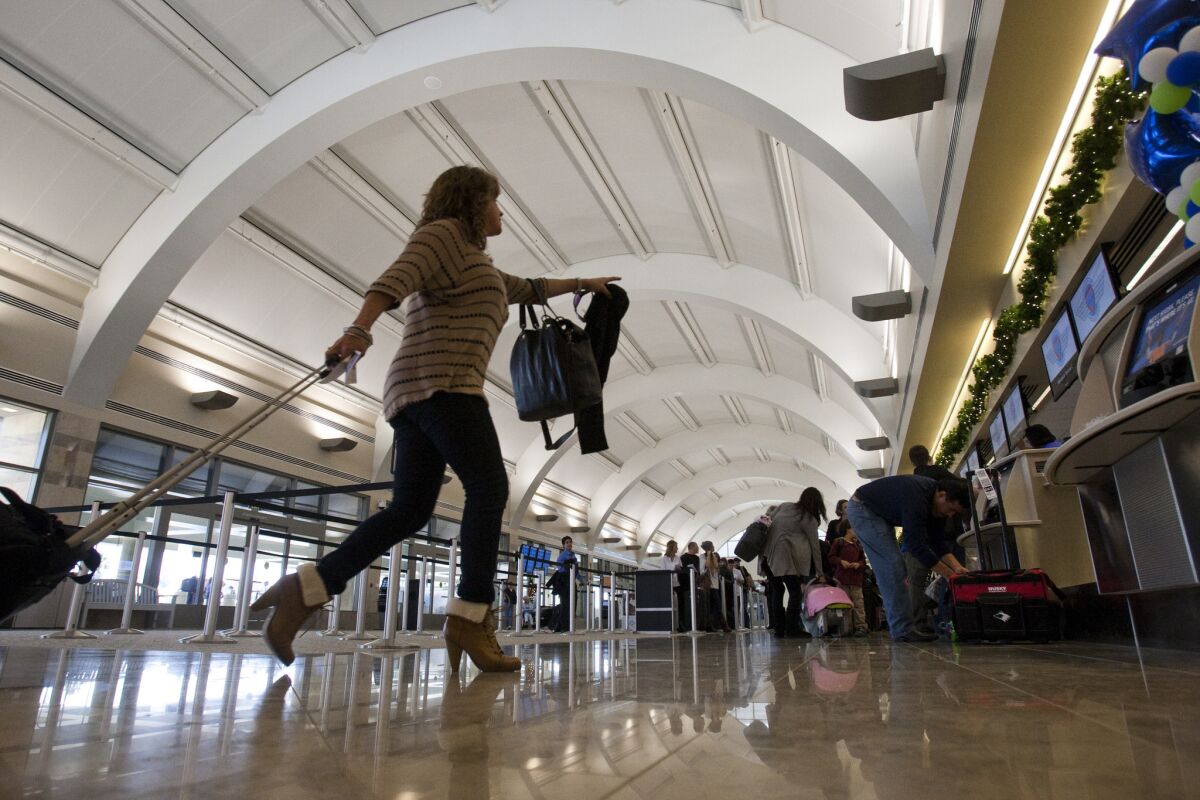 After traveling for work for more than 35 years (I retired a few years ago), I'd accumulated many miles on United. I've used most of them, but I have just enough for a round trip to South Carolina to visit my family during the holidays. When is the best time to begin the booking process? Also, does it make sense to buy miles for upgrades?
Jim Mitchell
Long Beach
Answer: Nabbing a frequent-flier ticket requires the same leap of faith that buying any airline ticket does, although an "error" costs less.
Error, in this case, doesn't mean you booked a ticket to Columbia, Mo., when you really meant to book Columbia, S.C. It means you've paid too much or spent too many miles.
As a budget traveler, I hate to get beaten on price. However, it's usually a silent shame, so no one will know but you.
Take a deep breath and plunge ahead, use your common sense and remember this: It is whether you win or lose and also how you play the game.
Here are some tips from experts to put you in the frequent-flier winner's circle:
— The best time to nail down an awards ticket is when you see one that works for you, especially around the holidays.
"If you are within six months of traveling, if you see a 'saver' ticket (one that requires fewer miles), book it," Warren Chang, a vice president for Fly.com, part of Travelzoo, said in an email. "Once all saver award tickets have been reserved by other travelers, it's unlikely that more saver awards will become available."
— Flexibility, as in many of life's matters, can help. Angelina Aucello, a miles and points expert who blogs at AngelinaTravels.com and BoardingArea.com, found availability on some dates for travel to South Carolina at Christmas. And, she noted in an email, "It's good to be flexible with airports too. Augusta, Ga., or Charlotte, N.C., may be good options as well."
— Get the most for your miles. Mitchell's goal is to use up his miles, but for the rest of us, making sure we get the bang for our award buck means we can travel more.
"Everyone has their own rule" about what is a good value, Chang said. "Personally, I value each mile at roughly one penny … to 1 1/4 pennies. If the effective cost of a reward ticket after any taxes and fees is less than the cost of using cash, I'm more inclined to use miles.
"For example, on a 5,000-mile cross-country flight, I would use miles if the effective cost of a reward ticket is less than $312.50."
Aucello values her United miles at 2 cents each. "If I don't feel like I am getting maximum value, I will buy the ticket," she said. "If the ticket is cheap enough (less than $250 each way) it might be better … to buy."
— Skip buying miles for an upgrade or a ticket. Neither Aucello nor Chang is a big fan of forking over money for miles — Aucello for upgrades, Chang to reach miles needed for a ticket.
"I would never pay the miles for domestic first on United," Aucello said. This may be a case when you want to open an airline-branded credit card to put some extra miles into your account.
As noted in a recent NerdWallet study, there are better times to open such a card, such as when you are apt to get more points for applying. The best time to apply for an airline card is November, the study said. (To read more about reaping extra rewards from your card, go to www.lat.ms/besttimetoapply.)
That November date won't work for Mitchell this year, because you need some time to apply for the card, receive it, reach the "spend" (how much you need to charge on your card to qualify for the points/miles) and get the points/miles in your account.
But even if you miss out on some points, applying now may give you the points or miles you need. Some cards that are not co-branded with an airline, such as the Chase Sapphire Preferred, allow you to convert points to frequent-flier accounts, including United, Aucello said.
Chang turns thumbs down on paying for miles to get an award ticket, "unless you are within a few thousand miles of an award ticket," he said. "It's rarely worth buying miles from the airline to have enough miles to redeem a ticket."
Finally, if you don't have enough miles for your trip, don't want to buy more miles and want to be done with your association with that airline, you can often spend miles on merchandise, such as a Coach crossbody pouch for 21,600 miles or a leather massage chair for 473,200 on United.
You also can donate those miles. Brian Kelly, who made his mark as ThePointsGuy.com, has a new initiative called the Points for Peace Campaign. Kelly's site has established a partnership with the PeaceJam Foundation, which his site describes as "the global leader in peace education that is led by 13 Nobel Peace Prize winners (including the Dalai Lama and Desmond Tutu) who personally work with youth from around the world, giving them the skills and inspiration to bring positive change to their communities." You can read more at www.lat.ms/pointsforpeace.
At the holidays, peace on Earth and goodwill to all may be just the ticket.
Have a travel dilemma? Write to travel@latimes.com. We regret we cannot answer every inquiry.
Get our L.A. Goes Out newsletter, with the week's best events, to help you explore and experience our city.
You may occasionally receive promotional content from the Los Angeles Times.