Washington state: Wolves, wine, farms on this self-guided road trip south of Olympia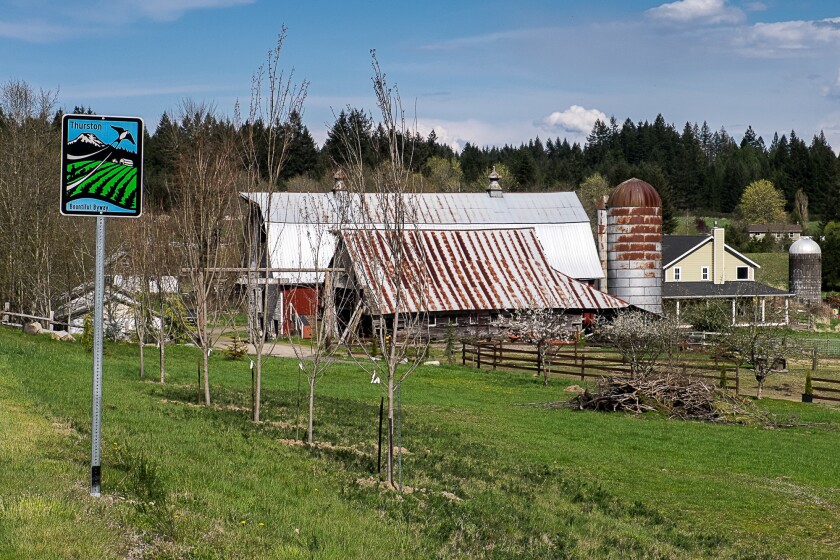 Two decades ago when I lived at the southern end of Puget Sound in Olympia, Wash., there were few things I enjoyed more than hopping on my bicycle and pedaling through the bucolic countryside — especially during late summer and fall — and then stopping at a roadside fruit stand for a sample or two. When I was done, I'd sometimes end up at a local brewpub.
Now, tasting trips in the Evergreen State's Thurston County around the state capital are easier to navigate, courtesy of the new Thurston Bountiful Byway self-guided tour. This printed and digital map connects travelers to the sources of the region's fresh produce, cool craft beverages and more.
Accessible by car or bike, the 60-mile route is best managed on a multi-day trip, but portions of the byway can be discovered in a day or two. Offering an experience for food lovers, families and fine wine connoisseurs, highlights from the route include:
Sip: Toast the region's craft beverage producers at a variety of tasting rooms, including Madsen Family Cellars, Medicine Creek Winery, Salish Sea Organic Liqueurs (with small-batch liqueurs from peppermint, spiced anisette and hibiscus), Sandstone Distillery, Stottle Winery and Three Magnets Brewing Co.
Farm fare: When it's time to chow down, meet the purveyors at Colvin Ranch, Helsing Junction Farms, Evergreen Valley Lavender Farm and others, or stop in at one of the three farmers markets along the route in Yelm, state capital Olympia and Tenino.
Explore: Hop off the byway to blaze a trail on foot or by bike at Capitol State Forest's 100,000-acre playground, the variety of hiking trails at Millersylvania State Park or the paved Yelm, Tenino or Chehalis Western Trails.
Bring a bike or ride free courtesy of the Tenino Yellow Bicycle Project, a community-based bike sharing organization. Stop in for a guided wolf sanctuary visit at Wolf Haven International, take a dip in the Tenino Quarry Pool or enjoy the gardens and bring home a living souvenir from Lael's Moon Garden Nursery.
Lodging: Road trippers and cyclists can choose from the cozy Scatter Creek Bed & Breakfast in Tenino, the spacious and well-appointed rooms of the Lucky Eagle Hotel and Casino in Rochester, or the scenic views found at the Prairie Hotel in Yelm.
Getting there: Motorists can reach the Thurston Bountiful Byway from Interstate 5 via the Nisqually Valley Exit 114 or from US 101 via the Mud Bay Exit. Those looking for a car-free getaway can take Amtrak to Centennial Station with bike in tow.
Travelers can find more information on Twitter (searching the hashtag #BountifulByway) or following @BountifulByway on Instagram and Facebook. Printed copies of the byway route are available at the Olympia Visitor Information Center, 103 Snyder Ave. SW, Olympia, Wash.
Info: Thurston Bountiful Byway
MORE
FlyAway Bus service between LAX and Santa Monica ends
Deal: 15% off hipster Jupiter Hotel in downtown Portland, Ore.
China's highest, longest glass bridge closes after too many people come to visit
---
Get inspired to get away.
Explore California, the West and beyond with the weekly Escapes newsletter.
You may occasionally receive promotional content from the Los Angeles Times.