Yosemite's Glacier Point Road is set to open, but expect snowy, not spring, conditions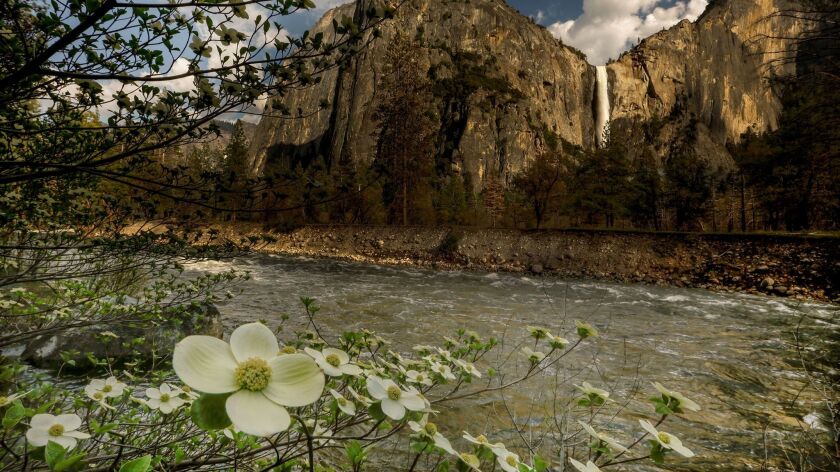 Glacier Point Road in Yosemite National Park will open at 9 a.m. Thursday. But expect snow rather than wildflowers along the route to the popular point that offers killer views of Half Dome, Yosemite Falls and the backcountry.
Glacier Point stands at 7,214 feet in elevation and is about 30-plus miles from Yosemite Valley. Travelers who plan to go should drive carefully and be prepared for wet and possibly icy conditions, a Yosemite news release says.
Hikers too should be prepared for winter conditions because most trails are covered in snow. Visitors who want to hike to the point from Yosemite Valley should know the steep Four Mile Trail (4.8 miles each way) is closed at Union Point because of "unstable ice sheets," the release says.
For those waiting for Tioga Road (Highway 120) and the park's eastern entrance to open, it'll be a while.
There's no predicted opening date. The park's website says that, in other big-snow years, Tioga Road opened in late June or even early July. In 2016, which was a drought year, it opened relatively early, on May 16.
Plowing on the road is going slowly, according to the park's Facebook page.
Visitors at Yosemite Valley will find thundering waterfalls, swollen rivers (especially the Merced River, which prompted a flood warning earlier this week) and lots of traffic. Spring is a popular time to visit; those traveling Fridays through Sundays "should be prepared to wait in long lines at the park entrance stations," the park service's statement says.
Parking spaces fill up early, and travelers are urged to arrive before 9 a.m. or after 4 p.m. to avoid traffic crunches. Also, the free park shuttle in the Valley is an easy way to get around without having to take your car.
Info: Yosemite National Park
ALSO
What's the No. 1 attraction in the world? #Disneyland, at least when it comes to Instagram love
Camping made easy: Now you can get a fully packed van delivered to your doorstep
Pick your next vacation spot from these national parks photo contest winners
A Sierra fishing guide shares his tips on what you can expect from replenished lakes and streams
---
Get inspired to get away.
Explore California, the West and beyond with the weekly Escapes newsletter.
You may occasionally receive promotional content from the Los Angeles Times.