Snowmelt triggers a flood warning in Yosemite and a river closure in the Central Valley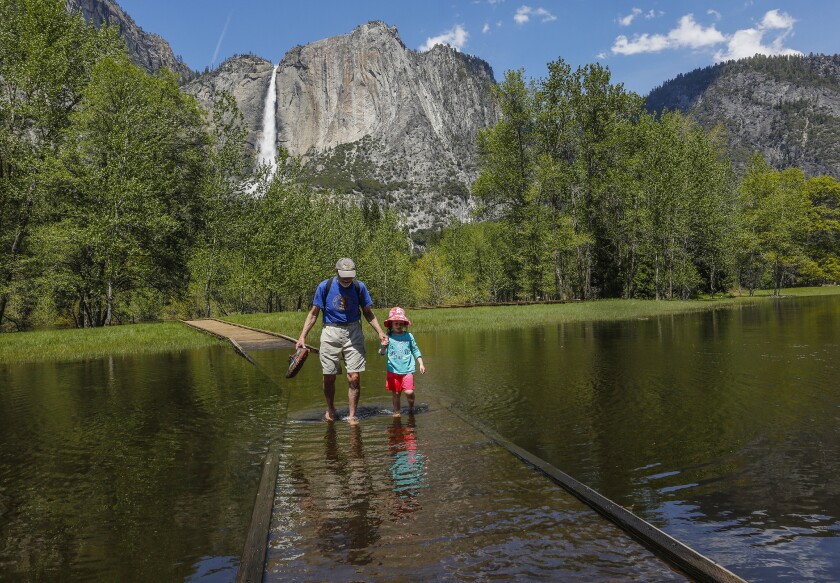 The melting of this year's record snowpack is continuing to create problems, with authorities warning of more flooding in Yosemite National Park and fast-moving, high water at a popular Central Valley river.
The National Weather Service issued a flood warning Tuesday as Yosemite's Pohono Bridge was expected to be swamped overnight. By 4 a.m. Wednesday, the Merced River probably will reach its flood stage of 10 feet, said Christine Riley, a weather service meteorologist in Hanford, Calif.
Photos: Snowmelt causes flooding in Yosemite Valley »
Water levels should drop below flood stage Wednesday morning and then rise again — possibly reaching 10.3 feet between 3 and 5 a.m. Thursday, Riley said. On Friday, the river peaked at 11.7 feet and caused minor flooding of the park's campgrounds and bridges, she said.
Warmer temperatures in the Central Valley are melting the Sierra Nevada's deep snowpack, in some cases causing dangerous river conditions.
Five drown in rough waters
At least five people have drowned while visiting forestland and parks in Tulare County in recent weeks.
Three drownings in Sequoia National Forest caused authorities to close a 15-mile stretch of the Tule River on Friday, ranger Eric La Price said. The closure extends through Sept. 30, but authorities will monitor the conditions of the river weekly and could opt to reopen it sooner.
The closure includes all access sites on the river's Middle Fork area, from the Giant Sequoia National Monument to the Moorehouse Fish Hatchery. Snow-topped mountains are feeding rivers at a rate not seen since before the drought, La Price said.
"The water conditions are very hazardous for the average person," he said. "It will knock someone off their feet."
On April 13, 21-year-old Shreya Singh of Bakersfield slipped into the river and Alondra Orozco went in to try to save her, according to the Tulare County sheriff's office. Singh's body was recovered two days later, but efforts to find Orozco, also 21, were scaled back because of river conditions and safety concerns. Ten days later, Orozco's body was found in the river.
At Sequoia National Park, Karissa Jones, a 21-year-old Tulare woman, died April 22 after she fell into the Kaweah River's Middle Fork area and was swept two miles away. A week later, Tomas Martinez, an 18-year-old from Woodlake, Calif., was with friends and family when he also fell into Kaweah's Middle Fork area. His body was recovered May 1.
"Although the rivers of the parks are beautiful and picturesque, they are still an extremely dangerous place to recreate," U.S. Park Service ranger Chris Waldschmidt said in a statement. "Due to the record-level snowpack, the rivers with their fast, cold water continue to rise. Please give these environments the respect they deserve for your own personal safety."
Last week, Jose Carlos Molina was swept away by "extremely fast and dangerous currents" in a popular Tule River swimming hole known as "The Stairs," the sheriff's office said. Witnesses heard Molina screaming for help as he was pulled into the water. A dive team later found his body about a mile and a half downstream.
Molina's death prompted a stern warning from Tulare County Sheriff Mike Boudreaux last week: "Stay away from the river's edge and don't enter the water."
'Even if the water looks inviting...'
As temperatures increase, river conditions in the Central Valley could appear welcoming.
But looks can be deceiving.
Although temperatures in Yosemite Valley have been in the 70s and 80s, rivers are chilly, Riley said. Water temperatures will be in the 40s and 50s this week, and the rivers also are faster-moving because of the heavy snowmelt, she said.
The weather service is working with park rangers to keep visitors informed of conditions; warning signs have been posted and rangers are monitoring the rivers.
"Even if the water looks inviting, it's very dangerous," Riley said.
What to know before you navigate any rough waters
Watch your step. Park officials said rocks are particularly slippery along a river's edge
Bring a friend if you plan on walking or hiking along any river.
If you do plan to enter the water, wear a U.S. Coast Guard-approved life vest.
The best advice for the time being, according to park officials, is to just avoid the water.
Already a subscriber? Thank you for your support. If you are not, please consider subscribing today. Get full access to our signature journalism for just 99 cents for the first four weeks.
---
The stories shaping California
Get up to speed with our Essential California newsletter, sent six days a week.
You may occasionally receive promotional content from the Los Angeles Times.