LAX's proposed Wi-Fi upgrade: Not all that fast, and lots of annoying advertising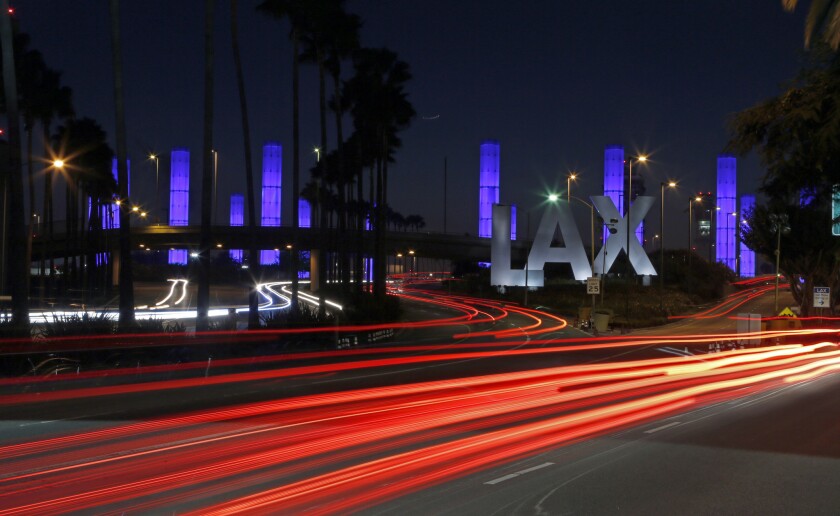 Faster free Internet is likely coming soon for travelers awaiting flights at Los Angeles International Airport.
The airport is close to signing a new contract with Internet company Boingo that will allow connection speeds that are more than four times as fast as the current system, according to a report prepared for the Los Angeles Board of Airport Commissioners.
But peak speeds will reach only 5 megabits per second, making the LAX Wi-Fi about half as fast as Time Warner Cable's basic home connection.
Stay juiced: Best ways to keep your devices charged while traveling
It would still be an improvement over what LAX offers now: The more than 1.2 million LAX passengers who use the airport's free Internet each month get a system that reaches a speed of 1.2 megabits per second.
The new platform would make it easier to surf the Internet and check email, but airport officials say it won't be enough fast enough to support most music or video downloads and streaming.
Travelers also will continue to see a static advertisement or a short commercial before logging on.
Henry Harteveldt, a travel industry analyst at Atmosphere Research Group in San Francisco, commends LAX for offering Wi-Fi but thinks the video ads may be a mistake.
Harteveldt said other airports provide free Internet that doesn't require travelers to view commercials.
"The advertising is annoying, inconvenient and ultimately counterproductive, because consumers may develop negative sentiments about the advertiser," he said.
If travelers want to skip the ads, they will be able to buy one of two packages: one for 10 megabits per second and the other for 20. Those choices are better than the current pay-per-use model, which tops off at 6 megabits per second and costs $4.95 an hour or $7.95 for 24 hours. LAX hasn't set prices for the new system.
LAX's current contract with Boingo expires in June, and the new product, which would require at least $1.5 million in upgrades to airport infrastructure, should go into effect soon afterward.
LAX expects to earn $5.9 million during a seven-year period if the contract is approved by the airport commissioners at their Thursday meeting.
MORE:
Looking for a new travel adventure? Cuba is on a roll
Hitting up Disneyland this summer? Here's what's new
Sign Up Now: Roll a coaster into your inbox with our theme park newsletter
Follow us on Twitter at @latimestravel
---
Get inspired to get away.
Explore California, the West and beyond with the weekly Escapes newsletter.
You may occasionally receive promotional content from the Los Angeles Times.