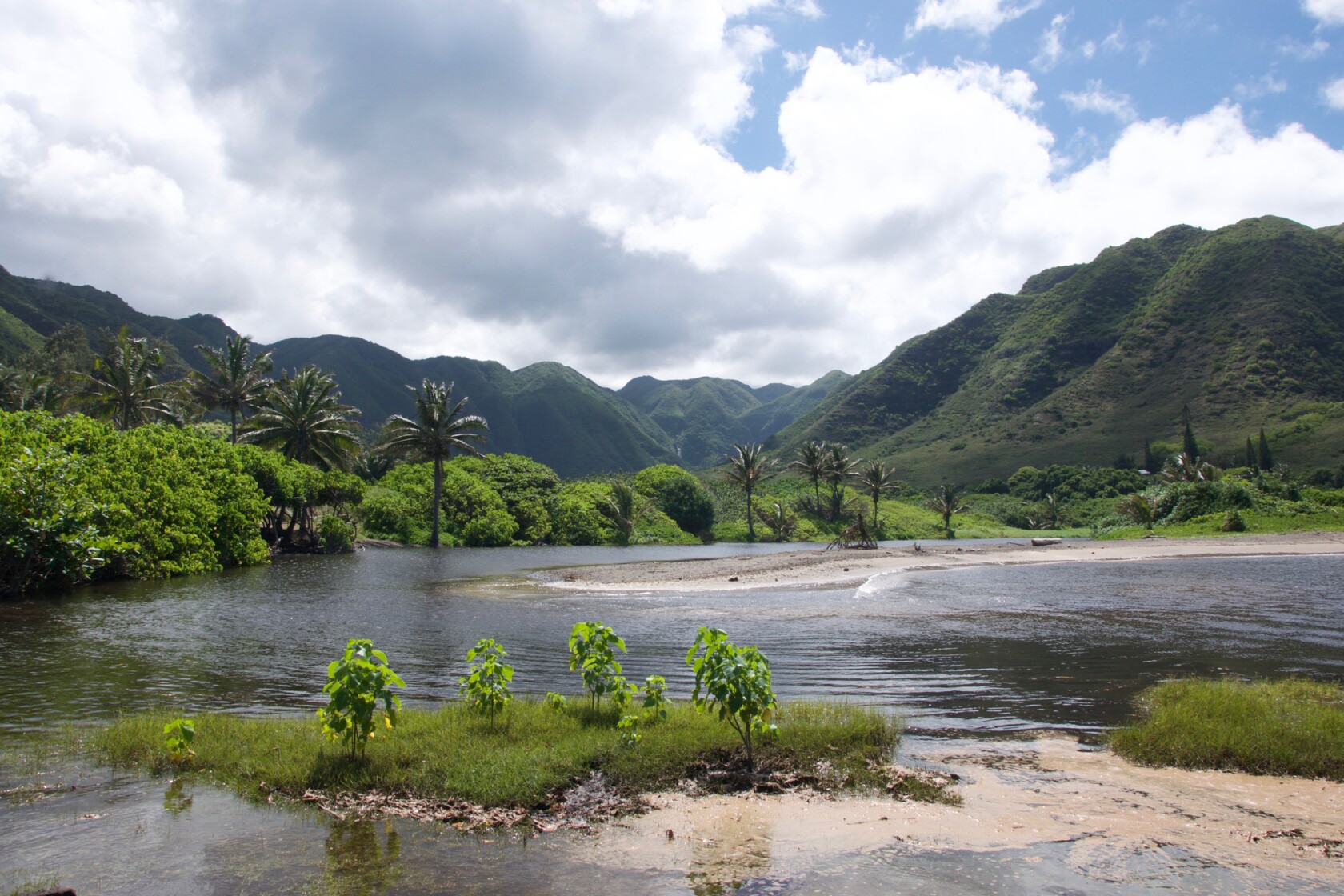 A mountain stream meets the ocean at Halawa Valley Beach Park in far eastern Molokai. The view from here looks drastically different from the way it looked in the 1940s when a devastating tsunami swept over what was then a village and taro fields, reshaping the river mouth.
(Meghan Miner Murray)
Giant man-sized elephant ear plants shade a path to a small off-the-grid community settlement within Halawa Valley.
(Meghan Miner Murray)
One of several desserts offered at the Hale Kealoha (opened October 2015) within the Hotel Molokai. Hot malasadas (a popular Portuguese doughnut holdover from Hawaii's plantation era) swim in vanilla ice cream and chocolate sauce.
(Meghan Miner Murray)
Just west of downtown Kaunakakai, Kapuaiwa Coconut Beach Park is a grove of hundreds of palms cordoned off from visitors due to the hazards of frequent falling coconuts and ground that gives way to freshwater springs. The trees were planted in the 1860s during the time of King Kamehameha V and the area is considered sacred by the Hawaiian people.
(Meghan Miner Murray)
This simple green church built in 1948 is one of the oldest structures in the Valley. Built after a devastating tsunami gutted the area in 1946, the church still offers weekend services, but is in peril of closing due to lack of funding needed for regular maintenance.
(Meghan Miner Murray)
A dusty red road leads to what the Nature Conservancy calls a "last stronghold of native coastal plants in the Hawaiian Islands.
(Meghan Miner Murray )
A lack of organized activities for tourists means visitors must go in search of their own fun. Here, a dragonfly, Roseate Skimmer, Orthemis ferrufinea, spotted along a path leading to the coastal dunes in the protected Mo`omomi Preserve.
(Meghan Miner Murray)
Anakala Pilipo Solatorio, the last living person who grew up in Halawa Valley, now leads regular cultural hikes with his son Greg to perpetuate the local culture and stories of the Valley. Here he is pictured in an extension of his family home describing his experience of the devastating 1946 tsunami alongside historical photos.
(Meghan Miner Murray)
Gregory Solatorio explains the uses for local plants and points out the remains of crumbling lava rock heiau (Hawaiian temples) as he guides a small group of visitors to a waterfall within Halawa Valley.
(Meghan Miner Murray)
The only way to reach Molokai is by island-hopping flights. Here, a rainbow is spotted over the island's rainy eastern end prior to landing.
(Meghan Miner Murray)
A common Hawaii lunch is the plate lunch, always served with scoops of rice and macaroni salad. Pictured here: eastern Molokai's Mana'e Goods & Grindz version of a chicken katsu plate; the grocery and takeout window is the only lunch option on this side of the island. Fortunately, it's a good one.
(Meghan Miner Murray)
Isolated Molokai has long lured the intrepid off Hawaii's well-worn tourist paths. The 260-square-mile island, home to just 7,000 residents, is proudly and fiercely resistant to change. If you can embrace the dearth of man-made attractions and adjust to the slow-paced way of life, you might find yourself relaxing and joining the locals as they wave at passersby.
The tab: I spent $926 for a three-day, two-night adventure, including accommodations, meals and inter-island airfare from Kailua-Kona and would do it again in a heartbeat.
From LAX, United, Delta, Virgin America and Hawiian offer connecting service (change of planes). Restricted round-trip fares begin at $756, including taxes and fees.
Five ideas for the perfect Hawaiian getaway »
The bed
Most visitors choose a home stay on Molokai, but this time I tried my luck at the island's only hotel: Hotel Molokai (1300 Kamehameha V Highway, Kaunakakai; [877] 553-5347. From $170.) Rooms in the '60s-style Polynesian bungalows can be stuffy — there's no air conditioning — and lack a cellphone signal, but otherwise have everything you need for a home base. Its Hale Kealoha restaurant serves residents and visitors and features nightly Hawaiian-style entertainment, often starring the owner and head chef.
The meal
Dining out on Molokai means limited hours and fried plate lunches, pasta and burgers. But there are highlights. If you can ignore the fight-or-flight response that kicks in while walking to the Kanemitsu Bakery's not-so-secret window along a darkened alleyway in after-hours Kaunakakai, you'll be rewarded with a plastic-bag bounty: piping hot bread rounds halved and slathered with your choice of butter, cream cheese, cinnamon, strawberry or blueberry spread or a combo of all five (follow the alleyway to the right of 79 Ala Malama Ave. Hot bread is sold from 7:30 p.m. Tuesdays-Sundays; inside bakery open 5:30 a.m-5 p.m. Wednesdays-Mondays, cash only). It's hands-down the best thing I ate on Molokai.
The find
There's something comforting and hopeful about kites, especially if they're colorful and hand-sewn. Visitors to the Big Wind Kite Factory (120 Mauna Loa Highway, Maunaloa; [808] 552-2364, basic kites from $35, windsocks from $25-$65), on a windswept stretch of western Molokai, can watch employees stitch the owners' patterns on several dozen creations daily. My favorite is a diamond-shaped windsock fashioned to look like a Humuhumunukunukuapuaa, Hawaii's reef-dwelling state fish.
The lesson learned
Most of Molokai's rewards must be earned, and many of my favorite moments were unplanned. Flash-flood warnings twice canceled a Halawa Valley jungle hike (Adults $60, $35 for kids). To fill the time, I took a dry, dusty walk along a rental-car-impassable track on the northern coast to catch a glimpse of the sacred sand dunes at Moomomi Preserve. On my final day, the 3 1/2-mile round-trip hike to Halawa Valley proved worth the wait. Our small group forded a thigh-high river to reach gushing falls and hidden temples in the valley. Along the way we heard stories about Molokai's oldest settlement from its longest still-resident family.
---