A North Shore wave killed her father. Now she returns to the same Oahu waters to honor his photo legacy
The waves  killed her father as he pursued his profession. Can his daughter overcome that memory and find peace and joy?
Thirteen years ago, Amber Mozo lost her father to an epic wave along Oahu's North Shore. Now she embraces the popular surfing site her dad loved — and encourages others to visit the home of Hawaii's monster waves.
Mozo, 23, overcame her fears to enter the ocean last winter, waterproof camera in hand, to photograph surfers riding the famous Banzai Pipeline, a wave that can be 9 feet or higher. Doing that very thing claimed Jon Mozo's life in 2005, when Amber was just 9 years old.
Her adventure is shared in "Forgiving Pipeline," a five-minute documentary produced for commercial surfing sponsor Red Bull.
She encourages visitors to come to the North Shore and leave the comfort of Waikiki and its resorts behind.
"There isn't much accommodation on the North Shore [so] the majority of tourists stay in Waikiki because there are so many hotels," Mozo said. "I find that they venture up to the North Shore just for the day."
Mozo and a friend, famed surf photographer Zak Noyle, said they have lots of reasons to get out of "town," the word locals use to describe Honolulu.
For many people, Hawaii is all about the sun, surf and sand. Noyle said a visit to Ehukai Beach Park, home to the notorious Pipeline, is the ideal place to visit.
"To me, that's one of the most beautiful beaches, with or without surf being there," he said. The huge waves occur in winter, when the North Shore hosts international surfing contests.
"It is where you go to watch the biggest, best waves in the world, and the best surfers in the world 50 yards in front of you," Noyle said. "The whole sand shakes with the waves."
Before reaching the beaches, people heading north out of Honolulu should head into Haleiwa, the largest community hugging the shoreline. "It has turned into a really busy hot spot," Mozo said.
In addition to shave ice, souvenirs and surfboards, the town offers good places to eat as well. Mozo and Noyle recommend a stop at Haleiwa Bowls for a smoothie-like treat.
The Hapa Bowl ($8 small, $11 large), for example, is made with acai, bananas, blueberries and strawberries blended together and then topped with fresh bananas, coconut flakes, organic hemp granola and honey.
"It's always fresh food," Noyle said. "The long line is the only drawback."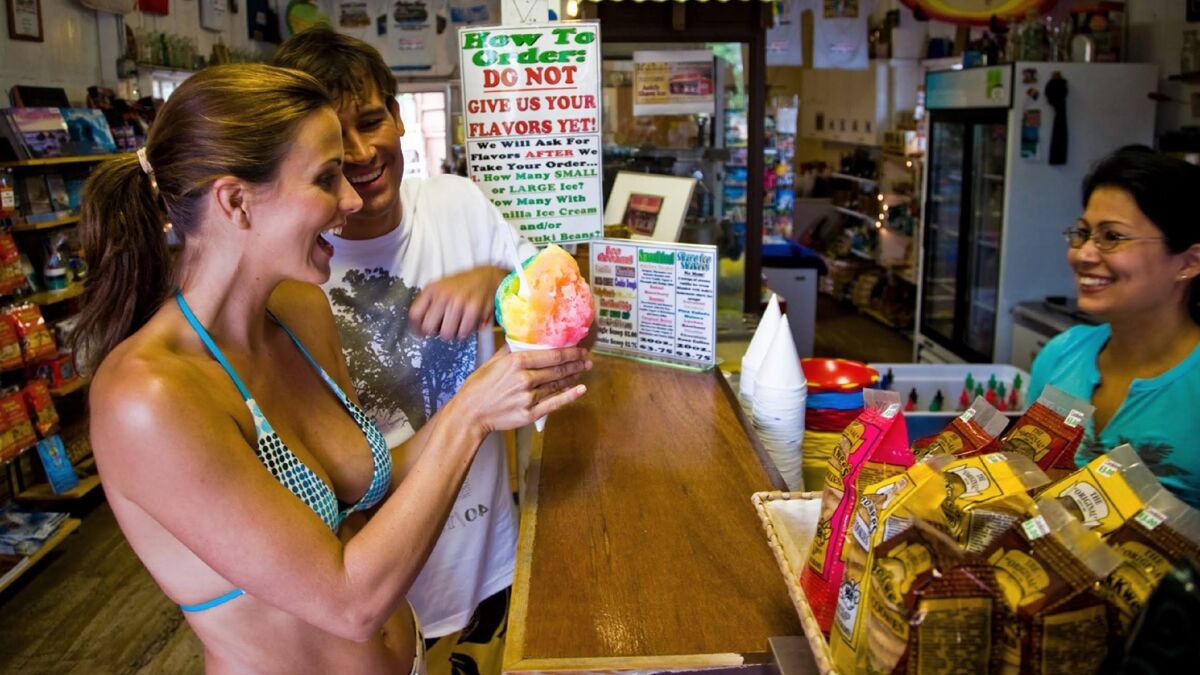 Outside of Haleiwa, the beaches are the domain of food trucks. The photographers suggest a stop at Pupukea Grill, located near a beach park with the same name.
"It's a little blue food truck across from Shark's Cove. And it is a really, really good local spot," Mozo said. "It's one of my favorites."
Jon Mozo taught Noyle some principles of underwater photography and, in turn, Noyle mentored his now-grown-up daughter. That's why she waded into the sometimes unforgiving ocean in February, during the Volcom Pipe Pro surfing competition.
The trial-by-water was the subject of the recently released video. For Mozo, it provided an opportunity to honor her father's legacy.
"He was a photographer, and all of his favorite images in his gallery were of the ocean," she said. "My dad taught me that the ocean was really important to him. It brought him a lot of peace and happiness."
Info: Oahu's North Shore
Twitter: @latimestravel
---
Get inspired to get away.
Explore California, the West and beyond with the weekly Escapes newsletter.
You may occasionally receive promotional content from the Los Angeles Times.