Maui restaurants: 20 great places to eat for under $20
Maui is my happy place. Scenery, weather, aloha spirit — I love it all. The only wrinkle in the fabric of this beautiful picture is the cost of food. Dining out here can break the bank.
But we have a solution: Eat where the locals eat. Maui has dozens of thrifty food options. You just have to know where to look.
Nearly a decade ago, the Travel section created lists focusing on inexpensive eating places. We canvassed Hawaii to bring you a series of articles we called "20 for $20," tasting our way across Maui, Kauai, Oahu and Hawaii Island in search of great meal deals at restaurants locals like best.
On Oahu, 20 places for great meals for less than $20 »
You loved them, but things change in a decade.
We've spent the last several months updating the lists for Kauai, Oahu and now Maui. With the help of local experts, we identified some new — and some old — faves and tried them, focusing on restaurants where locals dine that feature inexpensive and sometimes traditional Hawaiian fare.
Six of our old favorites (Aloha Mixed Plate, Cafe O'Lei, CJ's Deli, Sea House Restaurant, Sunrise Cafe and Paia Fish Market) made it onto the new Maui list. But there are awesome newbies too, including a few food trucks.
For the most part, the restaurants are clustered in Maui's main tourist areas, from Lahaina and the suburbs of West Maui to Hana at the east end. In the midsection, restaurants are mainly in Kahului, home of the airport and major island businesses, popular Kihei and rustic Upcountry Maui, near Haleakala National Park.
Prices: $12-19
The seaside Aloha Mixed Plate, always a contender for our favorite cheap-but-wonderful restaurant in Maui, is better than ever. The cafe closed for three months for renovations, reopening in December 2018. The paper plates gave way to ceramic ones, and new construction dressed up the property. The upper deck, for instance, now has a roof that retracts at night so you can see the stars. The mai tais ($8) are legendary, and customers love the plantation fare, including updated shoyu chicken ($12), kalbi ribs ($19) and mochiko chicken ($12). Reservations advised.
Insider tip: Arrive at sunset for a special treat: Not only will you see a spectacular show at sea, but you'll also be able to hear the show next door at Old Lahaina Luau.
Info: Aloha Mixed Plate, 1285 Front St., Lahaina; (808) 661-3322
2. Cafe O'Lei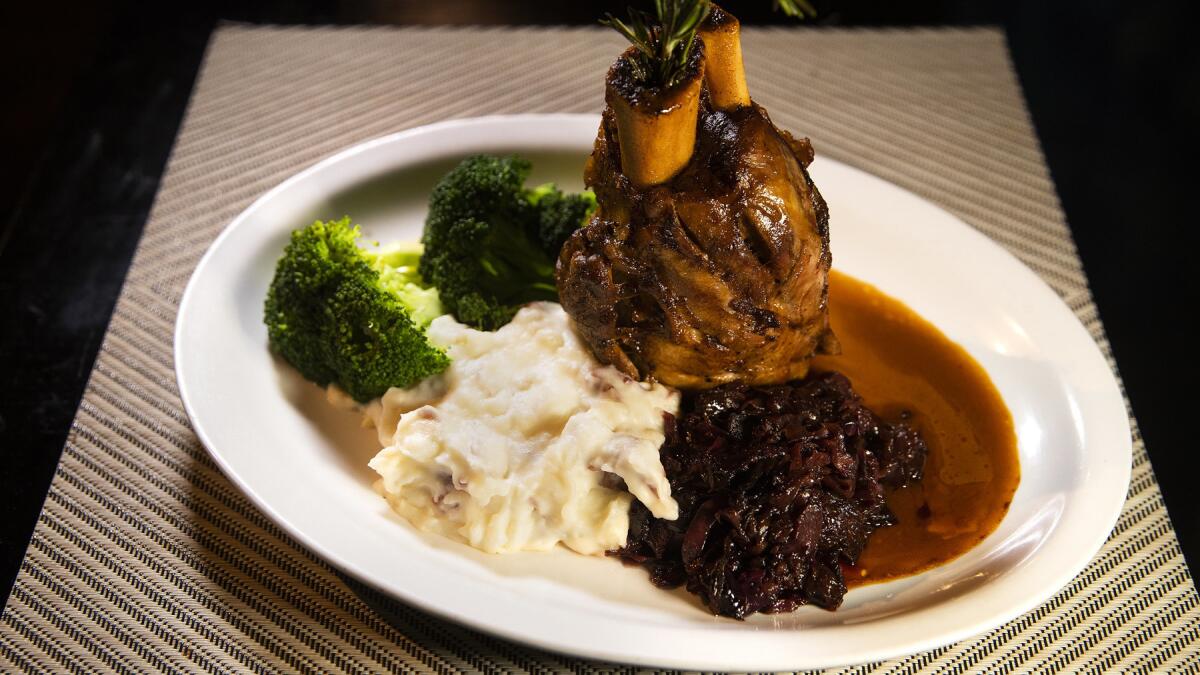 Prices: $14.95-$31.95
The owners of Cafe O'Lei want you to have a nice evening. That's why they work hard to keep prices low at the Kihei restaurant. "We're pretty proud that we can offer good prices and a fine experience," said chief executive Dan Lang. The 262-seat dining room, in the Rainbow Mall by the beach, serves Pacific Rim cuisine. There are lots of wonderful things here: Try the outstanding pork shank with creamy potatoes and broccoli ($19.95) and shrimp papaya salad ($14.95).
Insider tip: It's all wonderful. Visit twice.
Info: Cafe O' Lei, 2439 S. Kihei Road, Kihei; (808) 891-1368,
Prices: $9.95 - $14
The resort hotels of Kaanapali, a master-planned complex in West Maui, have some terrific restaurants. But getting a meal at one of them for less than $15 is nearly impossible. Not so at CJ's Deli & Diner, a strip-mall cafe in the Kaanapali Fairway Shops complex. You can choose from several thrifty dishes, including a BLT ($11) or a soup-and-sandwich combo ($11). CJ's is adjacent to the hotels of Kaanapali — so close you could drop by for fish tacos ($14) or a classic Reuben with sauerkraut, Swiss cheese and island dressing ($12). Take it to eat on your hotel lanai or on the beach.
Insider tip: Been on a fishing trip? CJ's will grill your catch for you.
Info: CJ's Deli & Diner, 2580 Kekaa Drive, No. 120, Kaanapali, Lahaina; (808) 667-0968
On Kauai, where to eat for cheap: 20 places to chow down for $20 »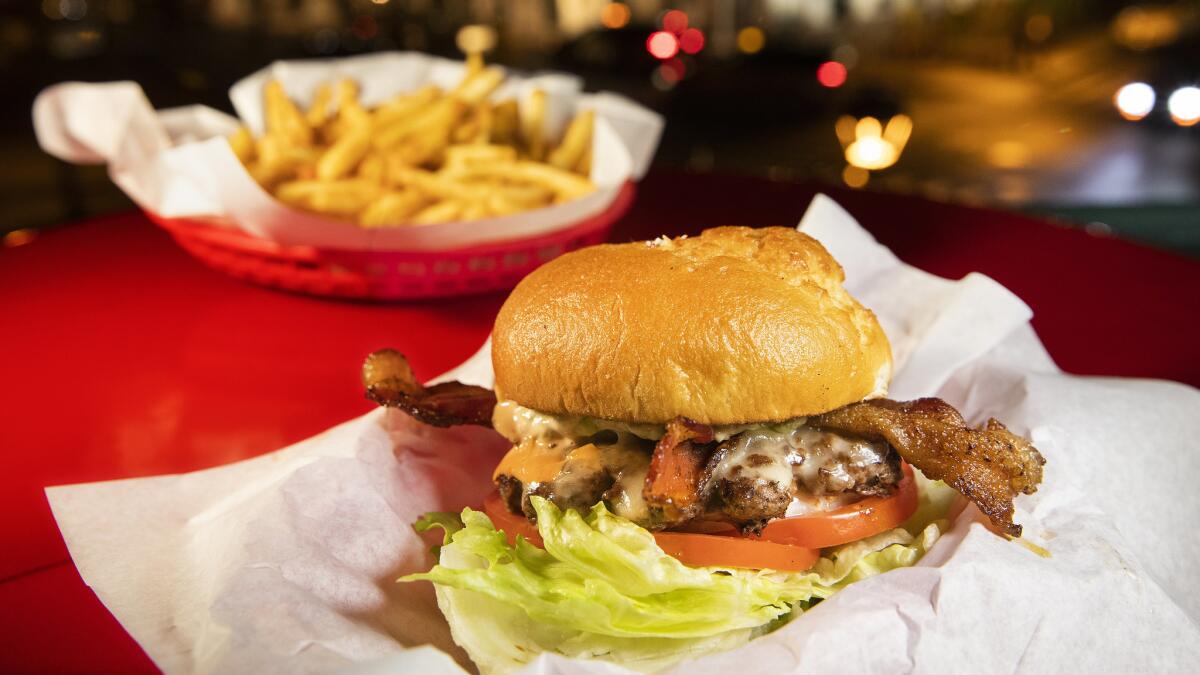 Prices: $11.99-$18.99
Music, an awesome view and plenty of cool cats: Who could ask for more? The Cool Cat Cafe, winner of the Maui News award for best burger 15 years in a row, is an open-air restaurant and bar overlooking downtown Lahaina. It's on the third floor of a city entertainment center, giving diners a bird's-eye view of Banyan Court Park and bustling Front Street. Choose from more than a dozen burgers, plus sandwiches, salads and larger entrees. Our favorites were the Don Ho burger with pineapple and bacon ($12.49) and the Luna with avocado, bacon and sweet Maui onions ($13.99).
Inside tip: Musicians play from 7:30-10:30 p.m. many days.
Info: Cool Cat Cafe, 658 Front St., Suite 160, Lahaina; (808) 667-0908
Prices: $10-$16
Visitors to Hana, the far-away paradise at the end of the famous 65-mile Road to Hana, have never had many choices for lunch. Now food trucks have appeared and broadened the playing field. Da Fish Shack, a creation of chef Brian Maser, is known for its fish tacos ($14), which usually feature ahi or white fish. Maser is an old hand at this; he has 35 years' experience and has cooked in the Napa Valley and northwestern Italy. But he's a Maui native and says he's much happier cooking on his home island. Eat at a picnic table or take your tacos to a nearby beach.
Insider tip: You may not find restroom facilities here during the winter.
Info: Da Fish Shack, 5230 Hana Highway, Hana; (808) 269-3922
6. Fork & Salad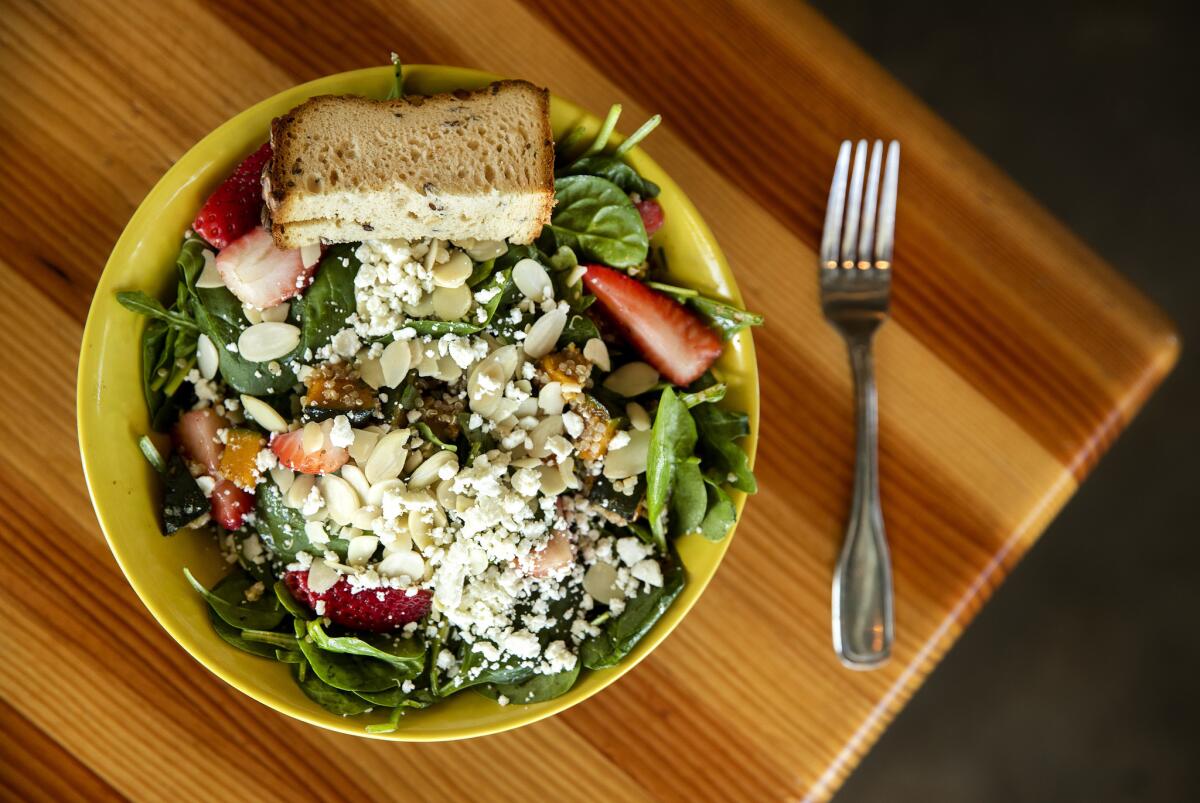 Prices: $10.25-$12.75
Build your own or order one of Fork & Salad's fresh-and-beautiful signature salads at this two-store Maui chain, where the theme is "Eat local, eat healthy." There are classics, such as Caesar and Greek salads ($10.25), and interesting daily specials, such as roasted kabocha squash and strawberry salad with arugula, quinoa and roasted garlic ($10.25). Sandwich lovers can try hearty combos such as lemon-and-thyme chicken ($11.50).
Insider tip: Southern Californians are in luck: One of these fresh-and-healthy restaurants is opening May 10 in the city of Orange.
Info: Fork & Salad, 1279 S. Kihei Road, No. 204, Kihei; (808) 879-3675, and 120 Hookele St., Suite 330, Kahului
7. Hana Ranch Restaurant
Prices: $11-$30
You've just driven 65 miles past waterfalls, beaches and jungle-like overgrowth on the winding, white-knuckle road to Hana. Celebrate with a stop at Hana Ranch Restaurant, which sits on a patio overlooking the Pacific. It's a great place to decompress while you have lunch and a beer ($5). The burgers are juicy ($17), or you can try the poke ($16) or a kalua pork sandwich with fries ($20). Although Hana's food trucks have a lot to offer, it's nice to take a break at this enduring American-style dining room, browse in the shops and enjoy the view.
Insider tip: It's also nice to take advantage of the restroom facilities, which are in short supply in Hana.
Info: Hana Ranch Restaurant, 5031 Hana Highway, Hana; (808) 270-5280
8. Huli Huli Chicken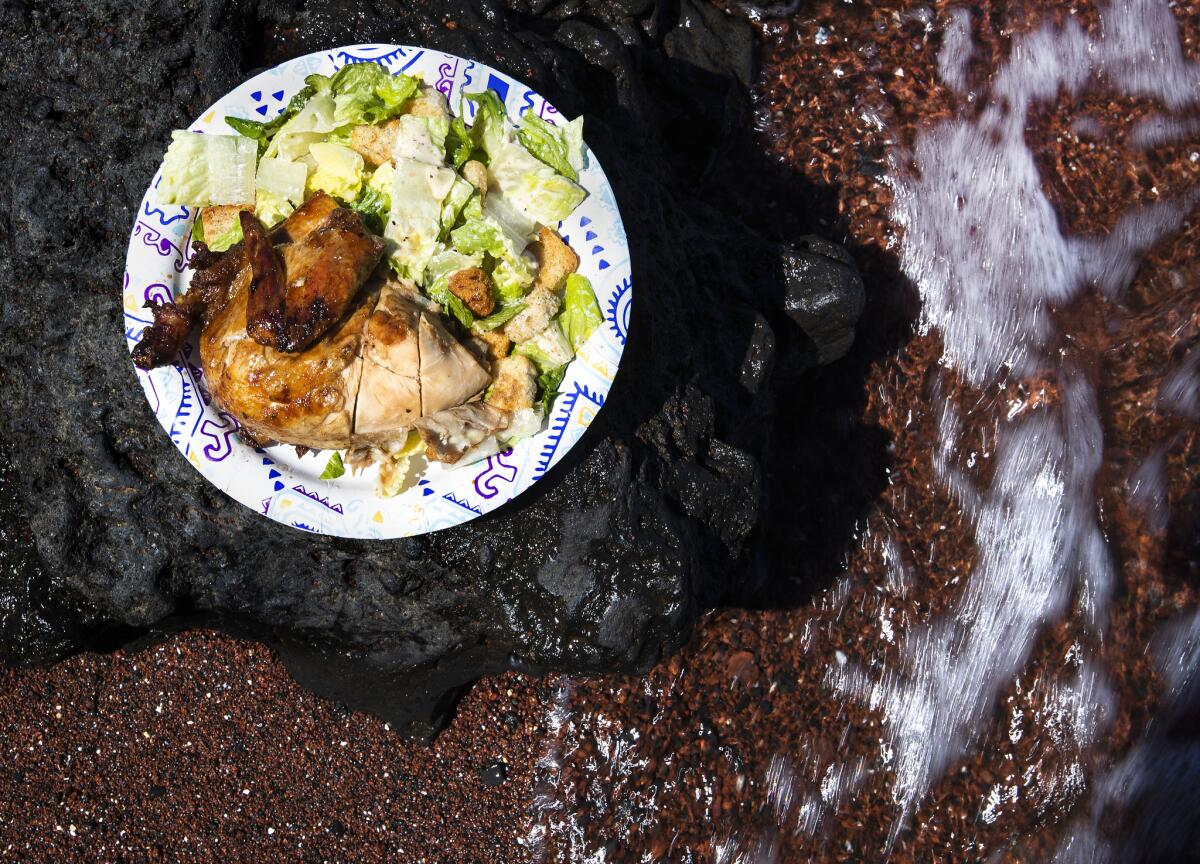 Prices: $12-$22; cash only
Get your beach fix at Huli Huli Chicken, where the food is barbecued on a grill overlooking the sea, and you can eat at Koki Beach Park, one of the prettiest beaches on Maui. This unusual beach has red bluffs and pounding surf; it's not a good place to swim, but the mixture of black, white and red sand is beautiful. The chicken stand has been here off and on for about 20 years, according to locals. It's manned by community members and features daily specials. No matter what else is on the menu, you can count on chicken being available as long as the stand is open.
Insider tip: Koki Beach Park is less than three miles beyond Hana on Hawaii 360.
Info: Huli Huli Chicken, Koki Beach Park, 175 Haneoo Road, Hana; no phone number or website.
Prices: $6-$21
Find fresh island fish, plate lunches and Filipino fusion at Joey's Kitchen, a great place to visit if you'd like to avoid the high prices at Kaanapali hotels. Chef Joey Macadangdang left his job as a corporate chef to open his own restaurants, including this food court cafe in Whalers Village. Dishes here are more creative than at most mall restaurants. You'll find typical Hawaiian plates — kalua pork ($14), kalbi ribs ($19), pork lau lau ($15) — plus several FiIipino specialties with cabbage, rice and macaroni salad ($12).
Insider tip: Joey's is on the bottom level of the mall a few steps from the beach. Take your plate to go.
Info: Joey's Kitchen, Whalers Village, 2435 Kaanapali Parkway, Lahaina; (808) 868-4474
10. Komoda Store & Bakery
Prices: $1.15 and up
Sweeten your vacation with a stop at this 103-year-old institution in Upcountry Maui. It's an ideal place to visit if you're in the area to see the volcano at Haleakala National Park. Stop by the store and get a sugar high on one of Maui's favorite indulgences: cream puffs ($2), stick doughnuts ($1.68), bread ( $3.25) and butter rolls ($8.50). The family-owned store — and the cowboy town of Makawao itself — are a throwback to turn-of-the-20th-century Maui. Allow some time to look around while you're here. You'll find galleries and fun shops.
Insider tip: The store opens at 7 a.m. and is popular, especially on Saturdays. Arrive early; the selection is limited by 11 a.m.
Info: Komoda Store & Bakery, 3674 Baldwin Ave., Makawao; (808) 572-7261
11. Leoda's Kitchen & Pie Shop
Prices: $10-$16
What a surprise: This cute diner along Honoapiilani Highway may have escaped your attention. Leoda's is getting such great word of mouth from both locals and visitors that you should try it. You'll find a lot to like here, especially the pies: sweet, savory and hand-held empanada-style pockets. There are other things on the menu too: hoagies, dogs, salads. But pies are the real draw; choose from chicken ($10), turkey ($11.50) or veggie ($10) savory pies, or sweets such as apple crumb or banana cream ($7.50-$8.75). The restaurant, named for a woman who lived here during the plantation era, bakes as many as 800 sweet pies daily.
Inside tip: The earlier you arrive, the better the variety.
Info: Leoda's Kitchen & Pie Shop, 820 Olowalu Village Road, Lahaina; (808) 662-3600
12. Paia Fish Market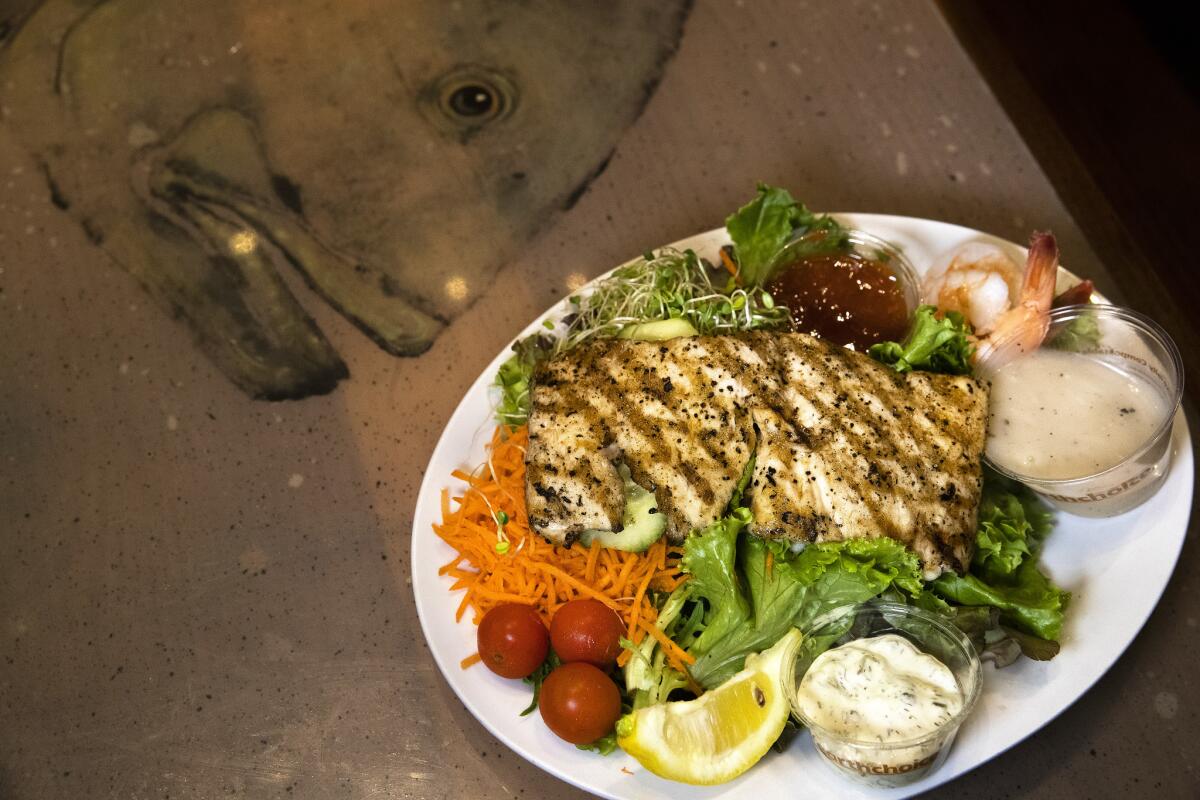 Prices: $5-$26.95
It's hard to believe how many things have changed in the 30 years since the Paia Fish Market opened its doors in this village near the lonely route to Hana. The town is booming, the road often is gridlocked, and the fish market now has three locations in Maui and one in Waikiki. One thing hasn't changed: Diners still line up to receive generous portions of exquisitely fresh fish at affordable prices. Order at a counter and eat family-style at indoor bench tables or take your food to go. I loved the seafood salad topped with a huge chunk of mahi or ono ($14.95) and the fish and chips ($13.95-$15.95).
Insider tip: Visit bustling Paia shops or watch the giant waves at nearby Hookipa and Peahi beaches.
Info: Paia Fish Market, 100 Hana Highway, Paia; (808) 579-8030. Other locations in Lahaina, Kihei and Waikiki.
13. Ramen Ya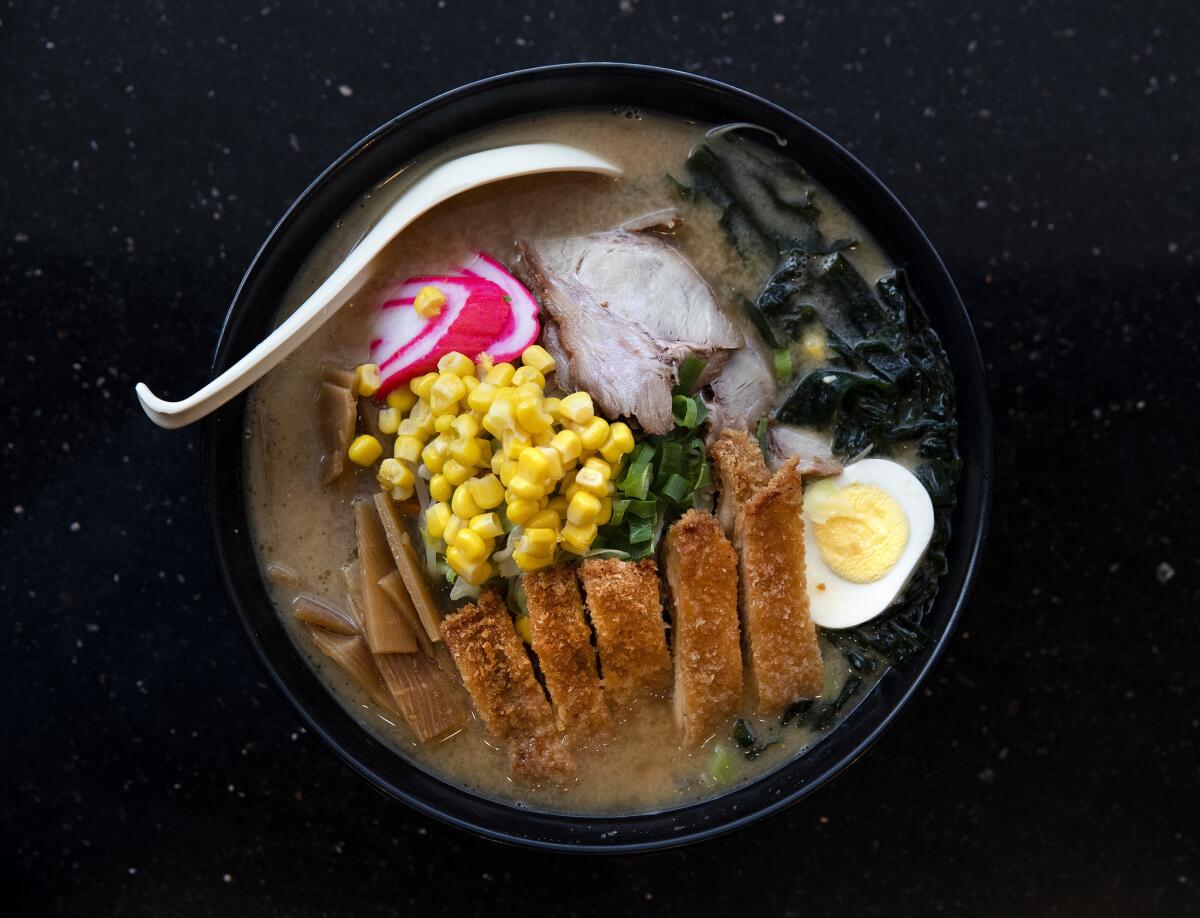 Prices: $9.50-$12.25
Need a break? Queen Kaahumanu Center is Maui's largest regional shopping center, with two Macy's and dozens of smaller shops and restaurants. It's also home to Ramen Ya, a small chain that offers big portions of island favorites. The Japanese cafe, a favorite with locals, simmers its broth daily for more than 12 hours. Taste it in Big Bowl Ramen ($12.25), a dish that's big enough to feed three people. Other top sellers at this tidy mall restaurant are seafood crispy noodle ($11.75) and mochiko chicken ($10.75).
Inside tip: This is the place to come when you're really hungry. Portions are huge.
Info: Ramen Ya, Queen Kaahumanu Center, 275 W. Kaahumanu Ave., Kahului; (808) 873-9688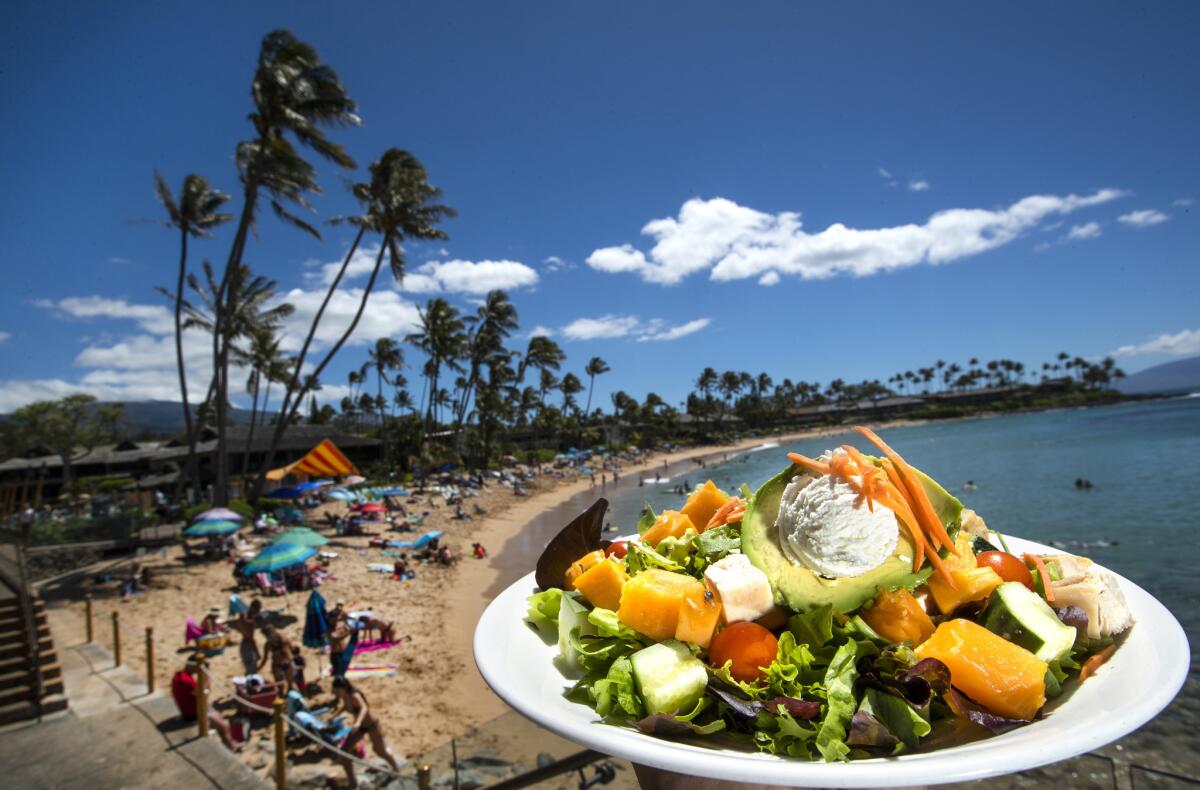 Prices: $9-$18
Get in tune with paradise at Sea House Restaurant, where the sight and sound of the surf competes for attention with flavorful Pacific Rim cuisine. This hotel restaurant, at the Napili Kai Beach Resort, sits on a bluff overlooking lovely Napili Bay. Dine on the terrace at lunch to see swaying palm trees, aquamarine waters and reasonable prices, with sandwiches and salads in the $12-$14 range. I loved the chicken papaya salad with goat cheese, avocado and macadamia nuts ($14).
Insider tip: Try the inexpensive Whale Watchers' Happy Hour menu from 2-4:30 p.m., with ribs, tacos, coconut shrimp and other dishes for $7-$8.
Info: Sea House Restaurant, 5900 Lower Honoapilani Road, Napili; (808) 669-1500
15. Sunrise Cafe
Prices: $6.95-$13.95, cash only
Have$10 to spend on breakfast? Sunrise Cafe is your kind of place. This hole-in-the-wall diner built around a tree offers three specials for $6.95 (eggs plus pancake, French toast or waffle). Add coffee for $2.75 plus tax, and you've spent slightly less than $10. (Please don't forget the tip.) One of our faves here is the loco moco, with a hearty beef patty, eggs, gravy, toast and fruit ($11.95). If you're looking for lunch, you can choose from 11 sandwiches and five salads. Nothing on the menu costs more than $14.
Insider tip: This tiny mom-and-pop is hard to find. It's across the street from the Lahaina Public Library.
Info: Sunrise Cafe, 693 Front St. A, Lahaina; (808) 661-8558
16. Thai Mee Up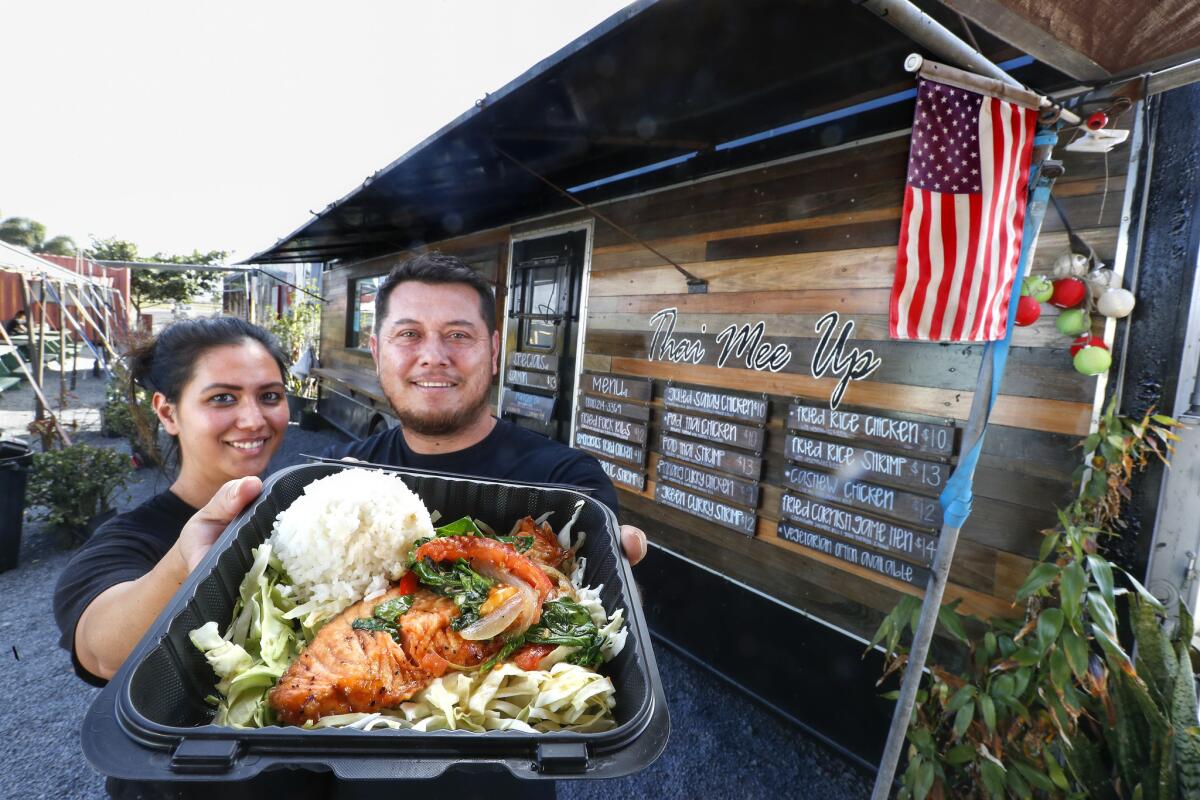 Prices: $9-$15
If you've never seen an upscale food truck, don't miss Thai Mee Up, which may be Hawaii's classiest truck. It also has some of the best Thai food on Maui. Owners Tom and Brandie Sribura "want to keep the quality the same as what you'd find in a nice restaurant," Tom Sribura said. "We work hard on that." Their snazzy double-trailer truck is finished in walnut and mahogany and is the culmination of four years of work. Try the salmon with jasmine rice and vegetables ($13) or the occasional special New York steak and lobster ($20). Take the food home or dine at a picnic table.
Insider tip: The easiest way to find Thai Mee Up is to look for Costco; it's across the street in a small food-truck center.
Info: Thai Mee Up, 591 Haleakala Highway, Kahului; (808) 214-3369, facebook.com
17. Tin Roof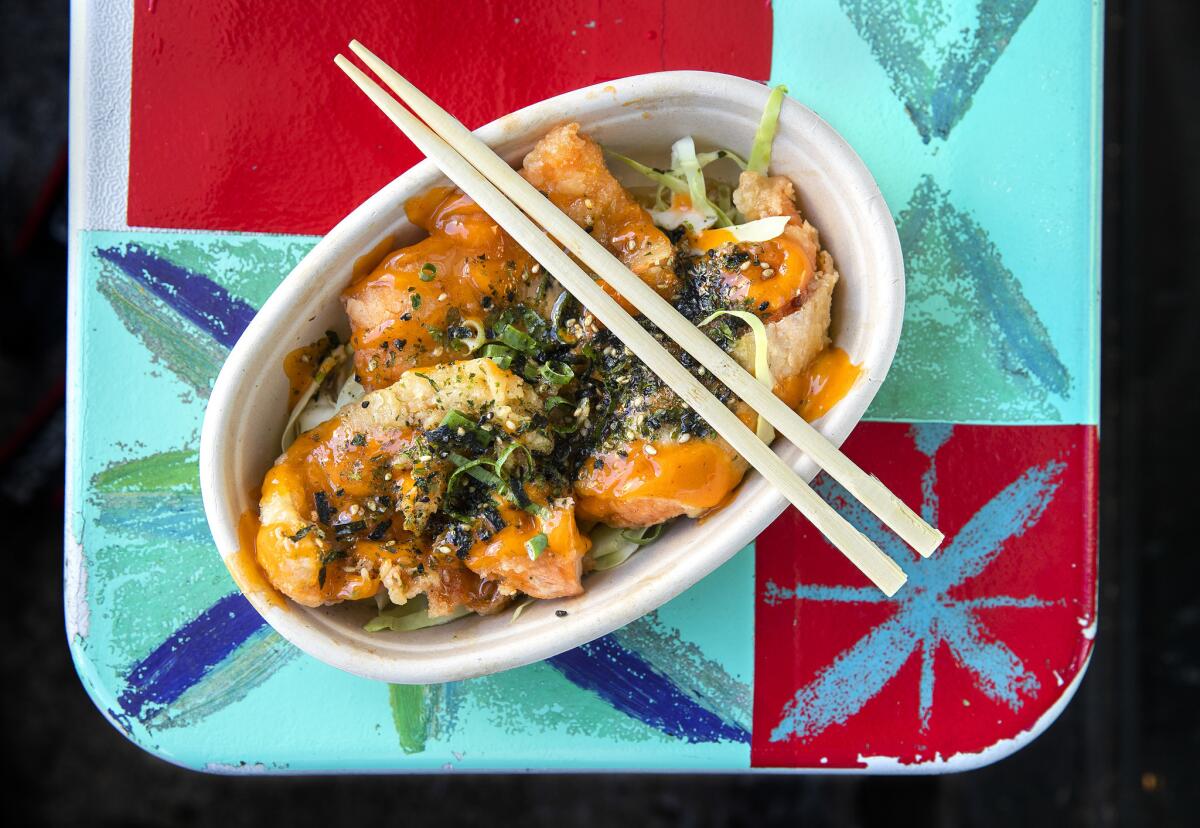 Prices: $7-$14
You'll have to set your GPS to find Tin Roof, a popular lunch joint. It's in a commercial neighborhood, with car repair shops and a FedEx office for neighbors. But locals love it and give it high marks for creativity, sustainable cooking and island flavors. Chef Sheldon Simeon, a Hawaiian native who has competed twice on "Top Chef," refers to his tiny food outlet as a "new-generation mom and pop." He owns it with his wife, Janice. Try the poke bowl ($14) or one of the daily specials. Take the food to go; the shop is crowded and hot, and there's nowhere to sit.
Insider tip: Order your food online so you can pick it up and avoid the long wait.
Info: Tin Roof, 360 Papa Place, Suite Y, Kahului; (808) 868-0753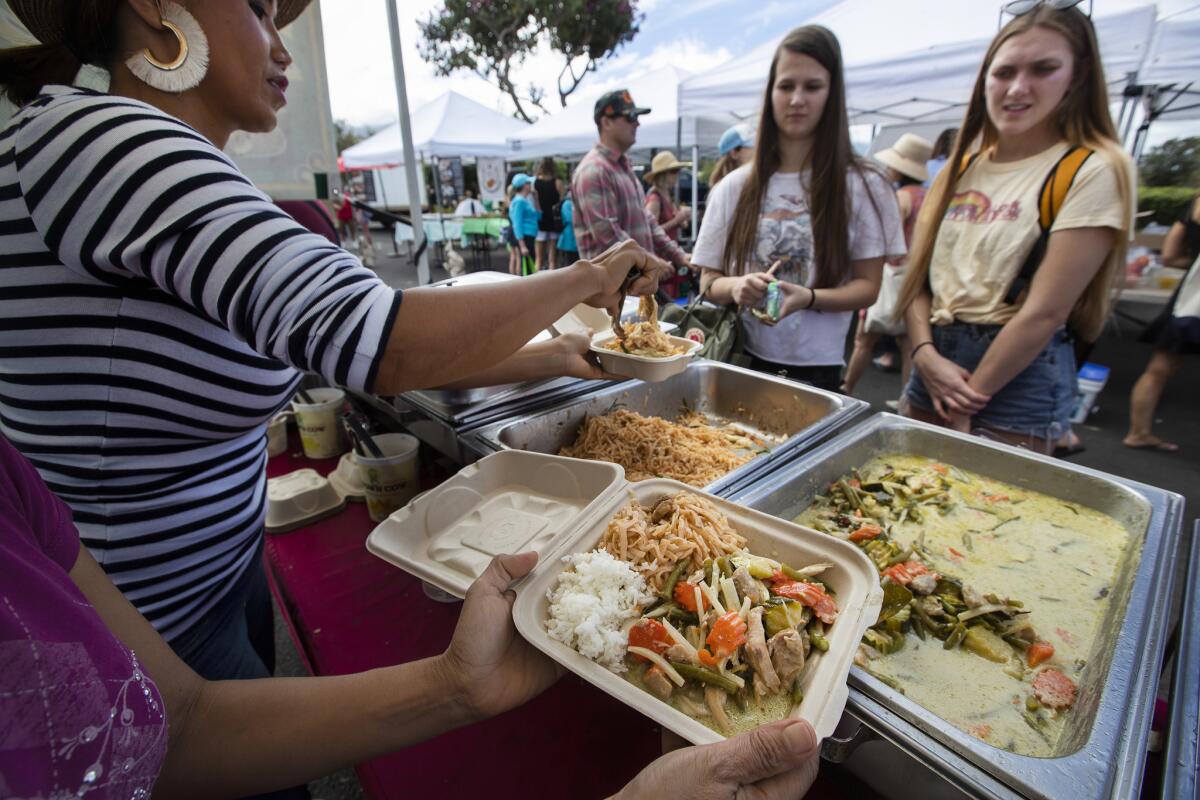 Prices: $6-$12 for prepared food
Step up to the produce stand. Maui has five farmers markets, excellent places to find fresh food and become part of the island community. The Upcountry Farmers Market, 7-11 a.m. on Saturdays, was voted "Best of Maui" in the local newspaper the last five years. You'll find exotic fruits and vegetables, sourdough bread — made with 155-year-old starter, according to the seller — and a host of prepared foods. Our green curry chicken plate from Pan's Thai was a bargain at $10.
Insider tip: Don't get here late; many vendors have left by 11 a.m.
Info: Upcountry Farmers Market, Kulamalu Town Center, 55 Kiopaa St., Pukalani; (808) 283-3257
Prices: $16-$22
Put on your sunniest Hawaiian shirt or strappy dress and visit Grand Wailea, one of Maui's iconic luxury resorts, for lunch at the Volcano Bar & Grill. The cafe, surrounded by nine pools, waterfalls and slides, is a pleasant place to spend a few midday hours and mingle with big spenders. Twelve entrees meet our criteria, including a turkey burger and chips ($19), ahi tuna roll ($19), and a kula spinach salad with bacon and strawberries ($16).
Insider tip: Plans are underway for major renovations at the hotel, which was purchased last year by Blackstone Group.
Info: Volcano Bar & Grill, Grand Wailea, 3850 Wailea Alanui Drive, Wailea; (808) 875-1234
20. Zippy's
Prices: $7-$13.20
This is where you go when everything else is closed. Zippy's, a Hawaiian chain, is open 24 hours and on Sundays, when most of the island's mom-and-pops take the day off. It's based on Oahu but has one restaurant in Maui and is a great place for families with lots of kid-friendly food and low-key ambience. Sort of Denny's with an Asian twist. We liked the tun min saimin noodles ($8.49) and the chicken with rice and salad ($13.35), but there are other things to try, including chili, an island favorite.
Insider tip: Quantity wins here, so Zippy's will fill the bill when you're hungry.
Info: Zippy's, 15 Hookele St., Kahului; (808) 856-7599
Get our L.A. Goes Out newsletter, with the week's best events, to help you explore and experience our city.
You may occasionally receive promotional content from the Los Angeles Times.