Hiking in the Woolsey fire's burn area: See photos of nature's remarkable comeback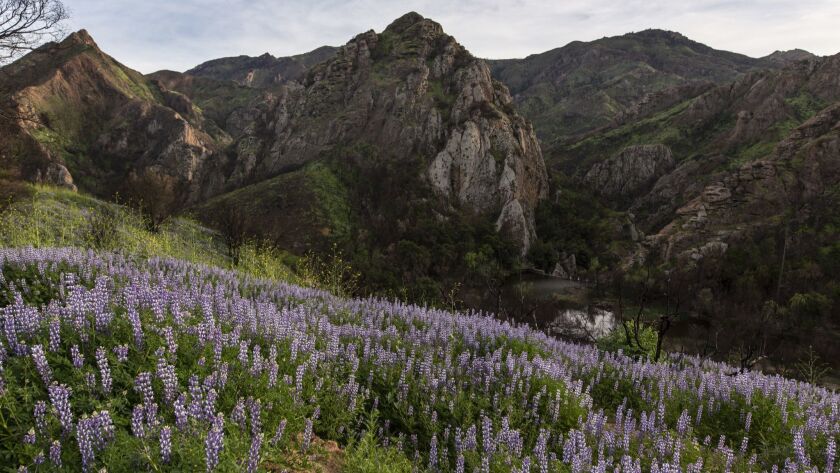 As we drove deep within the Santa Monica Mountains in Agoura Hills, parts of which were still scorched by November's Woolsey Fire, we were shocked by the scene before us. It wasn't black. It wasn't an empty moonscape. It wasn't a charred, burned-out wasteland.
Instead, the Santa Monicas were green, lush and colorful — more so than I'd ever seen. It was an explosion of nature that left everyone in the group exhilarated and mystified. This was the worst fire in history, one that left 88% of the federal parkland burned and trails shut for months. So what happened?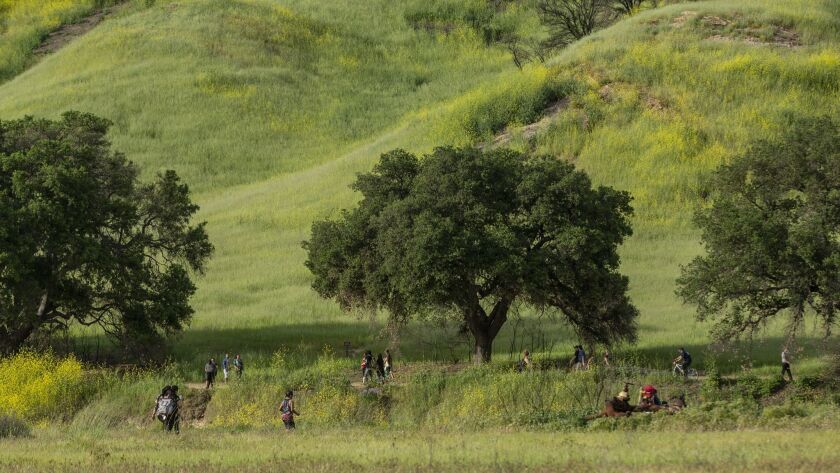 "The rain gods delivered a dream scenario, better than we could have hoped for," said Mark Mendelsohn, a plant ecologist with the National Park Service, as he led a tour that began at an old filming area called Paramount Ranch. "Due to the perfect set of rains -- one every couple weeks for months — the regrowth has been spectacular. The smoke and heat causes lots of seeds to germinate, so they were ready when the rains came. Wait till you see the flowers."
Now is the perfect time to watch nature on the rebound along hiking trails that have mostly reopened. In the fire, low-lying plants and trees in woodland and shrubby areas in the mountains were completely scorched. Now thousands of blackened, leafless trees that poke up throughout the landscape like frazzled spikes show signs of life, with leaves sprouting from their branches and trunks. The biggest surprise was the wildflower show.
Off we went on the Coyote Canyon Trail, leaving behind another casualty of the fire, Western Town, a 1927 Hollywood film set seen in hundreds of movies and TV shows, including "The Cisco Kid," "Westworld" and "Dr. Quinn, Medicine Woman." But with the set's rubble, and the massive, blackened branches of an iconic oak known as the "witness tree" quickly behind us, it was often hard to tell that a fire had blazed through.
As we climbed an easy 500 feet up the first mile of the short trail, the hillsides teemed with color and life: waves of green studded with banks of purple, white and yellow flowers.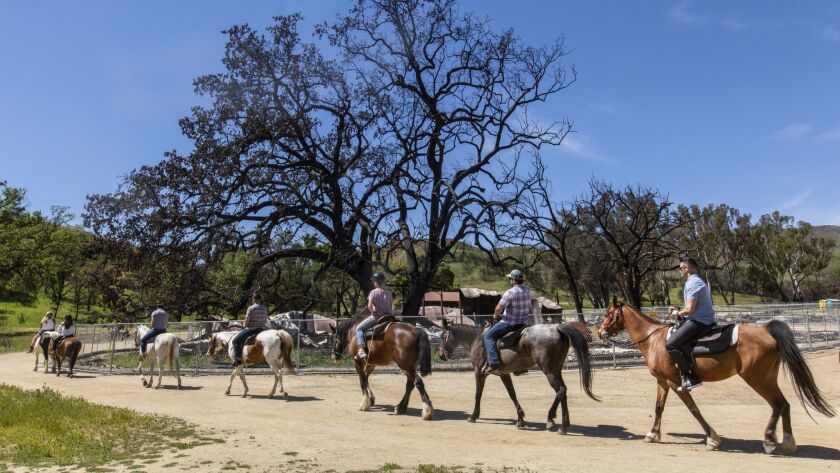 "It's normally verdant this time of year, March and April, but this is something special," Mendelsohn said. "The fire brings out more plant species than normal."
A few weeks before, my son had dragged me out to Lake Elsinore's overcrowded Walker Canyon to see the super bloom of California poppies, which has since ended. It truly was sensory overload, with entire hillsides of brilliant yellow, orange and purple.
So now it was my turn to take him to Coyote Canyon, known as a good flower spot in the Santa Monicas. It offered a less blinding but highly varied palette.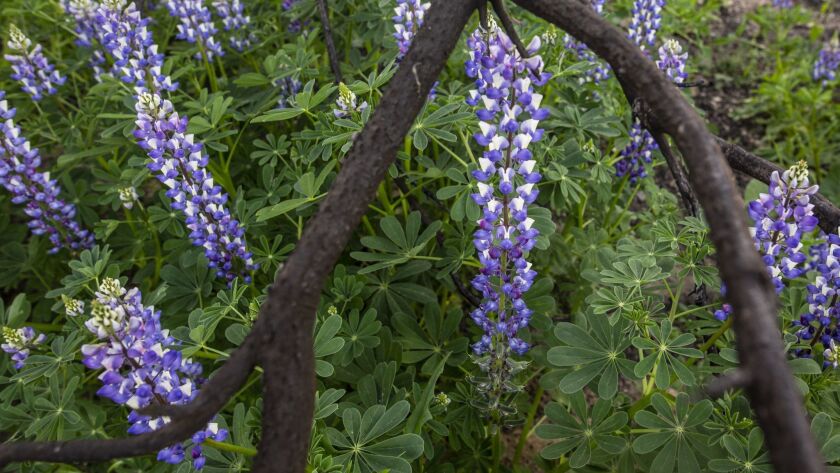 Purple reigned. Mendelsohn pointed out large swaths of five-petaled Parry's phacelia, common to slopes in the western Santa Monicas; owl's clover, with a flower cluster that looks like a paint brush; and stinging lupine, a pinkish-purple flower featuring long, stiff hairs on the stem and leaves that sting skin when touched. Tones of lavender came from caterpillar phacelia (no resemblance to Parry's), an upright shrub that uncoils numerous hairy flower buds in a way that evokes the multilegged insect.
Yellow was represented by two plants: whispering bells, a fire follower (meaning it appears after burned foliage releases the nitrogen dioxide its seeds thrive on), and black mustard plant, which lights up hillsides throughout Southern California — much to Mendelsohn's dismay. Mustard is a hardy, non-native species, hailing from the Mediterranean, that he said "out-competes" our more delicate, fire-depleted plants.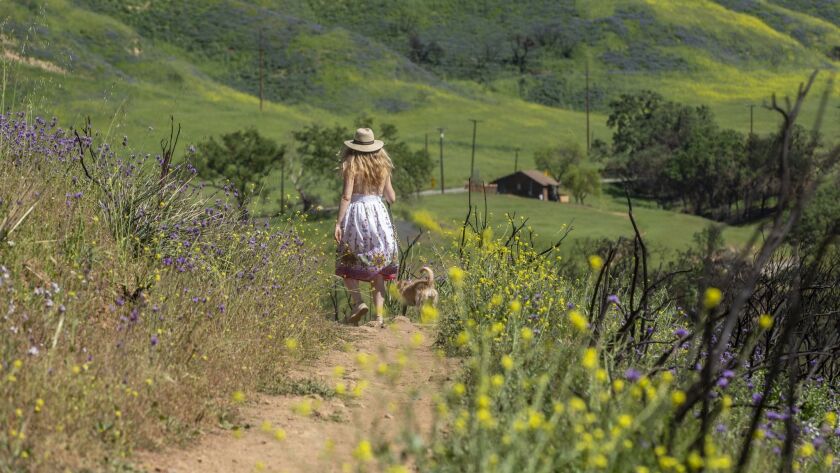 Rounding out the rainbow were white popcorn flowers; yellow monkey flowers; violet-colored blue dicks, a long-stemmed wildflower that grows from the Sierra foothills to the coast; and the large cream-colored torch-shaped member of the yucca family called Our Lord's Candle, one of the first plants to sprout to life after a fire.
Most of the flowers will be gone by the end of spring — except for the mustard and white-flowered wild cucumber. Mendelsohn explained that the viny cucumber, usually crowded out by other plants, is exploding in the Santa Monicas because it has received more sunlight than usual with the overgrowth burned away.
"The destruction of fire always leads to a comeback," Mendelsohn said. "This time, because of the rain, the comeback is faster. We got lucky."
This crash course in flowers had an effect. I may be a late bloomer, but now I couldn't get enough of the regrowth. I needed to see more.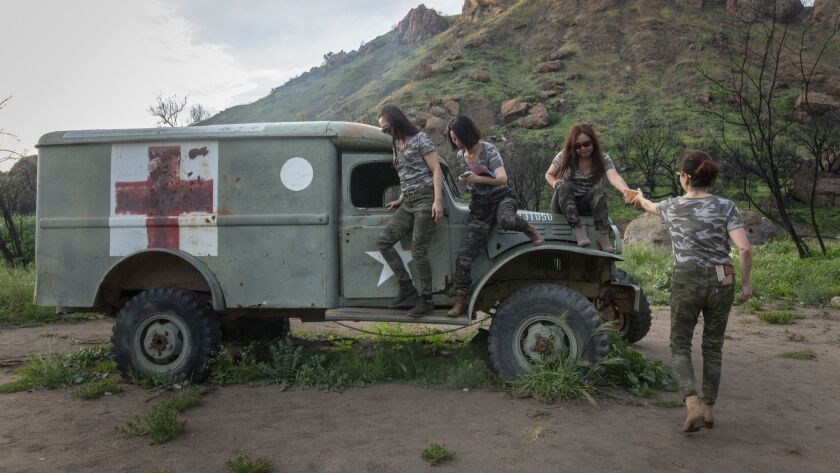 Instead of driving home, my son and I extended our search to nearby Malibu Creek State Park. A two-hour out-and-back hike alongside the robust Malibu Creek led to the former "MASH" TV show site. A rusty 1950s-era Jeep and truck survived the fire, but the old wood structures didn't.
Here, there were few flowers. Green everywhere, but not the phacelia and other colors we had seen farther north.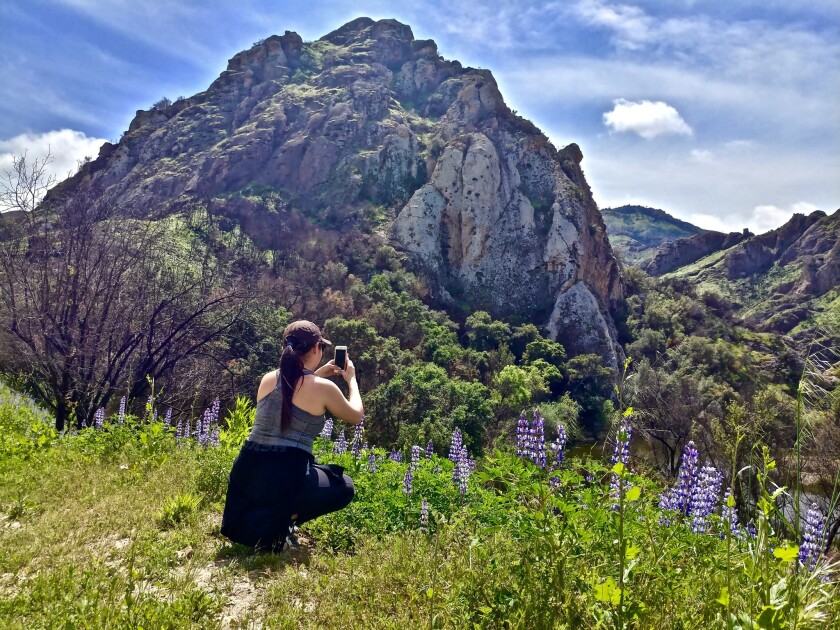 Heading back to the car and, with a half-mile to go high on the main trail above Malibu Creek, we came across one of the most beautiful sights I've ever seen: a stunning lineup of dark-purple-and-white flowers — dozens arrayed on each single spear — poking upward from the ground with a Machu Picchu-like mountain in the background.
What was this two-tone masterpiece? Succulent or arroyo lupine.
The fire was terrible. So much property destroyed and lives upended. But, like Mendelsohn said, at least we got lucky with the rains — and something beautiful came out of it.
IF YOU GO
Many trails in the Santa Monica Mountains have bounced back and erupted in spring color, but the wildflowers won't last beyond spring. Here are places to go to see how nature has started to heal after the Woolsey fire.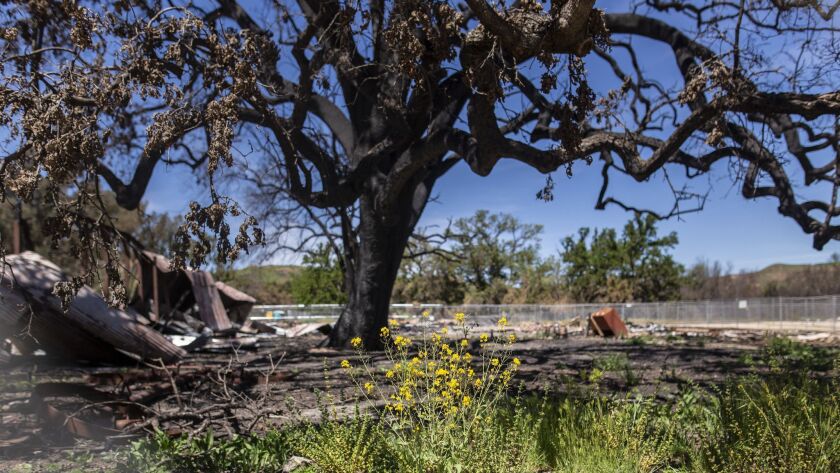 Best tree: The "witness tree" at Paramount Ranch is an oak tree that had been around for "all of European settlement in the area and perhaps a not insubstantial portion of Native American habitation," according to the National Park Service. It also has been the backdrop for countless weddings, film productions and special events. The tree's bark had turned white from the blaze; efforts continue to keep it alive.
Best recovery: Check out Coyote Canyon Trail at Paramount Ranch, about 3.7 miles out and back. You'll see areas of burn, greened-up hillsides and wildflowers. Trailhead is at 2903 Cornell Road in Agoura Hills. The Lookout Trail, a one-mile route off Crags Road, and the Chaparral Trail, a 2.3-mile loop, at Malibu Creek State Park (1925 Las Virgenes Road, Calabasas) are worthy too.
Best plant to avoid: Poison oak, and it's out in force in the Santa Monicas. Wear long pants and make sure you know what this "leaves of three" plant looks like so you don't get the itchy rash that appears after brushing against it. Poison oak can be green or shiny red.
---
Get inspired to get away.
Explore California, the West and beyond with the weekly Escapes newsletter.
You may occasionally receive promotional content from the Los Angeles Times.