Fill your new year with beaches, caves and treehouses: 17 destinations for 2017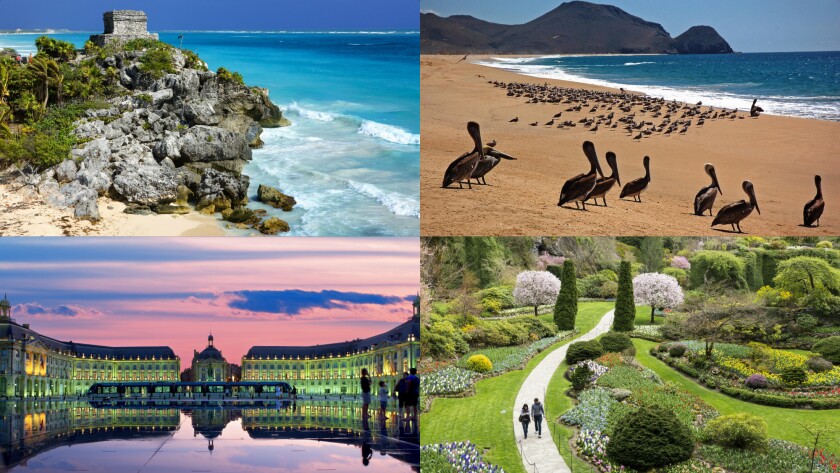 Here are 17 destinations that look especially fetching right now. The list includes cities, countries, islands and national parks on five continents; bohemians and Slovenians; spherical Canadian treehouses; vast Vietnamese caves; train tracks at 14,000 feet; and the mother of all Marimekko stores.
Some of these spots are in the middle of building booms. Some are celebrating historic anniversaries. Some have matured in subtler ways, thanks to tour guides, chefs or hoteliers.
1. Bordeaux
Bordeaux, which straddles the Garonne River in southwestern France, is a UNESCO World Heritage site known for its wine and food. And the city's attractions are multiplying. In the last three years, at least four river cruise companies have added Bordeaux itineraries.
Waterfront redevelopment and a growing tram system have improved downtown, allowing the city's many 18th century buildings to shine more brightly.
La Cité du Vin, a museum devoted to the history of wine, opened in 2016. And as soon as July, a new LGV high-speed train line from Paris is expected to cut travel time from three to two hours.
Tip: Avoid travel to the area from June 18 to 21, when the global wine-industry conference Vinexpo takes up many hotel rooms and boosts prices.
Info: Bordeaux Tourism & Conventions
2. Boston
Boston is booming, adding restaurants and lodgings even as a commemorative note sounds: May 29 marks the centennial of the birth of favorite son John F. Kennedy. Expect special programming at the John F. Kennedy Presidential Library and Museum and Kennedy's birthplace in Brookline (a Boston suburb), now known as John Fitzgerald Kennedy National Historic Site.
Meanwhile, the Godfrey Hotel Boston, a luxury boutique lodging in the Downtown Crossing area, opened in early 2016, as did Aloft and Element hotels on D Street near the city convention center. A 326-room Yotel micro-hotel is due to open this year at Boston's Seaport Innovation District.
Info: Greater Boston Convention & Visitors Bureau
3. Cambodia
The ruins of the Angkor Wat Temple, near Siem Reap, speak for themselves. Mekong River cruises are growing in popularity, and some visitors are eager to arrive ahead of an expected flood of visitors from China.
Though Cambodia's infrastructure has a long way to go, tour operators such as REI Adventures are lining up trips.
Luxury resorts also are opening. In 2015, it was Phum Baitang outside Siem Reap. In 2017, expect openings to include the Rosewood Phnom Penh, with another Rosewood to follow at Siem Reap in 2019, and the Six Senses Krabey Island and Alila Villas Koh Russey on an island off the south coast.
Info: Ministry of Tourism
4. Cuzco-Arequipa train, Peru
Cuzco is best known as the jumping-off point for the train trip to Machu Picchu. But travelers from Cuzco also can journey by rail to the edge of Lake Titicaca — a stark, startling, 10 1/2-hour trip across the high Andean plains to the lakeside city of Puno. (This is one of the highest train trips in the world, topping off at more than 14,000 feet above sea level.)
Starting in May, a new luxury sleeper train, the Belmond Andean Explorer, will offer three-day, two-night itineraries from Cuzco to Puno and on to the city of Arequipa, a UNESCO World Heritage site built with white volcanic rock.
At $1,283 per person and up, the Andean Explorer fare includes meals, open bar, side excursions and extra oxygen to combat altitude sickness.
Belmond (formerly Orient-Express) and PeruRail will operate the trains. Andean Explorer service is also offered for two-day Arequipa-Cuzco, Cuzco-Puno and Puno-Cuzco trips at $462 and up. PeruRail will continue to offer more basic service too.
Info: Belmond
5. Helsinki, Finland
On Dec. 6, 1917, Finland declared independence. So Helsinki, the capital, will see celebrating this year.
Hot spots include the Helsinki Art Museum (reborn after renovation and rebranding in 2015), the Helsinki Music Centre (a.k.a. Musiikkitalo, opened 2011), the Design District, the Marimekko flagship store (revamped in 2015), the Hotel Lilla Roberts (a 2015 boutique property with a sibling, Hotel St. George, opening in 2017) and the Hakaniemi Market Hall, more than a century old.
Helsinki set an all-time incoming tourism record in 2015 — nearly 3.5 million overnight stays in a country with only 5.5 million people — despite a big drop in visitors from Russia next door.
Info: Visit Helsinki
6. Hong Kong
It's been almost 20 years since Britain handed over Hong Kong to China. As Chinese travelers rush in and authorities push the island toward greater compliance with the mainland, Westerners may want to travel sooner, rather than later, as vestiges fade from Hong Kong's 150 years as a British colony.
Take a walking history tour with Walk Hong Kong. More than a dozen hotels are opening in 2017, including the luxury Murray hotel beside Hong Kong Park.
Info: Hong Kong Tourism Board
7. Oahu
In spring, the first Honolulu Biennial will bring international artists to show works alongside local artists.
In 2016 the Four Seasons Resort Oahu at Ko Olina opened, as did Surfjack Hotel and Swim Club in Waikiki.
In the Chinatown district of Honolulu, the new Tchin Tchin! is a rooftop bar and small-plates eatery. Also in Honolulu, there's SALT at Our Kaka'ako, a recently opened collection of eateries and shops at 660 Ala Moana Blvd.
And don't overlook the 15th annual Waikiki Spam Jam (a street festival that features Spam dishes from local restaurants, live music and related merriment), coming April 29.
Info: Hawaii Tourism Authority
8. Park City, Utah
Park City is 45 minutes from the Salt Lake City airport. It has an old-fashioned Main Street. And it has the biggest ski resort in the country: Park City Mountain Resort, which combined with Canyons Resort in 2015, setting off changes all over town.
Chef John Murcko's Firewood Restaurant opened in December at 306 Main St. At 314 Main, visitors can browse landscape photos at David Beavis Gallery. At 509 Main, get caffeine from Pink Elephant Coffee Roasters. At 738 Main, get a sugar fix at Peace, Love & Little Donuts. At 890 Main, taste wine at Old Town Cellars, a private-label winery. (All opened in 2016.)
By the way: Think twice before booking Jan. 19 to 29 Those are the 2017 Sundance Film Festival dates.
Info: Park City Chamber of Commerce and Convention and Visitors Bureau
9. Phong Nha-Ke Bang National Park, Vietnam
This park's enormous cave system, added to UNESCO's World Heritage list in 2003, dates back about 400 million years.
Even now, exploration continues. The Son Doong Cave, discovered (or perhaps rediscovered) in 2009, may be the largest cave on Earth, and tour operator Oxalis Adventure Tours offers expeditions there (for travelers who are ready for 30 miles of jungle and mountain trekking and various rope climbs and descents).
There are other caves with far easier access, including Phong Nha, big enough for boats to ply its waters, and the Tu Lan system, where visitors hike and swim in an underground river.
Adventure tour operator Geo Ex has added the Tu Lan cave system to a new Vietnam trip for 2017. The area is about 300 miles south of Hanoi.
Info: Vietnam National Administration of Tourism
10. Riviera Maya, Mexico
This Mexican Caribbean coastline, which extends south of Cancún along the eastern edge of the Yucatán Peninsula, has been steadily adding resorts that capitalize on dense greenery and turquoise waters.
At the luxury end, El Dorado Resort, about 30 miles south of Cancún, recently opened 30 palafitos — above-water bungalows with glass floors and private infinity pools. The 92-room Thompson Playa del Carmen, a luxe lodging that opened in 2015, added a 27-unit Beach House in 2016.
The Mayakoba development, which emphasizes sustainability and is home to Rosewood, Fairmont and Banyan Tree hotels, added a 214-room Andaz Resort in December.
The all-inclusive, family-friendly Ocean Riviera Paradise also opened in December. The all-inclusive, adults-only Unico Riviera Maya, south of Playa del Carmen, is to open in March.
Info: Visit Mexico
11. San Francisco
Here comes the 50th anniversary of the Summer of Love, and San Francisco ventures such as the Magic Bus (which does '60s-themed local tours ), San Francisco Love Tours (which uses VW buses with psychedelic paint jobs) and Flower Power Walking Tours will make the most of that in Haight-Ashbury and beyond.
Find Jimi Hendrix's old house at 1524A Haight St. (the apartment, above a tobacco shop, is a private residence) and the North Beach coffee shop where Janis Joplin did some singing. Now it's Maggie McGarry's Irish Pub, and there's more singing than ever.
Various street fairs are in the works, including one in Haight-Ashbury in June (details TBA), and '60s-themed exhibitions are planned at the California Historical Society, the De Young Museum, the Berkeley Art Museum and San Francisco City Hall. The San Francisco Museum of Modern Art will still be celebrating its May 2016 expansion.
Info: San Francisco Travel
12. Seoul, South Korea
This capital city on the Han River is as urban as they come with a population of about 10 million, but it's been renewing its natural connections.
Explore the Cheonggyecheon, a seven-mile-long restored urban stream that replaced an elevated highway and acts as a linear park through the center of the city.
In late 2017, the Seoul Skygarden, an urban overpass replanted with local plant species, will reopen for pedestrians, creating an arboretum above the Seoul Station transportation center. Visit soon and you'll beat the crowds expected for the Winter Olympics in Pyeongchang (80 miles east of Seoul) Feb. 9 to 25, 2018.
Info: Visit Seoul
13. Slovenia
Slovenia, part of Yugoslavia until the 1990s, has been gaining momentum for years.
The site of bloody conflict during both world wars, it's now a treasure trove of scenery. Its capital, Ljubljana, is just two hours' drive from Italy's Friuli wine region.
Bike tour company Backroads has added a 2017 tour that combines Slovenia and Friuli. Ljubljana is a short drive to placid Lake Bled and the Soca River Valley — lots of cycling and rafting — and the cave system of Postojna, about 30 miles southwest of Ljubljana.
Postojna is also the beginning of the Via Dinarica, a recently developed mountain hiking trail that runs through several Western Balkan nations. Many adventure tour operators now are running Slovenian trips.
Info: Slovenia
14. Tanzania
Why see Tanzania? We need not say more than:
Info: Tanzania Tourist Board
15. Todos Santos, Baja California
Todos Santos is an artsy, expat-friendly beach town an hour's drive north of Cabo San Lucas.
The quaint restaurants, shops and uncrowded rough-water beaches are enough to attract visitors, especially surfers.
If you're a growth-friendly optimist, you may be eager to see the first signs of Tres Santos, an ambitious new resort and wellness community whose short-term plans include 29 residences, restaurant, farm, farmers' market, desalination plant and the 32-room Hotel San Cristóbal, which aims to open in March. If you're a skeptic, you might have doubts about the project's water use, its effect on the beach, its potential to grow to more than 4,000 units — and you might be eager to see Todos Santos before there are too many changes.
Info: Visit Mexico
16. Vancouver Island, Canada
It's a short hop from big-city Vancouver, yet the island's wild feel is drawing adventurous travelers to the Clayoquot Wilderness Resort (open mid-May through late September) and the Free Spirit Spheres treehouses (near Qualicum Beach), which hopes to add a fourth sphere in time for summer.
In the resort town of Tofino, which has become a storm-watching destination from November through March (and was named Sunset magazine's "Best Beach town in the West" for 2016), there's the much-praised Wolf in the Fog restaurant; Sea Monster Noodle Bar; Calypso Roti Shop; and the Pacific Sands Beach Resort, whose 77 beach houses and suites will be joined by 40 new units this spring.
Info: Destination BC
17. Yosemite National Park
All the usual reasons apply, plus this: In early summer, rangers will reopen the park's Mariposa Grove of Giant Sequoias, home to about 500 of California's biggest trees.
During a two-year closure, the National Park Service has added hiking trails and boardwalks, upgraded toilets, removed a gift shop and rerouted tram traffic.
Info: Yosemite National Park
christopher.reynolds@latimes.com
Follow Reynolds on Twitter: @MrCSReynolds
See travel videos by Reynolds from around the world.
---
Get inspired to get away.
Explore California, the West and beyond with the weekly Escapes newsletter.
You may occasionally receive promotional content from the Los Angeles Times.