New rule requires airlines to report mishandling of mobility equipment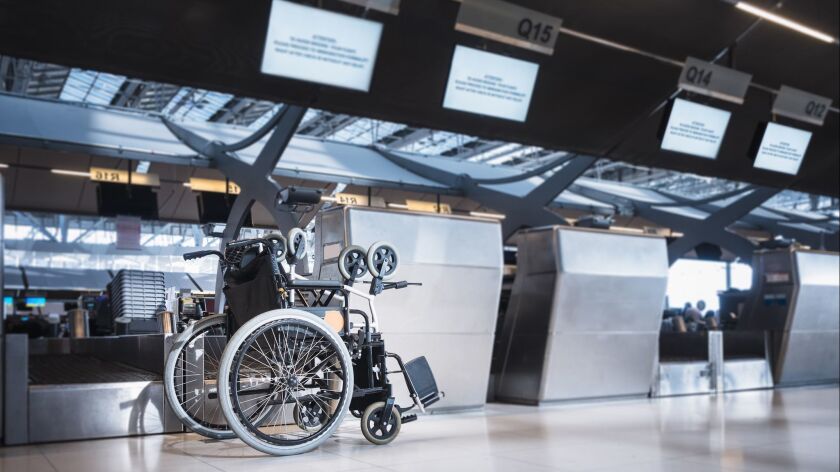 Each time I board a flight and relinquish my power wheelchair to people responsible for loading it, I pray it will be returned to me in one piece.
Sometimes, it's in several pieces. I wish these occurrences were flukes. The reality is that every day, passengers who travel with mobility equipment take a calculated risk when flying. Will our devices be loaded and unloaded carefully or tossed around like a piece of luggage?
Some airlines are better at this than others, but it's hard to know.
That will change this year as the U.S. Department of Transportation implements a rule requiring air carriers to disclose publicly how many wheelchairs and motorized scooters they damage, lose or otherwise mishandle each month.
The statistics are likely to illuminate what disabled passengers have been saying for decades: For many of us, air travel is a crap shoot.
"I know from personal experience that when an airline damages a wheelchair, it is more than a simple inconvenience — it's a complete loss of mobility and independence," Sen. Tammy Duckworth (D-Ill.), a combat veteran and double amputee, said in a statement.
The rule, a holdover from the Obama administration, was an amendment to the Federal Aviation Administration Reauthorization Act of 2018, which President Trump signed in October. But airline industry lobbyists had delayed its implementation, Duckworth said in an interview.
In April 2017, she wrote to Secretary of Transportation Elaine Chao to press for answers about the delay and to share her experiences, including the time an airline snapped a titanium rod that supports her seat and the chair fell apart when she sat on it.
The day after writing to the Transportation secretary, Duckworth's wheelchair was broken again during air travel.
"I just got so frustrated [with the reporting delays], so I'm forcing them to do it legislatively," Duckworth said of the amendment.
The first consumer report is due out in January or February on the Bureau of Transportation Statistics website. Statistics will reflect December totals.
The senator's experiences echo thousands heard by the Paralyzed Veterans of America, an advocacy group that cited these horrors in a lawsuit demanding the rule be implemented as originally planned.
"There are those with disabilities who won't even travel because they hear the stories,'' said Heather Ansley, PVA's associate executive director of government relations.
Disabled travelers often rely on word of mouth to determine which carriers to trust or avoid, Ansley said.
With this implementation, everyone can know every time a wheelchair is broken, a scooter is lost or someone's mobility device goes missing for an hour, leaving a passenger stranded on a plane.
Duckworth expects to see poor performers improve.
"I compare it to the on-time arrival reporting that airlines have to do,'' Duckworth said. "Before, you didn't know if a flight had a good on-time arrival and airlines fought it because they didn't want consumers to know this flight from Chicago to L.A. is late 60% of the time.''
When data on flight arrivals went public, on-time arrivals improved across the board.
"This gives the consumer the option of voting with their dollars,'' she said.
American Airlines is already out in front of this.
The company launched a customer accessibility division last year to address gaps in service and is working with disability groups, wheelchair manufacturers and passengers, including Duckworth, on ways to improve the customer experience.
"One of the reasons we wanted to reach out to the senator is because she is such a strong advocate for customers with disability across the United States,'' said Suzanne Boda, senior vice president of American Airlines' Los Angeles region. "We know she's a frequent traveler and wanted to make sure we are taking her comments and putting them to good use."
Flying with mobility devices
Take off removable parts such as seat cushions, wheels and joysticks and keep them with you during the flight.
"If you get off a flight and your chair is broken, do not let them put you in a corner while the crew boards another flight," Duckworth said. Ask to speak immediately with a complaint resolution officer, or CRO.
Airlines are liable to repair or replace damaged mobility equipment, so file a claim with the CRO or baggage department. If you need a loaner device, ask that one be arranged for you with a local mobility dealer.
Finally, file a complaint with federal regulators by calling (800) 778-4838 (open 6 a.m.-2 p.m. Pacific Time Mondays-Fridays or check here for other options:
"There are over 30,000 complaints filed with airlines by people with disabilities annually, but less than 1,000 are filed with DOT," said Ansley of PVA. "Numbers mean something. It's important that people assert their rights."
---
Get inspired to get away.
Explore California, the West and beyond with the weekly Escapes newsletter.
You may occasionally receive promotional content from the Los Angeles Times.