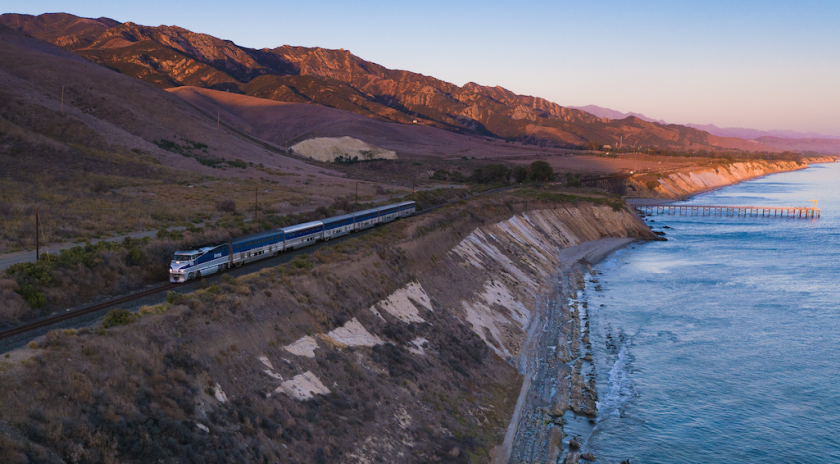 Planning to travel to your Thanksgiving destination on Amtrak's Pacific Surfliner? If your trip involves taking the train from Wednesday, Nov. 21 through Sunday, Nov. 25, make a reservation now.
Tickets sell out quickly on the popular route between San Diego, Orange County, Los Angeles, Ventura, Santa Barbara and San Luis Obispo. Rides will be reservation-only during the holiday weekend. Those who upgrade to business class receive a guaranteed seat reservation and free snacks and drinks.
Amtrak plans to add extra rail cars to handle the surge in travelers. Last year 80,000 passengers took the Pacific Surfliner during the Thanksgiving holiday.
To check availability or book tickets, go to pacificsurfliner.com/holiday, visit an Amtrak ticket office, use your Amtrak app or call (800) 872-7245.
The San Joaquins route between Sacramento, Oakland, Stockton, Fresno and Bakersfield also is requiring ticket reservations between Nov. 18 and 26.
Also, don't forget to bring a valid photo ID and arrive at least 45 minutes before your train leaves. Once on board, you'll find free Wi-Fi and power outlets at your seat. Train travelers may bring two bags weighing up to 50 pounds each and two personal items weighing up to 25 pounds each. (Check the website for baggage allowance rules.)
ALSO
Lace up your snow boots for winter rail adventure in Alaska
Think small for big rewards when hiking or traveling
Travel may be the key to ending your unhealthy love affair with your electronic devices
---