5 Images
Barcelona, Spain walking tour
With guided pedestrian tours, striking architecture from Roman ruins to modern hotels and inviting side streets, Barcelona is made for walking. And whether it's midnight or early in the morning, you'll find people strolling along Ferran Street. The foot traffic overflows from nearby Plaza Reial, a popular hangout for tourists and locals in the city's Gothic Quarter.
(Sisqui Sanchez / For The Times)
The Sagrada Familia church, with its tall, narrow spires, is a popular destination for tourists in Barcelona. Designed by architect Antonio Gaudi, an icon of Modernisme architecture, the church is still under construction, although Gaudi died in 1926.
(Julien Lagarde / For The Times)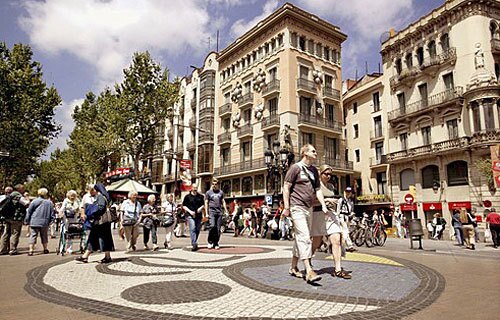 Barcelona's La Rambla features a variety of shops, restaurants and street performers.
(Sisqui Sanchez / For The Times)
Tallers Street in Barcelona is another busy tourist destination, particularly among those attracted by the large number of music stores in the area.
(Sisqui Sanchez / For The Times)
Pedestrians stroll beneath a gothic bridge connecting two buildings on Bishop Street in Barcelona.
(Barcelona Office of Tourism)