Cruising car-free in Santiago, Chile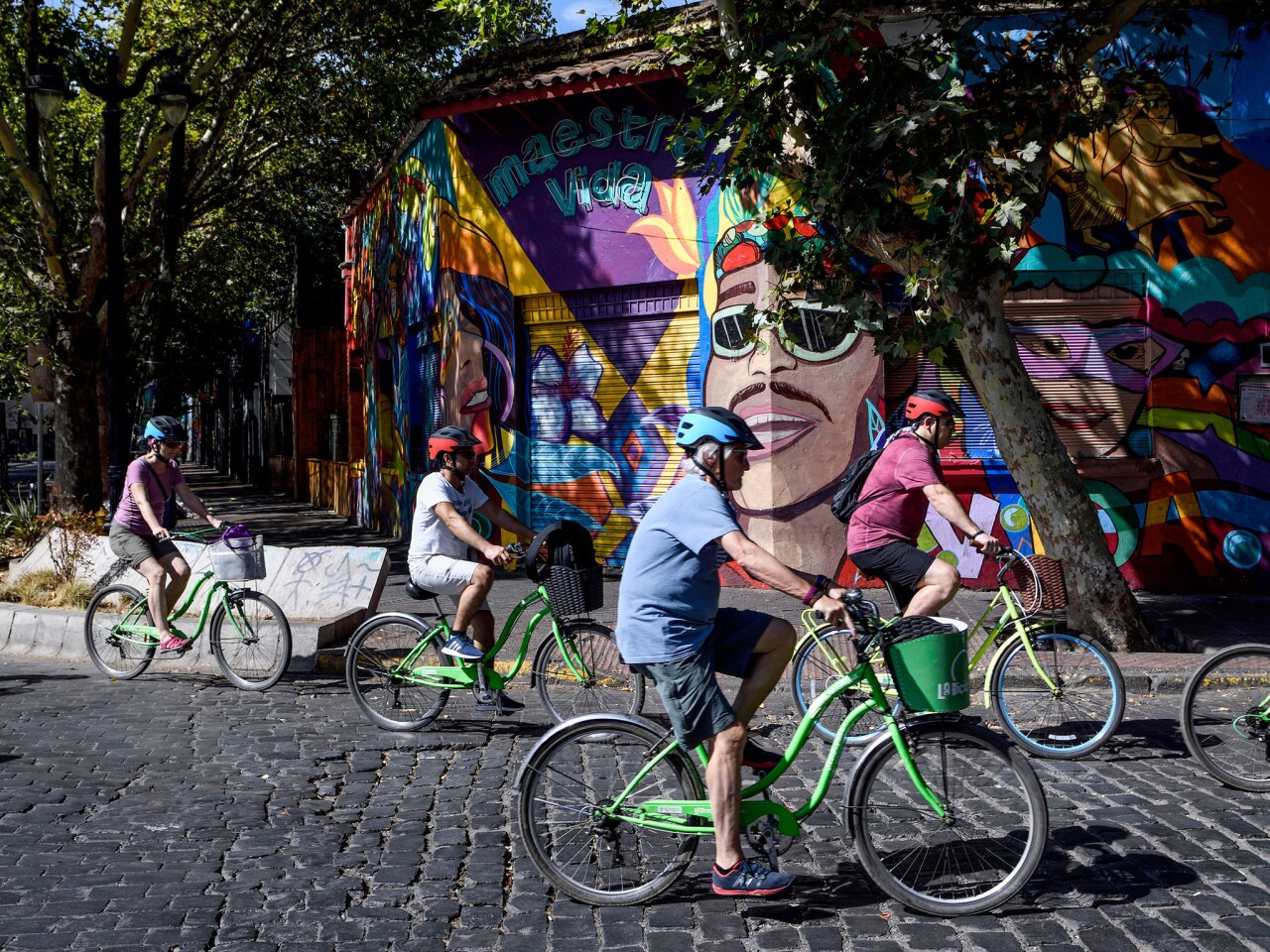 A group of tourists ride rental bicycles through the Bellavista neighborhood of Santiago, Chile.
(Tamara Merino / For the Times)
Cyclists participate in the World Bicycle Forum in April 2016 outside Palacio de La Moneda in Santiago, Chile.
(Agencia Marko / LatinContent/Getty Images)
A cyclist arrives at the World Bicycle Forum in April 2016 in Santiago, Chile. The organization aims to promote bicycles in cities.
(Martin Bernetti / AFP/Getty Images)
A group of bicyclists dressed up for Halloween pass Santiago's Bellavista neighborhood. Thousands celebrate Halloween night in the trendy quarter.
(NurPhoto / Corbis via Getty Images)
On Sundays, a large portion of the streets in Santiago, Chile, are closed to vehicles in the popular initiative CicloRecreoVia.
(tifonimages / Getty Images)
Inside La Chascona, a former home of the late Nobel laureate Pablo Neruda in Santiago's Bellavista.
(John Elk / Getty Images/Lonely Planet Image)
Central Market in Santiago.
(jopstock / Getty Images)
An outdoor sculpture in Santiago pays tribute to the bicycle.
(Walter Bibikow / Getty Images/AWL Images RM)
Santiago's National Museum of Fine Arts.
(Hoberman Collection / UIG via Getty Images)
Enjoying the water in Santiago.
(David Wall Photo / Getty Images/Lonely Planet Image)
A panoramic view of Santiago, Chile.
(David Wall Photo / Getty Images/Lonely Planet Image)
The Central Market in Santiago.
(Walter Bibikow / Getty Images)
Santiago's San Cristobal Hill has dramatic views.
(Walter Bibikow / Getty Images/AWL Images RM)
A view of the Providencia and Las Condes districts in Santiago.
(tifonimages / Getty Images/iStockphoto)
Aerial view of Santiago from San Cristobal hill, with Parque Metropolitano in the foreground.
(Naga Film / Getty Images)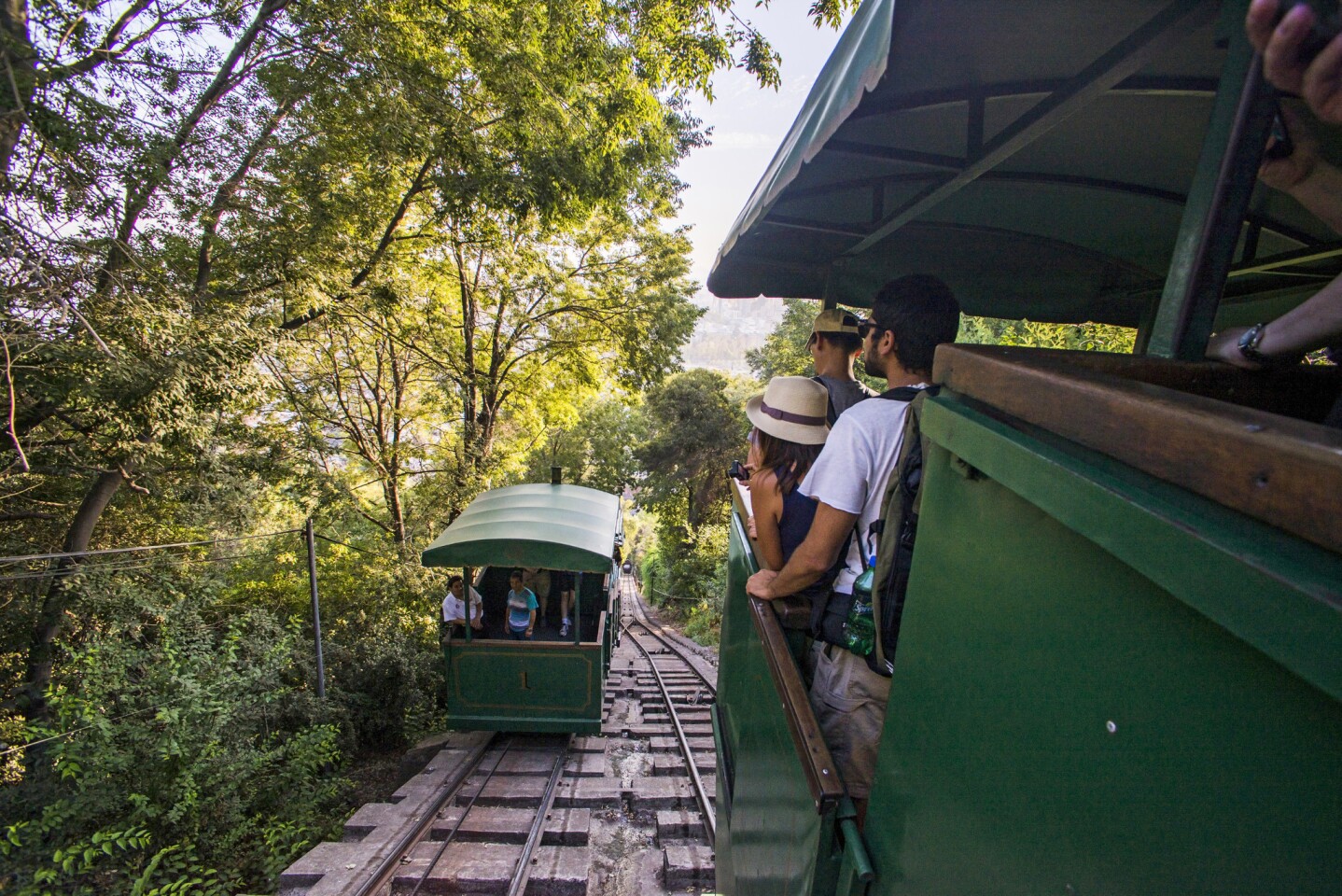 Santiago's funicular climbs hundreds of feet up a 45-degree slope. At the top is a 40-foot-tall statue of the Virgin Mary.
(Matthew Williams-Ellis / Getty Images/Robert Harding Worl)
A park on Avenida Pocuro in Santiago.
(Insights / UIG via Getty Images)
Bicyclists take to the streets of Santiago during CicloRecreoVia, an initiative that closes some streets of the city to vehicles on Sundays.
(tifonimages / Getty Images)
A bicycle monument in Santiago's Racamalac Bridge over River Mapocho.
(Ben185 / Getty Images)
Reporting from Santiago, Chile —
More than a third of Chile's 18 million people live in its bustling capital. Many of them navigate the city's roads like wannabe NASCAR drivers, which means you must be careful if you're a cyclist on the city's streets. Or so I was warned.
On Sundays, however, the city closes several thoroughfares, making it the best time to ride a bike here. I took it a step further on a recent visit, signing up for a three-hour, five-mile ride with La Bicicleta Verde (The Green Bicycle) that took me on a cruiser bike to a former home of late Nobel Prize laureate Pablo Neruda and through the trendy Bellavista neighborhood.
My guide and I also pedaled to La Vega and Mercado Central, two of the city's top markets. Neither had changed much since I had last visited Santiago about 30 years ago.
The city's efforts to become bicycle-friendly began a little more than a decade ago when it overhauled its public transportation system. In 2007 a Dutch group known as Interface for Cycling Expertise began working to make roads safer for bicyclists by designing bike paths and installing parking facilities for bikes at metro stations.
About the same time, Chilean Gonzalo Stierling and his Colombian wife, Lina Zuluaga, started an effort to get people riding on Sunday mornings. They borrowed the concept from Lina's home country, where the city of Bogotá in 1974 had launched a program called Ciclovia that has proved immensely successful. Los Angeles has its own popular CicLAvia based on the Colombian event.
The city closes 76 miles (partly or fully) from 7 a.m. to 2 p.m. on Sundays for cyclists, runners, walkers and other non-motorists. Thousands of Rolos, as Bogotá residents are known, take part.
In Santiago, Stierling and Zuluaga helped found CicloRecreoVia, which translates roughly as "leisure bike way." It's small compared with Bogotá's version, but it continues to grow. On Sundays, cars are banned from 25 miles of Santiago's streets and about 30,000 cyclists, roller-skaters, joggers and walkers and roam the vehicle-free roads.
History on its streets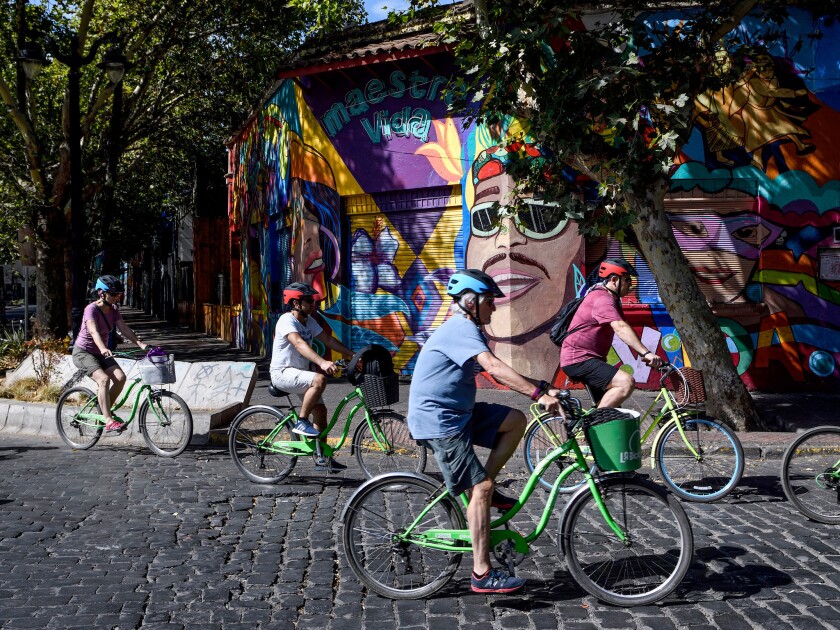 My interest in biking in Santiago was piqued when I saw hundreds of cyclists on blocked streets during a morning stroll in Forestal Park (Parque Forestal), two blocks from my digs at the Hotel Loreto.
La Bicicleta Verde also is nearby, so I stopped for a chat and met Marcela Gutierrez, my guide, who showed me our route on a map and fitted me with a bike and mandatory helmet.
Then we hit the streets, riding in relatively quiet Bellavista. This was once an area of farms, cemeteries and convents, but was settled in the late 1800s by Palestinians who had fled persecution in the Ottoman Empire.
The Palestinians flourished, opened businesses in the neighboring Patronato neighborhood and built big houses in Bellavista. Over time, though, most moved to new areas in the eastern part of the city and were replaced by bohemian artists who opened studios and galleries. Nightclubs, restaurants and bars followed, making Bellavista one of the hottest neighborhoods in the city.
For airline passengers, dealing with food and animal allergies is a delicate dance »
Gutierrez led me to La Chascona (the wild-haired lady), a house Neruda had named for his lover (and later, third wife) Matilde Urrutia, who had untamed curly red hair. The blue home has something of a whimsical nautical theme and has been described as an enchanted garden.
We pedaled on to the foot of San Cristóbal Hill (Cerro San Cristóbal) and the sprawling Metropolitan Park (Parque Metropolitano), which covers nearly 1,800 acres and is one of the largest urban parks in the world.
It's also home to the National Zoo and a 93-year-old funicular that climbs hundreds of feet up a 45-degree slope. At the top is a 40-foot-tall statue of the Virgin Mary and signs that admonish people to be silent, which they ignore.
It was a little more than a mile from the park to the sometimes chaotic La Vega market, where we locked our bikes and waded into the huge, open-air building that was packed with shoppers picking up fruits and vegetables in seemingly every color of the rainbow.
I was particularly entranced by the huge, bright yellow squashes and the multicolored Peruvian potatoes. La Vega also has several small eateries, so we stopped at La Tia Ruth for a fresh strawberry smoothie and orange pumpkin sopaipillas, a kind of fried pastry.
Then it was on to neoclassical Mercado Central, which opened in 1874 and specializes in seafood. Its vaulted ceiling with a cast-iron roof reminded me a bit of a train station.
It's said that Neruda liked to dine at the restaurants here and eat caldillo de congrio, a tasty fish stew. On Jan. 1, partyers come here for paila marina, another kind of fish soup said to be a hangover cure.
Back on our bikes, we pedaled through Forestal Park, home to the National Museum of Fine Arts (Museo Nacional de Bellas Artes) and the Museum of Contemporary Art (Museo de Arte Contemporáneo). Before I knew it, my three-hour tour was up.
But I'd gained plenty of ideas for places to visit and I returned later, on foot, to ride the funicular to the top of San Cristóbal Hill, stroll through Forestal Park and visit the National Museum.
Seeing the sites on foot
A great way to get a bird's-eye view of Santiago is to head for the green funicular on San Cristóbal Hill. The funicular cars, built in 1925, carry passengers up a steep track that rises hundreds of feet above the Bellavista neighborhood.
At the disembarkation point, you'll find hiking trails, food kiosks, a chapel, a nearly 70-foot-tall statue of the Virgin Mary and signs that admonish visitors to keep quiet. Tickets cost $3 per person on weekdays; $4.50 per person on weekends.
If you're feeling energetic, you can rent a mountain bike from La Bicicleta Verde and ride a looping road that will lead you from Bellavista up to the Virgin Mary. You can also hop off and hit some trails in between. Rates are $10 for four hours, $18 for a full day.
San Cristóbal Hill is part of the sprawling Santiago Metropolitan Park, which includes two outdoor swimming pools, a free Japanese garden, the 12-acre National Zoo, with birds and animals native to the 2,653-mile-long country, and playgrounds that draw lots of families. Zoo admission is about $6 for adults and $3 for children.
While strolling in the park, be adventurous and grab a delicious mote con huesillo, a traditional summer drink sold at vendor carts for less than $2. It's usually made from dried peaches, cooked in sugar, water and cinnamon and mixed with freshly cooked husked wheat, or mote. It's sometimes called South America's answer to bubble tea.
Forestal Park is an easy walk less than eight blocks south on bustling Calle Pío Nono. The tree-lined park runs about half-a-dozen blocks along the Mapocho River in what was once the heart of downtown Santiago.
The park, with fountains, statues and playgrounds, is popular with joggers, cyclists, families and picnickers. When I ambled through it recently, I stopped to listen to a guitarist practicing classical tunes.
The National Museum of Fine Arts is about in the center of Forestal Park off Calle José Miguel de la Barra. The museum, housed in a 1910 Beaux Arts structure, is known for its lovely glass-enclosed ceiling and its collection of works by Chilean and South American artists.
Don't miss the portraits of Chile's George Washington, Bernardo O'Higgins, whose father was born in County Sligo, Ireland. Admission is free.
The Museum of Contemporary Art is at the rear of the same building. It has more than 600 paintings, sculptures and watercolors as well as 1,000 engravings, most of which were created by Chilean artists. Admission is free.
Also worth a visit is the Museum of Pre-Columbian Art, which is near the Plaza de Armas, eight blocks west of Forestal Park.
A permanent exhibit tells the stories of indigenous Chileans, including the Chinchorro in the north — who mummified their dead long before the Egyptians — the Mapuche in the south and the Rapa Nui on Easter Island. Admission is $11; free the first Sunday of each month.
One of the more sobering museums in South America is Santiago's Museum of Memory and Human Rights. It deals with human rights violations committed by the government of U.S.-backed dictator Augusto Pinochet between 1973 and 1990, when thousands of Chilean dissidents were tortured and killed. To get there, take the underground Metro Line 5 from the Bellas Artes stop to Quinta Norma; it's a short walk to the museum. Free admission.
If you go
THE BEST WAY TO SANTIAGO, CHILE
From LAX, LATAM offers nonstop service to Santiago, and American, Copa, United, LATAM, Delta and Avianca offer connecting service (change of planes). Restricted round-trip airfare from $807, including taxes and fees.
WHERE TO STAY
Hotel Loreto, 170 Loreto, Santiago, Chile; 011-562- 2777-1060. Garden, rooftop patio and walking distance to Forestal Park and San Cristóbal Hill. Doubles from $100.
Bellavista Hostel, 0184 Dardignac, Santiago, Chile; 011-562-2732-3146. Colorful and a good deal for budget travelers. Doubles from $40. Dorm beds from $14.
The Aubrey, 317 Constitución, Santiago, Chile; 011-562- 294-02800. Upscale boutique hotel with a swimming pool and piano lounge. Doubles from $250.
WHERE TO EAT
Peumayén, 136 Constitución, Santiago, Chile; 011-562- 2247-3060. Specializes in meals with ingredients and spices from the length of Chile. Main dishes from $25.
Como Agua Para Chocolate, 88 Constitución, Santiago, Chile; 011-562-2777-8740. Specializes in traditional foods such as congrio (eel), veal, lamb and yummy chocolate desserts. Main dishes from $18.
Sarita Colonia, 40 Loreto; Santiago, Chile; 011-562- 2881-3937. Specializes in Peruvian food, now quite popular in Chile. Main dishes from $12.
TO LEARN MORE
La Bicicleta Verde, 6 Loreto, Santiago, Chile; 011-562-2570-99395
---
Get inspired to get away.
Explore California, the West and beyond with the weekly Escapes newsletter.
You may occasionally receive promotional content from the Los Angeles Times.