If you like zombies, need to lose some weight or like to dance salsa, there just might be a cruise in your future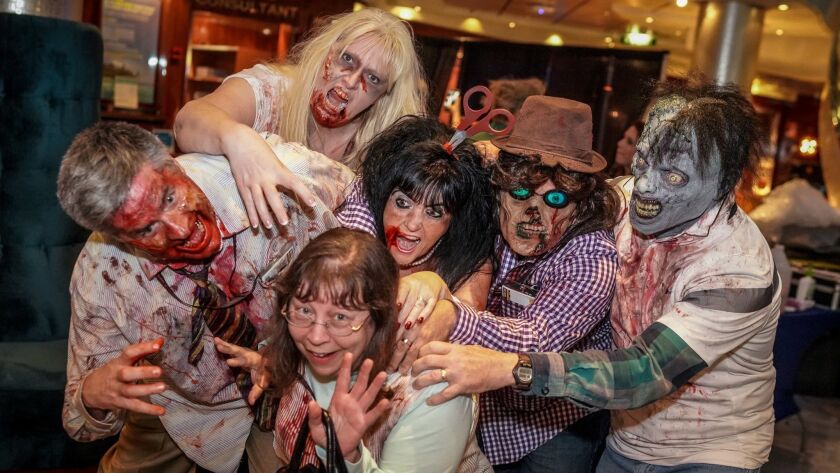 You can dance your way to Havana on a salsa cruise, set sail in your birthday suit with a company that boasts "we'll see you in Bareadise" or fight shipboard battles with your lightsaber.
If you're looking for something a little tamer than these, how about counting points with Weight Watchers, getting fashion and meditation tips from O, the Oprah Magazine or learning to cook with "Top Chef" winners?
This is just a sampling of theme cruises. More are scheduled annually, and they offer something for nearly everyone. If you have a hobby or special interest, you can probably find a cruise — check out ThemeCruiseFinder.com — to suit you.
Some of these cruises give participants a chance to mingle with well-known athletes, musicians, authors or actors. Others will help cruisers brush up on their dance steps or offer the opportunity to play golf on world-renowned courses.
Among unusual voyages:
Zombies: In January, zombie apocalypse fans sailed on the third "Walking Dead" cruise, which took them from New Orleans to Cozumel, Mexico. The next trip isn't scheduled yet so watch the Theme Cruise website for 2019 dates.
Salsa: Some music cruises are so popular they've racked up years of sailings. The Salsa Cruise (www.salsacruise.com), which has been around for a couple decades, will sail Oct. 29- Nov. 2 from Miami to Havana and will include a full lineup of musicians.
The trip aboard Norwegian Cruise Line's Norwegian Sky will include an overnight stay in Havana, plus a stop at Great Stirrup Cay, the line's private island in the Bahamas.
Rates for an ocean-view room start at $1,419, per person, double occupancy. Note that the cruise sells out quickly.
Nude cruises: A series of journeys offers a chance to sail in the buff. Among the upcoming trips: a two-week Mediterranean voyage on the five-masted Royal Clipper, which departs June 9 from Rome, sailing to Italian ports including Sicily, along with Croatia and Slovenia.
It's sponsored by Bare Necessities Cruises, cruisebare.com, and the voyage has a few rules: Passengers must be dressed in port and in the dining room and can't sit unclothed on the ship's furnishings. "Towels will be provided," it notes.
Rates start at $4,399 per person, double occupancy, for an inside cabin.
Of if you'd prefer getting an all-over tan in the South Pacific, Bare Necessities has a May 4-19, 2019, cruise to Tahiti and other South Pacific ports aboard the Paul Gauguin cruise ship.
Rates for the two-week cruise start at $5,799 per person, double occupancy
"Star Wars": Movie fans can blast off to their favorite galaxy far, far away early next year when Disney Cruise line (lat.ms/disneystarwars) schedules a series of weeklong trips to the Eastern and Western Caribbean featuring the movie's heroes and villains.
Rates for the January and February cruises, which will depart from Port Canaveral, Fla., start at $3,500 per person, double occupancy.
Weight Watchers: Get your appetite in check in May or November on two Caribbean cruises that will offers lectures, classes, cooking demonstrations and tips.
The weeklong Weight Watchers Cruises are May 5-12 (inside cabin from $1,225 per person, double occupancy) and Nov. 10-17 (rates from $1,045 ).
The MSC cruises will sail round trip from Miami, visiting Jamaica, Cayman Island, Cozumel, Mexico, and Nassau, Bahamas.
Oprah: Sail to Alaska from Seattle on Aug. 11 on Holland America (lat.ms/hollandamericaoprah) with O Magazine editors, who will offer classes and demos on topics such as fashion, health, fitness and stress relief.
The weeklong round-trip voyages will visit Ketchikan, Sitka and Juneau, plus Victoria, Canada. Rates start at $1,119 per person, double occupancy.
"Top Chef": Many cruise lines offer trips for foodies and wine aficionados featuring celebrity chefs, but Celebrity Cruises (lat.ms/celebritytopchef) has a "Top Chef" cruise to Bermuda featuring Richard Blais, an All-Stars-winning chef, and Bryan Voltaggio, a "Top Chef" finalist and two-time James Beard Award nominee.
The weeklong sailing departs April 29 from Cape Liberty, N.J. Rates start at $699 a person, double occupancy.
---
Get inspired to get away.
Explore California, the West and beyond with the weekly Escapes newsletter.
You may occasionally receive promotional content from the Los Angeles Times.