You can say 'I do' at sea and save money. Plus the honeymoon is all arranged.
Twenty years ago, Princess Cruises revolutionized the industry by launching the first ocean-going wedding chapel.
Since the Grand Princess set sail from Istanbul, Turkey, May 26, 1998, thousands of couples have tied the knot at sea.
Couples could combine the wedding and the honeymoon, and the event would cost less than a conventional ceremony — about $27,000 less, according to a 2009 cruise industry survey.
Some memorable vows have been exchanged at sea: Tami Van Dusen and Tim Ashley of Colorado Springs, Colo., were married earlier this year in a swimming pool aboard the Crown Princess so Ashley, who uses a wheelchair, could stand next to his bride.
Francisco Vargas and Ben Gray of Fort Lauderdale, Fla., this year became the first same-sex couple legally married at sea. Because of legal wrangling in Bermuda, where many cruise ships are flagged, Celebrity Cruises — its ships are registered in Malta — is the only line currently offering same-sex couples legal marriages at sea.
Nearly all major cruise lines contacted for this story would not reveal trends or divulge the number of weddings they perform annually. Exceptions were Carnival Cruise Line, which performs about 2,600 weddings annually, up from about 2,200 a decade ago, and Norwegian Cruise Line, which reported doubling its wedding business to about 350 ceremonies annually in the last four years.
Cruises allow couples to have a more intimate experience with a small group of friends and relatives, said Barbara Whitehill, managing director of the Wedding Experience, which provides wedding services for several cruise lines, including Carnival and Celebrity Cruises.
"A lot of people today want to have a closer group that really means a lot to them, instead of inviting the whole town to church," Whitehill said. "Cruising definitely gives you something new every day that you can share with your guests."
My wife, Mica, and I chose a vow renewal ceremony aboard a Princess Cruises vessel that sailed in May from the Port of Los Angeles to Vancouver, Canada. We invited a handful of guests to join us and hoped, as all couples do, for smooth sailing.
The groom wore shorts
Van Dusen and Ashley each had a different reason for getting married aboard a ship. Ashley, a quadriplegic, wanted to stand with his bride and figured a ship's pool would provide the buoyancy he sought.
Van Dusen wanted to get something right this time around.
"I told him I would never get married again," she said, "unless I went on a cruise for my honeymoon."
They hired a travel agent who specializes in assisting those with disabilities. But when the agent started asking about a wedding in a ship's pool, the same answer kept resounding: no.
Finally, they heard what they had hoped for: Crown Princess would drain a pool partway, and Capt. Vincenzo Lubrano said he would be honored to perform the ceremony.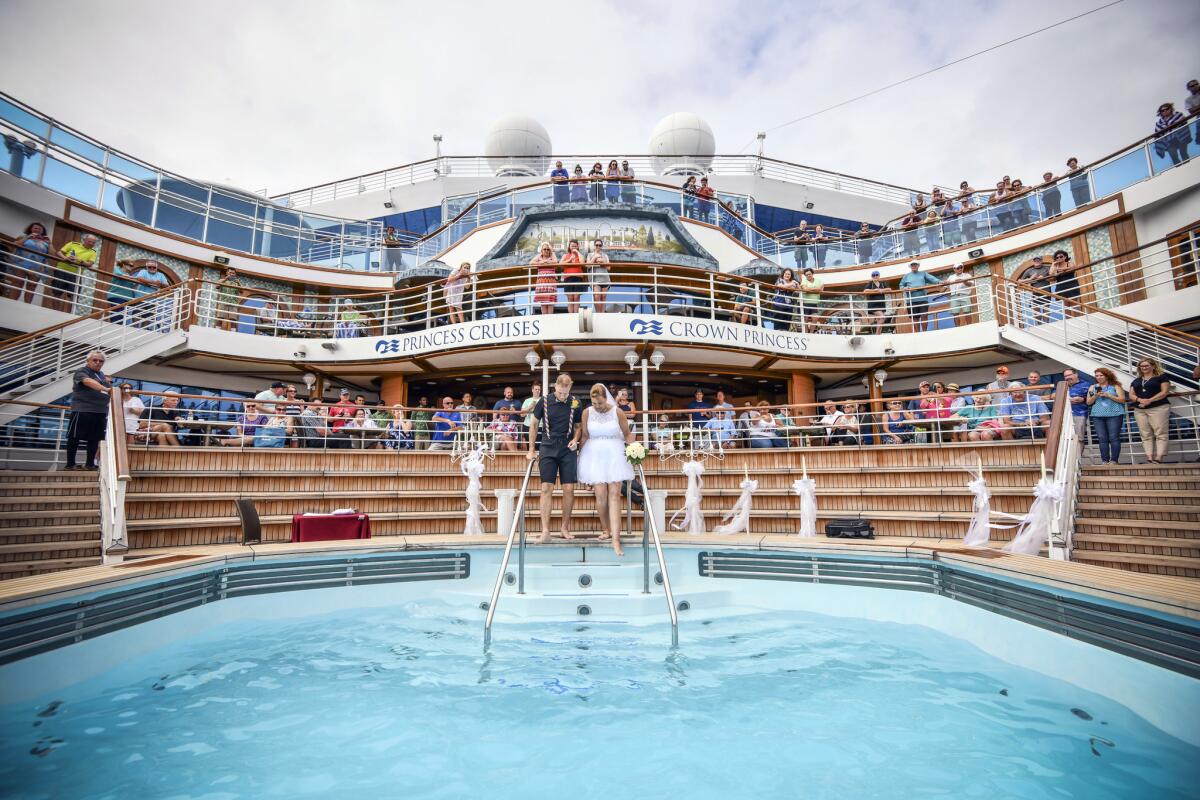 Ashley and Van Dusen's brother wore shorts and black shirts with suspenders and bow ties. The bride's white dress was cut just above the knee. As she walked out to meet the groom, already standing in the pool with the aid of a walker, the Rascal Flatts' song "Bless the Broken Road" played.
"That just fit both of us as far as where we had been in our lives before we met each other," Van Dusen said.
The captain leaned over one end of the pool and led the service. As it ended, the couple kissed and walked arm in arm, crying, to the pool's other end.
Their plans for a small wedding were short-circuited when other passengers caught wind of a wedding in the pool, its contents sloshing back and forth with the ship's motion. As many as 200 people started clapping by the ceremony's end.
"It was breathtaking," Van Dusen said. "I felt like a princess, and Tim got what he wanted. I would not change one single thing."
Their wedding certificate, instead of showing a place, delineates a spot in the Caribbean: 22 degrees 2 minutes 7 seconds north latitude and 77 degrees 19 minutes 3 seconds west longitude.
A rarity aboard ship
Vargas and Gray were married Jan. 29 aboard Celebrity Equinox in the Caribbean. They were looking for an intimate environment that would allow them to spend a few days with their loved ones.
"It was the right combination of wedding and fun," Gray said.
He went scuba diving in Cozumel, Mexico, and Grand Cayman, and Vargas explored shore destinations — one with his mother and another with Gray's father and his girlfriend.
The ceremony was flawless, they said, until the captain got to the end and began to pronounce the couple as man and wi--. Catching himself just in time, Gray said, the captain introduced them as "husband and husband."
"It was a real crowd-pleaser," Gray said.
The major cruise lines are urging Bermuda to reverse a law signed in February outlawing same-sex weddings, which extends to Bermuda-flagged vessels at sea.
The law was passed in response to a Supreme Court ruling in Bermuda that appeared to pave the way for legal same-sex weddings aboard Bermuda-flagged cruise ships in international waters. The legal wrangling continues.
A cruise wedding on land
Some couples choose to travel with their wedding party and guests but hold the ceremony itself at a cruise destination. Alyshia Jackson and James Alexander of Whitby, Canada, were married in April in front of Konoko Falls in Jamaica.
The bride's mother, Donna Jackson, a travel agent, made the arrangements — with the assistance of a wedding planner — for a sailing on Regal Princess, with 54 on-board guests.
"We were able to party together for a week, waking up in a different place every day," Donna Jackson said. "A lot of people with us who hadn't cruised before were asking when the next cruise was before we were even off the ship."
Braving choppy seas
As Capt. Todd McBain beckoned us inside the Emerald Princess' wedding chapel for our vow renewal ceremony, the deck pitched suddenly, and us with it.
"You haven't been drinking, have you?" he asked my wife and me, smiling.
Um, no. The unopened Champagne was waiting on ice back in the stateroom.
Inside the chapel, my wife's relatives waited, perhaps pondering, as I was, all that had transpired in the 22 years since we had tied the knot in a small Fresno restaurant.
This chapel was smaller by far, but cozy and welcoming, with sprays of flowers and two candelabra sporting faux candles. My wife held a bouquet of white roses that matched the single white rose pinned to the lapel of my jacket.
As the deck continued to tilt — the ship was braving a gale-force headwind that topped 40 mph — the captain genially guided us through the familiar refrain of shared burdens and joys, the power of love and the necessities of trust and loyalty.
The captain had told us beforehand that weddings and renewal ceremonies tend to follow a similar form, yet each is unique. In one recent service, he said, the couple each poured a small vial of sand into a common receptacle, signifying how their lives would blend.
Vow renewals are even more popular than weddings, McBain said. The next sailing after ours had four vow renewals planned for one day.
McBain closed our ceremony with a wish for our love to grow and the requisite permission every groom waits to hear: You may now kiss your bride.
"Now," he said afterward, turning to our family members, "we just have to smooth out the seas a little."
Welcome marriage advice, even 22 years later.
Weddings at sea
Major cruise lines offer wedding options in port — often performed before embarking — as well as at sea and at cruise destinations. Some lines' weddings at sea are symbolic only; those that are legally recognized cost about twice as much. A sampling:
Carnival Cruise Line: At-sea packages include a pre-cruise wedding planner, two-tier cake, sparkling wine toast and keepsake wedding certificate. Weddings at sea are symbolic only. Prices start at $1,450. Vow renewals cost $825 to $1,450.
Celebrity Cruises: At-sea packages include a pre-sailing event manager, traditional cake for two and a bottle of Champagne. The ceremony led by the captain is legal. Prices start at $2,995. Celebrity is currently the only line offering legally recognized same-sex weddings at sea. Vow renewals begin at $595 (performed by cruise director) to $895 (performed by the captain).
Holland America Line: At-sea packages include an on-board wedding coordinator, one keepsake photo and Champagne toast for two. At-sea ceremonies by the captain are symbolic only. Prices start at $1,399. Vow renewals start at $129.
Princess Cruises: At-sea packages include an on-board coordinator, candlelight ceremony by the captain, two fresh floral arrangements, a bouquet and boutonniere, four 8-by-10 photos, single-layer cake, bottle of sparkling wine, deluxe breakfast and specialty dinner for two. Captain-performed ceremony is legally recognized. Prices start at $2,500, with marriage license, $2,998. Vow renewals cost $226 to $499.
Royal Caribbean International: At-sea packages include a ceremony for up to 10 guests, two-tier wedding cake, honeymoon dinner for two, a bottle of Champagne, breakfast in bed and chocolate-covered strawberries. Wedding is legally recognized. Prices start at $1,950. At-sea marriage license costs an additional $900. Vow renewals from $1,195.
Norwegian Cruise Line: At-sea packages include a bouquet and boutonniere, cake for the couple, Champagne toast, bistro dinner for two, canapés delivered to stateroom and more. The ceremony led by the captain is legally recognized. Prices start at $2,995. Vow renewals cost $499.
Get our L.A. Goes Out newsletter, with the week's best events, to help you explore and experience our city.
You may occasionally receive promotional content from the Los Angeles Times.