Follow in Frank Sinatra's footsteps as Palm Springs toasts Ol' Blue Eyes' 100th birthday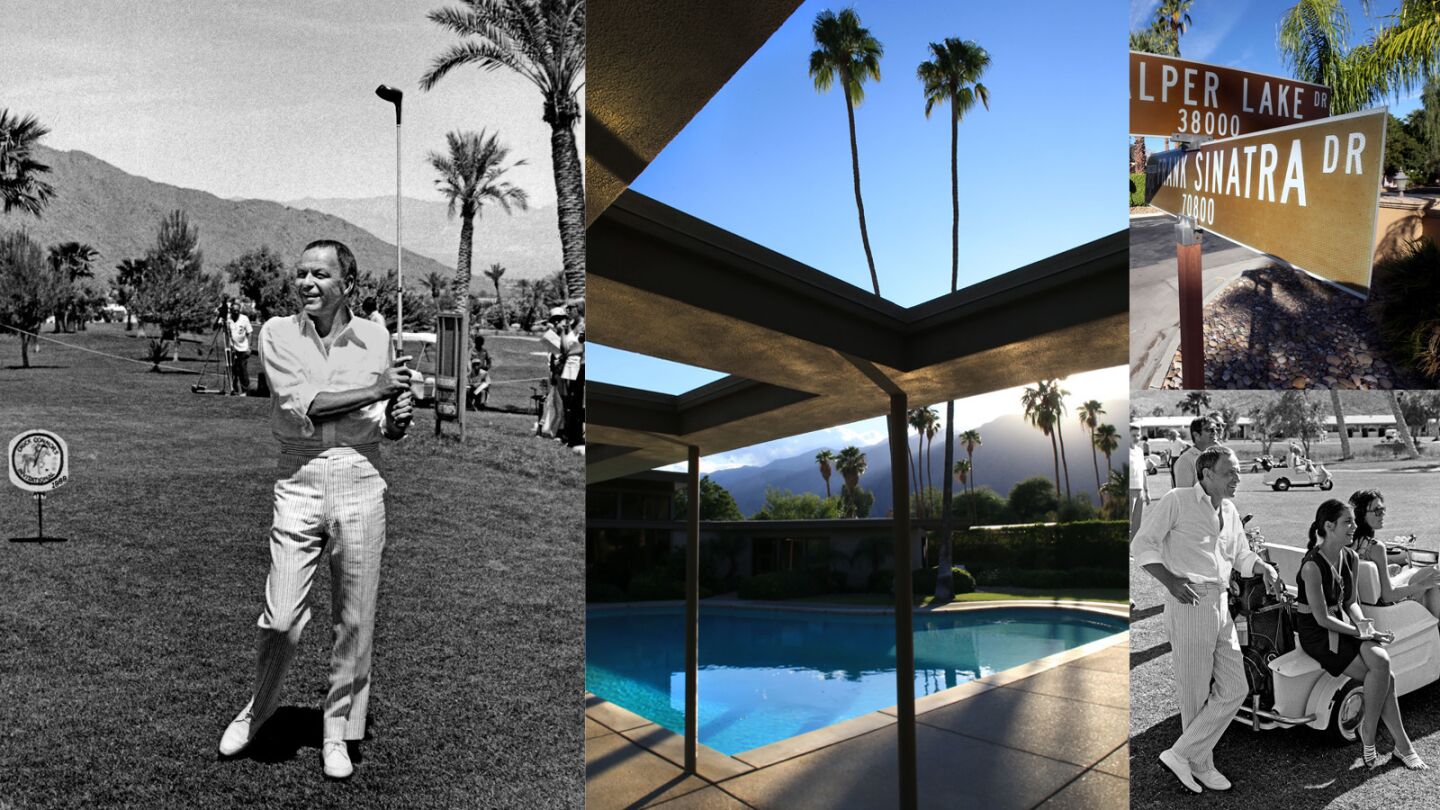 From left, clockwise: Frank Sinatra at Palm Springs Golf Course in 1969, Sinatra's Twin Palms home, a street named after him in Rancho Mirage and Frank Sinatra at the Palm Springs Golf Course.
(Black and white: Ron Galella / Getty Images, Color: Daniel A. Anderson)
The former Sinatra residence known as Twin Palms, which features a piano-shaped pool, is now rented for vacations and events.
(Daniel A. Anderson / For The Times)
Frank Sinatra on the course at the Chuck Connors Charity Invitational Golf Tournament at Palm Springs Golf Course in 1969.
(Ron Galella / Getty Images)
PALM SPRINGS —
Did I ever tell you about the night Frank Sinatra and I had drinks? More about that later; right now we need to discuss a much more important event: Sinatra's upcoming 100th birthday celebration.
On Dec. 12, the world will memorialize the skinny kid from Hoboken, N.J., whose extraordinary voice made him one of the most influential singers in the nation's history. Ol' Blue Eyes, who died of a heart attack in 1998, will be the subject of TV tributes, concerts, museum exhibits and endless lounge shows.
Nowhere is the celebratory clamor louder than in the Palm Springs area, which Sinatra called home for more than 50 years. The Chairman of the Board and his Rat Pack buddies lived, loved and partied hard here. Legendary stories of Sinatra's excesses abound. He also left imprints on the community that are still visible today.
SIGN UP for the free Classic Hollywood newsletter >>
You can chart your own Sinatra tour, dining at the star's favorite restaurants, cruising down a street named after him, dropping by his homes and paying respects at his grave at Desert Memorial Park in Cathedral City.
When I visited earlier this month, I found his headstone decorated with love notes, empty bottles of Jack Daniel's whiskey — Sinatra's drink of choice — a Camel cigarette and an assortment of other odds and ends. I also ran into three fans who had traveled from Derbyshire, England, to celebrate their hero.
Claire and Emily Hall had brought their dad, Frank, on a 70th birthday pilgrimage to walk in the footsteps of his favorite singer. "I brought along a pebble from me mum and dad's grave in England," said Frank Hall, as he buried it near the other Frank's headstone.
Like everyone else I talked with in Palm Springs, Frank Hall had a Sinatra story. He and his wife had seen the singer at the London Palladium; their seats were second row, center. When his wife dozed off, Sinatra began crooning "The Lady Is a Tramp" and pointed at her. Hall smiled broadly as he told his brush-with-greatness story.
Later, I swapped stories with Michael Fletcher at Lord Fletcher Inn, a British-style restaurant in Rancho Mirage where Sinatra dined for 30 years.
"He was a favorite customer of ours," said Fletcher, whose parents opened the restaurant in 1965.
Sinatra's generosity was legendary. Fletcher recalled the time the singer dropped a $20 bill on the floor on purpose.
"Just think of the guy's expression when he vacuums the floor in the morning," Fletcher quoted Sinatra as saying.
Then there was the time a waiter walked out with a birthday cake for another diner. "Sinatra stood up behind the person's chair and sang 'Happy Birthday' to him," Fletcher said. "Imagine how you'd feel."
The stories continued at Melvyn's Restaurant & Lounge at the Ingleside Inn in downtown Palm Springs, another fine-dining restaurant that Sinatra often visited.
Owner Mel Haber's favorite story was about the day the singer booked the restaurant for a large number of diners and asked him whether he had gray or black caviar.
"I didn't know," Haber said, "but I figured I had a 50-50 chance of picking the right one." The big get-together was Sinatra's pre-wedding dinner before his marriage to Barbara Marx, his fourth and final wife. The caviar turned out to be just right.
"Everyone here respected Frank," Haber said. "The room became quiet when he walked in."
He also talked about Sinatra's generosity, echoing several others I spoke with.
The singer's real legacy, many Palm Springs residents say, can be seen in the institutions he helped fund — a church, a synagogue and a medical center, among others — and in the generosity he showed to down-at-the-heel Palm Springs residents.
"Sometimes he'd hear about someone who was having trouble financially, and he'd just give them money anonymously," Haber said.
An exhibit at the Palm Springs Historical Society tells it all: "Sinatra lived like a local. Even though Ol' Blue Eyes has been gone for nearly 20 years, Palm Springs remembers him fondly as an old friend."
Oh, and about my own Sinatra story: One night some college chums and I went bar-hopping and ended up at a downtown Palm Springs dive called Ruby's Dunes. One of the Gabor sisters — we thought it was Zsa Zsa — waltzed in with a group of five or six nondescript-looking men and they all held court at the bar. A waitress came by our table with drinks a little later.
"These are from Mr. Snot," she said in a thick Brooklyn accent.
"What?" I asked. "Mr. Snot," she huffed.
"Huh?" I said. "Mr. Frank Snot," she yelled, pointing at Frank, who was dressed in an orange blazer and standing at the bar with Gabor and crew. He looked over and smiled.
We hadn't noticed him until that moment. So much for star-spotting ability.
::

Frank Sinatra trivia: Counting his awards, film credits and more
Frank Sinatra did it all, and did it all well. He made more than 1,800 recordings, had over 60 film credits, won 11 Grammys and one Academy Award, plus two honorary Oscars.
He is one of the bestselling music artists of all time, having sold more than 150 million records worldwide.
Over a 40-year period, he became a champion of the Billboard charts, with songs on the chart weekly from 1955 to 1995.
Among his top films were "From Here to Eternity" (for which he won a supporting actor Oscar), "The Man With the Golden Arm" and "The Manchurian Candidate."
Later films with his Rat Pack buddies (Dean Martin, Sammy Davis Jr., Peter Lawford and Joey Bishop) included "Ocean's 11," "Sergeants 3" and "Robin and the 7 Hoods" (Bing Crosby replaced Lawford in the final film).
::
For that Frank Sinatra touch, head to these 7 spots in and around Palm Springs
Frank Sinatra visited Palm Springs on vacation in the 1940s and liked it so well that he hung around for half a century. You can follow in his footsteps yourself or join an organized tour.
The Palm Springs Historical Society (www.palmspringshistoricalsociety.net, [760] 323-8297) offers various walking tours in the city, including Frank Sinatra's Neighborhood: The Movie Colony. You probably won't be able to get inside the grounds of Sinatra's house, but you'll see the outside and learn about his celebrity neighbors. Advance registration is necessary. 9:30 a.m. Fridays. $20 per person. You'll get a broader look at Sinatra's environs with Celebrity Tours (www.palmspringsalive.com, [760] 770-2701), which offers a 100th-birthday version that focuses on Sinatra's homes, grave, church and hangouts. 9:30 a.m. Saturdays. $59 per person.
Sinatra House, 1148 E. Alejo Road, Palm Springs. Twin Palms, Sinatra's original Palm Springs home, was built in 1947 and rents for $2,600 for one night. It has four bedrooms and is great for entertaining. You can peek over the back fence to get a look. For info, www.sinatrahouse.com, (877) 318-2090.
The Compound, 70-588 Frank Sinatra Drive, Rancho Mirage. In 1954 Sinatra moved east to Rancho Mirage and his new compound on 2 1/2 acres. It has five guesthouses, a movie theater, tennis courts and two pools. It's privately owned by another family, and there's no nearby parking so you'll have to take a quick look as you drive by on Frank Sinatra Street, named for Ol' Blue Eyes.
Michael S. Wolfson Park, corner of Frank Sinatra and Da Vall drives, Rancho Mirage. This is one of my favorites. It's a small pocket park with a Braille trail. Press the large red button and you'll hear the voice of Frank Sinatra coming out of a faux rock. "Welcome to Rancho Mirage," he says, "playground of the presidents." He says he hopes the park brings "peace and happiness, if only for a brief interlude."
Lord Fletcher Inn, 70385 Highway 111, Rancho Mirage. Check out Sinatra's favorite table, by the fireplace, then try the pot roast, his favorite meal.
Desert Memorial Park, 31705 Da Vall Drive, Cathedral City. Stop at the office to get a map that tells where celebs such as Sonny Bono and William Powell are buried. Sinatra is at space B-8-151, surrounded by his mother, father and uncle. Notes from fans and bottles of Jack Daniel's whiskey often can be found on the grave.
Melvyn's Restaurant & Lounge, 200 W. Ramon Road, Palm Springs. You'll see plenty of pictures of Sinatra on the walls at this downtown restaurant. He was a regular customer, and owner Mel Haber likes to talk about it.
::
If you go
THE BEST WAY TO PALM SPRINGS
From Los Angeles, take Interstate 10 east 100 miles to Highway 111; follow it 10 miles into the city of Palm Springs.
WHERE TO STAY
Riviera Palm Springs Resort & Spa, 1600 N. Indian Canyon Drive, Palm Springs; (866) 961-3785, www.psriviera.com. This faux Vegas hotel opened in 1959 and quickly became a go-to spot for Frank Sinatra and Dean Martin, who lounged by the pool and partied in the Presidential Suite. Some of the glitz was restored during a recent retro-cool renovation, which returned the circular hotel to Rat Pack swank. Doubles from $136 per night.
Ingleside Inn, 200 W. Ramon Road, Palm Springs; (800) 772-6655, www.inglesideinn.com. Boutique hotel surrounding Melvyn's Restaurant, where Sinatra and his entourage regularly dined. The downtown inn exudes the flavor of old Palm Springs; nicely landscaped with lawns and gardens. Doubles from $153.84 per night.
La Quinta Resort & Club, 49-499 Eisenhower Drive, La Quinta; (760) 564-4111, www.laquintaresort.com. Historic desert hideaway opened its doors in 1926, serving a long line of Hollywood celebs. Set on 45 attractively landscaped acres, the resort is less than a mile from St. Francis of Assisi Catholic Church, which Sinatra attended. Doubles from $159 per night.
WHERE TO EAT
Lord Fletcher Inn, 70-385 Highway 111, Rancho Mirage; (760) 328-1161, www.lordfletcher.com. If you're a Sinatra fan, you'll want to try the pot roast or white fish at this upscale pub-like restaurant that was a favorite of Ol' Blue Eyes. General Manager Michael Fletcher grew up at the restaurant, established by his parents in 1966, serving Sinatra and friends. Entrees from $26.
Las Casuelas, 368 N. Palm Canyon Drive, Palm Springs; (760) 325-3213, www.theoriginallascasuelas.com. This popular, family-owned restaurant grew to include several desert locations, but Sinatra usually patronized the original in downtown Palm Springs, and Las Casuelas Nuevas (70050 Highway 111, Rancho Mirage). His fave, said owner Florence Delgado, was Combination Plate No. 1, taco, enchilada and tostada, $10.95.
Johnny Costa's Ristorante, 440 S. Palm Canyon Drive, Palm Springs; (760) 325-4556, www.johnnycostaspalmsprings.com. This Italian restaurant on the main drag in downtown Palm Springs has menu items such as Steak Sinatra, $29. Costas once cooked for Sinatra at his house. Entrees from $17.
TO LEARN MORE
Palm Springs Bureau of Tourism, 2901 N. Palm Canyon Drive, Palm Springs; (800) 347-7746, www.visitpalmsprings.com
Greater Palm Springs Convention and Visitors Bureau, 70-100 Highway 111, Rancho Mirage; (760) 770-9000, www.visitgreaterpalmsprings.com
---
Get our L.A. Goes Out newsletter, with the week's best events, to help you explore and experience our city.
You may occasionally receive promotional content from the Los Angeles Times.