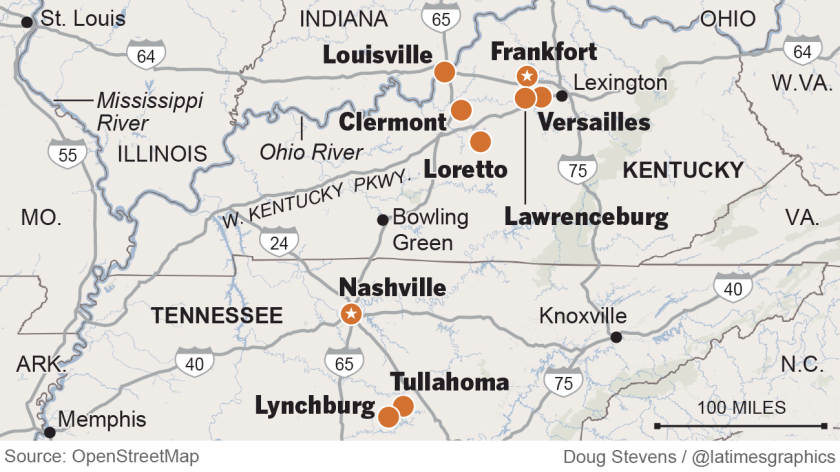 LYNCHBURG, Tenn. —
The first thing I noticed when I pulled into the Jack Daniel's visitors center parking lot was a bumper sticker: "I've been on the whiskey diet — I've already lost three days." It seemed appropriate.
The next thing I saw was a bride and groom in full regalia posing for pictures on the lawn outside the entrance. Didn't seem quite as appropriate. But, hey, maybe they met and fell in love over a bottle of Old No. 7.
Some people refer to Jack Daniel's Lynchburg distillery tour as Disneyland for adults. Visitors stroll through nicely landscaped grounds and get a thorough tour, but there are more rules than at other facilities. For instance, you won't be able to take any interior photos. However, you'll learn a lot about the world's bestselling U.S. whiskey. (182 Lynchburg Highway, Lynchburg; [931] 759-6357, www.jackdaniels.com)
JD's' distillery tour is one of two dozen or more offered in Tennessee and Kentucky. Most charge $5 to $12 and include a tasting session, but some offer free tours without tastings. Here's a quick look at some of the others, beginning with Kentucky bourbon distilleries:
Jim Beam: This well-known distillery recently expanded and remodeled its visitor facilities, about a 30-minute drive from Louisville. Jim Beam, the bestselling bourbon in the world — Jack's Tennessee whiskey outsells Jim's Kentucky bourbon by millions of cases annually — was recently acquired by Japanese beverage giant Suntory. (526 Happy Hollow Road, Clermont, Ky.; [502] 543-2221, www.americanstillhouse.com)
Maker's Mark: Flowering trees and beautiful landscaping surround the dark brown Maker's Mark distillery buildings, each trimmed in red to mirror the color of the liquor and its bottle. This smooth bourbon is produced in the hills of Loretto, Ky., about a 90-minute drive from Louisville or Lexington. MM, also acquired by Suntory, offers one of the region's best tours; visitors see the liquor in production rather than simulations. (3350 Burkes Spring Road, Loretto, Ky.; [270] 865-2099, www.makersmark.com).
Wild Turkey: Fans of this hard-hitting bourbon will love visiting its countryside location. Wild Turkey, known for its signature 101-proof bourbon, recently remodeled and expanded and, in the process, lost its ma-and-pa feel. The new distillery operation is a bit too industrial for me, but the new visitor center is an architectural knockout. Tastings are fun and educational. (1417 Versailles Road, Lawrenceburg, Ky.; [502] 839-2182, www.wildturkeybourbon.com)
Woodford Reserve: Statistics show this beautiful facility and grounds in the horse country near Lexington, Ky., is one of the most frequently visited distilleries on the Kentucky Bourbon Trail. Woodford, a premium bourbon that sells in the $26 to $50 range, calls itself the bourbon of choice for "fine wine drinkers, Cognac drinkers and single-malt scotch drinkers." Lively, educational tasting sessions. (7855 McCracken Pike, Versailles, Ky.; [859] 879-1812, www.woodfordreserve.com)
George Dickel & Co.: This 600-acre distillery in the hills of Tennessee bills its product as "fine sippin' whiskey." Its Cascade Hollow visitors center has rocking chairs on the porch and an appealing homespun attitude: "Twenty-five folks make every drop of George Dickel whisky by hand. We take our time. We do things the right way. ... It may be the finest whisky you'll ever have the luck to sip." (1950 Cascade Hollow Road, Tullahoma, Tenn.; [931] 857-4110, www.georgedickel.com)
---