Get a schooling in relaxation at Claremont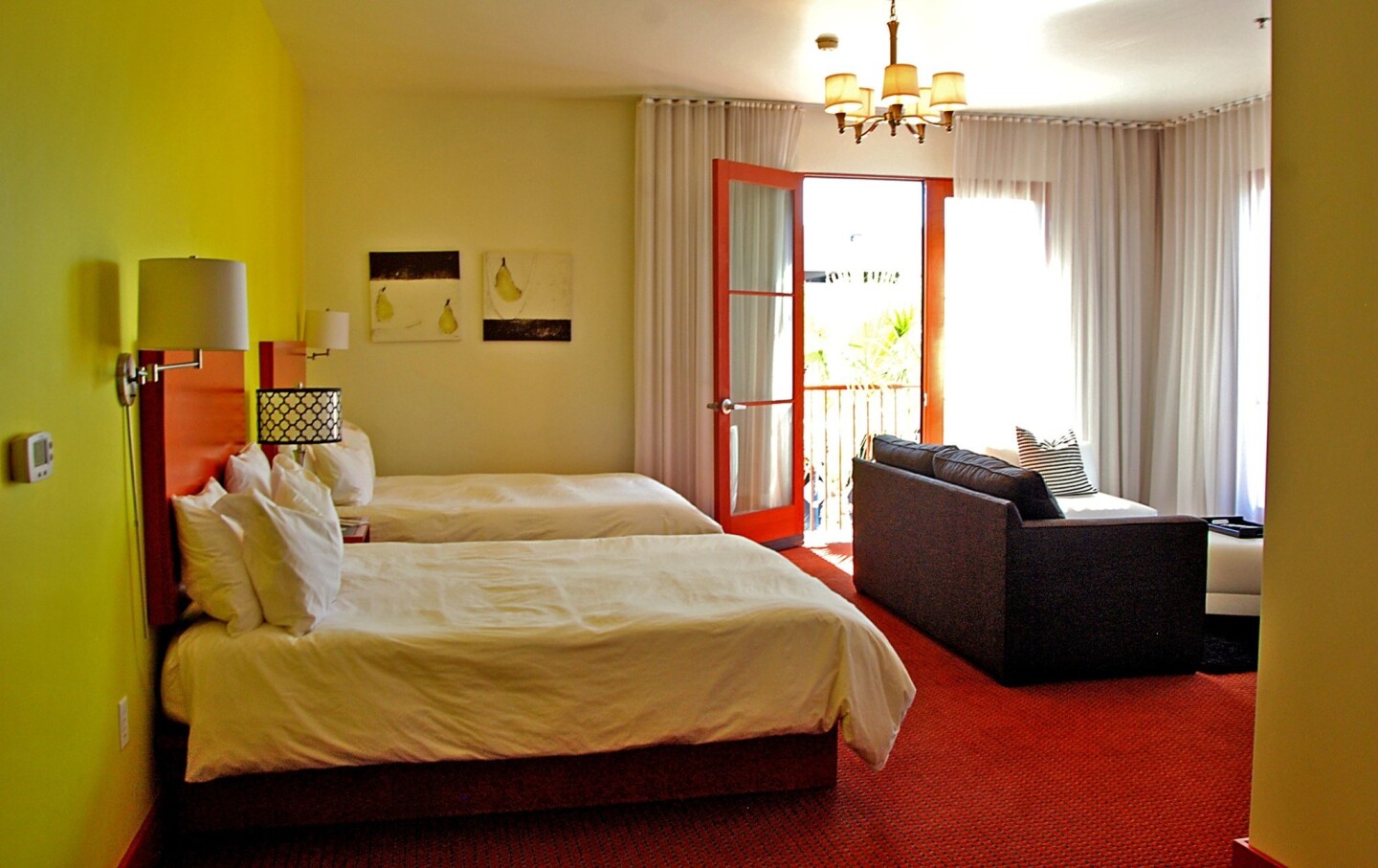 Casa 425 features rooms with French doors that open onto sunny balconies and soaking tubs. The 28-room boutique hotel has a soothing ambience.
(Hope Lee / Los Angeles Times)
You might know Claremont as that town with five liberal arts colleges and two graduate schools within its city limits. What you might not know is that it boasts a vibrant downtown, called Claremont Village, where more than 150 mom-and-pop restaurants, boutiques, art galleries and music venues create a relaxed atmosphere for all ages. If that weren't enticing enough, the Metrolink/Transit Center drops off passengers just a baseball toss away. The tab: A king bed at Casa 425 begins at $195. Breakfast or lunch for two can be had for less than $20 at Some Crust Bakery, while dinner for two at the Press Restaurant costs about $35. Plenty of free parking is available on 1st Street between Oberlin Avenue and Indian Hill Boulevard.
The bed
Casa 425 (425 W. First St.; [866] 450-0425, www.casa425.com) includes a courtyard with tables, chairs and fire pits, a fully stocked bar and a fireplace in the lobby, but it's the soothing ambience of its 28 rooms that make this inn worth a visit. With its white walls and lime green and orange accents, French doors that open onto balconies and soaking tubs, the inn offers a quiet slice of serenity for parents visiting their college-age children or those looking to enjoy the city's restaurants in the midst of Claremont Village.
The meal
Weather permitting, sit outside with a cup of coffee, an egg slider or a panini-style sandwich from Some Crust Bakery (119 Yale Ave.; [909] 621-9772, somecrust.com), where fresh bread is baked Tuesdays through Saturdays. If the limited seating is occupied, you're going to have to stroll on lovely Yale Avenue with a fresh cinnamon roll, vegan pineapple muffin or pumpkin spice cookie. For dinner, walk a block to the Press Restaurant (129 Harvard Ave.; [909] 625-4808, www.thepressrestaurant.com; no item more than $24) for an eclectic menu catering to both omnivores and herbivores thanks to ribeye steak, spicy Ethiopian berbere stir fry, grilled tuna, potato taquitos, vegan chili and vegetable lasagna. Located in a building that housed the presses of the Claremont Courier (the site was built in 1920), the restaurant also features live jazz, open-mike nights and film screenings on many Sundays. Regardless of the entertainment, be sure to order a salad and ask for the house dressing.
The find
Built in 1922, the Claremont Packing House (532 W. 1st St.; claremontpackinghouse.com) is home to restaurants, the Hip Kitty Jazz & Fondue music venue, a bookstore, art galleries, Flappers comedy club, Claremont Chefs Academy and Pilates Studio M. If the rest of the village wasn't so cool, you could spend an entire day at the Packing House and call your Claremont trip a success.
Lesson learned
Long before digital downloads reinvented the way we listen to music, there used to be record stores where people bought albums they could hold in their hands. It's hard to believe, but some of these stores still exist. One such outlet is Rhino Records (235 Yale Ave.; [909] 626-7774, rhinorecords.cc/), a must-stop shop for vinyl lovers, CD aficionados and anyone looking to buy a Muddy Waters T-shirt. Sure, you could download the Stooges' "Fun House," but with 180-gram vinyl for $19.99, why would you?
MORE WEEKEND ESCAPES
Palm Springs parties in the street at VillageFest
It's a wild life at Carrizo Plain National Monument
---
Get inspired to get away.
Explore California, the West and beyond with the weekly Escapes newsletter.
You may occasionally receive promotional content from the Los Angeles Times.