Watch tennis stars courtside on a weekend escape to Indian Wells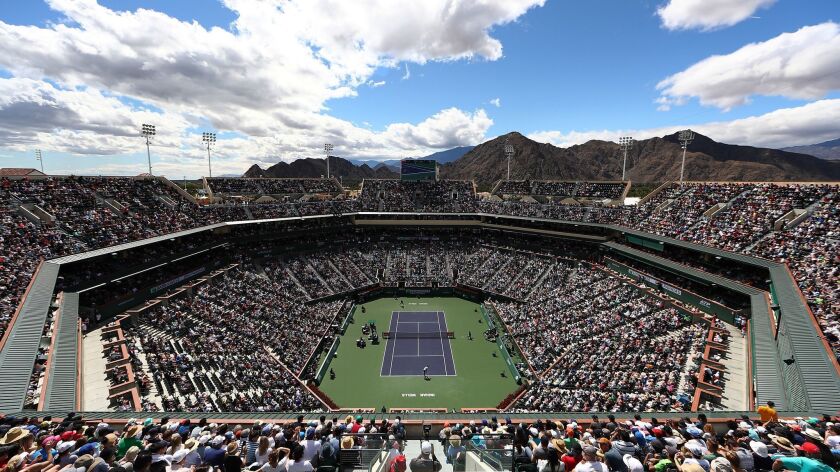 "Are you going to Indian Wells?" That's the question bouncing around tennis courts every year about this time. And my answer is always yes. I have been road tripping to the BNP Paribas Open at the Indian Wells Tennis Garden every March since before billionaire Larry Ellison's purchase in 2009 transformed tournament and venue into a veritable Disneyland for tennis fans. Last year nearly half a million made the pilgrimage to the desert. The tournament lasts a fortnight (this year March 4-17) and feels like spring break for grownups as much as it does a sporting event. There are Champagne bars that glow neon pink at night, live bands and pop-up shops with the latest court fashions. The best part, though, is being able to hop from court to court (there are nine) to watch the tennis gods crush balls just feet from my chair. The tab: About $1,400 for two nights, plus meals and tickets.
The bed
I like to go big and book a room at the Renaissance Indian Wells Resort & Spa because that's where many of the players stay. For $450 a night my husband and I are guaranteed to bump into tennis stars at the breakfast buffet or the pool, which, has a sandy beach, mountain views and a cocktail bar. The resort also has a free shuttle to the Tennis Garden.
The meal
There are 20 places to eat on the grounds of the Tennis Garden, but only two restaurants you might arm wrestle your spouse over. Nobu is in Stadium 2, but I prefer celebrity chef Wolfgang Puck's Spago, open only to Stadium 1 ticket holders. The only thing more sublime than watching Roger Federer float around the court flicking winners is watching Federer float around the court while I'm eating a black truffle pizza for dinner.
The find
Unlike other professional sports where you need big bucks for front-row access, anyone with a $50 daily grounds pass can snag a seat along the 20 sunken practice courts to eavesdrop on players while they polish their shots. This is where you can propose to Rafael Nadal (a common occurrence). Last year I was watching Novak Djokovic warm up when Mike Tyson walked out to shake his hand.
The lesson learned
Stadium 1 box-seat ticket packages can cost thousands, but it's unnecessary. A $60 day pass gets you into courts 2-9, which are smaller and rowdier, a bonus, plus admission to the upper bowl of Stadium 1 (and entry to Spago).
Renaissance Indian Wells Resort & Spa, 44400 Indian Wells Lane, Indian Wells; (760) 773-4444. From $400 a night. May be sold out during the tournament; call to check on availability. Wheelchair accessible.
BNP Paribas Open, Indian Wells Tennis Garden, Miles Avenue, Indian Wells; (800) 999-1585. Daily grounds passes from $50. Stadiums are wheelchair accessible.
More places to stay
If you want to go, buy tickets and book a hotel now.
The tournament may sell out, particularly during the first weekend when fans want to watch players competing in nine stadiums. As a result, March 8-10 also may be the hardest time to find a place to stay in Indian Wells and the surrounding area.
These hotels still had available rooms as of Feb. 6, but probably not for long. It's worth calling to check on room availability even if the hotel's website says it's sold out.
Miramonte Indian Wells Resort & Spa at 45000 Indian Wells Lane was booked March 8-10 but had rooms with two queen-sized beds available March 15-17 for $534 a night, plus $35 resort fee. It's about 2 miles from the Tennis Garden.
JW Marriott Desert Springs Resort & Spa at 74-855 Country Club Drive in Palm Desert, about 5 miles away, showed rooms available starting at $603 a night on March 8-10 and $454 a night and up March 15-17. Prices don't include a $38 daily resort fee.
Embassy Suites by Hilton Palm Desert at 74-700 Highway 111 in Palm Desert had rooms available on nights between March 11 and 18 for $380 to $442 a night.
Best Western Palm Desert Resort at 74695 Highway 111 has rooms for the last weekend of the Open that start at $289 for a room with a king-sized bed, and $339 for a suite with two double beds.
Cheaper prices can be found on selected dates in nearby Palm Desert at the Hampton Inn & Suites for $339; the Holiday Inn Express for $317; and Motel 6 for $239 on March 8-10 and $149 on March 15-17. All are 6 miles or less from the tennis site.
For more options, check airbnb listings for Indian Wells and Palm Desert, where you can find a house that sleeps six for $814 a night (seven-night minimum) that's within walking distance of the Tennis Garden, or a $94-a-night Airstream trailer for two on March 9-11 in Desert Hot Springs.
Lastly, search on Booking.com, Expedia, Orbitz and other travel booking sites to find more hotel options and compare prices at a glance.
---
Get inspired to get away.
Explore California, the West and beyond with the weekly Escapes newsletter.
You may occasionally receive promotional content from the Los Angeles Times.