76 Images
In Europe, 76 destinations off the beaten path
lat-arez1-kz2uzsnc20100326112425
The Arezzo antiques fair, Italy's oldest and largest, takes place the weekend of the first Sunday of each month. With 500 sellers, merchandise fills the piazza, climbs up the hill to the cathedral and spills down the side streets past the Chiesa di San Francesco. -- Laura Deutsch
(Laura Deutsch / For The Times)
Salina, Italy
Salina, one of seven small Aeolian Islands (also known as the Lipari Islands) cast up by volcanoes in the Tyrrhenian Sea, is accessible only by helicopter or boat. All of the islands are enchanting, including the main island of Lipari, where my grandfather was born. -- Susan Spano
(Susan Spano / For The Times )
Crete
Paddling around Greece's largest island rewards aching arms and torso with bath-water warm seas, pristine beaches and a lesson in the region's ancient roots.
(Nature Maniacs)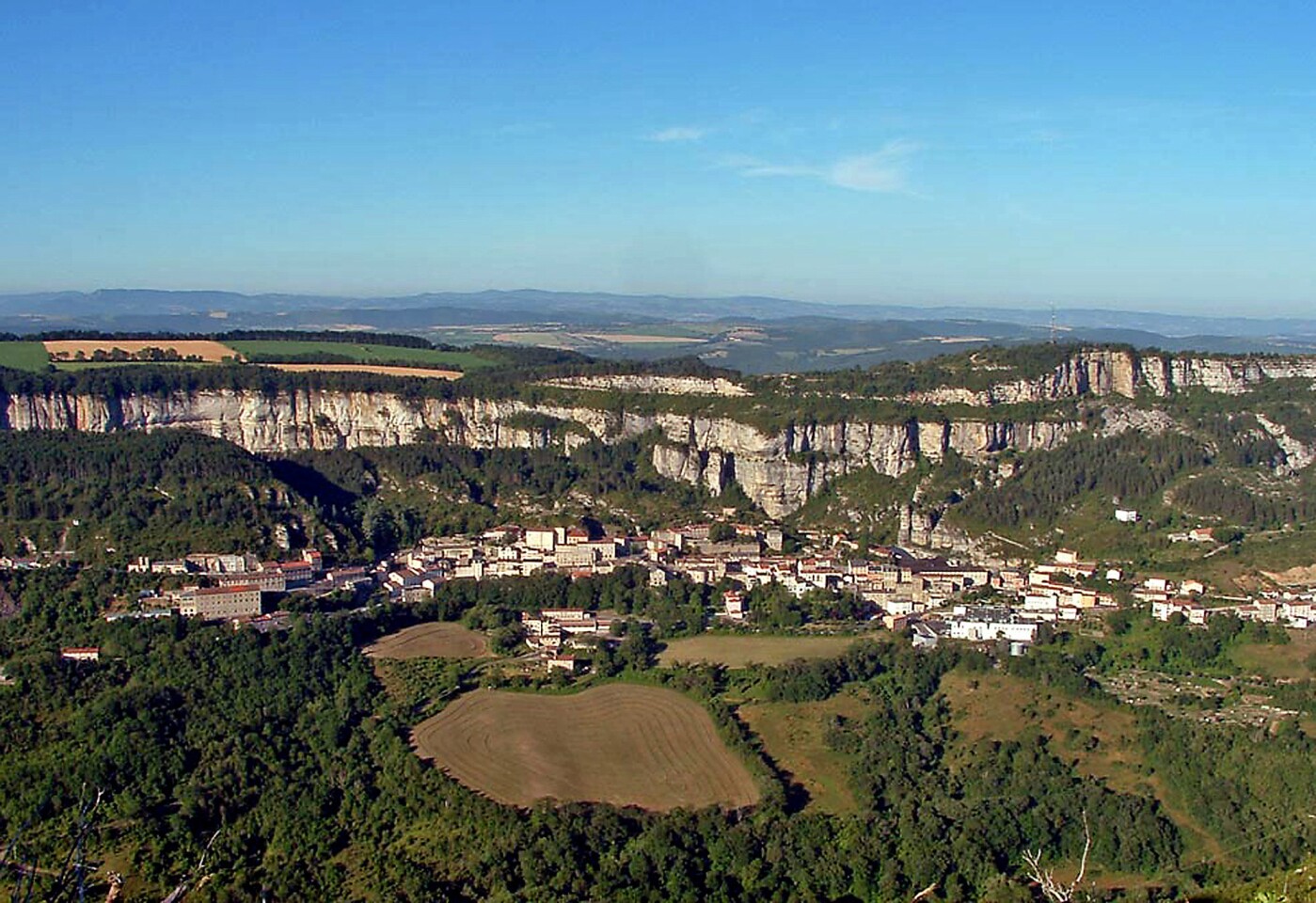 Roquefort
A visit to the village of Roquefort, France, means being assaulted by pungent aromas, exploring damp underground caves and tasting the most delicious cheese ever made.
(Roquefort Tourist Office)
Mali Losinj, Croatia
A visit in May reveals few tourists — just the Kvarners as they've always been: Serene and full of fascinating history and friendly people. Rates are low and it's easy to island hop.
(John Henderson)
Taormina, Italy
The Sicilian town once known as 'a polite synonym for Sodom' is still a great place to enjoy life to its fullest. The granita is icy good, the scenery stunning and the sea lusciously warm.
(Chris Hardy)
Bonn, Germany
Ever since my mom gave me the complete works of Ludwig van Beethoven I'd wanted to make a pilgrimage to Bonn, his birthplace. I spent four days absorbing Beethoven's legacy, the city's friendly ambience, and liberal quantities of Riesling wine and kolsch, the local beer. -- Chris Kraul
(Michael Sondermann)
Monschau, Germany
Monschau has a 13th century castle, cross-timbered houses, gray slate bridges, a mustard museum and flower-decked market square. As clean as a German pin and so quaint you can hardly believe it isn't a theme park, the old cloth-weaving town is popular with tourists. -- Susan Spano
(Susan Spano)
<a href="http://www.canterbury-cathedral.org" target="_blank">Canterbury Cathedral</a>
This soaring Gothic confection in Kent is the Mother Church of the Anglican faith. See where Thomas Becket was martyred, duck underground to the multicolumned crypt and marvel at the breathtaking stained-glass windows, including one from 1176.
(Peter Macdiarmid / Getty Images)
St. Albans
Arrive Wednesday or Saturday for the St. Peter's Street market then head to the cavernous cathedral. It is a spectacular fusion of architectural styles from Norman to Victorian Neo-Gothic. The slender bricks in its central tower were swiped from the ruined Roman settlement.
(John Lee)
Cambridge
Prettier than larger rival Oxford, the cobbled center of this bike-loving university town bristles with castellated old colleges, creaky-floored Tudor pubs and tomb-quiet medieval churches. Photograph the Bridge of Sighs over the River Cam, then nose around the Fitzwilliam Museum.
(John Lee)
Brighton
Luring Londoners since the playboy Prince Regent began building his onion-turreted Royal Pavilion here in 1815, Brighton is the Britain's coolest seaside city. Start at the Pavilion -- now a museum of gaudy palace interiors -- then get lost in the labyrinthine Lanes and North Laine areas.
(Tabatha Fireman / Getty Images)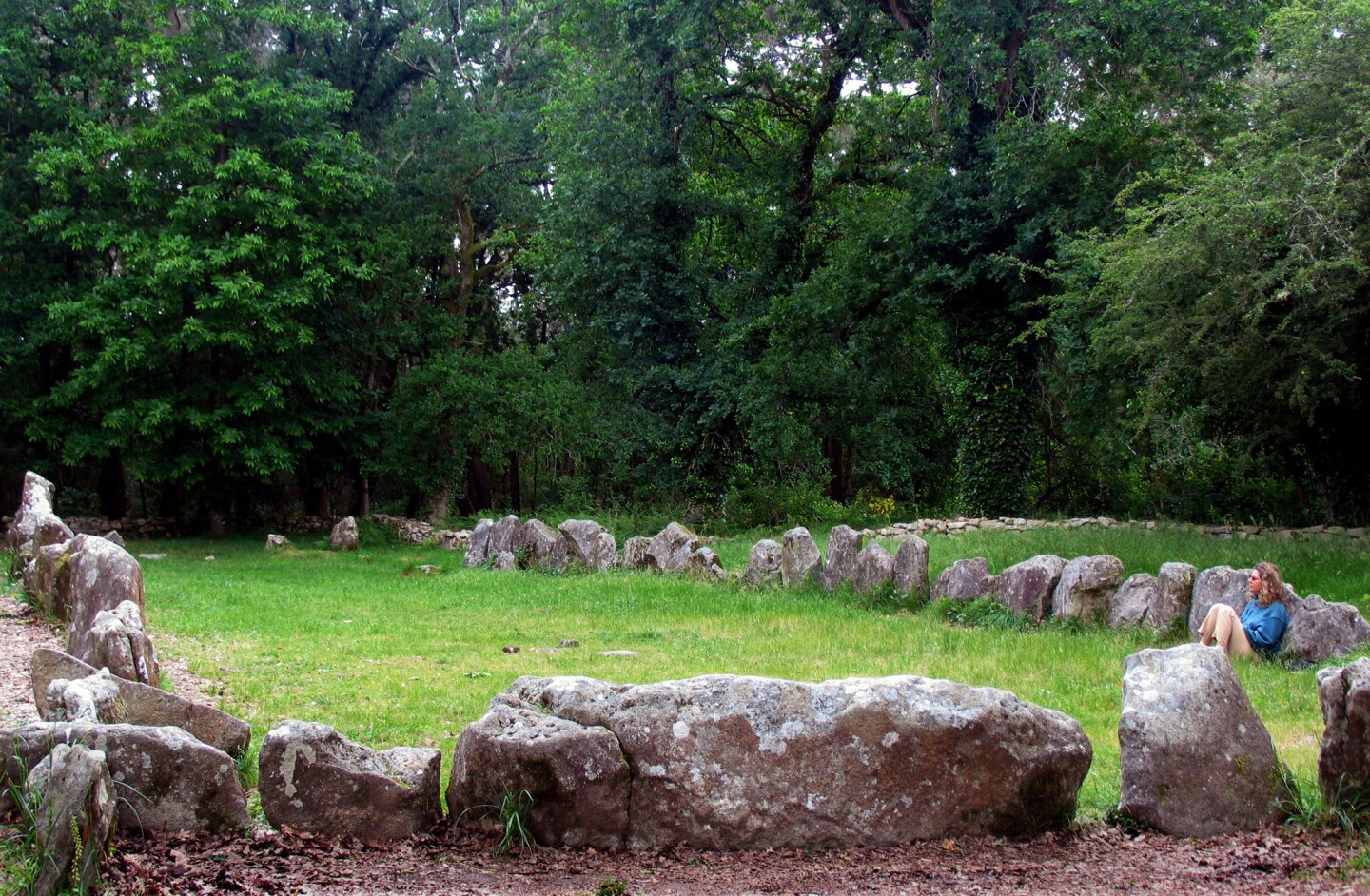 Stone enclosure
Legend has it that St. Cornelius was persecuted by Rome for his opposition to animal sacrifice and chased by soldiers all the way to the Brittany coast. Trapped, he turned around and changed them into 3,000 rough-hewn stones. -- Susan Spano
(Susan Spano)
Cleeve Hill
England has an extensive network of well-marked footpaths and bridle ways, many of them dating back centuries, and the public has the right to travel them even when they cross private land. Much of the Cotswold Way is on these trails. -- Sue Horton
(Jo Ward / Cotswolds.com)
Istanbul, Turkey
Istanbul is compact and walkable, a nice way to mentally piece together its modern and ancient parts. In Beyoglu, the newer section of the city, locals turn out in droves every evening to snack or simply be seen on Istiklal Avenue. -- Mary Forgione
(Mary Forgione)
Arezzo, Italy, central piazza
Arezzo, Italy, is home to Piero della Francesca's fresco "Legend of the True Cross," painted between 1452 and 1466.
(Susan Spano)
Costa Concordia in waters off Giglio Island, Italy
Giglio is known around the world because of the Concordia, but I was hoping to see a Giglio not defined by the disaster. Thirty-five years ago, my husband lived on Giglio for several months shortly after its inhabitants gave up mining and self-sufficient agriculture. -- Carolyn Lyons
(Filippo Monteforte / AFP/Getty Images)
Albania
For decades, Albania's archaeological treasures were virtually lost to the world. Communists took over in 1944, and dictator Enver Hoxha's iron grip kept the country isolated until the end of communism in the early 1990s. -- Rose Dosti
(Gent Shkullaku / AFP/ Getty Images)
Gastronomic societies in Spain's Basque Country
San Sebastián, the heart of Spain's Basque Country, is well known for its superb cuisine, but there's another side that few outsiders are aware of. The city is home to scores of private gastronomical societies where members gather to cook, eat, drink, talk and sing together. -- Peter Kupfer
(Peter Kupfer)
Andorra
Andorra lines a high pass in the Pyrenees between France and Spain. I drove in from the north, stalled at a customs booth on the French border, where officials were opening trunks to inspect the loads of purchases leaving Andorra, a tax-free shopping mecca. -- Susan Spano
(Susan Spano/Los Angeles Times / )
Vienna
You can't escape classical music here. Its history hits you almost from the moment you step out of the City Air Terminal: the bust of Bruckner at the lovely Stadtpark and, around the corner, a full-size gold statue of Johann Strauss, the waltz king. -- Mark Swed
(Samuel Kubani / For The Times)
Ardennes, Belgium
The Ardennes is an amorphous region of southeastern Belgium, Luxembourg and France. The region, contested in the 1944 Battle of the Bulge, was a German portal to the west in both World Wars. -- Susan Spano
(Gina Ferazzi / Los Angeles Times)
Hay on Wye, Britain
Richard Booth, an eccentric anarchist and Oxford graduate, bought 800-year-old Hay Castle and declared himself king of Hay. His vision was to create a "town of books" that would lure visitors to the banks of the River Wye and give his kingdom an economic foundation. -- Michael Shapiro
(Paul Thompson / Corbis)
Giant's Causeway, Northern Ireland
The Giant's Causeway, at the foot of basalt cliffs in Northern Ireland, is made up of 40,000 black basalt columns jutting out of the ocean. Volcanic activity 50 million to 60 million years ago created these step-like columns on the edge of the Antrim plateau.
(Anne Cusack / Los Angeles Times)
Scottish borders
The valley in the Scottish borderlands is golf-course green near the banks of the winding river. Above, the fields and woods are hilltops with shaved heads, covered in bracken and gorse. It's a little bit of heaven. -- Susan Spano
(Mick Knapton)
Bulgaria
This is a dark, fascinating and, unfortunately, forgotten country, an Iowa-sized Balkan beauty with snow-capped mountains and lush green fields. Tthe undeniable forces of the New World Order meet a stubborn Old World speed bump. -- Tim Jones
(Barry Zwick / )
Zagreb, Croatia
The capital of an at-last independent Croatia shows off its colors and vibrancy. Maybe it always was thus, but it never came to mind as one of the must-see cities on the Continent. -- Robert Cross
(Al Seib / Los Angeles Times)
Osijek, Croatia
Osijek is a quiet, handsome town of about 115,000. Though hardly as popular a tourist destination as Croatia's Adriatic coast, it has an 18th century fortress, the Museum of Slavonia, plentiful parks and a riverfront promenade. -- Susan Spano
(Milan Babić / Croatian Tourist Board)
Hvar, Croatia
In the last 1,500 years, the island has been ruled by the Illyrians, Greeks, Romans, Turks, Slavs, Venetians, Austrians and French. Despite the ravages of invaders and war, the Dalmatians managed to absorb the best of these cultures. -- Rachel S. Thurston
(Rachel Thurston)
Kladska, Czech Republic
The village of Kladska in the western Czech Republic isn't included in most guidebooks. It's barely more than a handful of houses on a bend in the road about five miles northwest of the spa town of Marianske Lazne, perhaps better known as Marienbad. -- Susan Spano
(Google Maps)
Tallinn
Having seen as much of modern Tallinn as I needed to, I went to the tourism office and rented a self-guided audio walking tour of the old city, the focal point of which is the 600-year-old Town Hall and its green dragonhead gargoyle drainpipes. -- Beverly Beyette
(Beverly Beyette)
Helsinki, Finland
Fall and winter, with long nights and chilly temperatures, may not seem like the best seasons to visit Helsinki, but for design fans it's prime time. The action moves indoors to the Modernist spaces that have made this country famous plus a whole design district. -- Andrew Bender
(Pekka Sakki / Associated Press)
Verdun, France
Verdun in northeastern France is famous for sugar-coated almonds and for its World War I battlefield where half a million French and German soldiers died in 1916. The Victory Monument has a card catalog with the names of the war dead. -- Susan Spano
(Susan Spano /Los Angeles Times)
Barbizon, France
There are fine stone villages all around Fontainebleau Forest, but Barbizon will ever be associated with the school of painters for a simple reason: Along its one narrow Grande Rue were several inns that catered to starving artists. -- Susan Spano
(Susan Spano / Los Angeles Times)
Lourdes, France
Six million people visit Lourdes every year, including 100,000 volunteers and 80,000 ill and disabled pilgrims seeking cures for their afflictions or the strength to endure them. Others come just to witness the sociological phenomenon that daily unfolds. -- Susan Spano
(Susan Spano/ Los Angeles Times)
Beaujolais, France
Beaujolais is worth a journey and a stay. The countryside is lovely: rugged hills and winding roads, villages with ancient stone churches, forest ridgelines touched at sunset by tendrils of fog. It's like the wilder parts of Napa, but with church bells and châteaux. -- Doyle McManus
(Doyle McManus / Los Angeles Times)
STATUE
My first hours in Lyon may have been inauspicious in a gastronomic sense, but they were just as satisfying as a dish of raviolis d'escargots: a hot snack, a decent wine and the honor of meeting a high official of the Jim Morrison Fan Club. -- Robert Cross
(David Langford / Associated Press)
Lacoste, France
With a population of fewer than 500, a handful of restaurants and a couple of excellent bed-and-breakfast inns nearby, Lacoste is less touristy than such Provencal meccas as St. Remy and Fontaine de Vaucluse. -- Susan Spano
(Susan Spano / Los Angeles Times)
Château des Milandes, France
The late Gothic/early Renaissance castle was built in 1489 by François de Caumont for his wife, Claude de Cardaillac. The medallions honoring him on the chimney of the small dining room were added by a later owner, Charles Claverie, who began a full-scale restoration in 1900. -- Susan Spano
(Susan Spano / Los Angeles Times)
Iceland's countryside
Myvatn, near the town of Akureyri (riddled with consonants, Icelandic words are not easy to tackle, but saying "mee-VAHT" and "ah-KOO-ray-ree" will get you by), is more or less on top of the ever-growing chasm between the North American and Eurasian plates. -- Krista Mahr
(Arctic-Images/ Corbis)
Munich, Germany
Munich is an easy city to like: clean, bright and livable. It has world-class art museums, stylish shops, wide boulevards, parks and squares. Conviviality overflows in its fabled beer gardens, and its people have an open, animated air. -- Susan Spano
(Diether Endlicher / Associated Press)
Galway City, Ireland
If you're making plans to visit Ireland, consider starting in Galway City. The city of more than 65,000 hums with the vibrancy of the affluent new Ireland and cranks out more festivals than an accordion has folds. -- David Monagan
(John Lumpkin / Associated Press)
Skibbereen, Ireland
After a lovely drive southwest through County Cork, we found the village of Skibbereen, where the buildings are as colorful as the flowers crowded into every window box. -- Colleen Dunn Bates
(Colleen Dunn Bates)
Siena, Italy
Medieval Siena stretches over three steep hills in the heart of the Chianti region of Tuscany. It's renowned for its Gothic cathedral as well as its Piazza del Campo, whose paving stones were laid in 1347. -- Alan C. Miller
(Susan Spano / Los Angeles Times)
Campania region, Italy
Mozzarella comes chiefly from Italy's Campania region around Naples. Although theories abound, no one knows for sure when or how the buffalo first got here from Africa and Asia. Frankly, I don't care as long as my diet regularly includes fresh mozzarella. -- Susan Spano
(Gaetano Barone / Corbis)
Sperlonga, Italy
There are popular beach places closer to Rome, but nothing as nice as Sperlonga, with its pedestrian-only old town (Sperlonga Alta), winding staircases that lead down to the ocean and the Grotto of Tiberius and the nearby archaeological museum. -- Susan Spano
(Theresa Gawlas Medoff / )
Puglia, Italy
And I returned last September to Puglia, one of Italy's most mysterious and compelling regions. Of course I got lost. Over and over again. But getting lost only makes getting found more interesting. -- S. Irene Virbila
(Rocco De Benedictis / For the Times)
Cinque Terre, Italy
Stumbling upon things is the best way to explore Cinque Terre (pronounced CHEEN-kway TEHR-reh), the "five lands" perched upon a stretch of lush, terraced hills on Italy's western coastline halfway between Genoa and Pisa. -- Kevin Pang
(Brandy Bishop)
Genoa, Italy
My wife and I intended to spend only a night in the city. But when the hotel clerk said that Genoa had scrubbed away much of the industrial grime, revealing the bright colors of the buildings and the many frescoes that adorn them, we decided to stay longer. -- Dale M. Brown
(Massimo Borchi / Corbis)
Piedmont, Italy
I had come to Piedmont in late October with Kathy O'Green, a lifelong friend who shares my passion for cooking and travel. We viewed it as the trip of a lifetime for a pair of working Southern California moms eager to chuck the daily stresses, if just for seven days. -- Catherine Saillant
(Alison Harris)
Sicily, Italy
Tourists over looking Taormina from a hill near the Greek theater.
(Chris Hardy / Photo by Chris Hardy)
Lipari, Italy
Lipari, capital of an archipelago north of Sicily, has a dramatic history: a source of obsidian in the Neolithic Age, a Greek colony, naval battles between Rome and Carthage during the Punic Wars, plunder for North African pirates, a place of exile for Mussolini opponents. -- Susan Spano
(Ionas Kaltenbach / Lonely Planet Images)
Castel del Monte, Italy
This medieval masterpiece, begun in 1240 has eight sides, linked by eight eight-sided towers. The repetition of the octagonal form has haunted mathematicians who see it as a work of pure geometry. The more mystically inclined impute occult significance. -- Susan Spano
(Susan Spano / Los Angeles Times)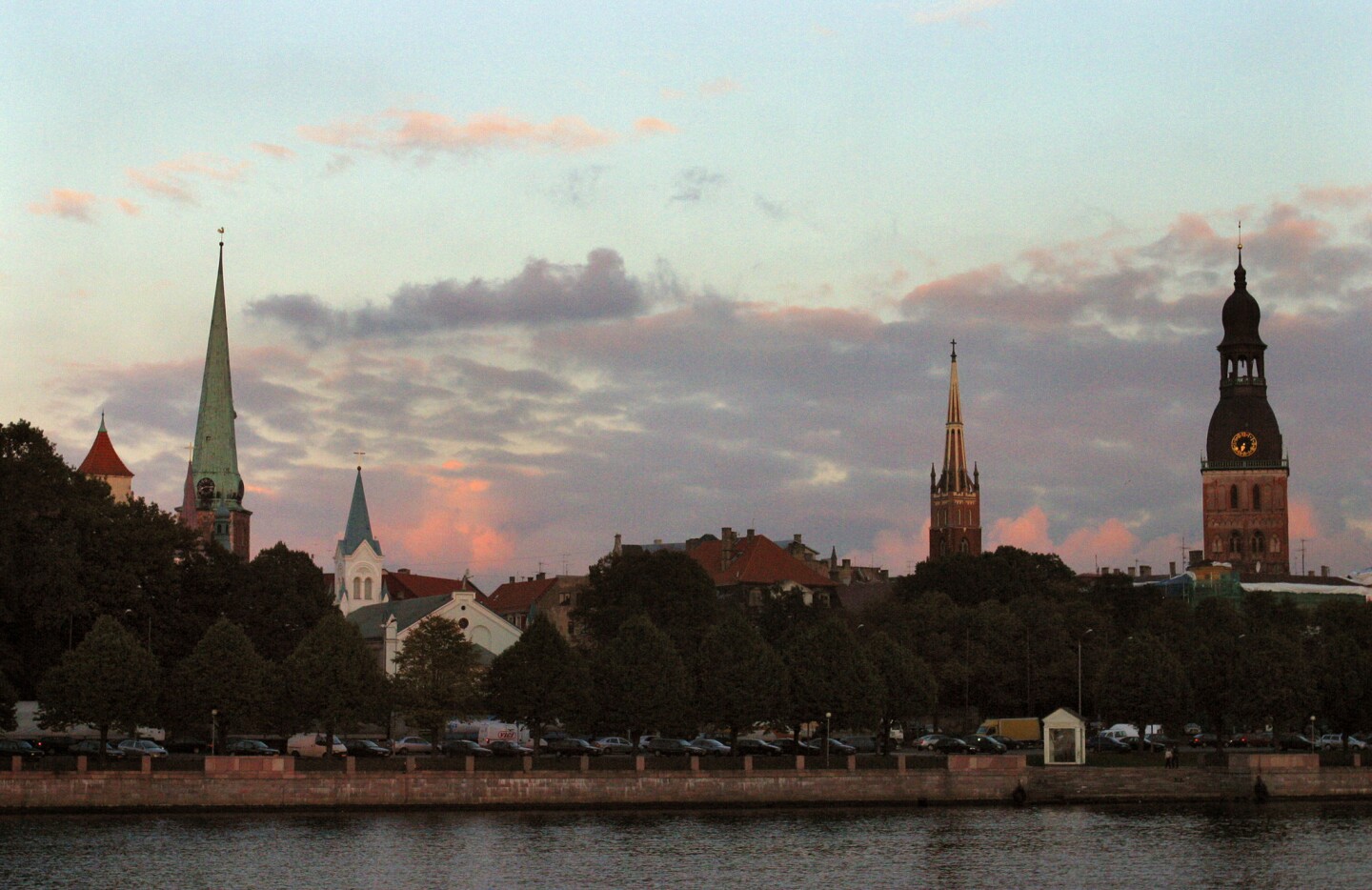 Riga, Latvia
Riga is the largest of the Baltic capitals. It is rich in parks, which are bisected by a canal. Aside from the pedestrian-friendly old city, with its intriguing narrow lanes and medieval squares, you'll see fabulous Art Nouveau façades in the new city. -- Beverly Beyette
(Beverly Beyette)
Jurmala, Latvia
Ever heard of the Jurmala Riviera? It's a 20-mile chain of beaches on the Gulf of Riga that touts its mud and mineral water. Prices are low and many spots fly blue flags, the ecological seal of approval granted by the not-for-profit Blue Flag Program of Denmark. -- Susan Spano
(Jurmala City Council Archives)
Liechtenstein
Liechtenstein is a little German-speaking principality tucked into the Alps between Switzerland and Austria. The Rhine River runs wide and icy-white along the western border, and the prince's cross-timbered castle nestles in an aerie on the mountainside. -- Susan Spano
(Susan Spano/Los Angeles Times)
Vilnius, Lithuania
The Town Hall of Vilnius, an 18th century classic building with six Doric columns, is now where public celebrations are held. It sits at the southern end of pedestrian-friendly Pilies Street, the busiest Old Town artery, with its souvenir shops and restaurants. -- Beverly Beyette
(Beverly Beyette)
Luxembourg
When I set out to visit the smallest countries in Europe, I put Luxembourg at the top of the list. Then I opened my atlas and found that Luxembourg comes in sixth, behind Andorra, on a list of Continental Europe's dinkiest nations. It is almost as big as Rhode Island. -- Susan Spano
(Susan Spano / Los Angeles Times)
Moldova
I flew into the capital city, Chisinau (Kee-shih-now), from Paris. If you are thinking of going to Romania to see Dracula's Castle or to Ukraine for those onion-domed churches, consider Moldova too. Pictured: Cobwebs cover the caps of aged bottles of wine at Milestii Mici winery. -- Kay Mills
(Vadim Denisov / AFP / Getty Images)
Monaco
My friend Polly Platt loves Monaco, a silver slipper of a country on a little shelf of the French Riviera not much bigger than Monte Carlo, its capital. But she also attended the wedding of Grace Kelly and Prince Rainier III here in 1956, the social event of the decade. -- Susan Spano
(Susan Spano / Los Angeles Times)
Montenegro
The breakup of the former Yugoslavia, of which Serbia and Montenegro were a part, in the early 1990s, followed by a dark decade of ethnic cleansing and war, virtually erased this region from the tourist map. Now, with peace restored, vacationers have started returning. -- Susan Spano
(Susan Spano / Los Angeles Times)
Transylvania, Romania
"Saxons built Bran Castle in 1382 to protect the gateway to Transylvania at Bran pass," a tour guide explains. "In order to provide rapid access to weaponry and fortifications, a labyrinth of secret passages and tunnels exist throughout the castle and beneath its courtyard." -- Laura Elliott
(Eugeniu Salabasev / Associated Press)
Oslo, Norway
On a recent visit to Oslo, I found a vibrant city of interesting contradictions and surprises. For instance, it's a mistake to think of it as a homogenous city of blond, blue-eyed Nordics. Immigrants make up almost a quarter of its 540,000 population. -- Beverly Beyette
(Beverly Beyette)
Danube River Delta, Romania
At the end of its 1,771-mile journey across Europe, the mighty Danube River seems to give up trying to reach the Black Sea. It turns north, away from the coast, crosses the lonely steppe country, then frays into myriad channels, marshes, swamps and lakes. -- Susan Spano
(Susan Spano / Los Angeles Times)
St. Petersburg, Russia
With 350 exhibition rooms and 3 million items in the Hermitage, the guidebooks said it would take seven years to view everything there, even with spending only one minute in front of each piece. -- Don Drake
(Dmitry Lovetsky / AP)
San Marino
"Go slow. There isn't a lot to see," an attendant at a tourist information office told me when I drove into the Most Serene Republic of San Marino. Her candor was, I soon discovered, just one aspect of the wee country's singularity. -- Susan Spano
(Susan Spano / Los Angeles Times)
Belgrade, Serbia
Belgrade has always been engaged in a volatile tug-of-war between East and West. Built on a hill overlooking the confluence of the Danube and Sava rivers, the "White City" stood as an enduring, strategic crossroads separating Europe from what lay beyond it. -- Michael Levitin
(Michael Levitin)
Slovenia
In the ever-widening world of wine, Slovenia is emerging as a promising new producer with an idiosyncratic personality. A generation of post-Soviet era vintners is reclaiming a lost tradition of family winemaking. -- Corie Brown
(Matthew Lepori)
Catalonia, Spain
We were high above the Catalan town of Berga in the foothills of the Pyrenees. We were here because of mushrooms that glistened in the sunlight. We wanted to participate in the twin autumn rituals of this region: mushroom picking and mushroom eating. -- Craig Ligibel
(Craig Ligibel / Craig Ligibel)
Segovia
A growing number of tourists is coming to Segovia, a city in Spain's Castile region, not only to see its towering Roman aqueduct but also to get a glimpse of a rediscovered Jewish past. -- Michael Levitin
(Christopher Reynolds / Los Angeles Times)
Icehotel, Jukkasjarvi, Sweden
Every winter since about 1990, sculptors have built a hotel and bar made of ice blocks from the nearby Torne River, like this 2003 version. When the spring thaw arrives, the facilities melt. New ones are created the next winter, usually opening in early December. -- Susan Spano
(Unknown / Handout)
Zurich, Switzerland
A walk along the shores of Lake Zurich to show our daughter the swans yielded a small street fair nearby, with carnival rides, stands selling wurst and a towering Ferris wheel. Our hike to the Lindenhof meant we also found Chapeau, an outdoor music festival. -- Cara Mia DiMassa
(Guerin Nicolas)
Vals Valley, Switzerland
Rain pelted the windshield as I drove up the Vals Valley. Waterfalls coursed over cliff faces, and the tops of the Alps were lost in fog. The rain suited me. I was headed for a spa about 120 miles southeast of Zurich. -- Susan Spano
(Susan Spano / Los Angeles Times)
Cappadocia, Turkey
A popular attraction in central Turkey, Cappadocia is known for the fairy-tale-like rock formations that bespeckle the region. Called fairy chimneys, or hoodoos, these formations have been carved by erosion over the millennia.
(STR / Associated Press)
Lviv, Ukraine
Lviv, a UNESCO World Heritage Site and home to more than half of Ukraine's architectural treasures, was spared the bombings of World War II. It is the Ukrainian city most often compared to Prague, Czech Republic. -- Barry Zwick
(Barry Zwick)
Vatican City
Some come to see Michelangelo's Pieta, the Raphael rooms, the ancient Laocoan statue or to study the crowning architectural achievements of the Italian Renaissance. Some just want to be able to say they've visited the smallest country in the world. Others come as religious pilgrims. -- Susan Spano
(MASSIMO SAMBUCETTI / AP)