Three ways to see the Great Wall of China, two much greater than the other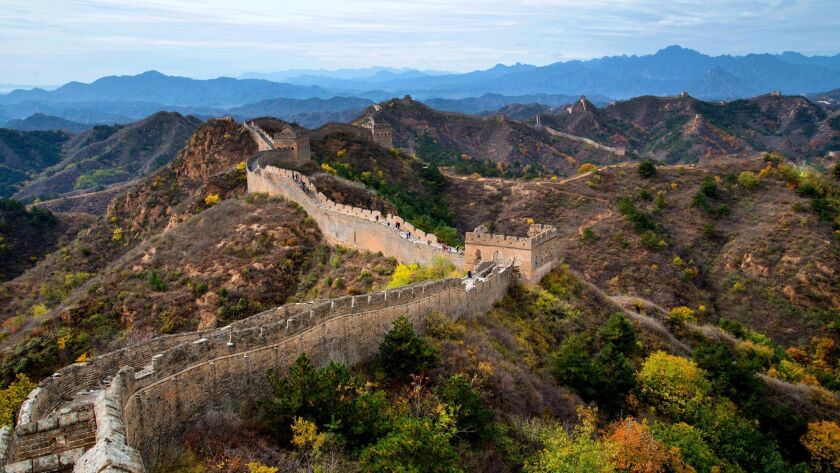 My first trip to China 15 years ago came at a pivotal moment.
The country had just been admitted to the World Trade Organization. The largest construction project in the world — the Three Gorges Dam — was nearing completion.
A few months before my visit, Beijing had been chosen as the host city for the 2008 Summer Olympics. The writing was on the wall: China was on its way to solidifying its place as a world superpower.
But when I returned home, the one question I heard over and over had nothing to do with China's future.
"Did you see the Great Wall?"
I'm sure some people travel to Beijing and skip a visit to the wall, but there was no way I was going to visit China and overlook the country's iconic monument.
Built over a period of 2,000 years, the wall traverses China from east to west, coursing more than 5,500 miles, depending on how you measure it.
Although much of the Great Wall has devolved into rubble, the section running through the mountains north of Beijing was built during the Ming Dynasty — 1368-1644 — and is among the youngest and least ravaged by the elements.
When the Chinese government decided to restore a part of the wall, it did so at Badaling, 43 miles northwest of the city. This is where President Nixon famously stood atop the Great Wall in 1972.
By the time I visited in early 2002, the trip from the parking lot to the Badaling ticket booth required navigating a warren of trinket and snack shops selling goods as varied as Dove bars and fake Mongolian coins.
Once at the wall, I headed right — the steeper choice and the less crowded option — but there was no avoiding the steady bombardment of sales pitches by postcard sellers and vendors waving "I Climbed the Great Wall" T-shirts.
The bricks used to build the wall were inscribed with thousands of Chinese characters — names of visitors, I assumed — etched into the masonry.
And then I heard something. Something disturbingly familiar.
Audio speakers, parallel to the edifice, pointed toward the wall and emitted music.
Improbably, Western music.
A Strauss waltz played on Chinese instruments.