These redone and recently relaunched downtown L.A. hotels will take you to the Jazz Age and back again
The Hotel Figueroa and the Mayfair Hotel, both built in 1926 in downtown Los Angeles, have been revived this year (and unveiled this month). Step inside and you'll find history half-disguised.
The Figueroa, a born-again Spanish Colonial specimen at Figueroa and 9th streets, has a YWCA connection that might surprise anyone who saw the place a decade ago in its "Casablanca" mode.
The Mayfair, which weds noir and glitz on a transitional block of West 7th Street, is just waiting to make a few revelations about the first Oscars and the late mystery author Raymond Chandler.
At both lodgings, management is looking to draw from history and craft new identities with a certain arty, writerly feel. Both hotels threw parties last week, because they're trying to outshout plenty of downtown competition:
Hotel Indigo Los Angeles Downtown was unveiled in April 2017, the InterContinental Los Angeles Downtown in June 2017, the Freehand Los Angeles also in June 2017, the NoMad Hotel in January. And the DTLA Proper Hotel on South Broadway is scheduled to open late this year.
But we were talking about 1926. That year, the Los Angeles Central Library had just been completed downtown, the first Brown Derby restaurant was opening on Wilshire Boulevard and construction was just beginning on City Hall.
"Ben Hur" was showing at the Million Dollar Theatre on Broadway, and the first talkie in movie history, "The Jazz Singer," would be premiering the next following year. The Hollywood sign still said Hollywoodland.
And the Figueroa and Mayfair were swinging open their doors to very different customers.
Inside the Fig
The Hotel Figueroa (939 S. Figueroa St., Los Angeles; [866] 723-9381) opened Aug. 14, 1926, as a 14-story Young Women's Christian Assn. lodging aimed mostly at traveling businesswomen, a remarkable feminist mission at the time and one that didn't survive the Depression.
Like many buildings that went up between the 1890s and the 1930s in California, the Fig started as a Spanish Colonial, designed by the firm of Stanton, Reed & Hibbard. It was later sold, fell on hard times in the 1960s (like the rest of downtown), then re-emerged under lease-holder and manager Uno Thimansson as a quirky haven with a Moorish theme and an active bar scene on the ground floor and patio.
But those days are definitely done. On Aug. 14, management threw a 92nd birthday party, hosting tours to show off a top-to-bottom redesign by Rockefeller Kempel Architects and interior designers Studio Collective.
The Figueroa is Spanish Colonial again, with lots of black and white tile work. Its location, a short walk from the L.A. Live complex, is as strategically sound as ever.
The Fig has 268 rooms; a big pool with photogenic cactus around its edges; lots of work by local artists; and five food and drink outlets, including the restaurants Breva (Basque-inspired cuisine from chef Casey Lane) and Veranda.
The property's bars, including Figueroa and the reservations-only Alta, feature mixology by Dushan Zaric.
In its Moorish phase, the hotel was a quirky, relatively affordable alternative to the largely generic, yet costlier, chain properties around downtown. Now the place sports a more classic California look, and management is going after more of those affluent travelers. (The Fig has joined the Leading Hotels of the World.)
Rooms for two usually begin between $200 and $300 nightly, but reopening discounts may bring the price down.
Another surprise inside: If you're out to throw a hip little party or gaslight a loved one, consider the Casablanca Suite on the mezzanine level. It's big (about 620 square feet) and has a secret passageway to a hidden lounge with room for about 16 people to eat or drink. (To reveal the passage, you've got to pull the right tome from the bookshelf.)
It's very cool. When I checked the rates for Aug. 25, a Saturday night, the answer was $649.
At the Mayfair
Meanwhile, at the Mayfair (1256 W. 7th St.; [213] 632-1200), the surrounding scene is grittier and the prices are lower. But here too the Jazz Age echoes.
The hotel, designed by Curlett and Beelman, is 15 stories, with 294 rooms and a big flower sculpture in a tall lobby full of Art Deco overtones. Doubles typically start at $159 to $299.
Management has been gradually redoing the place for more than two years and threw a party Aug. 17 to celebrate its near-completion. Although a swimming pool and fitness center are still in the works, Architectural Digest has already stopped by.
Designer Gulla Jonsdottir has outfitted the inside with plenty of Art Deco accents and a palette of black, silver and gold. But there are also a few new-fangled features, such as the podcast room (which includes several vintage LPs and is slightly larger than an old-school phone booth) and a combination porthole and fire pit that allows you to glimpse from the lobby through flames into the restaurant.
Many guest rooms feature a 1929 "amusement map of Los Angeles County," blown up to cover an entire wall.
The restaurant is called Eve American Bistro, in homage to Eve Cressy, a character in Raymond Chandler's 1939 short story "I'll Be Waiting." Apparently, Chandler lived in the hotel while writing the story, which is set in a hotel closely resembling the Mayfair of the late '30s.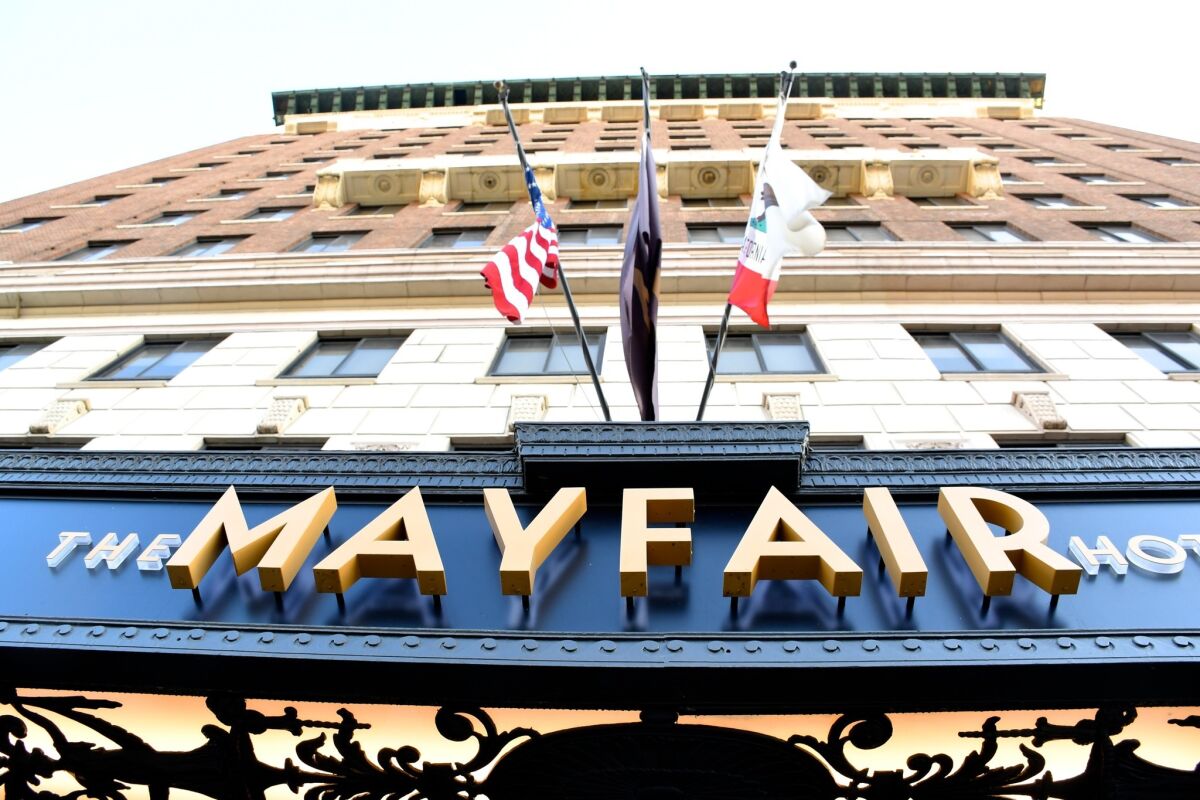 If all this history and mystery has you thinking the hotel is ripe for treatment in a new noir novel, don't overlook the edgy art in the public spaces. The hotel brought in street artist Kelly "Risk" Graval as artist in residence, and he has commissioned several site-specific works and made some of his own, all aimed at exploring the image of Los Angeles, warts and all.
Another surprise inside: On the third floor, you'll find a spacious, brick-walled ballroom, three stories tall, with a startling starburst chandelier and a fireplace full of little orange gas jets. This, believe it or not, is where the big stars came for the party after the first Academy Awards in 1929. (The ceremony was held at the Hollywood Roosevelt Hotel.)
christopher.reynolds@latimes.com
Follow Reynolds on Twitter: @MrCSReynolds
Get our L.A. Goes Out newsletter, with the week's best events, to help you explore and experience our city.
You may occasionally receive promotional content from the Los Angeles Times.