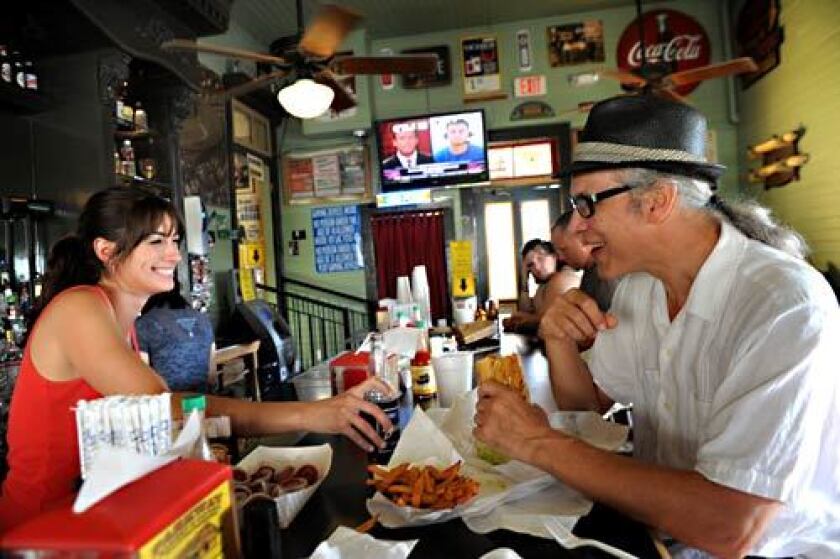 New Orleanians take their seafood seriously. So seriously, in fact, that it was front-page news last month when the French Quarter's P&J Oyster Co., a large supplier of Louisiana oysters in the U.S., shut down its oyster-shucking operation because of the oil spill.
The oil that began to spew after the April 20 explosion of the Deepwater Horizon rig about 120 miles southeast of New Orleans has not directly affected the city, except emotionally. But local chefs are scrambling to find new sources of oysters and other seafood as old ones close, then open, then close.
Eating is a big part of New Orleans, both for locals and visitors: Local restaurants have annual sales of as much as $2.8 billion, said Wendy Waren, vice president of communications for the Louisiana Restaurant Assn.
Most of its 1,000 restaurant members in Orleans Parish and 4,000 in the metro area report sales revenues are stable this summer. But restaurant costs are up, Waren said, because those who can find oysters are paying about 30% more for them.
Michael Regua, longtime chef at Antoine's, the French Quarter bistro cherished by generations of old-guard New Orleanians, has found a limited source of oysters for his dishes, including Oysters Rockefeller. The secret recipe was created (without spinach, which most copycat versions use) in 1889 at the restaurant, owned by the same family since 1840.
Acme Oyster House, which specializes in oysters on the half shell, hasn't had to stop shucking, said Paul Rotner, director of operations for Acme, which has three restaurants in the metro area, one in Baton Rouge and one in Sandestin, Fla. "But it's getting harder and harder," Rotner said.
In normal years, Acme serves 6.5 million raw oysters and 2.5 million cooked ones, Rotner said. Since the oil spill, "We've had 50% of the oyster beds open, but they open and close on a regular basis. And we don't have the oyster fishermen to collect them, because so many are working for BP now."
Parkway Bakery, one of New Orleans' top po' boy restaurants, took oysters off the menu almost immediately after the oil spill, said owner Jay Nix. Instead of the traditional fried oyster and shrimp combo po' boy, the midcity restaurant now offers fried catfish and shrimp.
Tory McPhail, executive chef of the Garden District's Commander's Palace, rated the city's most popular restaurant in the current Zagat guide, acknowledged that finding oysters could be challenging. But as for other Louisiana seafood, he suggested checking https://www.louisianaseafood.com for daily updates.
McPhail explained it to me this way earlier this month: "In the last 24 hours, we've got more fishing grounds open today than we did 10 days ago or two weeks ago."
About 70% of Gulf Coast seafood comes through Louisiana, McPhail said, and the estuaries, bayous and marsh are fertile with speckled trout, sheep's head, black drum, flounder and more. Now that the water is warmer, larger shrimp also are more plentiful.
"We need to get the word out that the seafood is pristine, with government offices checking it all the time now," McPhail said. "What's coming to the market is fantastic. And if someone wants to help and support us, they need to get out there and eat Louisiana seafood."
---