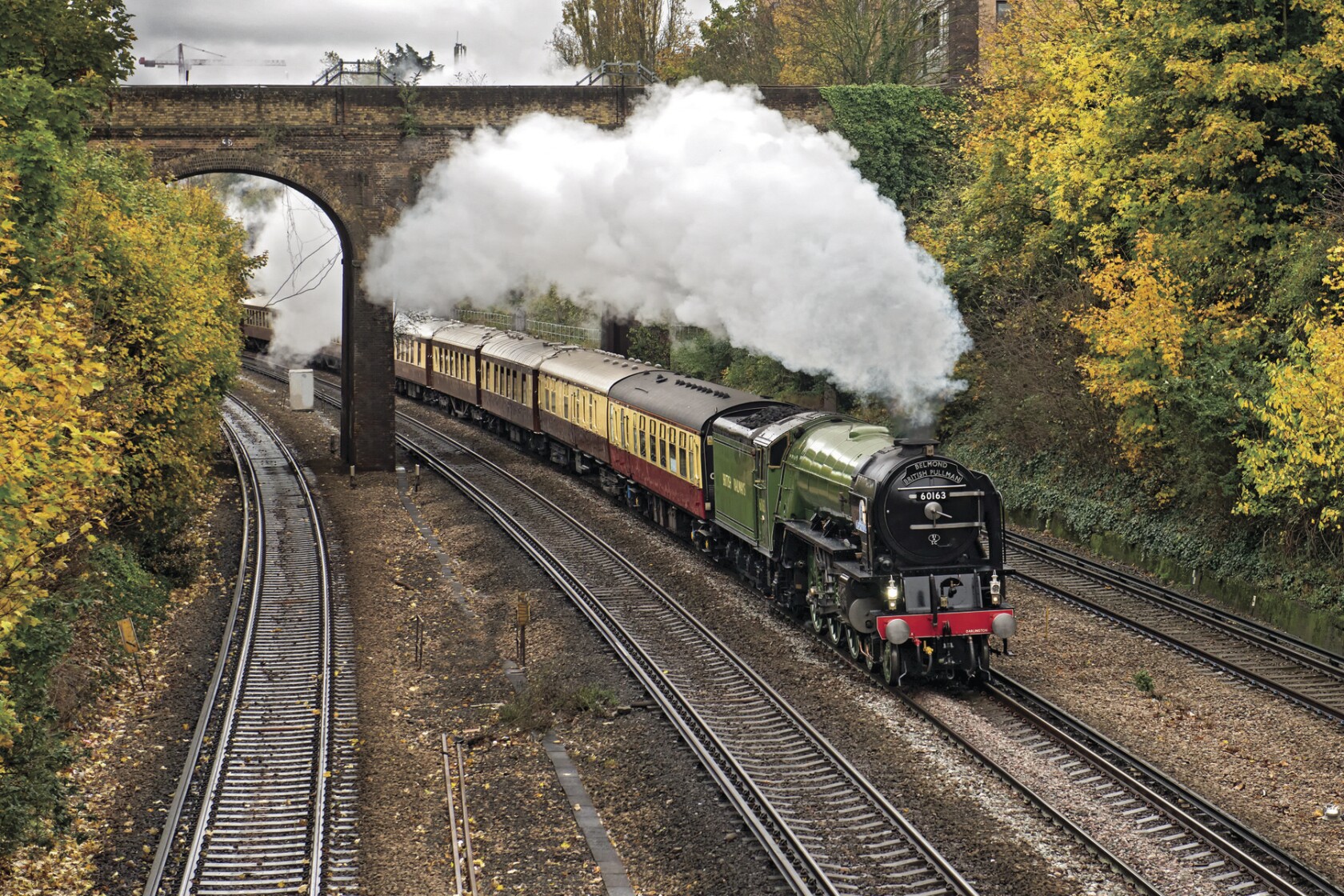 A1 class locomotive Tornado passes Putney with the Belmond British Pullman in November 2015.
(Geoff Griffiths)
Aboard the Belmond British Pullman.
(Matt Hind)
Dinner plates aboard the Belmond British Pullman.
(Matt Hind)
Aboard the Belmond British Pullman.
(Matt Hind)
The British Pullman near Great Wishford in Wiltshire, England.
(R.L. Sewell)
Belmond British Pullman.
(Matt Hind)
The British Pullman crossing Eynsford Viaduct in Kent, England.
(R.L. Sewell)
Reporting from London —
The train had pulled out of London's Victoria Station 20 minutes before, and Mitch, our cheery cockney waiter, was pouring a second glass of Champagne for my wife and me when a dignified gent in a tailcoat entered the dining car.
He was, he announced, Smith, the butler to the 6th Lord Deville, who was poisoned while hosting a private dinner party and died face first in his plate of semolina.
Murder, just as on the Orient Express? How very fitting.
And very timely, too, with Kenneth Branagh's film version of Agatha Christie's 1934 novel due for release in the fall.
We were, in fact, on its sister train, the splendidly refurbished Belmond British Pullman that carries passengers from London to Folkestone, on the English Channel. (The Venice Simplon-Orient Express continues on to Paris; Venice, Italy; Prague, Czech Republic; and Istanbul, Turkey.)
The train's 11 vintage carriages, dating from 1925 to the 1950s, recall the golden age of travel.
The Art Deco interiors feature restored wood paneling inlaid with marquetry, brass luggage racks and furnishings appropriate for the period, all evoking opulence and indulgence.
The Belmond British Pullman offers excursions and weekend trips to Bath, Canterbury and other destinations in Britain, accompanied by flowing Champagne and gourmet cuisine.
We were on one of the shorter trips, a five-hour round-trip journey through the Kent countryside that came with a five-course lunch and a murder mystery to solve.
Passengers were encouraged to wear vintage clothing in the spirit of the trip, and many did so.
We had barely sampled our appetizer of smoked haddock, spinach and ricotta tart when the second of seven witnesses/suspects arrived to divulge more information about the late Lord Deville and the other dinner party guests.
All the while the estimable Mitch kept our glasses filled, muttering, "A few more of these and you won't care who dunnit."
He had been a waiter on the train for 27 years and had a fund of stories to tell. Passengers have included Nikita Khrushchev, French President Charles de Gaulle, South African President Nelson Mandela and rocker Keith Richards, whom Mitch proclaimed "a nice guy."
He particularly liked the tale of the newly hired chef who hadn't been told it was a murder mystery trip and, terrified, locked himself in the galley when a woman ran through the dining car waving a knife.
As we passed through the lush English countryside, dining on carrot, turmeric and yellow split pea soup, Welsh lamb rump with minted new potatoes and seasonal green vegetables, a selection of British cheeses and an apple, rhubarb and ginger crumble with rhubarb compote and whipped cream, more suspects appeared at intervals, each one seeming more guilty than the one before.
As we approached greater London on the return trip, we filled in the forms we had been given with our notes on who we thought was the murderer and why.
Then, just before we pulled into Victoria, Mrs. Tamara Crispin-Pettipace, who described herself as a former lover of His Lordship, announced the identity of the murderer and presented those who got it right with a bottle of Champagne.
We didn't get it right, having plumped for Mrs. Crispin-Pettipace herself. In fact, the murderer was….
If you go
THE BEST WAY TO LONDON
From LAX, American, British, Air New Zealand, Virgin Atlantic, United and Norwegian offer nonstop service to London; KLM, American, United, Air Canada and Delta offer connecting service (change of planes. Restricted round-trip fares from $799, including taxes and fees.
Murder mystery lunches aboard the Belmond British Pullman, (800) 524-2420, are about $444 per person and include Champagne reception and five-course lunch. Dates this year are Aug. 18, Sept. 15, Oct. 13 and Nov. 4.
---