The 10 best places to picnic in the West
There's just one rule for picnics: They must be outdoors, and eating inside your car doesn't count.
One can quibble over the menu — melon gazpacho or PB&J sandwiches? — but it's the setting that sets the mood and creates memories that can last a lifetime.
Arizona
1. Grand Canyon National Park
As views go, nothing tops a picnic at the edge of the Grand Canyon. From more than 7,000 feet above sea level, you can eat while staring into the endless sea of buttes and mesas.
Hermits Rest and Mather Point on the South Rim are two great places to break out the (kept-cool-in-your-ice-chest) potato salad.
You also can drive the 25-mile rim-hugging route to Desert View and picnic at the amphitheater for more terrific views. It's worth a post-picnic climb to the top of the Watchtower stone obelisk for a 360-degree lay of the land.
Need on-the-spot picnic fixings? Desert View has a general store and a deli near the tower. Admission to the park costs $30, and it's good for a week.
Info: Grand Canyon National Park, (928) 638-7888. $30 park admission is good for a week.
Oakland
2. Mountain View Cemetery
This is the final resting place of such disparate souls as Hearst Castle architect Julia Morgan, Black Dahlia murder victim Elizabeth Short, railroad baron Charles Crocker, coffee magnate Charles Folger and mai tai creator Victor Jules Bergeron of Trader Vic's.
It's also a terrific place to picnic. You won't find tables, but you're welcome to unfurl a blanket and enjoy great views of the Golden Gate Bridge and San Francisco Bay.
The 154-year-old Oakland cemetery was designed by Frederick Law Olmsted and covers more than 220 acres.
Millionaire's Row is a must-see for the prominent folks buried there and the ornate mausoleums built in their honor.
Info: Mountain View Cemetery, 5000 Piedmont Ave., Oakland; (510) 658-2588
White River National Forest, Colo.
3. Maroon Bells Scenic Area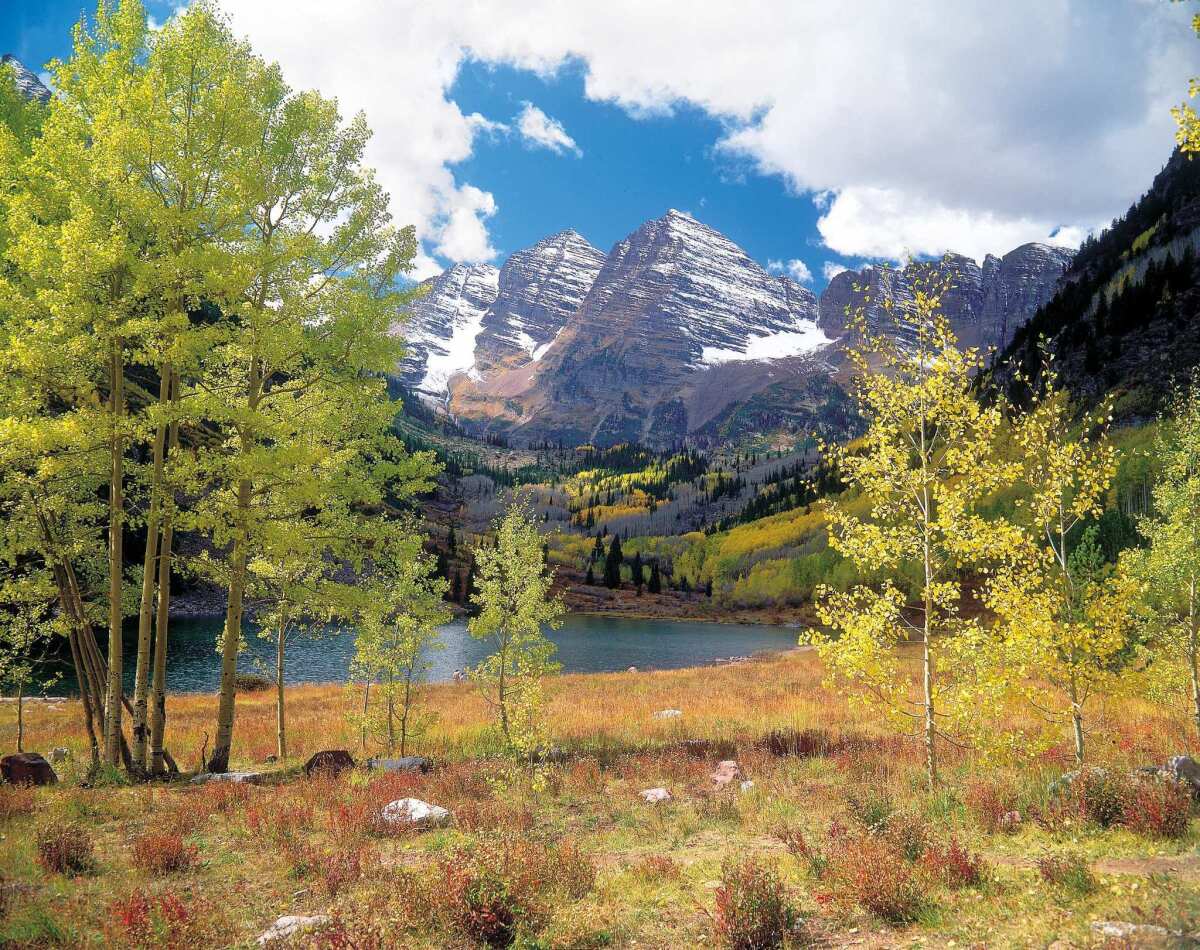 There may be no dreamier place to picnic than in the shadow of two of Colorado's best known and most photographed "fourteeners" (peaks taller than 14,000 feet): Maroon Peak and North Maroon Peak.
It's an excellent high-elevation Rocky Mountain setting just 10 miles west of Aspen. You can picnic at a day-use area or an amphitheater near Maroon Lake, a reflecting pool for the "bells." Picnicking at the lake is a no-no. You may see moose, deer, bear and other creatures near the water, but the area is too fragile for the number of people who visit.
Why the "maroon" moniker? Erosion of minerals in the rock, especially hematite, creates the special hue.
The spot is so popular in summer and fall that cars are prohibited on the main road into the area from 8 a.m. to 5 p.m. From June 10 until mid-October, you can take an $8 shuttle or bike the 12 uphill miles. Insider tip: Buy your shuttle ticket in advance to avoid the lines.
Info: Colorado Tourism, (800) 265-6723
Pismo Beach, Calif.
4. Dinosaur Caves Park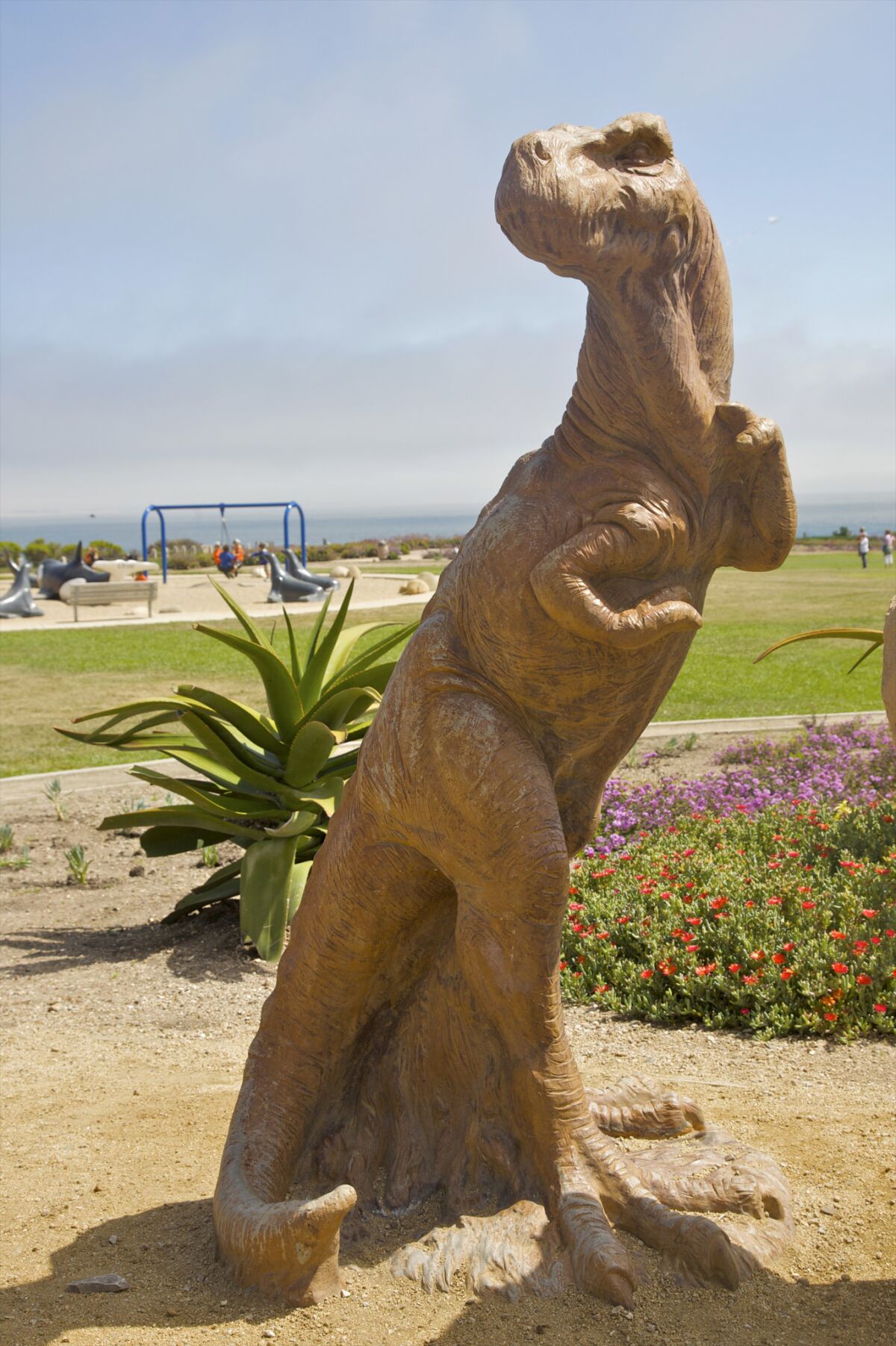 Spoiler alert: There are no dinosaur fossils at this park.
But there is a small dino near the entrance and cute concrete dinosaur eggs and dolphins at a kiddie playground. You'll find superb views of coves, cliffs and beaches that make up Shell Beach below.
You can eat alfresco at picnic tables near the playground or set up on the bluffs. After lunch, it's worth exploring the little beach coves too.
By the way, the site got its name from the 50-foot plaster brontosaurus and sea caves that tourists could visit for a fee. By the 1960s, the caves had caved in and the dino disappeared, but the name stuck.
Info: Dinosaur Caves Park, 2701 Price St., Pismo Beach; (805) 773-7039
Seattle
5. Kerry Park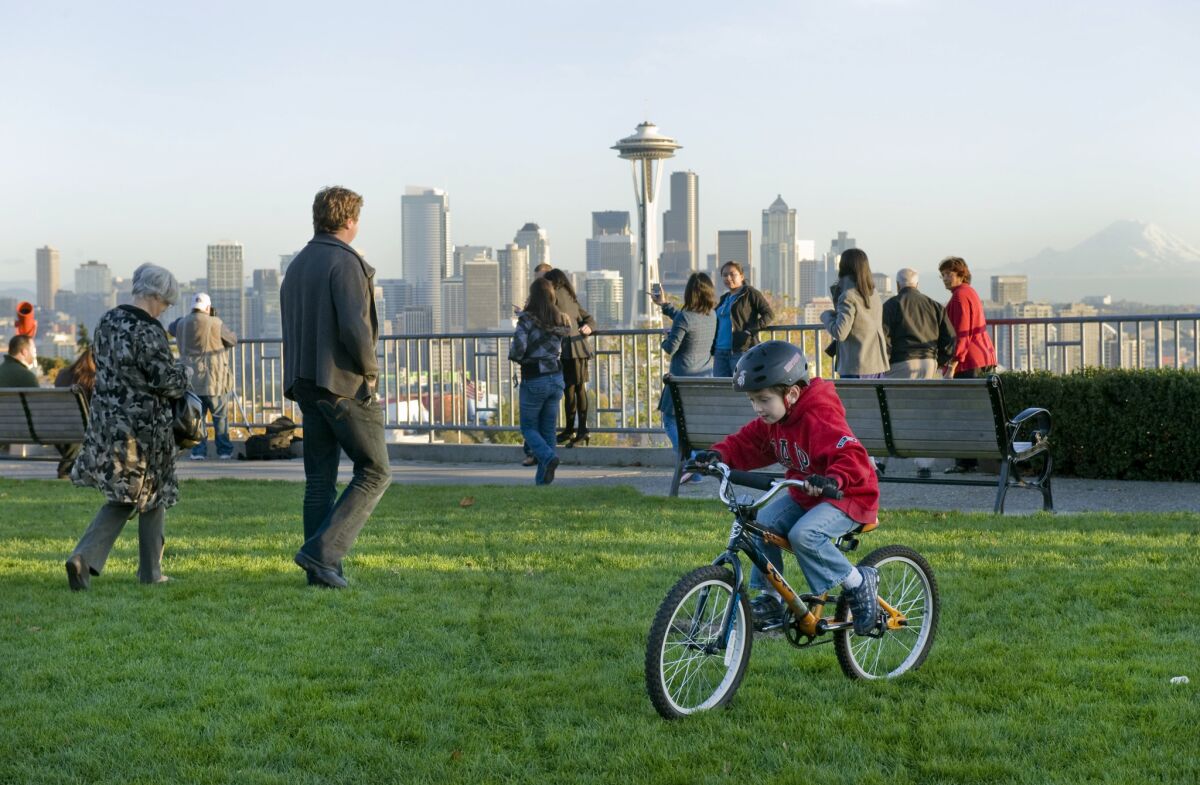 This teensy park, a little more than an acre, comes with big-time city views. It's on Queen Anne Hill, so you can see all of Seattle before you: the Space Needle, the skyline, the water, the ferries and sometimes even Mt. Rainier.
You can dine on goodies from Pike Place Market, which is just a few miles away. There are no picnic tables, but feel free to grab a bench and start noshing.
For dessert, take a five-minute trek to Molly Moon's Homemade Ice Cream, 321 W. Galer St.
Info: Kerry Park, 211 W. Highland Drive, Seattle; (206) 684-4075
Portland, Ore.
6. Apex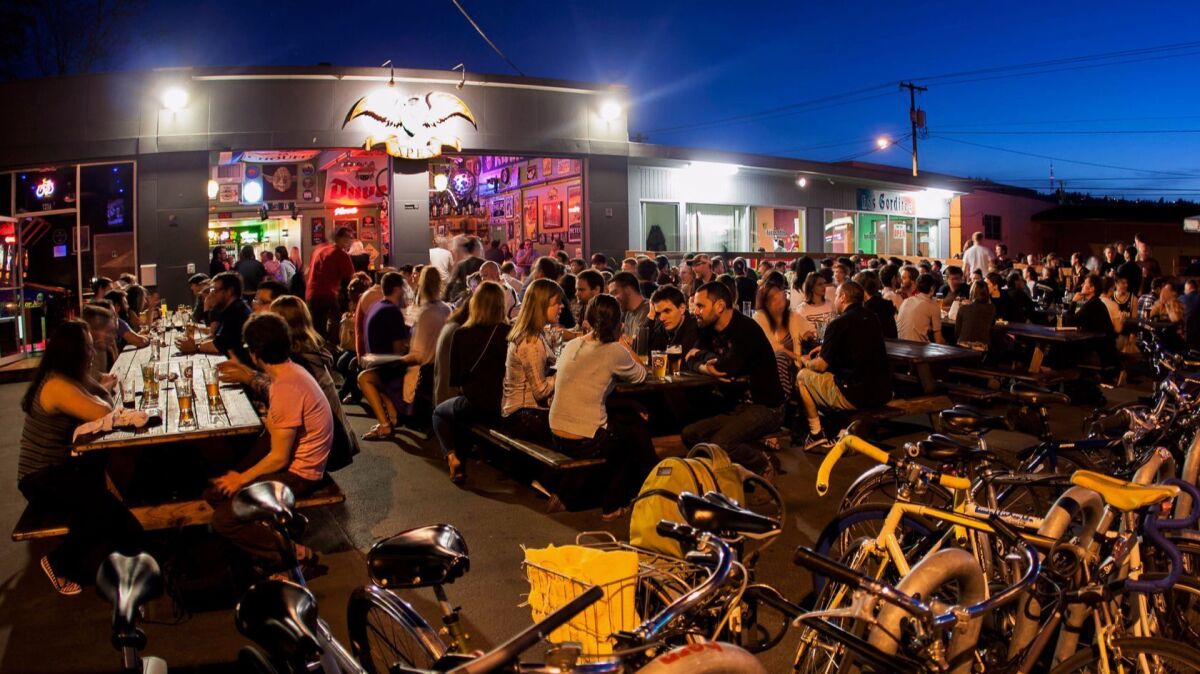 I know what you're thinking: Whaat? Waterfront Park and leafy Forest Park are crazy-good places to picnic in Portland. That's true.
But what the Apex lacks in views (there aren't any), it makes up for in beer.
There are 18 outdoor picnic tables and plenty of bicycle parking, ideal for your own DIY beer pairing menu.
The bar doesn't serve food, but it does offer 50 beers on tap from all over the place, including California, Canada, Colorado, Wyoming and, of course, Portland. Prices for a brewski range from $3 to $10, depending on what they're serving.
The city is a foodie paradise, so grab a to-go meal from your favorite place and bring it to the bar.
A few rules: It's a 21-and-older crowd. The bar takes cash only and, no, they won't turn down the music. They will, however, give you free earplugs.
Info: Apex, 1216 S.E. Division St., Portland; (503) 273-9227
Redding, Calif.
7. Turtle Bay Exploration Park and Sundial Bridge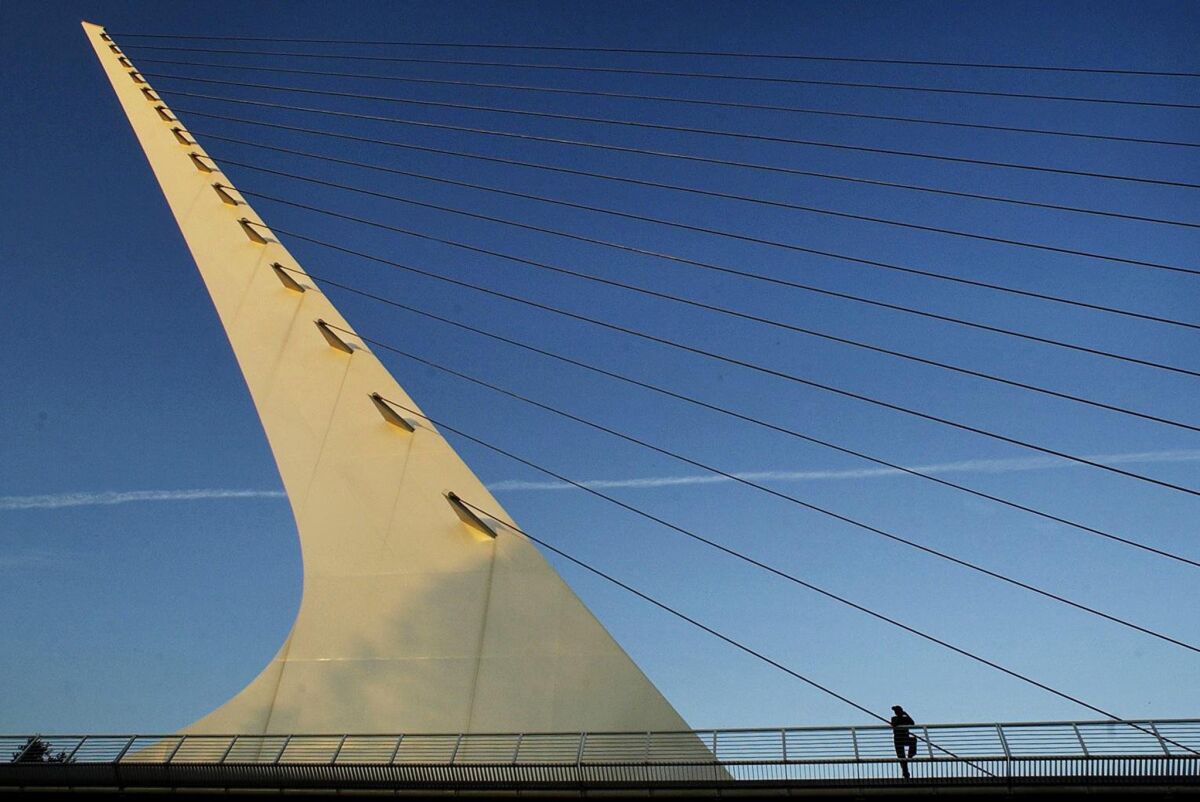 There are so many things to do in here besides picnicking that you may want to spend an entire day at Turtle Bay Exploration Park.
At the Children's Garden, you'll find picnic tables sized for both grown-ups and kids. There's also Mosaic Oasis, a water fountain children can play in.
You can make a $4 donation to enter or buy a ticket that gets you into the gardens, a science museum, Forest Camp and other sites at the 300-acre park ($16 for adults; $12 for children ages 4 to 15).
After your picnic, take a walk on the Sundial Bridge, one of the coolest spans reserved for pedestrians and bicyclists. It crosses the Sacramento River and connects to a network of hiking trails along the waterway too.
Info: Turtle Bay Exploration Park, 844 Sundial Bridge Drive, Redding; (800) 887-8532
St. Helena, Calif.
8. Beringer Vineyards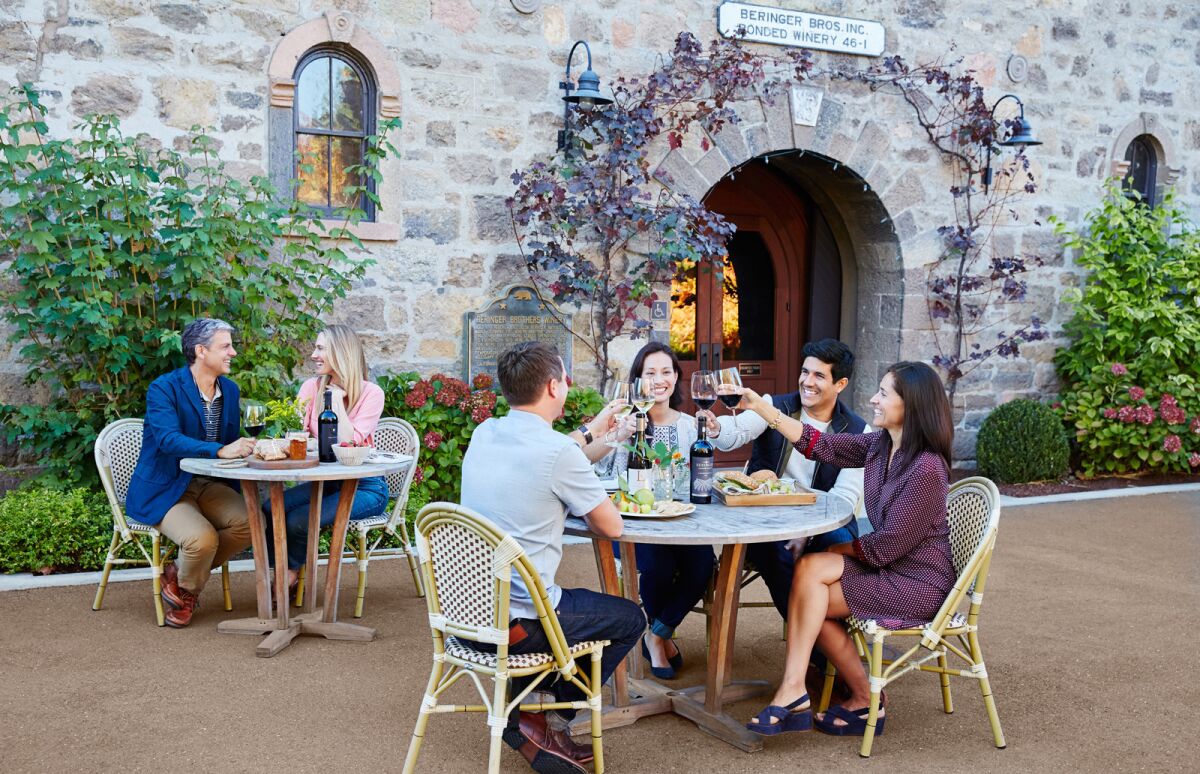 Wineries and their settings in Napa Valley are legend, but you aren't always welcome to bring food for a picnic.
Beringer is a happy exception. It is one of Napa Valley's oldest vineyards; its first crush took place in 1876. You can sample wines at the Old Winery Tasting Room ($25) or in the 1884 Victorian-style Rhine House where the Beringer family lived ($40).
If you bring your own food, you must eat in the picnic area. If you buy sandwiches, salads and other goodies on-site, you may eat in any outdoor area.
One hard-and-fast picnic rule: You can't bring in wine.
Info: Beringer, 2000 Main St., St. Helena; (707) 257-5771
Oak Harbor, Wash.
9. Deception Pass State Park
One TripAdvisor reviewer called this place the "Disneyland of the Washington State Parks."
That's because there are so many different "lands" to visit: the iconic green bridge that connects the mainland with Whidbey and Fidalgo islands, saltwater beaches, freshwater lakes, tide pools, rocky cliffs and big panoramic views.
There are more than 300 picnic tables scattered around what is Washington's most visited state park, so explore a little before you claim a table.
Tip: Set up facing Deception Pass Bridge and the water, and you can spot whales and seals during your outdoor repast.
Info: Deception Pass State Park, 41020 State Route 20, Oak Harbor; (360) 675-3767
Las Vegas
10. Calico Basin Red Springs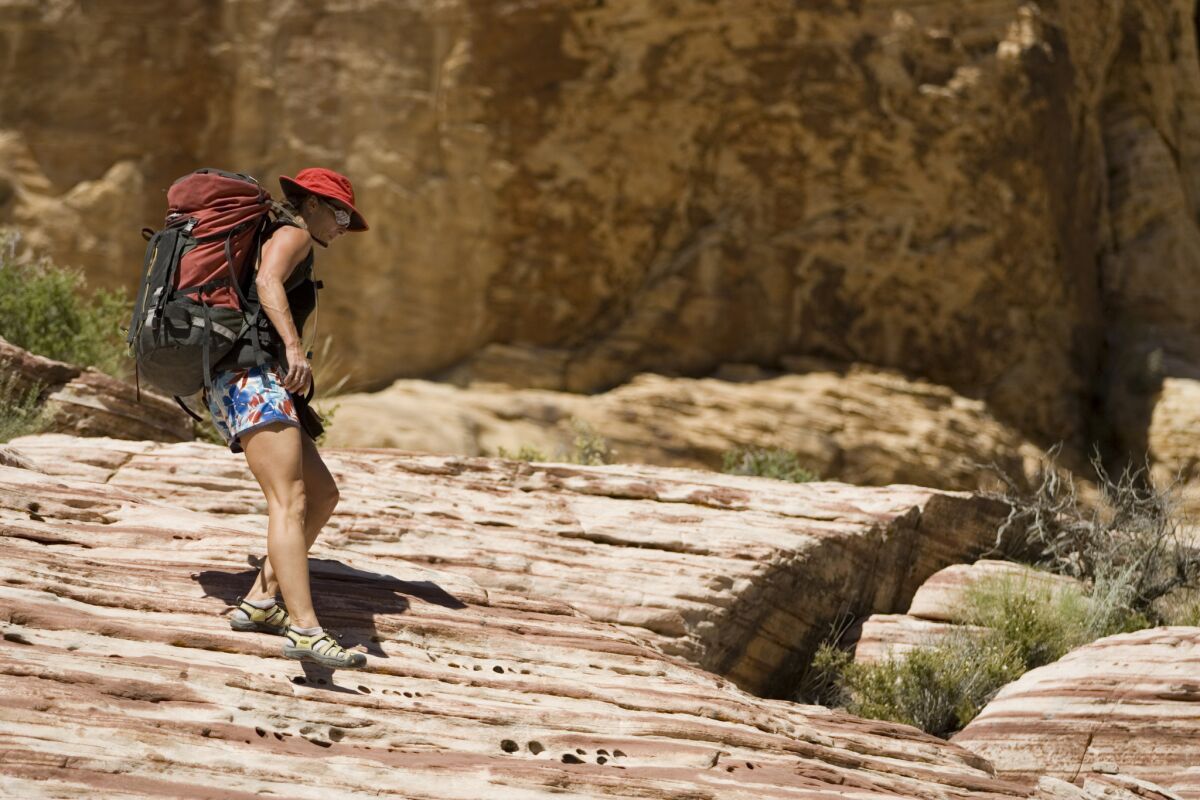 Las Vegas isn't exactly a picnickers' paradise. Hotel pool parties are the biggest outdoor adventures on the Strip, but don't let that discourage you.
Calico Basin Red Springs, about 20 miles west of the city, takes its name from the white and red sandstone cliffs and natural springs in the area. (You'll likely find water only in winter.)
It's hot, which is why you'll find shaded picnic tables where you can settle in. After lunch (there are grills), take the boardwalk that winds through a landscape of cottonwood and ash trees that give way to meadows.
This is part of Red Rock Canyon National Conservation Area, but no fees apply in this area. Enjoy.
Info: Calico Basin
Get our L.A. Goes Out newsletter, with the week's best events, to help you explore and experience our city.
You may occasionally receive promotional content from the Los Angeles Times.