Heading to San Diego this summer? Here are 10 breweries where you can quench your thirst
What's on tap in San Diego, you may ask. Let's hop to it:
Last year, with more than 120 San Diego County craft breweries to explore, I limited myself to just a portion of the beer scene in the northern part of the county ("11 breweries to try on San Diego's Hops Highway").
This year I'm taking on the rest of the county. I researched beer pairings, so to speak, linking prime visitor destinations and interesting neighborhoods with top-notch breweries. The goal: to give readers a brewery in a locale in which they are likely to stay or visit while on vacation.
Almost anywhere you find yourself in San Diego, from hipster enclaves to sunny beach towns, and no matter what activities you have planned — shopping, golfing, surfing or an outing at the zoo — there is sure to be a delightful cold one with your name on it nearby.
Downtown
The Gaslamp Quarter and East Village are packed with clubs, bars and restaurants. You can take in a Padres game at Petco Park, hang with the Hulk around Comic-Con (this year's celebration is Thursday through July 23) or just chill on a walk along the waterfront. Here are two favorite breweries:
Karl Strauss Brewing Co. launched the San Diego craft beer scene in 1989, spawning many other breweries. I have a soft spot for its first brewery just west of the Gaslamp. Its rustic vibe was welcoming on a rainy Sunday, and the bar was crowded. The restaurant has a wide-ranging menu; many dishes use beer as part of the recipe. Most of Karl Strauss' offerings are made in its large Pacific Beach brewery, but each outlet has its own brew master who contributes to the rotating list of small-batch brews.
The suds factor: The Whiskey Sour, a blonde ale aged in bourbon barrels, had a fruity aftertaste that my son Jeff said was "like whiskey on your breath." My favorite, the Pathway Stout, a coffee mix, was light and smooth, while the hubby's choice was the 28th Anniversary Ale, a Belgian quad that was mellow despite its high alcohol level.
Info: Karl Strauss Brewing Co., 1157 Columbia St., San Diego; (619) 234-2739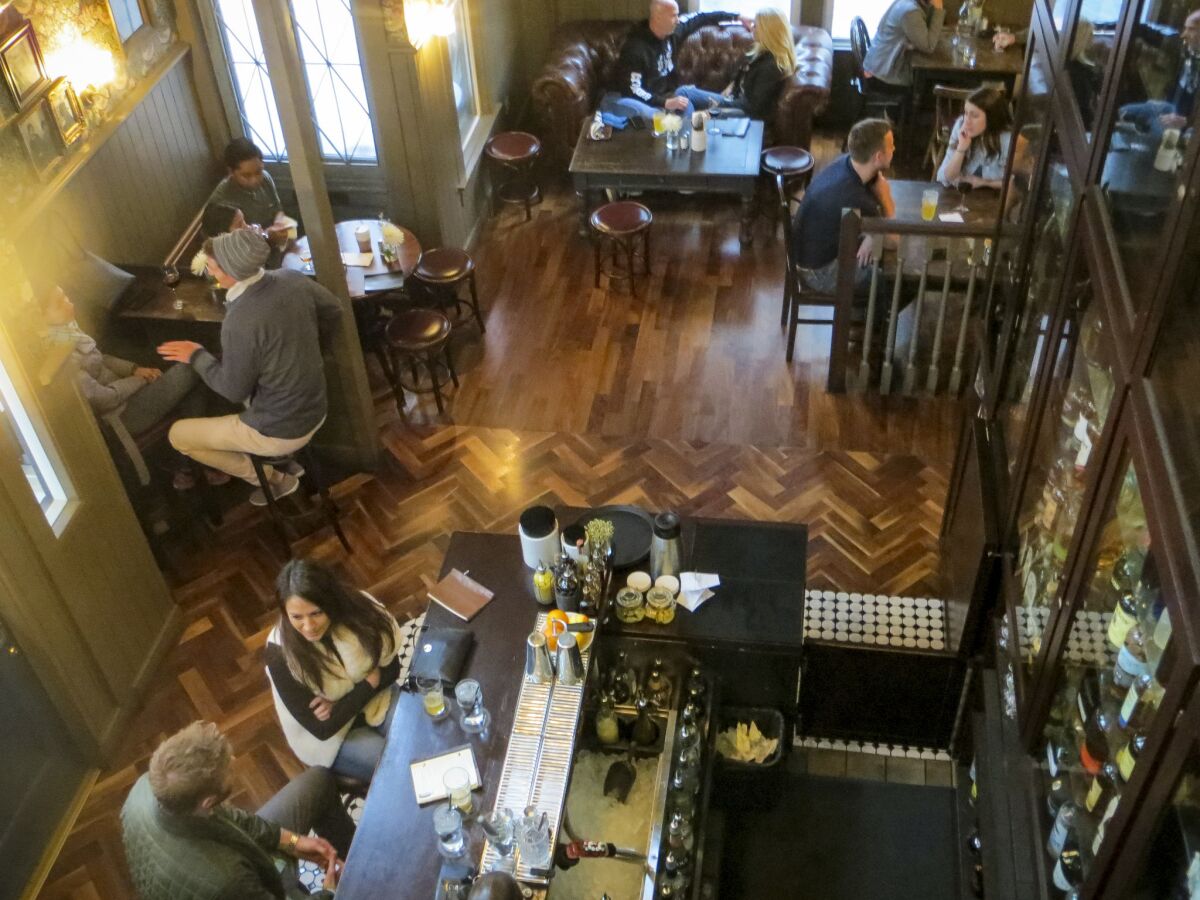 Half Door Brewing Co., near Petco Park in the East Village, is disguised as a vintage two-story house with a bar on each floor. It has the feel of a lively Irish pub with dark wood, bookcases and an impressive ceiling-high rack of liquor cabinets. The outside verandas are nice on a sunny day. There's food as well (poached pear salad, red ale braised pork belly, etc.).
The suds factor: We started with #Buzzwords Super Dank Pale Ale, a decent IPA, fared better with English Strong Pale, and did best with Roark Red Ale, which tasted like a sweet stout, and Gimmick Ale, a mellow milk stout with a pleasant chocolaty flavor.
Info: Half Door Brewing Co., 903 Island Ave., San Diego; (619) 232-9845
Little Italy
This urban neighborhood has everything from old-school Italian cooking to Top Chefs. There are wine bars, art galleries and boutiques, and you can walk to the waterfront where Italian immigrants built San Diego's tuna fishing industry decades ago.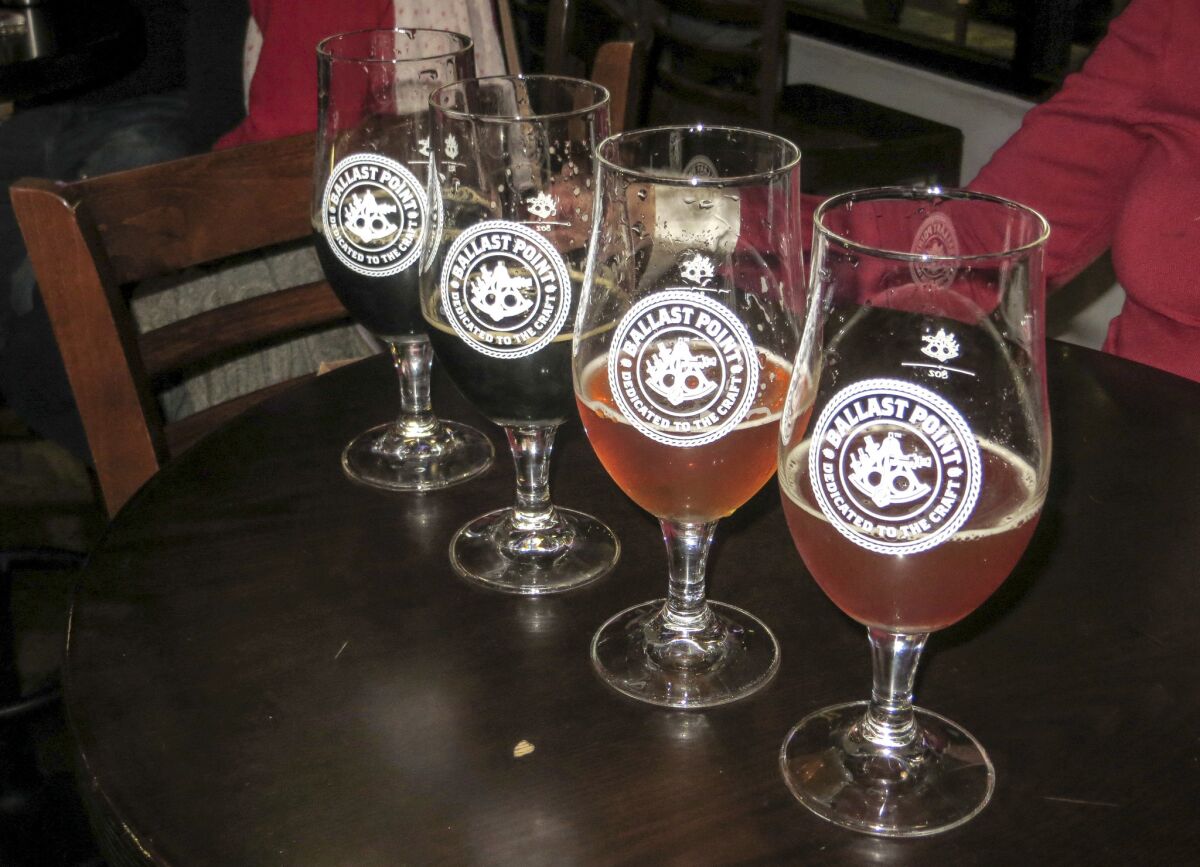 Purists may object to this pick because Ballast Point Brewing was sold to a multinational conglomerate in 2015. But who cares? It is still rocking the brew, and this popular facility — a brewery, tasting room and restaurant — is a fine place to hoist a few.
It's large, loud and has a nice outdoor patio. Parking in the area is a giant pain, but it's worth the hassle because it serves as the self-described "lab" for BP's "research and development." You never know what may pop up on the tasting menu.
The suds factor: Do the beer flight: $6 for four tastes. Watermelon Dorado, a double IPA, is a fine summer beer. The aromatic pair that hit the spot were Cinnamon Raisin Commodore, a sweet-smelling stout, and Indra Kunindra, a stout with coconut, curry and cumin.
Info: Ballast Point Brewing, 2215 India St., San Diego; (619) 255-7213
Chula Vista
Visitors to San Diego County usually opt for more tourist-centric areas. But Chula Vista is close to Tijuana and the border, and you can visit the U.S. Olympic Training Center or catch a concert at Mattress Firm Amphitheater.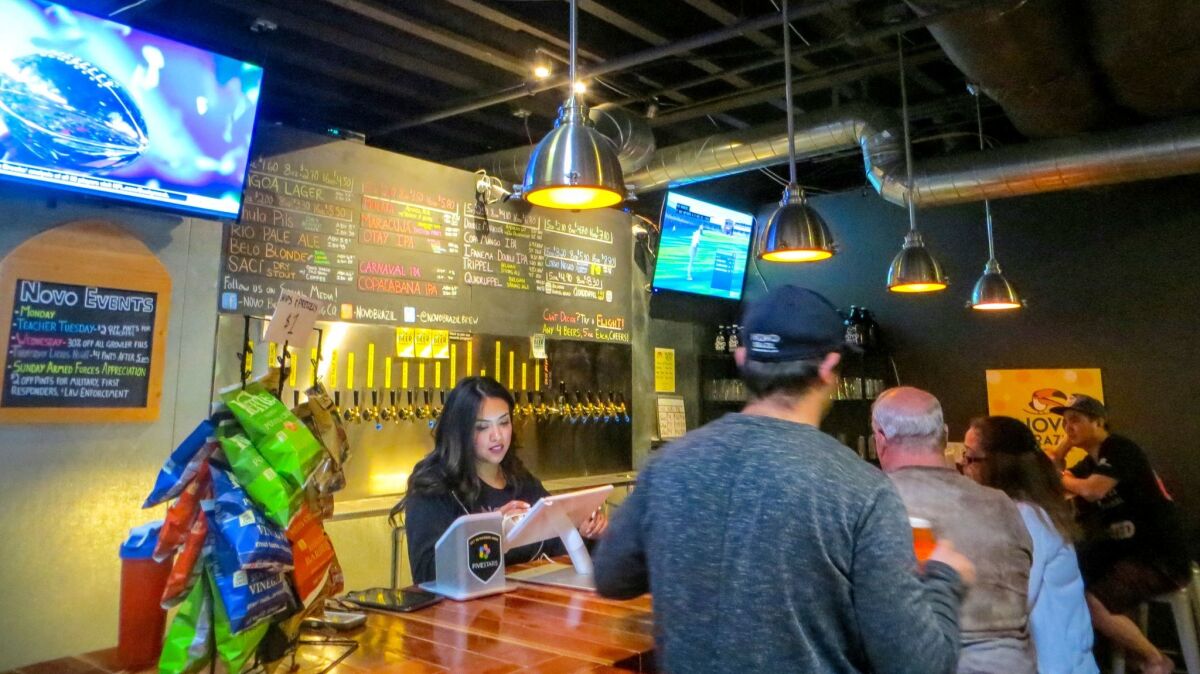 Novo Brazil Brewing is a slice of South America in an industrial park. The atmosphere is lively and fun with an upbeat soundtrack that made me feel like dancing. Novo Brazil is family and dog-friendly, and there were large groups indoors as well as on the patio.
The brewery is spotless, and the interplay of gleaming steel brewing tanks and colorful artwork was easy on the eyes. There are food trucks most days; the barbecue smelled delicious on the day we visited.
RELATED: San Diego's Liberty Station entices with cultural attractions and food »
The suds factor: We started with a lighter brew, Chula Pils, a golden German-style Pilsener, and ended with dark Corvo Negro, an intense imperial stout. My favorite was the mildly hoppy Rio pale ale; the hubby and son preferred the Maracuja, a limited-run IPA with passion fruit.
Info: Novo Brazil Brewing, 901 Lane Ave., Chula Vista; (619) 869-4274
North Park
This is arguably San Diego's hippest neighborhood, packed with restaurants, coffee shops, trendy stores and restored Craftsman cottages. There are multiple breweries; here's a recent arrival:
North Park Beer Co. opened last year and draws a boisterous crowd for the Sunday all-day happy hour. There's a large bar area, with a Craftsman-style feel and high ceilings, and an upstairs loft with lots of room but few chairs. Best of all, its on-site kitchen, operated by Mastiff Sausage Co., has a killer menu. We had superb crispy pork belly with gochujang glaze, potato rounds with harissa aioli and cotija cheese, and bratwurst with onions, peppers, sauerkraut and pickled veggies.
The suds factor: The Covington Cream Ale was so light it could be a palate cleanser; the Granada, a Belgian ale, was fruity and mellow but had more punch. Best was the Mocha Massage, a smooth high-alcohol stout with a dash of coffee and chocolate.
Info: North Park Beer Co., 3038 University Ave., San Diego; (619) 255-2946
Hillcrest
Hillcrest, San Diego's answer to West Hollywood, is near Balboa Park, Mission Valley and Old Town. The neighborhood prides itself on its tolerance and draws like-minded visitors to its restaurants, clubs, bars, shops and thrift stores.
Hillcrest Brewing Co., which bills itself as "The World's First Out and Proud LGBT Brewery," is a natural fit for the area. HBC, at the edge of a strip mall, is small with a big feel, thanks to its towering wood-beamed ceiling and array of chandeliers. The large, curved bar is the center of the action, and there are tables and a nice outdoor patio. HBC's pizzas and wings looked awesome, but we were too full to try them.
The suds factor: The double-entendre beer names were a hoot: Long & Stout, a strong dark Russian imperial stout, tasted like roast coffee. Crotch Rocket, a smooth Irish red, was malty and easier to down midday, as was Banana Hammock, a Scotch ale with a lingering sweetness.
Info: Hillcrest Brewing Co., 1458 University Ave., San Diego; (619) 269-4323
Barrio Logan
There's more here than the murals in Chicano Park. Barrio Logan is an up-and-coming hipster arts district with warehouses morphing into art/music spaces. There was a lively party at a nearby art gallery when we arrived.
Border X Brewing features a dimly lighted tasting room with striking artwork that reflects the neighborhood. We took our brews to the back patio, which was packed with families at picnic tables. Jeff was hungry, so he grabbed a carne asada taco with his beer. I had to laugh: Mr. Macho got some spicy hot sauce that made his eyes water, and it took a while before he could taste his beer. The tacos were grilled and a couple bucks each; some people came just for the food.
The suds factor: A friendly regular told me to try the Horchata Golden Stout. Alas, it was sold out. According to other disappointed customers in line, this happens frequently. We consoled ourselves with Abuelita's Chocolate Stout, a dark brew with Mexican chocolate; La Oscura, a strong Belgian black saison; and the Blood Saison, which was a hit with its notes of hibiscus and agave.
Info: Border X Brewing, 2181 Logan Ave., San Diego; (619) 501-0503
Coronado
The beautiful beaches and the Hotel del Coronado are picture-postcard perfect. The Del, built in 1888, was the inspiration for the Emerald City in "The Wonderful Wizard of Oz" (author L. Frank Baum was a frequent guest); it's a must-see for visitors.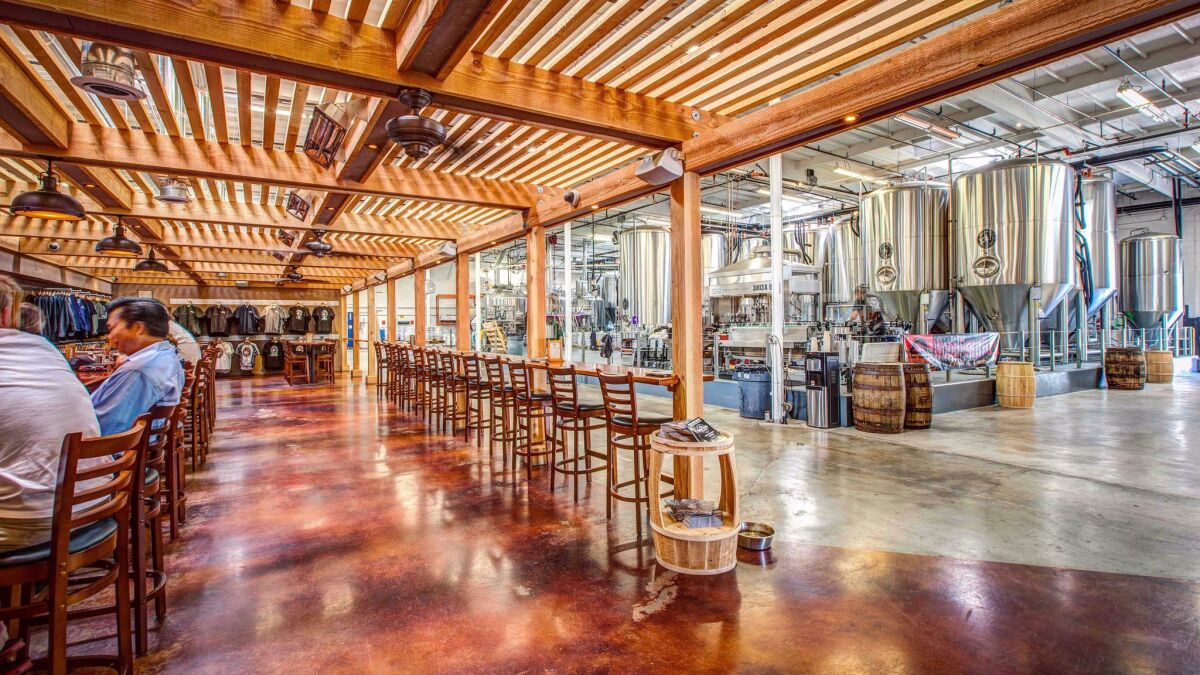 The first location of the Coronado Brewing Co. now feels more like a restaurant than a brewery. (Most of the brewing tanks are in a facility across the bay.) There was a long wait to eat (tacos, pizza, burgers and more), so we headed to the small bar in the back, which was standing-room only on the night we visited. After a while, I lucked into a bar stool and we ordered beer flights from the extensive beer list.
The suds factor: Breast Beer Ever #2, a fruity Berliner Weisse, was tart yet smooth (and raised money for breast cancer awareness). Mayday Mango was a nice wheat ale with a touch of sweetness, and Fogbound Brown was heavier than its weight and had hints of hazelnut and chocolate.
Info: Coronado Brewing Co., 170 Orange Ave., Coronado; (619) 437-4452.
La Jolla
Rodeo Drive meets the beach. La Jolla is a popular destination, with its ocean views and chic village. There's Torrey Pines Golf Course, La Jolla Playhouse and Birch Aquarium, plus snorkeling, scuba diving, kayaking and surfing.
It's easy to overlook La Jolla Brewing Co., tucked away from the street and overshadowed by a Rubio's eatery out front. The tasting room/restaurant has brick walls, beamed ceiling and heavy wood tables, which made for a dark, moody feel on a bright sunny day. There's food, wine and mixed drinks as well.
The suds factor: We opted for a rotating brew, Kelp Forest Kolsch, which had a nice kick for a light beer. The hint-of-raspberry Hibiscus Sunset Hefeweizen was another refreshing light brew, but the big treat was the Black's Beach Black IPA, a dark ale that tasted like a sweetish stout.
Info: La Jolla Brewing Co., 7536 Fay Ave., La Jolla; (858) 412-3173.
Pacific Beach
It's spring break all year round in Pacific Beach, packed with millennials drawn to its bars, burger joints and cafes. PB's large beach and boardwalk features a parade of hard (and not-so-hard) bodies on bikes, skateboards and roller blades.
Pacific Beach Alehouse is right in the action zone. This two-story brewery and restaurant is steps from the beach; the upstairs deck is the place to be with its view of the ocean and the nearby Crystal Pier.
Of all the places we went, this felt the least like a brewery due to its beach-casual vibe. Appetites fueled by ocean air, we chowed down on delicious barbecue wings, a crisp Caesar salad and a somewhat dry short rib sandwich.
The suds factor: We went heavy on the lighter brews because we were there on a frigid winter day — 75 degrees. The Slomo Saison ("Made for the carefree beach goer") was easy on the tongue, and the 858 Blonde was a very smooth ale. Even its dry English-style Soledad Stout was silky with a lovely chocolate finish.
Info: Pacific Beach Alehouse, 721 Grand Ave., San Diego; (858) 581-2337
Get our L.A. Goes Out newsletter, with the week's best events, to help you explore and experience our city.
You may occasionally receive promotional content from the Los Angeles Times.