11 breweries to try on San Diego's Hops Highway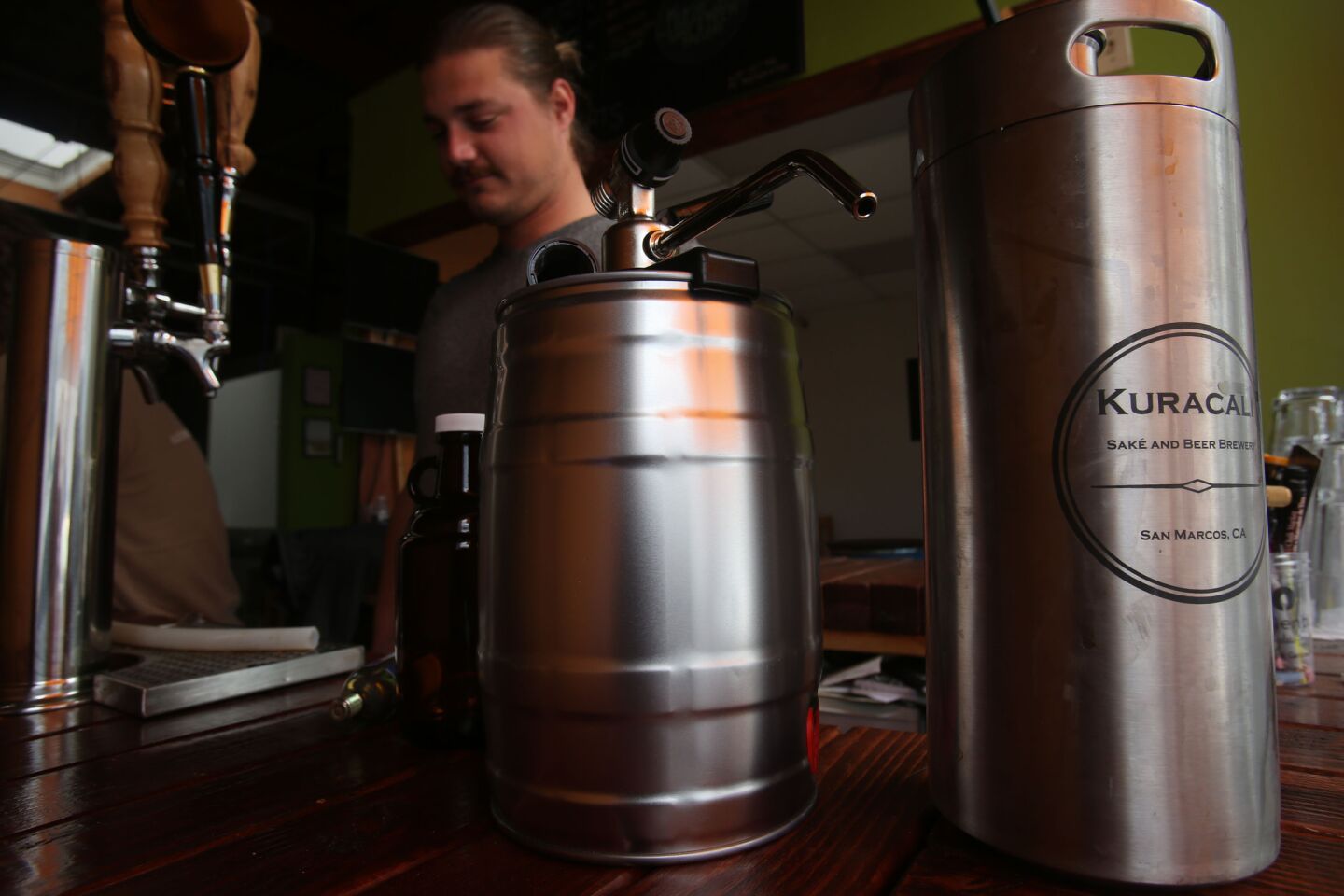 Ilija Cupurdija is one of the founders of Kuracali Sake & Beer Brewery, a sake winery/beer brewery in a San Marcos industrial park.
(Peggy Peattie / San Diego Union-Tribune)
Get your motor runnin' / head out on the (Hops) Highway / lookin' for the perfect beer / and whatever comes our way
Apologies to Steppenwolf (millennials, ask the nearest baby boomer), but it's hard not to get excited about taking to the road to sample San Diego County's award-winning breweries.

For the record:
12:26 p.m. Aug. 23, 2019An earlier version of this article credited a photograph of a Wavelength Brewing Co. patron in a Darth Vader costume to Chris O'Neal / The Real Big Picture. The photograph is by Jeff Saurwein Photography.
The county is home to more than 120 microbreweries and has one of the largest brewers' guilds in the United States, a competitive group whose passion for the craft has brought the southwest corner of the U.S. worldwide recognition.
With so many options, it can be hard to choose which breweries to visit. The easiest way to get started is to follow the Hops Highway through the northern end of the county.
North County, as locals call it, is home to nearly a third of the county's brewers, and most are found on the Hops Highway from Oceanside through Escondido.
Some outfits do double duty as brewpubs and serve such excellent fare that they could do well as standalone restaurants.
Here's a sample of some Hops Highway watering holes. If these don't float your keg, no worries: There are plenty of others to try. Just Google "Hops Highway" or "San Diego breweries" — and get your motor runnin'. Make sure you have a designated driver; some of these brews pack a high-alcohol-per-volume wallop.
Bagby Beer Co.
Bagby Beer Co. is a sprawling indoor/outdoor playground for beer buffs that is kid- and dog-friendly. This popular hangout in a converted car dealership has an open-air bar on the ground floor as well as a tasting room, courtyard, patio with another bar and ample room in which to hang out.
I like the self-contained upstairs area best; it has a deck, a bar and an indoor restaurant serving an eclectic menu offering brie pizza, pork belly poutine and short rib tacos. Bonus: The mixed drinks are strong, and the wine on tap is surprisingly good.
The suds factor: We hit the tasting room first and started with light brews (cream ale) and worked our way up to the heavy hitters (Baltic-style porter). My favorite was the gold ale with honey; the hubby preferred the porter.
Info: 601 South Coast Highway, Oceanside; (760) 512-3372
Arcana Brewing Co.
Arcana Brewing is hard to find tucked as it is in the middle of an industrial park, but it's worth seeking out. A party was going on inside the garage-like room: Beer aficionados were chatting at the bar or relaxing on couches, playing darts and chowing down on barbecue from a nearby food truck.
The hubby thought it was the perfect man cave. Leave the rugrats at home: You must be 21 to enter.
The suds factor: We chose the tasters for $2 to $3 each. The best o' the bunch was the apple ale, which had hints of cinnamon; the Honey Pale Ale; and the Hop Farmer Double IPA, which had me hopping.
Info: 5621 Palmer Way, Suite C, Carlsbad; (909) 529-2337
Pizza Port Carlsbad Village
Pizza Port combines two of my favorite food groups: pizza and beer. It's one of the oldest craft breweries in San Diego County and so popular that there are now four branches in San Diego plus one in San Clemente.
We went to the one in Carlsbad Village. The décor is wall-to-wall people lining up for pizza and beer and then jamming into picnic tables; try to get a table outside on its new patio.
The suds factor: There are many choices. My favorite: MG-42, a light and summery German Pilsener. The hubby liked They Gone, a blood orange and grapefruit IPA, and my son Jeff went for the Z Man Stout, a smooth, full-bodied dark brew.
Info: 571 Carlsbad Village Drive, Carlsbad; (760) 720-7007
Oceanside Ale Works
This small brewery is a manual brew house, which means the work is done by hand. Oceanside Ale Works, in a warehouse in an industrial area, has a funky edge with cool wooden spool tables and barrel chairs.
Genial owner Mark Purciel, a retired high school math and wood shop teacher, said he misses teaching and that many of his former students, now adults, drop by to hoist a glass with him. His Dude Double IPA, whose label is emblazoned with Purciel's picture, is a big hit with his former scholars.
The suds factor: OAW has a rotating list of offerings; pints cost $3 to $4. We tasted the Orange Agave Wheat, a light summery blend, and the San Luis Rey Red Ale, a mildly hoppy mix.
Info: 1800 Ord Way, Oceanside; (760) 721-4253
Mason Ale Works
Mason Ale Works is the in-house brewery of Urge Gastropub and Whiskey Bank, a full-service venue offering cocktails, wine, a selection of whiskeys and a large list of craft beers, including nine Mason offerings.
This busy spot has an upbeat, festive vibe in a large rustic room; the bar area can feel like a sports bar. Food first: We enjoyed crispy Brussels sprouts with bacon, smoked dates and candied nuts; blue cheese sliders; and a beef short rib burger with fries.
The suds factor: Start with the tasting menu, $2 to $3 a pour. The Imperial Coffee Stout tasted like a smooth strong cup of java. Two fruit-flavored concoctions, the Mahalo Nui Loa (Hawaiian pineapple juice) and the Gose Be Trippin' (mango), had strong aftertastes.
Info: 2002 South Coast Highway, Oceanside (inside Urge Gastropub and Whiskey Bank); (760) 429-7424
Belching Beaver Brewery
Belching Beaver has hit a home run with its brewery/restaurant in Vista, the heart of the Hops Highway craft beer movement. This sleek new venue, which opened in April, is often packed.
We sat at the long wooden counter in the middle of the bar area, which has a mesmerizing strip of "fire" (actually, LED lights and steam). It has a full-on restaurant, but we chose the Beaver Bites bar menu and had Caesar salad, buffalo wings, fried cauliflower and leeks, and chicken satay skewers, all for $22.
The suds factor: Peanut Butter Milk Stout (tastes of peanuts and chocolate), Viva La Beaver-Mexican Chocolate Milk Stout (the peanut butter brew with Mexican chocolate) and Pumpkin Spice Milk Stout (pumpkin, cinnamon, nutmeg, etc.) were winners.
Info: 302 E. Broadway, Vista; (760) 295-8599
Wavelength Brewing Co.
The folks behind Wavelength are passionate about the science of beer — and about science, period. An evening at Wavelength can be like a TED talk with excellent refreshments; what other brewery hosts guest speakers tackling such subjects as "The Science of Pokemon" and "The Chemistry of Combustion"?
Get schooled while you settle back and enjoy your pint. Check its Facebook page for upcoming lectures
The suds factor: The "scientific experiments" run the gamut from light to heavy brews. The Octave Orange, a wheat ale with hints of navel oranges; SuKi Stout, which tasted like primo coffee; and the Project Vanguard Calamansi Lime IPA were hits. (Calamansi is a cross between an orange and a kumquat; yes, I had to look it up.)
Info: 236 Main St., Vista
Port Brewing / The Lost Abbey
This one's a twofer and has a lot of brews on tap: Lost Abbey and Port Brewing are the twin siblings of Port Brewing Co. The Lost Abbey brand is Belgian in style; Port Brewing offerings are West Coast-centric.
This is a fun space: The walls are covered with art and ornamentation that playfully evoke the feel of a rogue Belgian abbey. It's usually jammed and there's a party atmosphere.
The suds factor: Because we were in an "abbey," we couldn't resist trying such offerings as Judgment Day, a strong, malty dark ale, and 10 Commandments, a strong farmhouse-style dark brew with a somewhat bitter aftertaste. Red Barn Ale had a nice kick of ginger and orange peel.
Info: 155 Mata Way, No. 104, San Marcos; (800) 918-6816
Rip Current Brewing
There's a subtle beachy vibe at Rip Current — the tasters come in a mini-surfboard holder — and, unlike most of its counterparts in industrial parks, Rip Current has windows that let in natural light. I liked the wall of antique beer cans and the rock/blues soundtrack.
The suds factor: Orange Honey Cream Ale tasted just like its name; Marine Layer German-style Hefeweizen was light and perfect for a warm day. Barrier Reef Nut Brown tasted like a light porter, and the slightly heavier Palomar Chocolate Porter, aged with cocoa beans, tickled my sweet tooth.
Info: 1325 Grand Ave., No. 100, San Marcos; (760) 481-3141
Kuracali Sake & Beer Brewery
Kuracali Sake & Beer Brewery is a hoot: It's about as big as a master-bedroom closet, and is divided into two distinct bars because of regulations. It's a sake versus beer throwdown: Each side has its own entrance and is identical except for the light and dark floors that mark the demarcation line. You may not cross the line with your beverage in hand.
It has only a few bar stools on each side, which face one another. The servers are in the middle. It's a friendly place and so tiny everyone was talking to everyone.
The suds (and sake) factor: The beers were fine — the wheat ale was refreshing as was the heavier porter — but the sake was too good to resist. Small batches are made and they often sell out, and what I loved may not be there when you go – and I loved the piña colada-infused sake. There are traditional sakes as well.
Info: 175 Bosstick Blvd., No.104, San Marcos; (858) 775-6502
Stone Brewing Co.
Stone Brewing Co., the 800-pound gorilla of San Diego indie brewers, just marked its 20th anniversary. The North County location, its main production facility, offers brewery tours, a gift shop and growler (take-home jugs) outlet, and lovely grounds that encompass the Stone Brewing World Bistro & Gardens, a fine-dining restaurant.
The restaurant stands on its own as a destination, and the bars have dozens of beers from Stone and "guest" brewers.
More is on the way: Stone recently announced plans to build a "beer-themed" hotel in Escondido, to open in 2018.
The suds factor: Of the many beers on tap, our favorites were the Stone Vanilla Bean Porter, a creamy dark brew, and the 20th Anniversary Encore Series: Vertical Epic Ale, a resurrection of a fan favorite 2002 Belgian-style brew with a nice touch of orange and spice.
Info: 1999 N. Citracado Parkway, Escondido; (760) 294-7866
Get our L.A. Goes Out newsletter, with the week's best events, to help you explore and experience our city.
You may occasionally receive promotional content from the Los Angeles Times.