'I was terrified': What happened to one traveler who lost his passport in transit and how he got himself out of trouble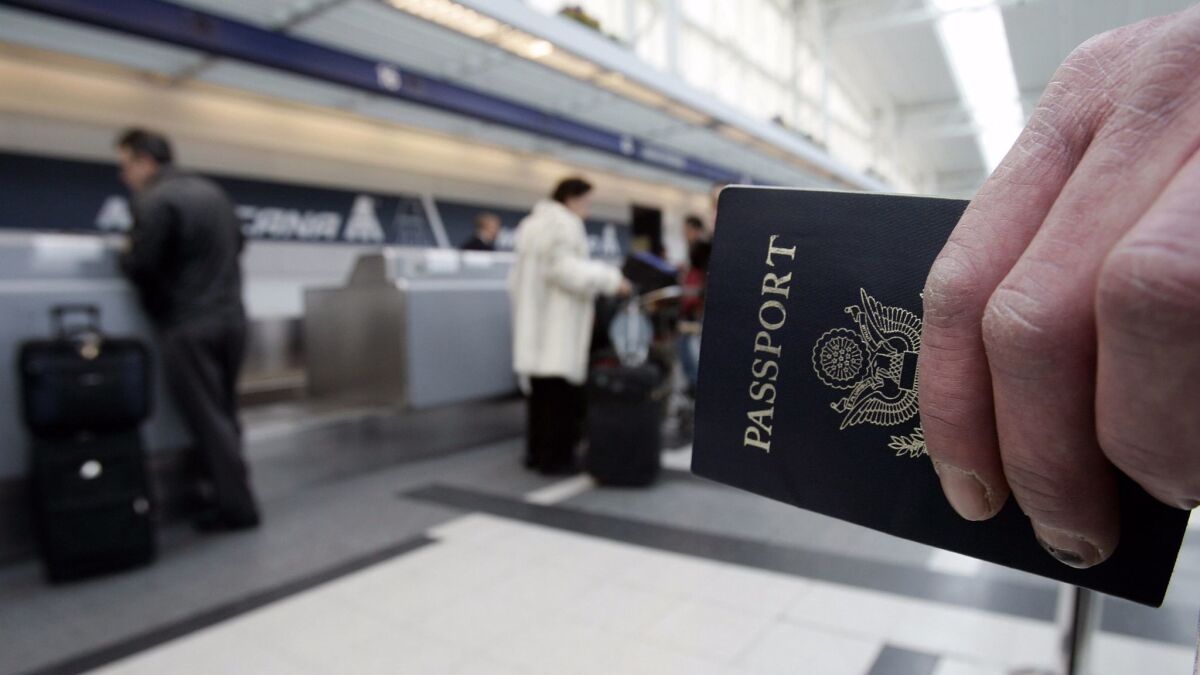 Travelers, here is a cautionary tale for international fliers, anyone who steps foot in any airplane, in the U.S. or abroad, or anyone who believes that details are boring (they are) and best left to somebody else (they aren't). This is the story of Barrett Crake, who lost his passport on a flight from London to Italy.
Crake, who is from the L.A. area, was headed to Turin to collaborate with a fellow musician. He slipped his passport into the seat pocket for the two-hour trip from London's Gatwick.
He deplaned through the back door and, from the tarmac, boarded the airport transport to the terminal. Somewhere between his exit from the plane and his entrance into the terminal, he realized he had left behind his passport.
He asked to return to the plane but was denied.
Next stop: customs, which wasn't letting him into the country.
Crake knew he was in a spot but tried not to panic. Instead, he took that energy and poured it into figuring how to get out of this jam.
Steps to take
•He called the U.S. Embassy in London to get an appointment for the next day, as it dawned on him that he would be deported.
•He made friends with the Italian customs officers who let him use their computers and printer to complete the forms required for a replacement passport.
•He kept copious notes, writing down the name of everyone he spoke with, which he could (and did) later reference.
•He kept his wits about him.
He spent the night in an airport cell that he described as "dark and grim and depressing." His fellow detainees were drug smugglers.
How could this happen?
Crake had plenty of time to think about what happened to his passport. He thinks it may have been stolen.
That's possible, said Kevin Coffey, a detective formerly with the Los Angeles Police Department who travels and lectures on safety for executives. Such thefts happen more than you might imagine, he said.
Crake did many things correctly to get himself out of the mess, but he did one thing wrong: losing sight of his passport.
Just as you should not store your wallet in the back pocket of your trousers — the "sucker pocket," Coffey calls it — you shouldn't leave anything of value in an airplane seat pocket.
If you doze off, it's easy for someone to slip a hand in there. And the pocket usually is opaque (although on some newer aircraft, the material is clear) and you can forget your item is there.
Some people carry their document in a jacket breast pocket or in a zippered compartment in an undershirt (my favorite method). Be aware that, at airport security, you may need to remove the jacket and the passport may no longer be in your control.
You also may need to remove a passport from a hidden clothing pocket or a belt because it may show up on a security scanner. I had removed my passport so it wouldn't show up, but it also was out of my control. And I hadn't secured it in my bag, which was now going through screening while I was in a millimeter wave machine.
If you're going to give up control of that passport, "keep it in your purse or carry-on bag — but in a secured compartment that can be locked or secured with a paperclip," Coffey said.
If you put the bag containing your passport in the plane's overhead bin, turn it upside down so that the bag's opening is blocked.
Store your passport in a pocket in the part of the bag that's at the back of the overhead — an overhead that's across from you, not above you, so you can keep an eye on it.
Doing so makes your passport or any valuable harder to reach. The last thing a thief wants to do is to make a commotion, Coffey said.
It's cumbersome, but take your bag with you if you use the lavatory, he said.
Furthermore — and Coffey is adamant about this — put your phone or email (but not your home address) on a slip of paper in your passport. If your document is lost, that may help it find its way back to you.
Attitude counts — a lot
Crake facilitated the solution to his dilemma by filling out the paperwork ahead of time and making his appointment with the embassy late enough in the day to ensure he had time to get new passport photos. (Make sure your photos conform to U.S. specifications. Some travelers always carry two such photos with them, just in case.)
But Crake's most valuable ally, he said, was his attitude. The Italian customs officers realized he wasn't sketchy and when he ultimately returned to Turin with his shiny new passport, they remembered him.
His sunny outlook may have been a bit of bravado; he acknowledged "I was terrified" and could hear his heart hammering in his chest.
Realizing he was without his passport made him feel vulnerable, he said. "I was taking it [his passport] for granted," he said. "That was my big lesson."
He took the lesson to heart. The day I spoke with him, he had just come from a passport service. He wanted a regular passport, good for 10 years, not the limited, emergency version he received in London.
He may have gotten an F on his first exam, but on the makeup test he passed with flying colors.
Have a travel dilemma? Write to travel@latimes.com. We regret we cannot answer every inquiry.
travel@latimes.com
@latimestravel
Get our L.A. Goes Out newsletter, with the week's best events, to help you explore and experience our city.
You may occasionally receive promotional content from the Los Angeles Times.