After an electrifying World Series, spring training has a little extra spark this year. Will you be there?
The Dodgers get ready for the grueling 162-game regular season (and, they hope, a long and victorious postseason) during spring training at Camelback Ranch in the Phoenix suburb of Glendale.
(Gary Coronado / Los Angeles Times)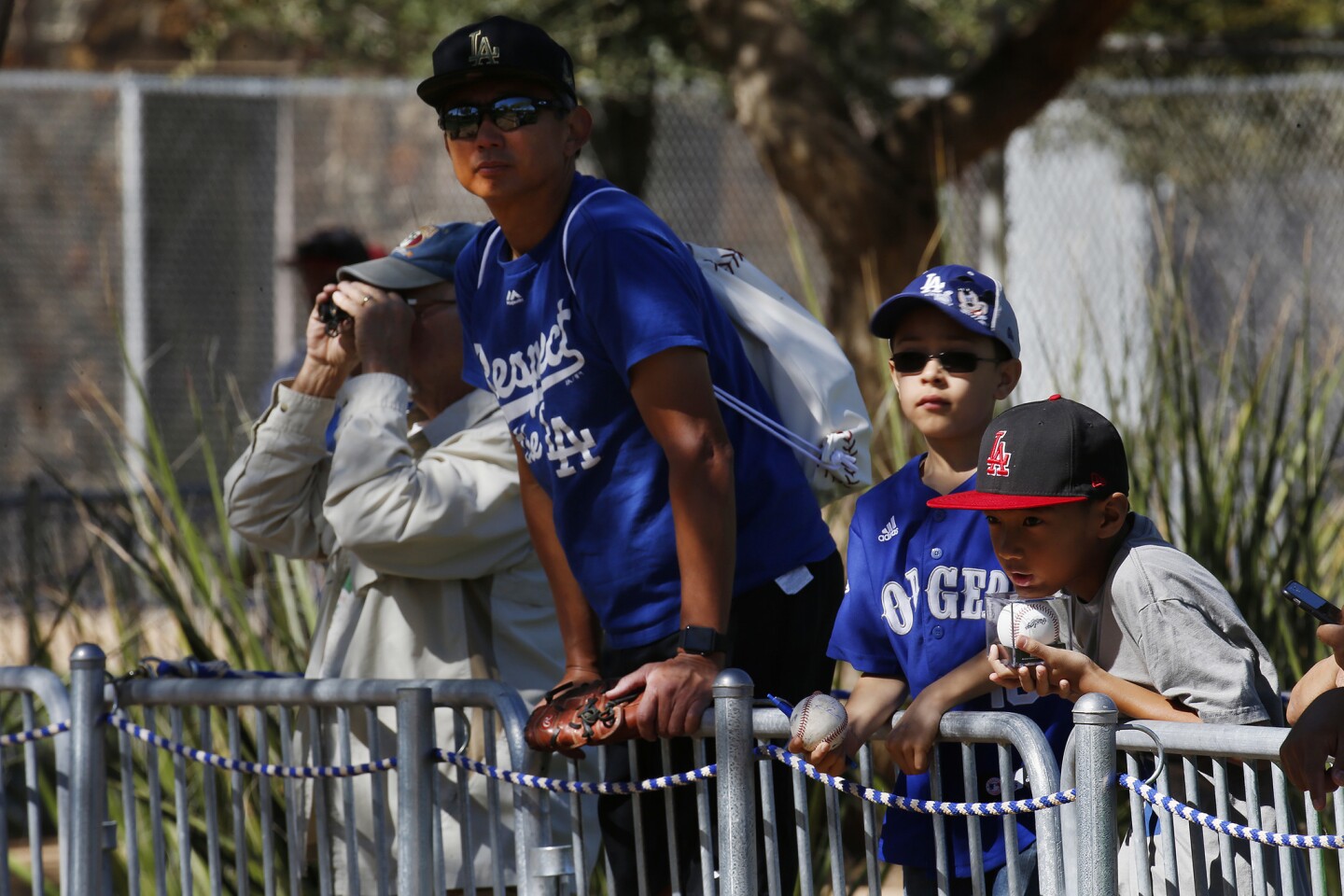 Dodgers fans wait to get autographs at Camelback Ranch in Glendale, Ariz.
(Gina Ferazzi / Los Angeles Times)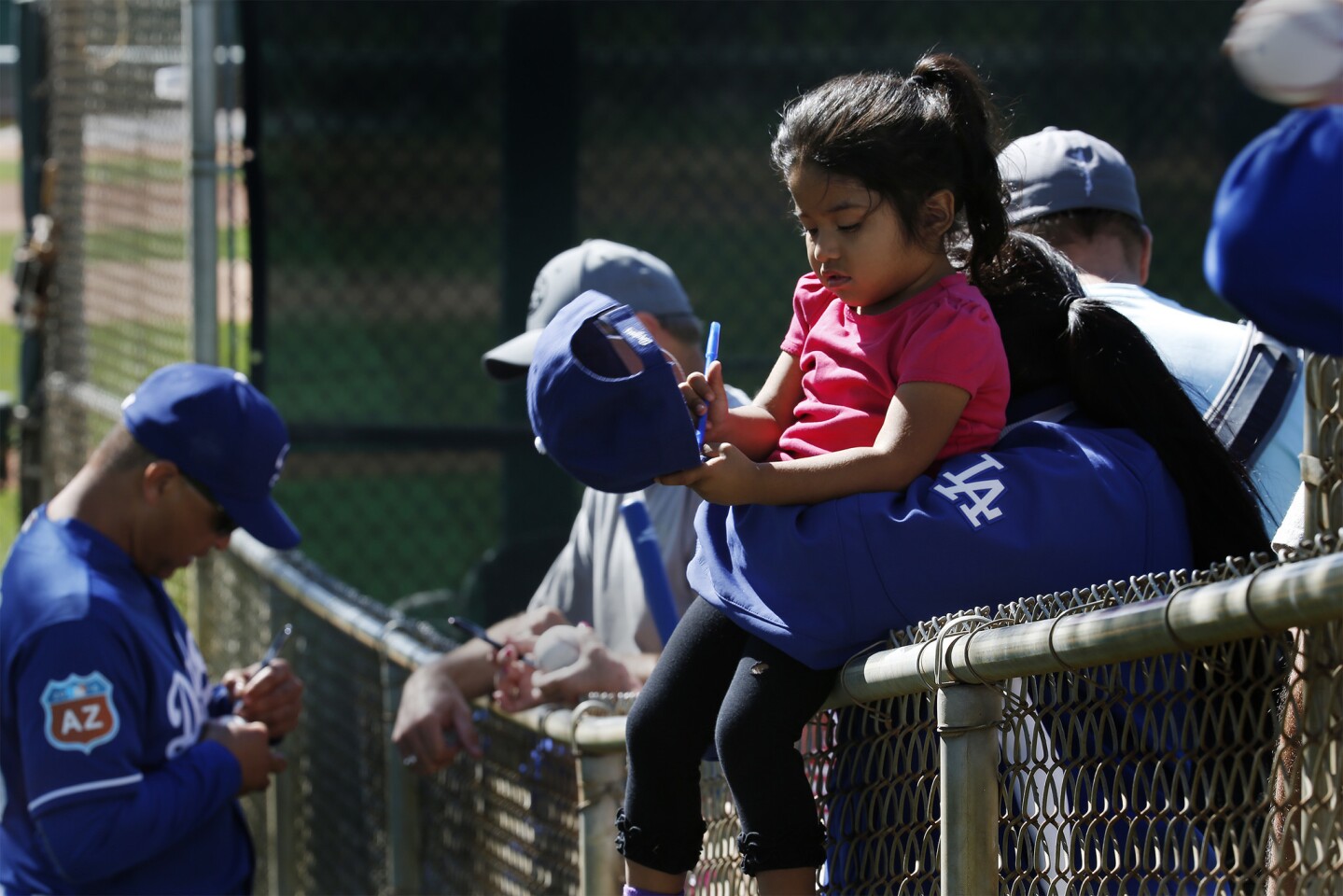 Abby Mendoza, 3, is held by her sister Annamarie Mendoza of Phoenix as they wait to get autographs from then-new Dodgers Manager Dave Roberts during spring training in Glendale, Ariz., in 2016. He won the National League Manager of the Year award for the season that followed.
(Gina Ferazzi / Los Angeles Times)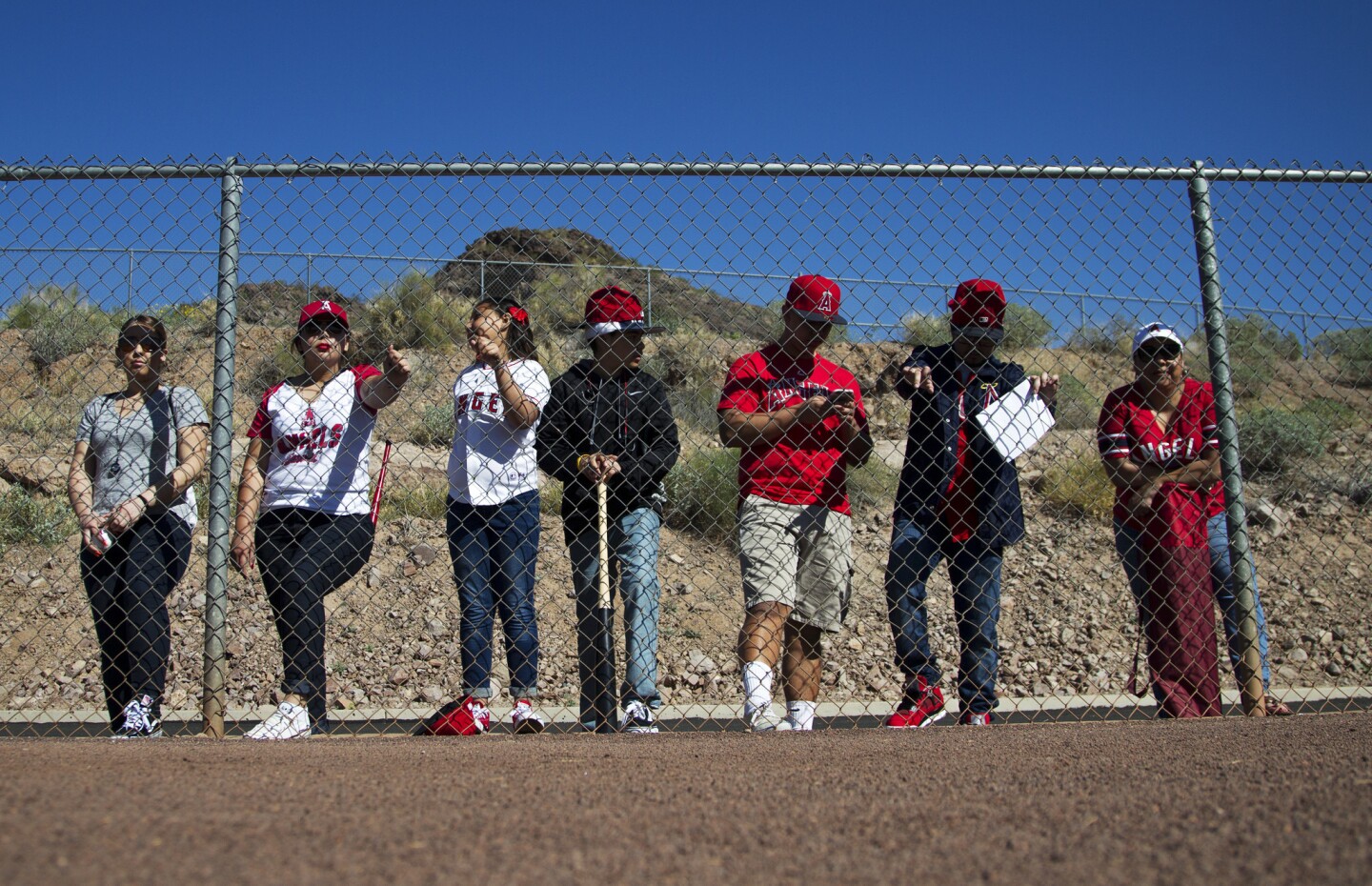 Angels fans hang out in Tempe, Ariz., where the Anaheim-based club holds spring training.
(Gina Ferazzi / Los Angeles Times)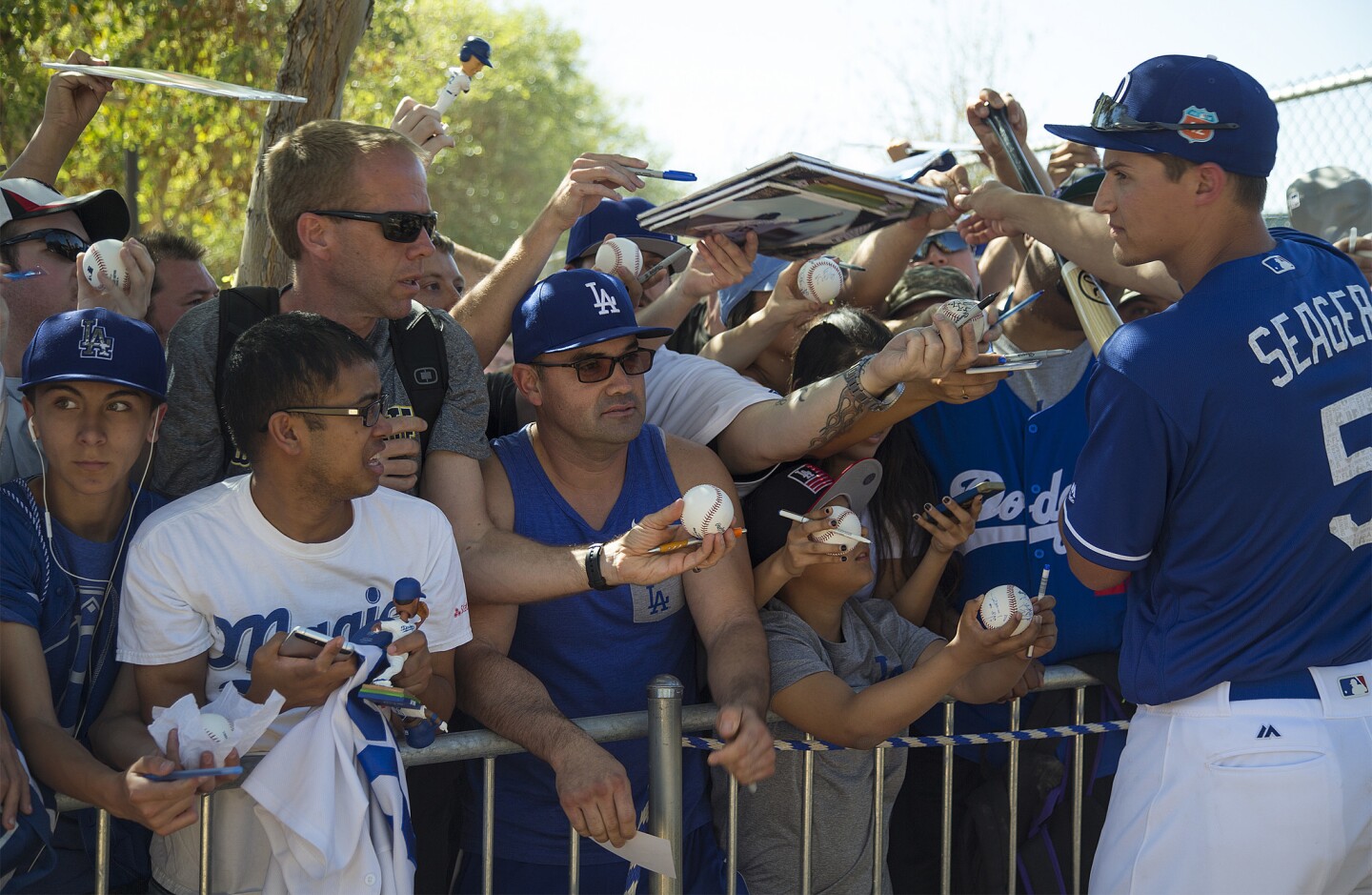 Fans crowd a barricade to get autographs from Dodgers shortstop Corey Seager after a spring training session at Camelback Ranch in 2016. Seager won the National League Rookie of the Year award for the season that followed.
(Gina Ferazzi / Los Angeles Times)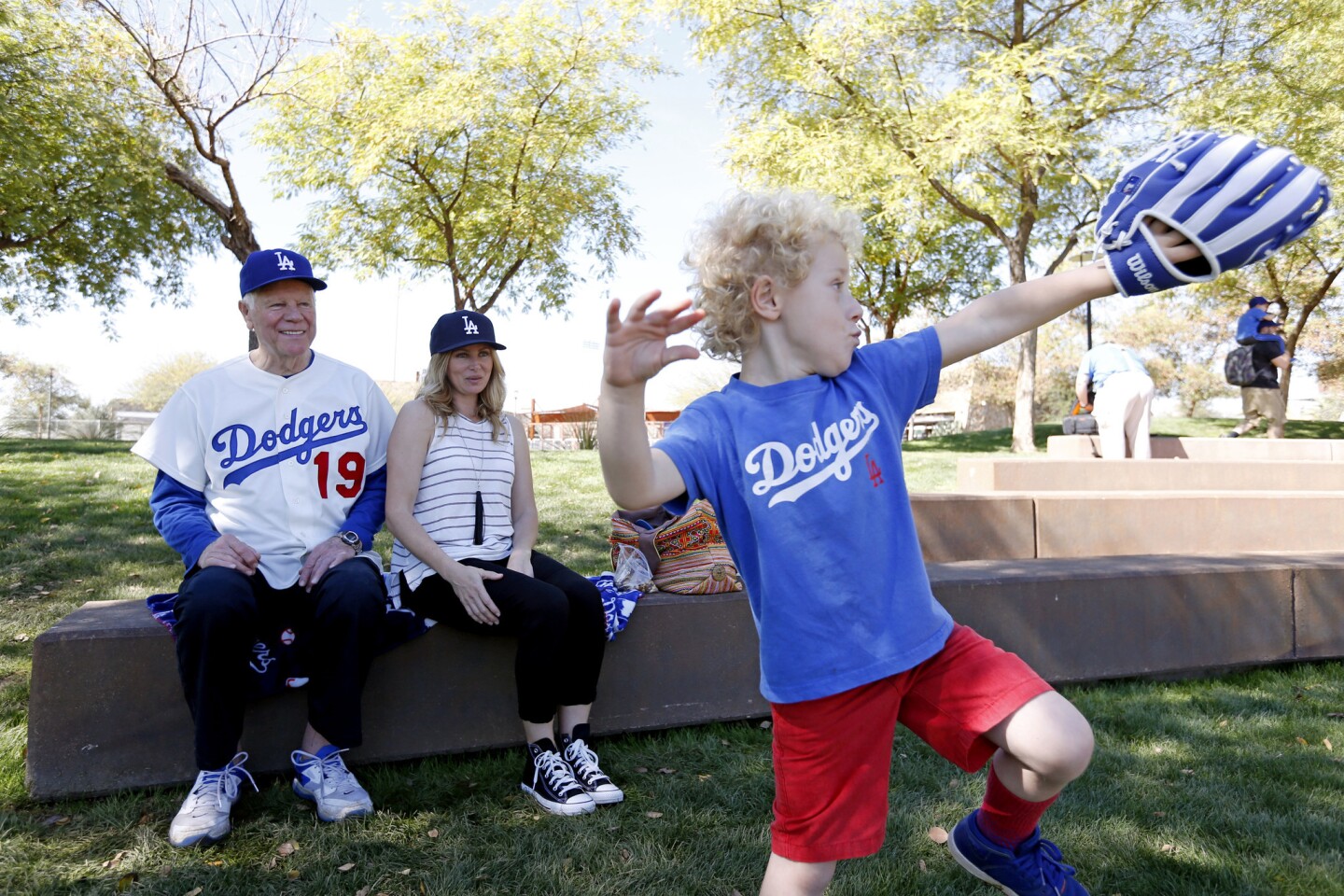 Celebrating his 79th birthday, James Paulson of Valencia attends Dodgers spring training in Glendale, Ariz., with daughter Tiffany Pazak and grandson Paulo Pazak, 4, in 2017.
(Gary Coronado / Los Angeles Times)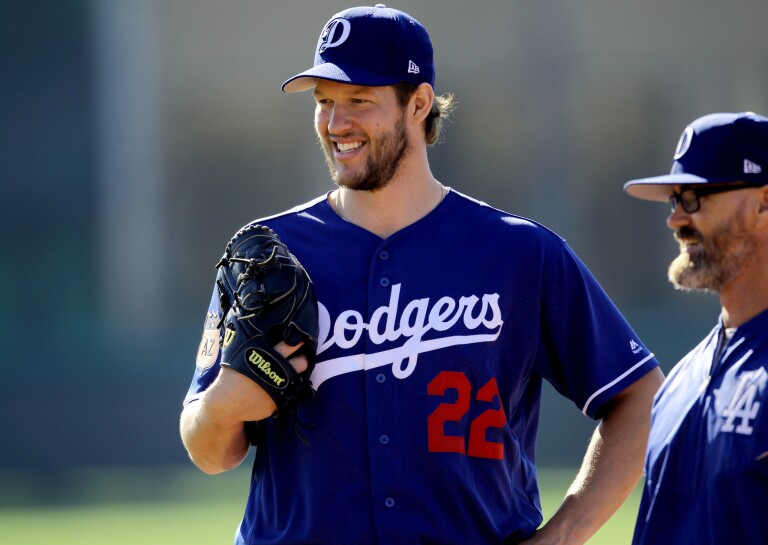 Says Dodgers ace Clayton Kershaw of the World Baseball Classic: "I feel like it is an honor even to get asked."
(Gary Coronado / Los Angeles Times)
New Los Angeles Dodgers relief pitcher Sergio Romo, center, until recently a member of the rival San Francisco Giants, gets used to being a boy in blue during spring training at Camelback Ranch in Glendale, Ariz.
(Gary Coronado / Los Angeles Times)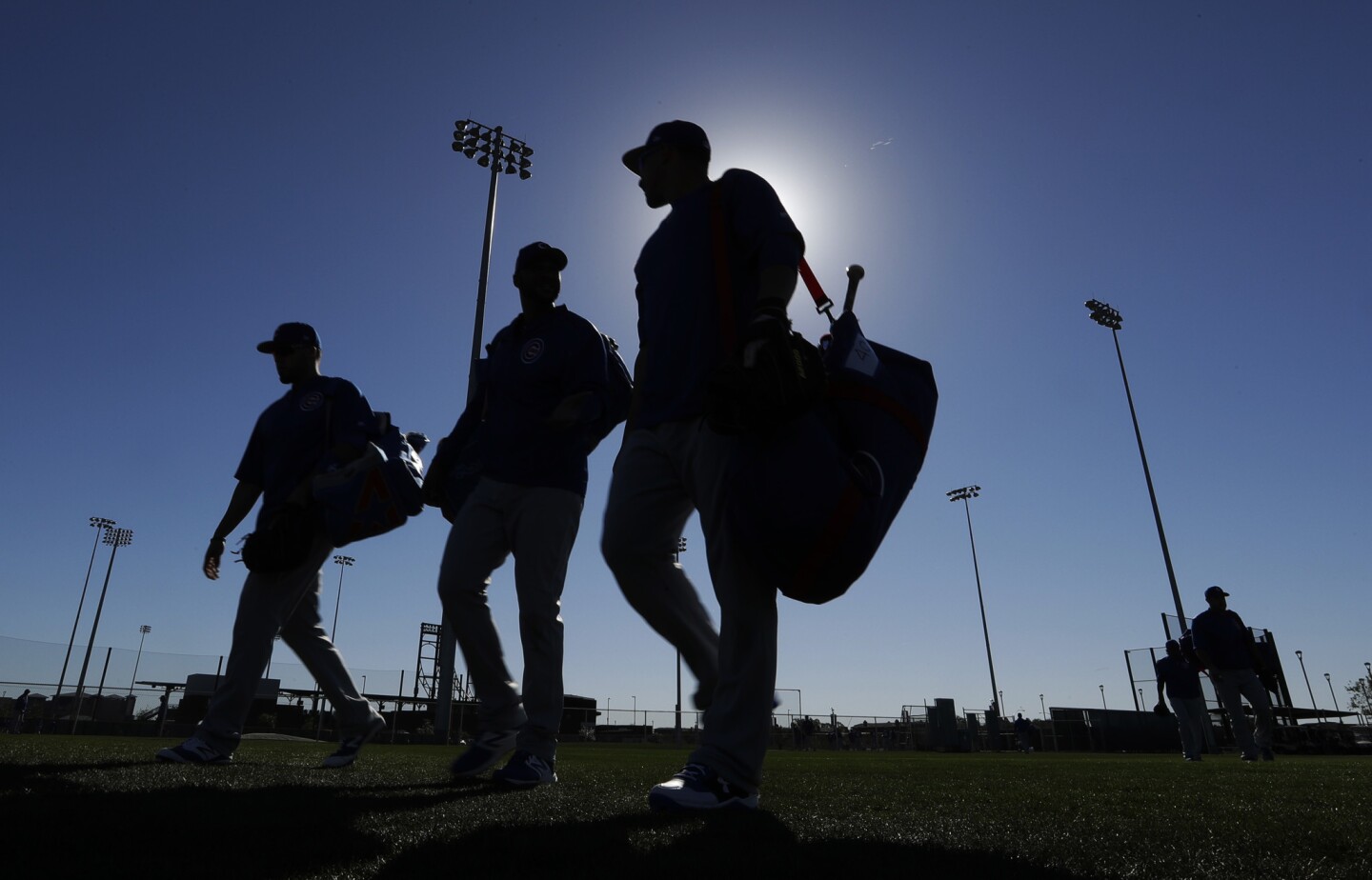 Chicago Cubs players make their way to a field during a spring training baseball workout in Mesa, Ariz., where they are preparing for their 2017 campaign as reigning World Series champions.
(Morry Gash / Associated Press)
Angels star player Mike Trout signs autographs for fans before a spring training game against the San Francisco Giants at Tempe Diablo Stadium in Tempe, Ariz.
(Christian Petersen / Getty Images)
Reporting from Phoenix —
The Chicago Cubs' dramatic come-from-behind win to clinch the 2016 World Series electrified baseball fans, and the energy it generated promises to carry over to spring training for those who come to watch the Dodgers and Angels in Arizona's Cactus League.
The Cactus League and its Eastern counterpart, the Florida Grapefruit League, let aficionados scope out their favorite teams and their favorite teams' competition in a slightly more relaxed atmosphere.
About 1.9 million fans attended spring training exhibition games in 2016 at the Cactus League's 10 ballparks, creating a $450-million economic impact, said Jeff Meyer, president of the league.
The games also give fans a chance to get an early look at up-and-comers; you may recall, for instance, a shortstop named Corey Seager who wore Dodger blue in spring 2015. Seager was the National League West's rookie of the year for 2016.
Recent additions to Camelback Ranch, the Dodgers' (and Chicago White Sox) spring training facility the last eight years, may look familiar to Dodgers fans. They'll find a mini Dodgers scoreboard, resembling the DodgerVision scoreboard at Dodger Stadium.
The lineage of Dodgers representatives in the All-Star game is acknowledged with a series of oversize baseball card panels lining the Legends Walk along the park's man-made lake.
Morning workouts begin around 9 a.m. and are open to the public free of charge. Single-game ticket prices at Camelback Ranch start at $10 per game.
The Angels are in Tempe Diablo Stadium, just minutes from the Arizona State University campus. You'll find American League two-time MVP Mike Trout warming up for 2017 as well as slugger Albert Pujols, who is just nine home runs shy of becoming the ninth player in Major League history to slam 600 home runs.
With five years left on his 10-year contract, Pujols could surpass Barry Bonds on the all-time home-run list. He slugged 31 homers last season.
Diablo Stadium has been in continuous service longer than any of the Cactus League's 10 venues. It dates to 1968 and underwent renovations in 1993 and 2006.
The Angels have spent their spring training time in Arizona since 1982 but didn't start their annual regimen of preseason games until 1992. (They were included in the league from a distance when they held spring training in Palm Springs from 1966 to 1982.)
Tickets for Angels games at Diablo start at $15. Info: www.lat.ms/angelsspring
Schedules
Dodgers fans will have a chance to see the Chicago Cubs, the team that knocked them out of World Series contention, when they meet on Saturday at Sloan Park, about 20 miles from Phoenix.
On March 16, the Cubs will make their only appearance at the Camelback Ranch against the Dodgers.
The World Series champs will face the Angels on Chicago's home-away-from-home turf in Mesa on Tuesday and again in Tempe on March 6.
And what of the Southern California rivalry between the Dodgers and the Angels? They're scheduled to face off at Camelback on March 11 and again on March 13 in Tempe.
The two teams close out the spring training season with a three game series March 30-April 1. The first two games take place at Angel Stadium and the finale at Dodger Stadium.
Out and about
You can't spend all your time at the park. Here's a look at respites from the old ballgames.
The Phoenix area is home to several top-notch resort hotels, including the historic Wigwam Golf Resort Hotel (300 E. Wigwam Blvd., Litchfield Park; [623] 935-3811, www.wigwamarizona.com; doubles from $329 during spring training). It's just a 10-minute drive from Camelback Ranch and close to five of the Cactus League's west valley ballparks.
The sprawling 440-acre property, built in 1929, has 54 holes of championship golf courses.
About 20 minutes from Camelback Ranch, historic downtown Glendale is a stretch of old-world charm in the middle of a rapidly expanding modern city, featuring European-style restaurants such as Haus Murphy's (5739 W. Glendale Ave.; [623] 939-2380, www.hausmurphys.com; entrees $13-$19). This traditional German biergarten serves oversize steins of imported German brews and Bavarian specialties such as sauerbraten, goulash and more than half a dozen schnitzels, sausages and giant pretzels, often accompanied by live polka music in the evening.
The neighboring Gaslight Inn (5747 W. Glendale Ave.; [623] 934-5466, www.gaslightinnaz.com; doubles from $278 a night for two-night stays) bed and breakfast is one of the city's oldest buildings. It contains 10 uniquely appointed rooms and the Olde Towne Glendale Wine and Beer Bar and art gallery.
Tempe
The AC Hotel Phoenix Tempe/Downtown (100 E. Rio Salado Parkway; [480] 642-6140, www.lat.ms/marriotttempe, doubles from $260 a night) is a boutique-style hotel adjacent to the Tempe Town Lake on the Arizona State University campus in the heart of downtown Tempe.
Across the street from ASU, with a view of the campus, the Graduate Tempe (225 E. Apache Blvd.; [480] 967-9431, graduatetempe.com; doubles from $289 a night) is an urban-chic boutique-style hotel that also feels a bit like a college dorm.
The ASU campus and downtown Tempe are bustling with nightlife, bars and restaurants. The Taste of Tops (430 W. University Drive, an extension of Tops Liquors) offers a sophisticated rotation of 31 microbrews, imports and locally brewed draft beers and hundreds of bottled beers.
Mesa
Ready to slake any fan's thirst, Arizona Brewery Tours (www.azbrew.com/home) provides worry-free, guided bus tours from one microbrewery to the next. Tours are offered on comfortable shuttle buses, making stops at local taprooms and breweries in Mesa and throughout the greater Phoenix metro region. Prices per person from $79.
Scottsdale
Centrally located nearthe Cactus League's five east-valley ballparks and within easy walking distance of Scottsdale Stadium, the fun, funky and colorful Hotel Valley Ho (6850 E. Main St.; [480] 526-4710, www.hotelvalleyho.com) has been a favorite among Hollywood celebrities, big-league ballplayers (such as former Brooklyn Dodgers and New Your Giants manager Leo Durocher) and the ballpark crowd for more than five decades.
Phoenix
Downtown Phoenix has experienced a renaissance in recent years. The new Found: RE, a sleek, industrial-style boutique hotel (1100 N. Central Ave.; [602] 875-8000, www.foundrehotels.com, doubles from $249) is centrally located near the city's arts and cultural district and fits right in with the city's new vibe. The hotel's Match Cuisine and Cocktails features an open kitchen with a wood-fire oven and global street-inspired menu of tapas meant to be shared, with dishes that start at $12.
The former Ritz Carlton Phoenix hotel was transformed from a more formal hotel to the more casual and decidedly silly but still upscale Camby Hotel (2401 E. Camelback Road, [602] 468-0700, www.thecamby.com; doubles from $229) adjacent to the opulent Biltmore Fashion Park.
The Camby's Artizen, Crafted American Kitchen & Bar features regionally inspired, upscale Southwestern and American cuisine with a lofty wine list and unique hand-crafted cocktails (entrees $15-$40).
Sidebar
The Cactus League's 70th anniversary this year coincides with the 70th anniversary of Jackie Robinson's breaking of the color barrier, becoming Major League Baseball's first African American player.
Robinson played his first major league game for the Brooklyn Dodgers in 1947.
Four pioneering African American players who were among the first to integrate spring training baseball in Arizona were inducted into the Cactus League Hall of Fame at the league's annual luncheon last week. The honorees: Larry Doby, the American League's first black player; the New York/San Francisco Giants' Monte Irvin and Willie Mays; and Ernie Banks of the Chicago Cubs. Mays, the only one still alive, attended the ceremony.
The Arizona Spring Training Experience (an ongoing traveling exhibit created by the Mesa Historical Museum) explains the history of the Cactus League using a vast collection of photos, artifacts and memorabilia.
The museum installation is on display at the Scottsdale Public Library (www.scottsdalelibrary.org) free of charge through April 4.
travel@latimes.com
@latimestravel
---
Get inspired to get away.
Explore California, the West and beyond with the weekly Escapes newsletter.
You may occasionally receive promotional content from the Los Angeles Times.