61 Images
Best summer vacation photos from Times readers in 2013
Chobe National Park in northwestern Botswana boasts a high concentration of game, so seeing a herd of elephants isn't unusual. This photo, shot looking directly into the setting sun, creates an enchanting silhouette that captures the sense of wonder. "We were truly a guest of the animals," Tsuruda said.
(Alan Tsuruda, Hacienda Heights)
The more than 500 tufa formations of the Trona Pinnacles, about 20 miles east of Ridgecrest in the western Mojave Desert, are already surreal, and the long exposure -- 51 minutes -- sets the stars in a beautiful pattern against the night sky in this photo by Ken Lee of Los Angeles.
(Ken Lee)
Legend has it that dragons created the numerous karsts - the rock formations - in Halong Bay, a UNESCO World Heritage Site. The random placement of those rocks, which gives the bay a kind of dreamy feeling, contrasts with the symmetry of this photo, an interesting photographic juxtaposition.
(Matt Longmore, Hong Kong)
Light can turn an ordinary moment into a magical one. This photo of 3 1/2-year-old-Claire has an almost black-and-white quality to it, but the toy parachute, given to her by a playmate, provides a pop of color in this photo shot at the shore in northwestern Oregon.
(Lyndon W. Wong, Menlo Park, Calif.)
If the North Rim and the South Rim of the Grand Canyon were children, the South Rim would be Mom's favorite. But in this shot, Mother Nature appears to favor the lesser-visited North Rim, where a rainbow appeared after a thunderstorm and seemed to bend below the rim of the canyon. It was "180 degrees of unforgettable beauty," the photographer said.
(Riley Hayes, Cathedral City, Calif.)
The Steamboat Springs Pro Rodeo, which ran from mid-June through mid-August this year, is part of the culture of Steamboat Springs, dating back more than 100 years. The sense of energy permeates this picture, and the unfurled flag signals the all-American nature of the event.
(Richard A. Sundeen, Manhattan Beach)
Bobov Dol power plant is near the village of Bobov Dol in western Bulgaria, about 50 miles southwest of Sofia, Bulgaria's capital. The flowers in the foreground make an interesting if unintentional statement about the purity of nature against the backdrop of this 1970s coal-burning plant.
(Michelle Nolan, San Pedro)
The magic of the Magic Kingdom isn't the rides; it's the joy on the faces of the kids. The moment is sometimes as spontaneous as children themselves (Zach is trying to make the teacup whirl, and Madison is enjoying the ride), but a well-timed photo, such as this one by Mike Battin of Chino Hills, preserves a memory for the ages.
(Mike Battin)
Photographing animals takes skill and luck, and Lynn Novatt of Santa Monica had both with this shot in Volcanoes National Park, or Parc National des Volcans, in northwestern Rwanda. The golden monkey was high up among dense trees but exposed to sunlight, so the picture captured the details of its coat and the gleam in its eyes. "A trek in Rwanda is a trip highlight for many travelers," Novatt wrote. "Now, I can attest to that myself."
(Lynn Novatt)
Sometimes the delight is in the details. This picture was shot in the St. Pancras Renaissance London Hotel from the top looking down. The extra-wide staircase is said to have been built this way so that two women in full Victorian regalia could pass in their dresses. The hotel, which opened in 1873 as the Midland Grand Hotel, is in the St. Pancras station. It had fallen into disrepair but has been restored and includes a Victorian tiled pool.
(Joselle Celine Gilvezan, Sherman Oaks)
This photo of One World Trade Center connects both aesthetically and emotionally. The photographer was walking from Battery Park toward ground zero. and when she looked up, the flag had stretched out "and reminded me of how resourceful and resilient we are as a nation."
(Jill Bowker, Sun Valley)
Don't move a muscle. Even if you're just viewing the photo and weren't living it, the picture's in-the-moment quality may have you sitting stock still so you don't spook the safari party-crashing cheetahs. A Spanish tourist visiting the Masai Mara shot this photo of Deanna Bowers and family and then shared it with her, another example of how travel builds bridges.
(Gongora Fernandez of A Coruna Spain; submitted by Deanna Bowers, Upland)
Timing often is everything when taking a photo. After a couple of cloudy days, the skies cleared and Mt. Rainier's majestic head appeared. The meadow and waterfall, common in this park about 80 miles from Seattle, lend a storybook feeling.
(Clint Colver, Los Angeles)
It's always wise to be cautious when photographing wildlife. As members of the deer family, moose may look docile, but they often are forced to defend themselves against bears and are worthy opponents and can be fierce. "I believe the mother moose was aware that we were that close," Wentzel wrote, "but we weren't threatening her kids, so she didn't really care about us." Good thing and good photo. Girdwood is a resort town about 38 miles southeast of Anchorage.
(Alyssa Wentzel, Monrovia)
Oh, to be a kid again. This photo by Greg Cosh of Sylmar captures the joy of a romp in the ocean and speaks of the power of the waves to wash away cares. The boy in this photo is Robinio McGraw, Cosh's nephew. He had recently come to this country from Haiti and was facing lots of cultural and linguistic challenges. "Yet he seemed to demonstrate a great deal of self-confidence as he plowed into the waves at the beach that day!" Cosh wrote.
(Greg Cosh)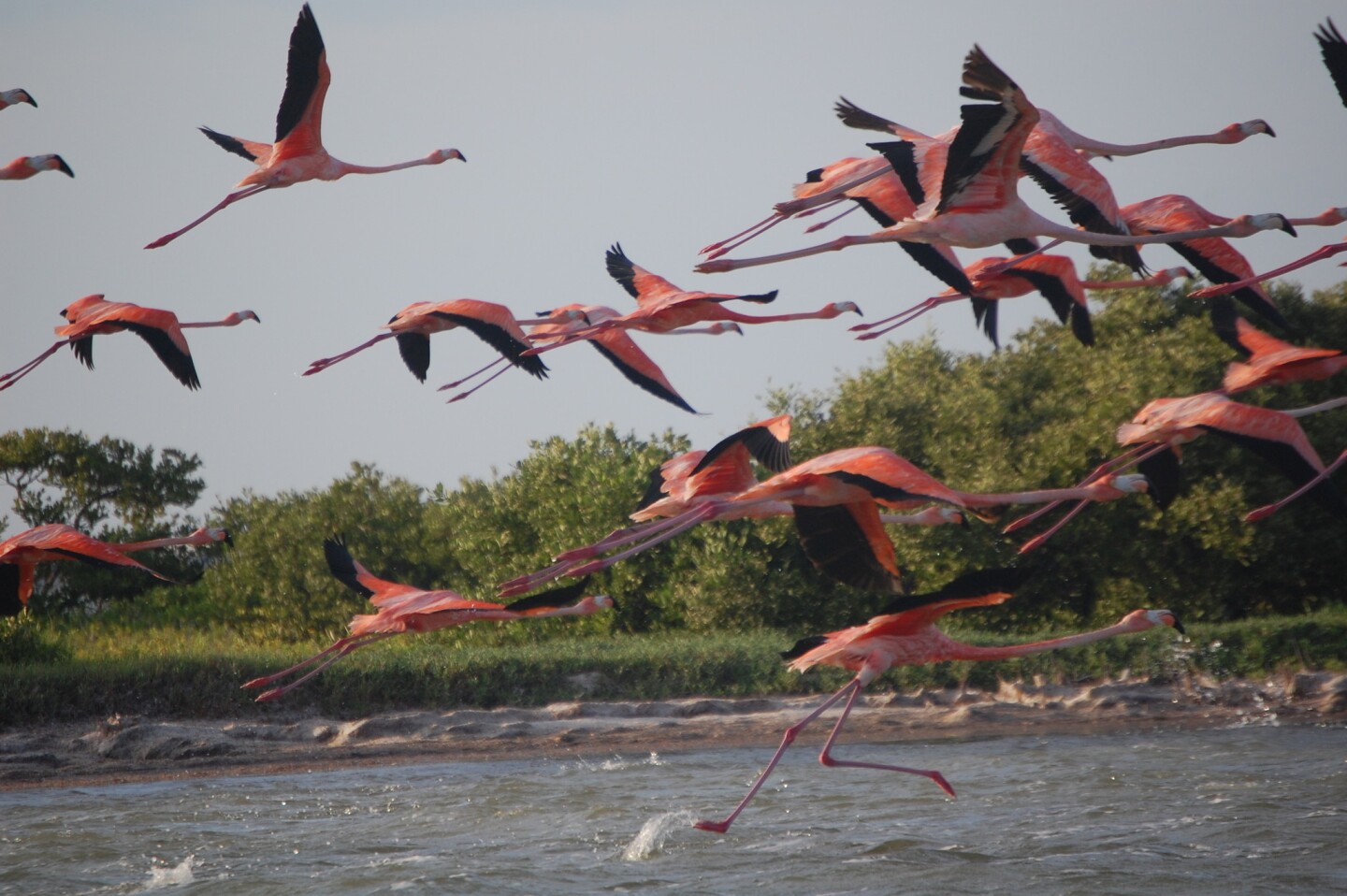 Photographer Erick Hidalgo of Woodland Hills captures a moment on Mono Lake.
(Erick Hidalgo)
Steve Leff of Sherman Oaks captured this image of the Library of Celsus in Ephesus, Turkey.
(Steve Leff)
Jeff Brinda of Laguna Niguel took this image in Delft, Netherlands.
(Jeff Brinda)
Jake Fisher rides a wave in this image by Jackson Billups of Ladera Ranch.
(Jackson Billups)
Zebras startled at a watering hole.
(Paul Coulter, Huntington Beach )
Collette Golden of Santa Ana captured an image of umbrellas in London's Borough Market.
(Collette Golden, Santa Ana)
Nancy Hillhouse of Yucaipa took this lotus blossom shot at Mission San Juan Capistrano.
(Nancy Hillhouse)
Ken Lee of Los Angeles took this image of large, outdoor metal sculptures created by artist Ricardo Breceda in Borrego Springs, Calif.
(Ken Lee)
Michael Battaglia of Long Beach captures Jackson Lake in Grand Teton National Park in Wyoming.
(Michael Battaglia)
Joanne G. Landeros of Dana Point took this image of Great Fountain Geyser in Yellowstone National Park.
(Joanne G. Landeros)
Lynn took this photo on Memorial Day. "Truly awe-inspiring," he said.
(Michael Lynn, Valley Glen, Calif)
San Francisco's Golden Gate Bridge is captured by Eric Burger of Rancho Cucamonga.
(Eric Burger)
Alaska's Prince William Sound is photographed by Anne Lai of Dana Point.
(Anne Lai)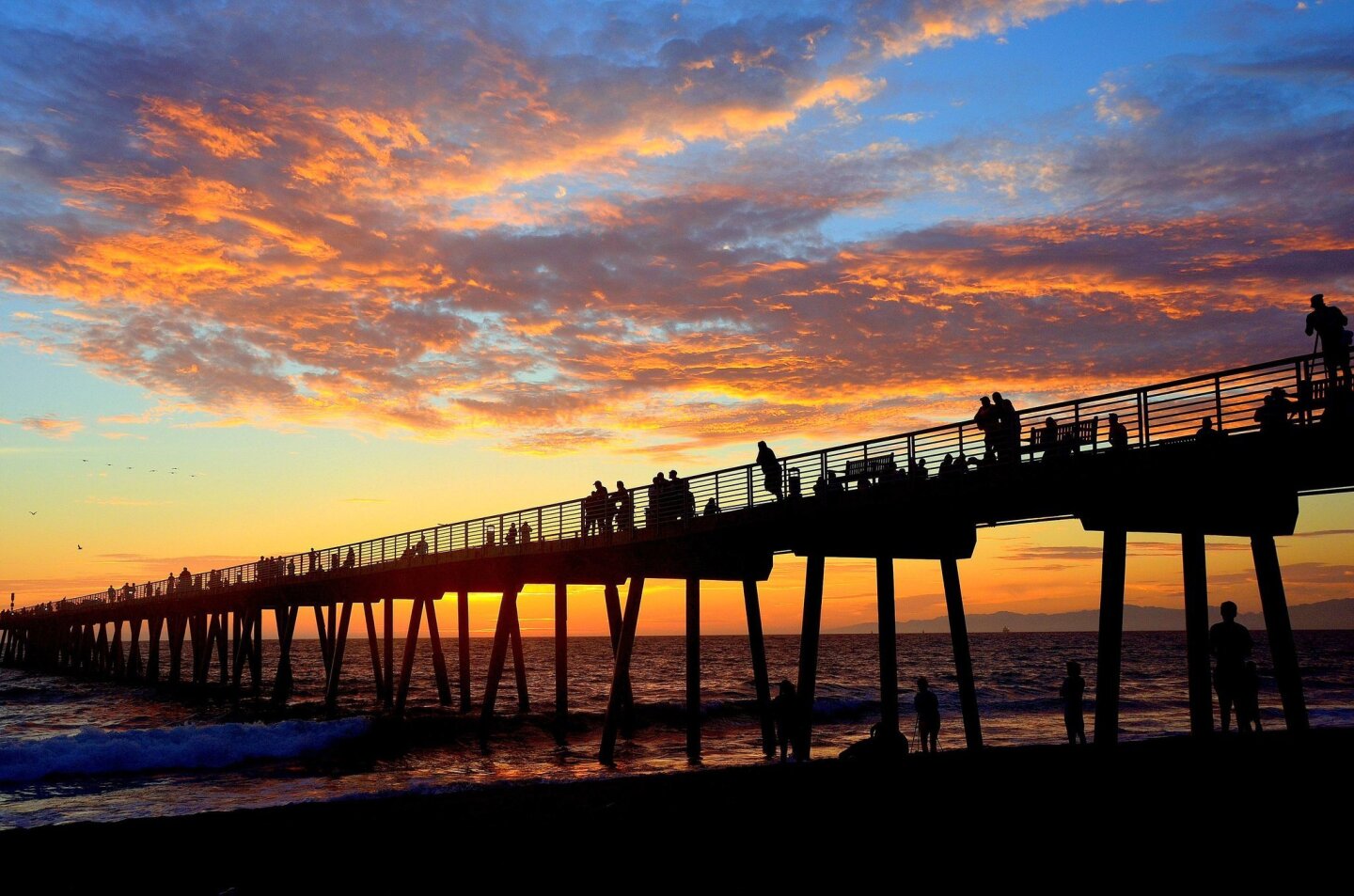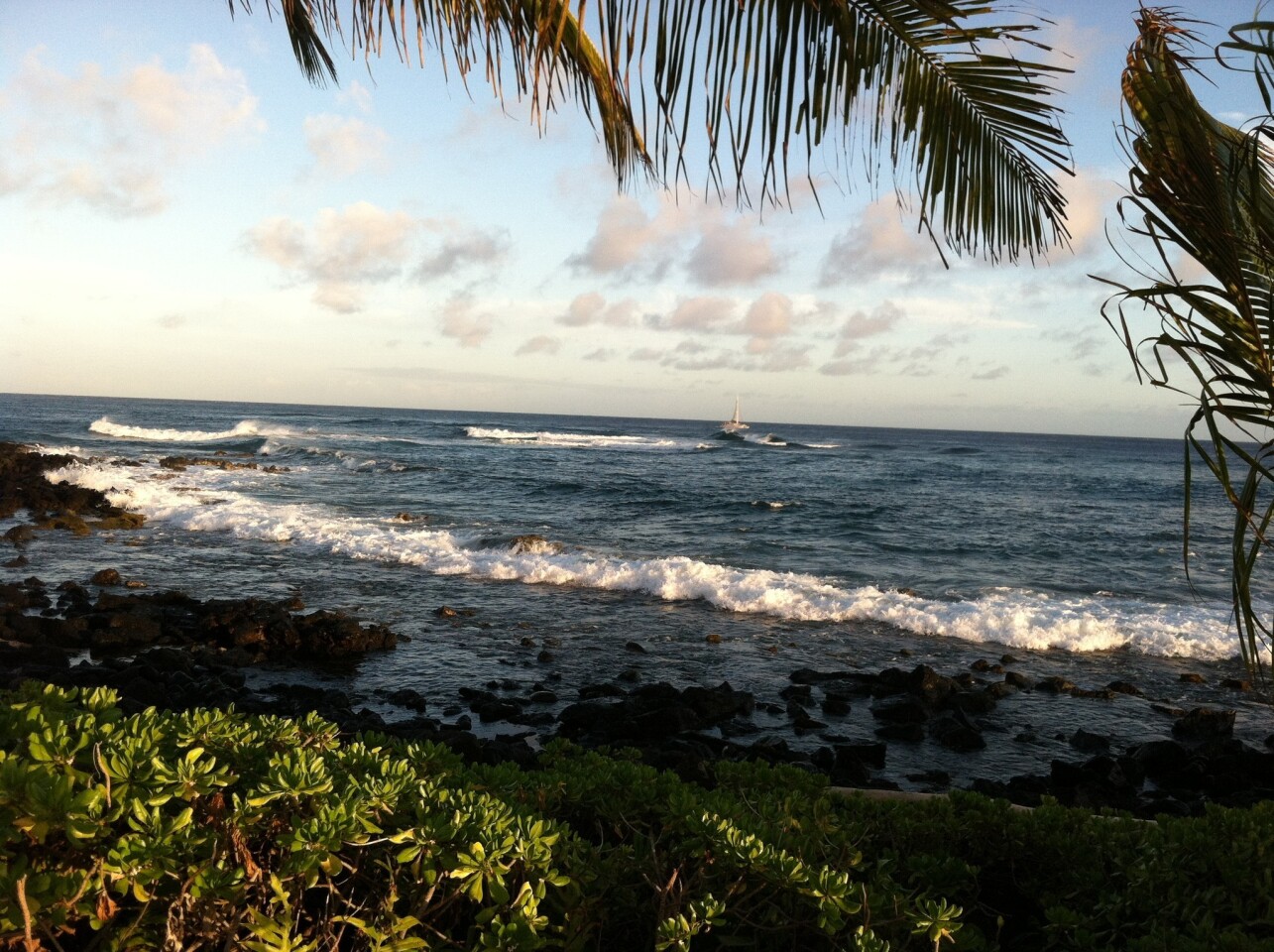 Christopher Kung sits in the stands at Yankee Stadium.
(Randy Kung, Diamand Bar)
Jocelyn Racelis, the photographer's daughter, whips her head from the water.
(Steve Racelis, Redondo Beach)
Photo submitted by Linda Beuret, left. Next to Beuret is her husband, Peter.
(Ethan Daniels)
Aboard an adventure ship cruising the Arctic, a polar bear spotted Marci Sandell's group. "He could who could smell us on the ship's deck and decided to investigate," she said. "After peering over the edge of the ice, he decided did climb up onto the iceberg and stroll around, finally having a drink from the melted fresh water ice pool before swimming away."
(Marci Sandell, Los Angeles)