Super bloom takes off at LAX, but you have to be on a plane to see it
Los Angeles International Airport has its own super bloom near runway 24R.
LAX is having a spring super bloom of its own, one only travelers flying in or out can see. The airport Monday tweeted pictures of yellow and deep orange flower carpets between its north runways with the hashtag #laxsuperbloom.
"We get a little bloom every spring, but because of all the rain, it's a lot more than what we typically have," said Cary Buchanan of LAX airport operations.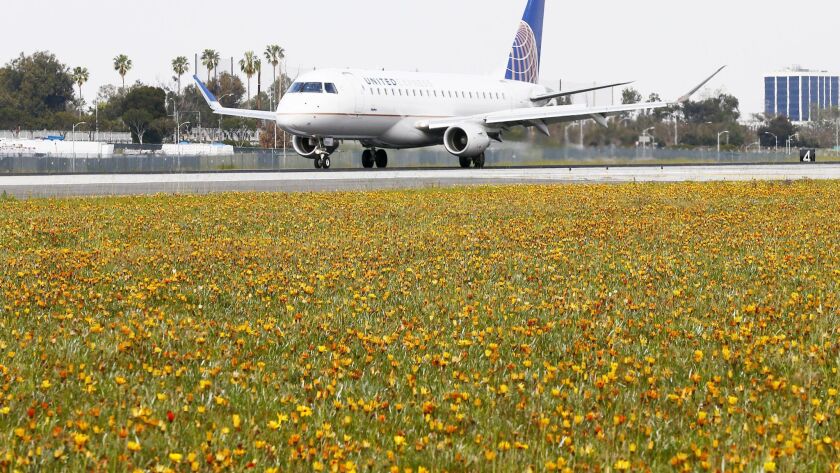 At eye level, the blooms are patchy in places and dense in others. "On a flight to or from Seattle, 95% of them are on the north complex," Buchanan said. Fliers arriving or leaving on north complex runways 24L and 24R should look down to enjoy the show. (There's no public access to the fields between active airport runways.)
Unlike the area's current super bloom, LAX's flowers aren't native to Southern California. Most are gazanias, a rugged, drought-tolerant ornamental plant from South Africa that grows 6 to 12 inches high. Like native golden poppies (which they aren't related to), the blooms are light-sensitive and close at night or in cloudy weather.
How the flowers got to the airport's fields is a little sketchy. "We don't do any kind of seeding," spokesman Charles Pannunzio said Tuesday. "The only landscaping involves cutting back [grasses and flowers] when they grow too tall."
MORE: Where to find the super blooms in Southern California »
Buchanan, who's been at the airport for 15 years, also said LAX doesn't do anything more than landscaping.
But flower experts thought otherwise.
"I think somehow they were seeded. I don't know how they could have gotten there en masse," said Lili Singer, director of special projects and adult education at the Theodore Payne Foundation for Wild Flowers & Native Plants in Sun Valley.
Singer's commented after she viewed photos of the airport's flowers.
Frank McDonough, a botanical information consultant at the The Arboretum, reviewed photos posted online. In a voicemail, McDonough said the area looked like it had been hydro-seeded, or sowed by blasting seeds and mulch, as a way to control dust and to keep more flammable plants from coming up.
Regardless, the blooms likely will hang in a bit longer, or until LAX mows the area.
---
Get inspired to get away.
Explore California, the West and beyond with the weekly Escapes newsletter.
You may occasionally receive promotional content from the Los Angeles Times.