Making family holiday travel easier takes a little foresight, some imagination and a malleable mindset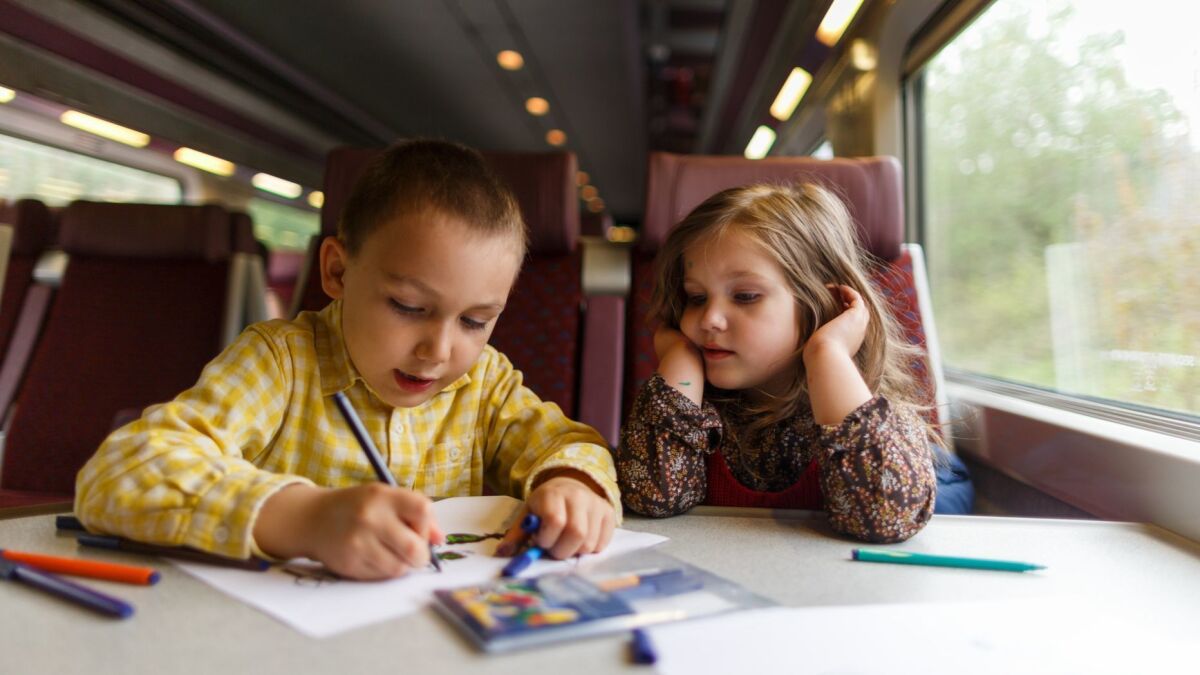 Longer lines and shorter tempers, unexpected detours and annoying delays — all can bring out the grump in anyone facing holiday travel. For those traveling with children, for whom the payoff of all the extra shuffle may seem nebulous, getting to and from holiday destinations can feel like an uphill battle both ways, with little time to recover — let alone celebrate — in between.
As a mom of three who has traveled near and far by plane, train and car, I've learned some tricks to counter the stress that comes with holiday travel. Here's what might help:
Hire a luggage Sherpa
If you're arriving at an airport where public transportation will keep you out of the gridlock of holiday traffic, take the easy way out. Free yourself from juggling baggage by using a luggage delivery service.
Bags VIP (lat.ms/bagsVIP) can retrieve your luggage from baggage claim for you at more than 250 airports across the U.S., including Los Angeles, San Diego, Long Beach, Orange County and Burbank. Other domestic locations include New York City, San Francisco, Oakland, Seattle-Tacoma, Atlanta and Dallas/Fort Worth.
Delivery is promised in four hours or less to destinations within 40 miles of the airport; up to 100 miles is available for an extra fee.
Once you've made your airline reservation, sign in to your Bags VIP account to add your flight information, confirmation number and the number of checked bags you want transported.
Services begin at $30 for one bag, $40 for two and $50 for up to eight bags.
Luggage shipping services are also available, but they tend to take longer and may be more expensive.
Info: lat.ms/bagsVIP
Shop, ship and avoid the schlep
You don't need gifts taking up extra space in the already-maxed-out family vehicle, and certainly not in suitcases that may cost you extra to check if you're flying.
If you do your holiday shopping online and choose free shipping offers where available, you can splurge on the gift-wrap option.
You'll likely come out ahead dollarwise while streamlining your journey.
Better still, if you shop through online mileage portals (including American's AAdvantageeshopping.com, United's Shopping.MileagePlus.com, Delta's skymilesshopping.com and Southwest's rapidrewardsshopping.southwest.com), you'll earn extra (and sometimes multiple) miles for each dollar spent that can be used toward future travel.
Print a map and directions … for the kids
Of course you will print a backup copy of the driving directions for yourself (a wise idea in case your phone loses its signal). But while you're at it, also print a set with a good overview map for your back-seat companions.
Your holiday drive is the ideal opportunity to open their eyes to the function of those highway mileage markers and ever-changing exit numbers.
With two or more map-keepers in the car, it can become a form of Back-Seat Bingo as they take turns blurting out and checking off the latest city exit. With any luck, you'll be the one asking, "Are we there yet?"
Ride the rails
Although traveling by Amtrak often takes hours longer than driving and possibly days longer than flying, it presents tempting advantages to the traveling family.
For starters, kids 2 to 12 ride for half off the adult fare on most trains (with one paying adult per child). Infants and toddlers up to 2 travel free — and they have more space to sprawl.
Kids can stretch their legs and visit the restrooms any time they like. Some seating configurations allow for travelers to face one another over a table — ideal for enjoying snacks together and everybody's favorite board or card game.
Even better: Carry-on bags can weigh up to 50 pounds, and each passenger can carry two at no extra cost.
Amtrak ridership broke records for Thanksgiving week 2017 when more passengers rode the Sunday after Thanksgiving than at any time in its 47-year history. This year, extra cars will be added to West Coast routes for peak holiday times. Some trains still require reservations on select dates, including Nov. 21-25 on the Pacific Surfliner.
Reservations are not required on the Surfliner in December, although some other routes may require them, so check at Amtrak.com or call (800) 872-7245.
Get baby and toddler gear delivered
If you're traveling with a tot, no need to get bogged down with gear. Rent what you need in the way of portable cribs, travel beds, strollers, safety gates and baby swings at your destination.
Many baby gear rental agencies will deliver and set up the equipment at your lodgings. Some will even meet you at the airport or train station with your rented car seat or safety booster.
Over the years, we've rented bulky baby gear, including cribs, toddler beds, a double jogging stroller and safety gear. The companies have met us at our hotel or vacation rental, but they've also met us at the airport, a huge help when I was pregnant and traveling with two young children. One baby gear angel helped load the equipment into our rental car and even installed a car seat for me.
Info: Search online for baby gear rentals at your destination or check the Worldwide Directory of Baby Gear Rentals.
Bring the grands to you
Simple math tells you that airfare for four or five people costs a heck of a lot more than it does for one or two, especially during peak holiday travel.
After adding on family airfare to our already-bulging holiday budget, we had a light-bulb moment: Buy one ticket instead. The next year, my mother-in-law was delighted to be invited to Christmas at our house, and we were happy to pick up the tab.
Although it didn't get us out of the cooking or cleaning details, the logistics of elfing around were greatly simplified.
Make a movie of your trip
Here's a secret travel weapon that works for kids of just about any age: Assign your offspring the job of documenting your holiday travels.
With wee travelers, you can choose key moments to interview them about your family's progress, your mode of transport, and what you see and eat along the way.
You can set older kids loose to capture the story as they see fit, including having them gather B-roll footage of airport escalators, the train station or passing scenery that establishes where you are or supplements the story.
You can give bonus points for interviews with relatives during the holiday.
If you're shooting with a phone, make sure you have enough storage for space-hoggy video. Some devices allow you to insert a micro SD card for storage; with others, you may want to consider cloud storage.
This keeps your kids entertained while they're filming it and while they are putting it together. In the end, you'll wind up with a treasured memento of your family's trip.
---
Get our L.A. Goes Out newsletter, with the week's best events, to help you explore and experience our city.
You may occasionally receive promotional content from the Los Angeles Times.